One afternoon Mr NQN and I were having lunch. Mr NQN looked over my shoulder and said,
"That homeless guy going through the bag in front of the clothing bin looks like my dad"
It's true, Mr NQN's dad has a scruffy beard and a rather dishevelled appearance and on more than one occasion, has been mistaken for down and out. One time, he was at Manly Beach and sorting out his backpack. He emptied it of  a collection of empty plastic bags and a kind hearted man walked up to him and pressed a $10 note into his hand. He was so excited about his unexpected fortune he told us all about it- little did that man know that Mr NQN's father is not short a quid, but he just looks like he is.
A few moments later, we  saw a group of young guys self consciously carrying a "keep left" road sign, pilfered from nearby and between the four of them, their eyes darted every which way on the look out for police. But these guys weren't the pilferers in question. Dear Reader, the pilferer was me. The reason I love eating out is often to get inspiration for baking or cooking. A cafe like Fleetwood Macchiato with a talented pastry chef can churn out some fabulous combinations and when they sat down a pear and rosemary tea cake in front of us, I reached for a bite, ready to slide the plate over to Mr NQN.
But I didn't.
I kept eating. It was so good that I kept eating it and it was only upon protest from Mr NQN that I gave him the rest. The pastry chef explained that making it was simple, you start with a caramel and you start it in a similar way to a tarte tatin and that he processes the rosemary along with the flour. The rest is based on a Nigella rosemary loaf cake with some additions and changes. Instead of layering it with halves apples or pears, you layer it with thinly sliced pears and then a fragrant and moist rosemary cake. The cake is moderately easy, although I know some of you don't like to make caramel. If you don't and want to make a simplified version, you can omit the caramel and pear on top and just leave it as a plain tea cake with some sugar sprinkled on top. It stays moist from the pear inside but also  I promise you that no-one will complain. Some might offer you money instead though, it's that delicious
So tell me Dear Reader, are you inspired to make things when you eat out? Where do you find inspiration to cook things? And do you choose recipes with pictures or ones that you can see what they will look like in the end?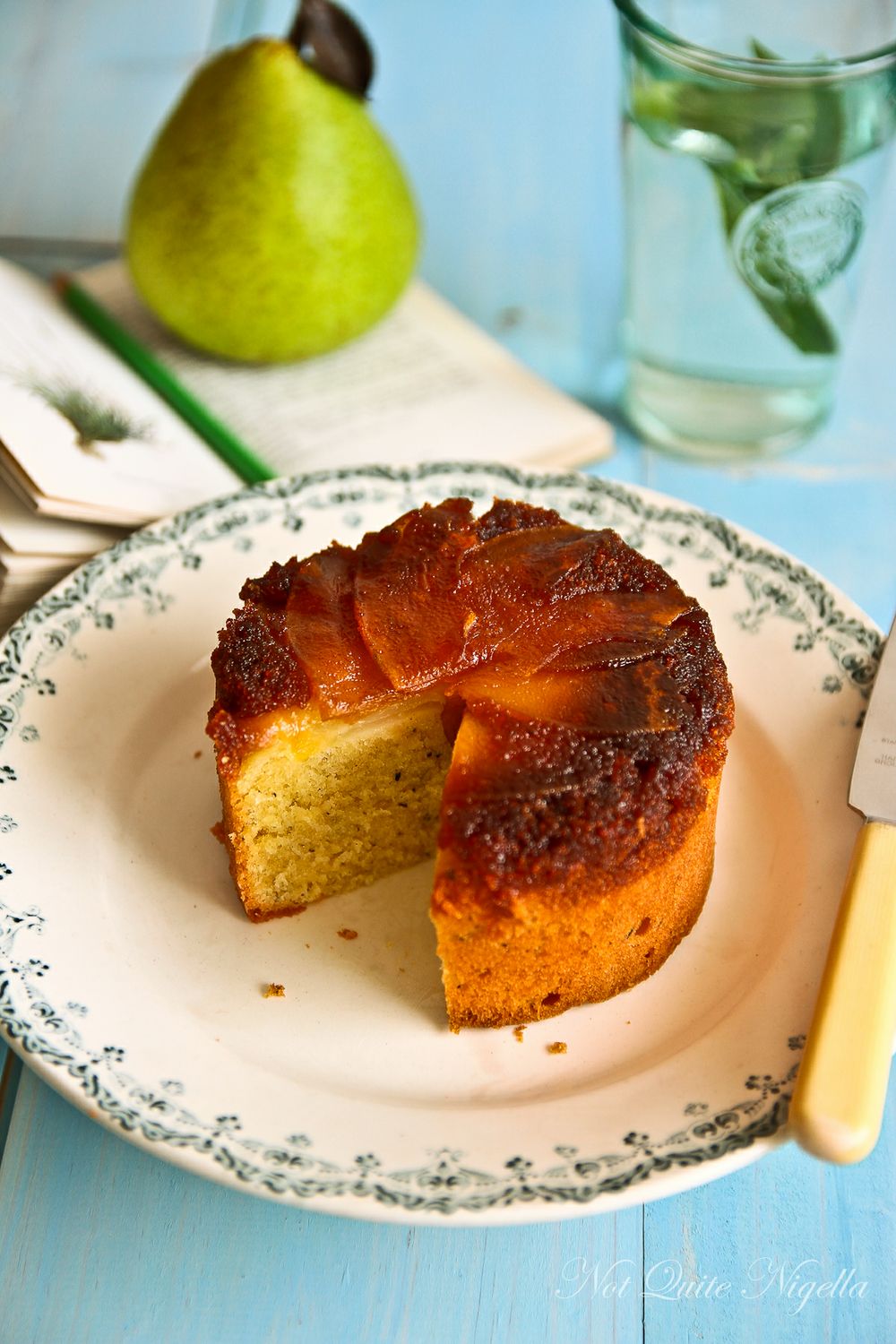 Pilferer's Pear & Rosemary Tea Cake
An Original Recipe by Not Quite Nigella
For caramel pear
1/4 cup/50grams caster or superfine sugar
1/2 - 1 pear, peeled and cored and thinly sliced. Apple will also do.
For Cake
230g/2 sticks softened butter
1 cup/200grams caster or superfine sugar
4 eggs, at room temperature
1.5 cups/210grams plain all purpose flour
6 tablespoons cornflour or cornstarch
3 teaspoons baking powder
1-2 stalks rosemary, needles only
1/4 cup/60ml milk, soured with a little lemon juice
1 pear, peeled and cored and diced
Step 1 - Preheat oven to 170C/340F. Spray the base and sides of a 22 cm tin generously with non stick oil spray. Then in a small saucepan, add the sugar and water and heat on medium heat being careful not to stir-it will form a caramel sauce-just make sure to watch it so that it doesn't burn. Once this is done, pour it into the base of the prepared tin and fan with the pear pieces (being careful with your fingers as the caramel is hot). Set aside.
Step 2 - In the bowl of an electric mixer, beat the butter and sugar until pale and fluffy. Add eggs, one at a time. Whizz the flour, baking powder and rosemary in a small food processor so that the rosemary is broken up into little pieces. Add half of the flour mixture and fold into the batter. Add the rest and then the milk to thin it and stir in the pear pieces.
Not another ugly photo on the blog! :P
Step 3 - Pour it over the pear and caramel and bake this for about 60 minutes until a skewer inserted comes out clean. Remove from oven and run a knife around the edge. Rest for 5 minutes and then carefully upend onto a serving plate.