For some time after high school, I didn't eat much Chinese food. It was really as a response to eating Cantonese only food every night growing up as my patriotic father was strictly Chinese food only. But ever since that little period, I often get a strong urge for a spicy, Chinese kick and if I don't have chilli at least a couple of times a week, I pine a little. And if I haven't eaten Chinese food in a couple of weeks, well the pine turns into a whimper.
As we were staying at Crown Towers, we met up with Sam and Neil Perry for lunch at Spice Temple along with their friends Liz and Bruce. I'd never visited the Melbourne version, only the Sydney version and it's only metres away from the bar and grill and new Rosetta. The restaurant area is downstairs, like Sydney and indeed the similarities don't end there. It's moodily and seductively lit, only this time there aren't any photographs of comely Asian women on walls although the occasional spice dusted body part pops up.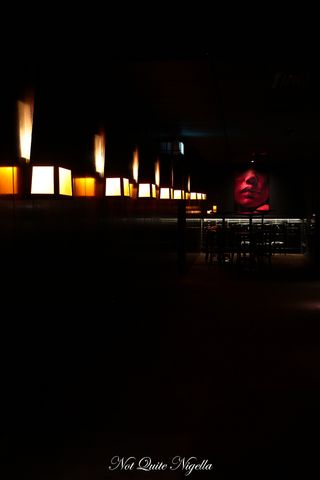 You'd naturally leave the ordering to Neil although I do put in a request for a bowl of century egg congee. Unlike the Sydney Spice Temple, Melburnites are treated to a yum cha menu on weekends which has 57 savoury dishes and 6 sweet and they are cooked to order so there are no trolleys. As expected, prices are higher than you would see at Chinatown but the cornerstone of all of Perry's restaurants is the quality of produce and this is detailed in the bottom right hand corner of the menu. At noon we are among the first diners but by the time that we leave at 1:45pm, the restaurant is full.
I make something like this at home for Mr NQN by simmering lots of ginger to make a spicy cordial. It provides such a sweet, fiery kick to wake up tastebuds.
No actual rat in it (did I really have to clarify that? ;) ), the cocktails are based on the Chinese astrological signs and I chose one from my year of the rat. This one had Cuban white rum, rhubarb, star anise, lime and basil and was a nice, tartish refreshing cocktail.
My eyes go straight to the slider selection. I know, everyone does them nowadays but these have got an Asian twist to them. We try the crispy Guangxi pork slider, all lovely sweet, buttery brioche bun and crispy shredded strange of Otway pork inside. I eat this slowly, it's that good.
The cumin lamb slider comes on a pale sesame coated bun and is filled with the aroma of lamb's reliably good partner, cumin. The lamb and bun are soft and melting. Mr NQN and I always go the opposite way when it comes to food-he was team firmly in the cumin lamb slider, which I also liked but the pork slider won me over just a bit more.
The test for yum cha, for us at least, is always the har gow. Is the skin thin and delicate and the filling is full of fresh prawns although these are chopped up and I prefer them in large pieces.
I had a bit of a carrying malfunction when taking these from the steamer to the bowl and I broke my half moon before it even hit the pool of house made chilli sauce (made in vast quantities as the jalapeno chillis aren't available for part of the year). They're filled with pork, shiitake and water chestnuts and are crunchy but I would assume better if you didn't drop them all over the place as I did :)
The chive dumplings are round rice flour dumplings that have had their bottoms pan fried. I'm usually a huge chive dumpling lover but these weren't my favourites. I really like the verdant greenness of chive dumplings and these were a bit too meaty for me.
The crispy prawn wontons came three to a serve, the shelled prawns wrapped in the won ton pastry. They were so crunchy and dipped in a deceptively hot Szechuan pepper and black vinegar which numbs and has us panting for breath.
Ahh my kingdom for a good bowl of century egg congee. Admittedly, I'm a latecomer to century egg and was mostly put off by other people's reactions to it but when I tried it, I instantly loved its creamy texture and pretty translucent opalescent look. The congee is thick and full of flavour, from bits of sesame to the crunch of deep fried dough to the moon shaped pieces of dark green onyx century egg. And even though everyone else was really quite full, I kept going with this.
There were three xiao long bao and each had a good amount of gingery soup in them and a chicken and crab filling. And the million dollar question, how was the skin? Well in all honesty, the skin wasn't quite as delicate as that at say Din Tai Fung but it's hard to best those.
Our last savoury dish is the thin house made egg noodles with roe on scallops and a generous serve of the XO chilli sauce which has a quite a bit of sweetness in it.
Oh how I love a multilayered egg tart pastry! I never feel quite as satisfied unless I've been showered by a thousands tiny crumbs on my lips and dress from the pastry (somehow shortcrust egg tarts aren't as satisfying). Yes this is pricey for an egg tart but this is all layers and a less eggier than usual egg filling and all plans to just have a taste are quickly abandoned in favour of full on scoffing.
And you'd think that all of this would have sated me, but no, I just pined for more later that evening!
Oh and of course, I'm remiss as I forgot to show you our room upstairs at Crown towers. I've tried the two other Crown hotels (Metropole and Promenade) and Crown Towers is the most deluxe of the three. It's certainly opulent with the prominent lights outside and the the slew of designer stores. We alight from the taxi and a very friendly porter/doorman takes our bags and is so polite and lovely that I find myself nodding when he tells me "have a wonderful stay with us!".
We make our way to reception to the left of the lobby. It is a casino so the lights and glitz are amped up to nth degree. We are shown to the third floor check in at the Crystal Club which is the private club check in for rooms from the executive club suite level or above. Here, we take a seat and they tell us that breakfast is served here from morning til noon on weekends (jackpot!) and that there is also complimentary afternoon tea and pre dinner drinks and canapes here too. We make our way up in the lift to our room, number 1722 which is an executive suite.
It's a large room at 72 square metres and opens up to a comfy lounge with a day bed, a low marble table displaying a spread of magazines and an enormous flat screen television with loads of channels and an iPod dock. In the corner is a desk and internet access is not inexpensive $25 per day or it is free in the lounge. All of the light switches are discreet and lighting can be dimmed or brightened by pressing down on the buttons.
Just near the entrance way is a nice mini bar area with drinks (for an indication of prices, sparkling water is $5) and a Nespresso machine with 9 capsules or Simon Johnson tea (English breakfast and chamomile). The curtains and blinds close and open at the touch of a button and you can stop these partway across if you wish. The floor to ceiling windows offer views of the edge of the city and the aquarium. And for light sleepers like me, I found that the blinds blocked out a great deal of light so I had very sound sleeps.
Walking through to the bedroom, there is a king sized bed with soft, smooth sheets and a good mattress - I couldn't feel it when Mr NQN got up in the morning or did his usual tossing and turning. Another flat screen television faces the bed and the turn down box of chocolates and slippers sit by the bed. A sizeable walk in closet and plenty of wooden hangers and luggage space are located just outside the bathroom.
The cream marble bathroom has an almost art deco feel to it with the circular geometric themes. There is a large bath with television, extensive amenities (shampoo, conditioner, shower gel, body lotion, comb, sewing kit, emery board orange stick, cotton tips and pads, shower cap, toothbrushes and bar soap all house branded). However, some of the products are hard to get out of the squat bottles. There are also two sinks and below is a drawer that holds tissues, hand towels and a hairdryer. There is a small mirror that is really more suited to shaving than make up as it points upward. A little chair to do make up would help and there isn't much natural light in the bathroom as it is in the back corner although the lights can be brightened considerably.
And a little test of the concierge service when I accidentally spill chilli oil on my dress. The night concierge is helpful and produces a vial of cleaning fluid of his own which is was very kind of him.
And breakfast? It's a meal that I usually miss but how a hotel breakfast that goes until noon fills me with joy! We go into the Crystal Club lounge which has sweeping booths, glam shades of colour and plush velvet herringbone patterned chairs. I survey the buffet. I'm not sure what the regular buffet is like but this one looks good with good quality items rather than an overload of too many things. For example there is mango juice, a fruit salad selection that has a good variety of fruit beyond rockmelon and apple and two types of natural yogurts. There are three compotes with raspberry, blueberry and mango and a good bircher muesli.
There are also fried noodles with chopsticks and garnishes, scrambled eggs, sausages, mushroom and tomato and a selection of breads as well as cute little filled breakfast sourdough buns. Service is friendly and prompt and you can bet I went straight for the noodles and slider bun while Mr NQN went for the fruit and muesli (he's funny that way ;) ).
A little later that afternoon, tea is served and after an afternoon of shopping and walking around, we rest our weary bones on the circular banquettes and order a pot of tea from the friendly staff. Service in the Crystal Club is excellent and while they prepare the tea, I take a snoop around to see what is on offer. The first day we had these cakes and macarons. The chocolate cake with two balls of mousse was delicious as was the mango bavarois. I think the macaron flavour was cookies and cream and it was light and sweet.
The next day we tried the selection above which seemed all these as raspberry and passionfruit desserts. I would have loved some chocolate morsels or something a bit different though. The raspberry triangle is moussey, tangy and light while the passionfruit balls are the same, just with passionfruit. The raspberry macaron however...hubba hubba! That was good :)
And later between 5-7:30pm there are free drinks and complimentary nibblies. Here, I have an assortment of the quiche and beef empanadas which were excellent. I also had some hummus, sun dried tomato and bocconcini which I ended up being quite addicted to...
See how many I hid in my second round? Mr NQN pointed out that he could see about six pieces there under the tomato. Caught again!
I brought back a tamarillo for Mr NQN who was rather, oddly, delighted. He never fails to make me laugh.
So tell me Dear Reader, does your opinion of food differ from your partner's or friend's or do you generally agree on things? And is there a cuisine that you have to eat often and if so, which one is it?
Spice Temple
Crown Entertainment Complex/8 Whiteman Street Southbank VIC 3006, Australia
Tel: +61 (03)8679 1888
Crown Towers
8 Whiteman Street Southbank VIC 3006, Australia
Tel: +61 (03)9292 8888