When I worked a corporate job, every Friday to celebrate having made it to the end of the week without screaming or running through the office doing spirit fingers at my boss and upper management, I would get myself a Friday breakfast treat. The cafe at the bottom of the building where I worked would sell blueberry bagels and so I would ask for a toasted blueberry bagel with jam and cheese on it. Not cream cheese, mind you but cheddar cheese.
Every single Friday that I ordered it, the chef would stick his head out from the pass and say the exact same thing.
"Jam and cheese? Cheddar cheese? Together?" he'd ask looking me up and down with unmasked disgust and shaking his head. I don't know if that was his routine or schtick but I couldn't be bothered finding somewhere else so I'd look back at him and tell him "Yes, I want both on the bagel. Together." I still maintain that it is a very tasty combo and those who judge should actually try it before sneering! ;)
Another item that people at first may have thought was strange is a tomato tarte tatin. They're probably used to apple tarte tatin, those wonderful tarts where the apple is cooked underneath a layer of puff pastry and then flipped over so that the pastry remains crisp and golden and the apples beautifully caramelised and cooked.
Well this isn't a sweet tart, it's actually a savoury tart and I had one at my friend Myriam's house a couple of years ago. When I came across a glut of delicious summer tomatoes, I bought them and knew that we were set for a revival of the tomato tarte tatin. My version is slightly different; the pastry crust is actually a stuffed crust filled with cream cheese and the sweet tomatoes are paired with sweet red onion. You can top it with fresh basil, parsley or oregano. The base itself turns into a soft, crunchy tart with a soft cheese filling, almost like a stuffed, buttery cheese bread. And I promise you that no eaters of this will question its logic at all ;)
So tell me Dear Reader, have you got any unusual combos that you like together? I have a friend that eats Nutella, Vegemite, honey and peanut butter on a sandwich!
Tomato Tarte Tatin
An Original Recipe by Not Quite Nigella
500g/1 pound tomatoes (I used some Johnny's Love Bite tomatoes)
2 tablespoons olive oil plus 1 tablespoon extra for drizzling later and for oiling the tin
2 tablespoons breadcrumbs
2 sheets frozen puff pastry
125g/4ozs cream cheese, softened
Step 1 - Preheat oven to 200C/400F and take out the puff pastry to thaw. Line a springform tin base with baking parchment and oil the sides of the tin. Halve the tomatoes and place in a bowl with the sugar, 1 teaspoon of salt and oil and slice the onions and add these to the bowl too and toss gently. Then place the tomatoes cut side down on the base of the lined tin and slot in the pieces of onion around them to fill in the gaps. You want them quite tightly packed. Sprinkle over with the breadcrumbs- try not to forget this as I tend to do because the breadcrumbs absorb the extra juice from the tomato.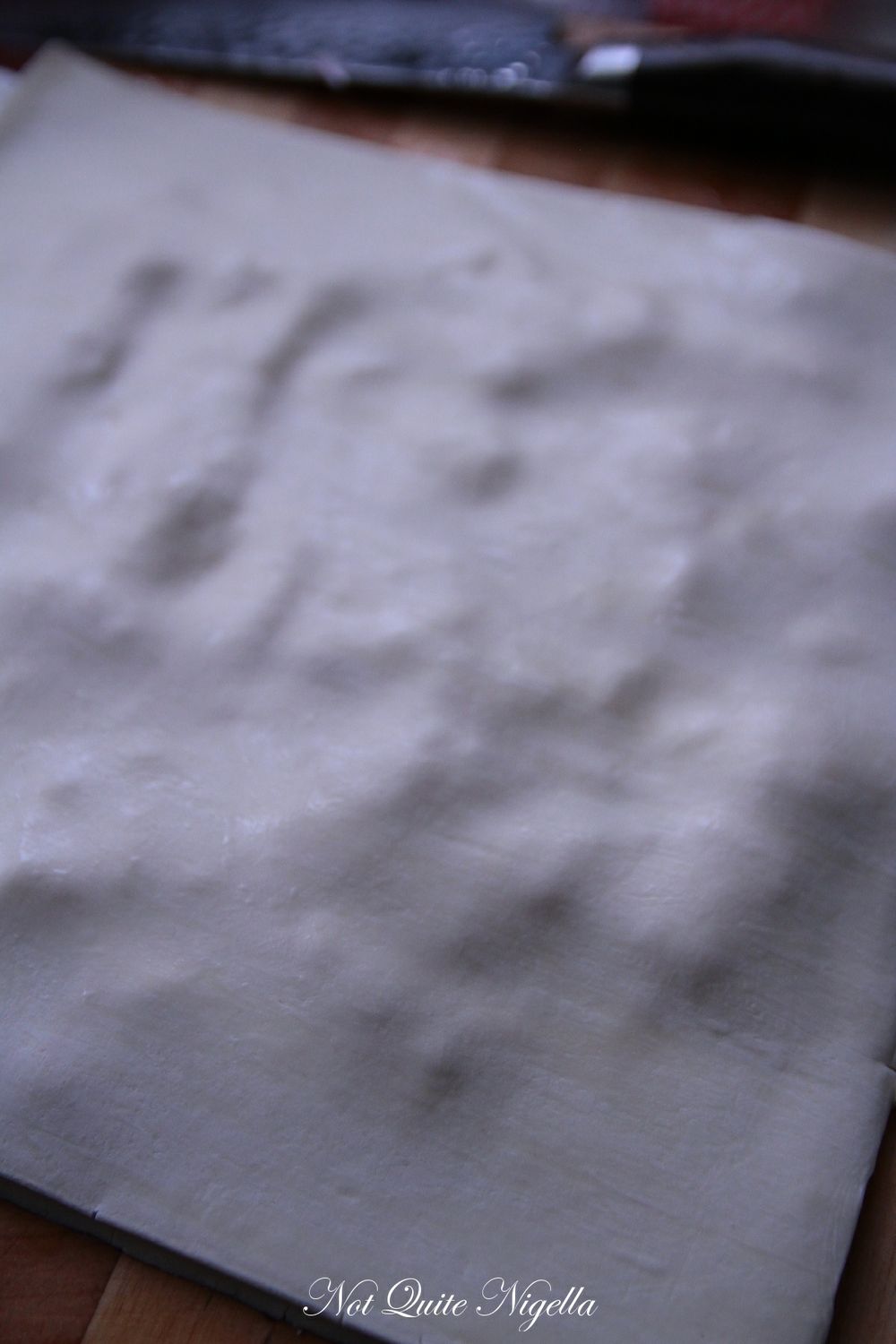 Two sheets of puff pastry filled with cream cheese 
Step 2 - With the beaten egg, brush both sheets of puff pastry with the egg and fill the centre with the cream cheese-make a circle around the size of the springform pan. Press the edges together and lift these and place it on top of the tomatoes, tucking in the sides. Brush the bottom of the pastry with the beaten egg and then bake in the preheated oven for 25 minutes.
Step 3 - Have a baking tray ready (I used a round metal pizza tray) and once ready, carefully flip over the tarte so that the  tomato shows on top. Increase the heat to 210C/410F and bake for another 8-10 minutes until the tomatoes and onions are starting to caramelise. Serve with fresh herbs, salt and pepper. Drizzle a little extra oil on top too.