Sometimes, the views at Lord Howe Island grab you when you least expect it. Like an aquamarine eyed supermodel emerging from the ocean, you may be walking out of a shop or cafe and suddenly, you look at the water. It's a hypnotic aquamarine teal shade that hits you and commands your attention squarely and never lets go. I'm convinced the 25 km per hour traffic zone has something to do with motorists crossing lanes suckered in by the bewitching view.
I'm thankful that we have use of Capella's golf buggy. We have a busy itinerary and it helps us get to our appointments without running late. We exit Capella's grounds and make our way North. Tiny rails (birds) skip across the road to the clover laden grassy patches as if skimming on top of water and we breathe a sigh of relief when they make it across with yards to spare. When passing other vehicles, island protocol is to wave and Mr NQN and I wave heartily at everyone we pass.
"We don't do your regular sort of cooking classes" chef Paul Brown of Pinetrees Lodge tells us. We are starting our island exploring with a cooking class with a slight difference. There's no amount or measuring for his classes, instead people are shown techniques on how to make meals from scratch. In an hour, they may learn how to make pasta from scratch and "beat the water to boil" so that it takes less time to make fresh fettuccine than it would to boil the dried version. They'll also learn how to make aburi sashimi, make two kinds of desserts and do some molecular gastronomy, all in one hour.
Paul is the executive chef here at Pinetree Lodge after his former life travelling the world as a private chef and 15 years in Sydney working in various kitchens as well as having his own Avalon cafe "Cafe for Obscure Avalon Painters." Pinetrees has been in the same family for seven generations and is the largest resort on Lord Howe Island.
He shows us a yellowfin tuna, an enormous 22 kilo beast that was caught off the rocks just yesterday which is no small feat. He tells us that tuna is often best when the tuna has been resting for at least a couple of days rather than being cut up straight off the boat. He shows us how to make aburi sashimi by slicing off thin layers and painting it with a miso, black sesame and wasabi glaze. He takes to it with a torch and caramelises the glaze and we try some. It's sublime and the same treatment is given to the kingfish, a mainstay on island menus and the most common fish found.
The food that he cooks in the classes often relates to the food that the guests will see at dinner. They try and keep it as local as possible and there are suppliers that supply them with vegetables although they do have to rely on the barges that appear every fortnight for other supplies.
He uses a blend of plain flour and semolina to make a fresh pasta. Mixing it together quickly, he slides it into the pasta maker about 4-5 times folding it over before every time to allow the dough to develop properly and lose the graininess.
Once this disappears, he makes the pasta thinner and then adds the fettucine or noodle attachment. He adds it to the water which is boiling and starts on the sauce which is made up of a healthy but delicious mix of brussel sprouts, Jerusalem artichokes, onions, tomatoes and walnuts and seeds.
Paul then shows us how a sabayon, a fluffy mix of eggs and sugar that can be the base for sponges if you add flour, or other desserts. Adding mango and cream makes a semifreddo while adding cream and melted chocolate makes a mousse. I'm hoping that Mr NQN gets inspired enough to try them although his enthusiasm for eating them is not yet matched with that for cooking them!
And before we leave, we also learn a molecular gastronomy technique. Using a Algin bath, a slotted spoon and Gluco and Xantana that you can order from Ferran Adria's online store, you can make a margarita with little mango gel balls that explode once they hit your tongue.
The key is to use 1% of the ingredients to the volume so to make 100grams, 1 gram would be the active ingredient. It looks very easy and the mango gel balls look like little egg yolks with the thinnest membrane just holding the liquid in.
Have you got your own secret spot? A place where only you know of? We were originally supposed to go for our seafood barbecue at Ned's Beach but the wind conditions weren't ideal. Thankfully, the Lord Howe Island board has set up many barbecue spots for tourists and locals to use and each barbecue is maintained and stocked with wood. You simply use it and clean up afterwards and take your rubbish with you. Most of these spots are at scenic areas right by the beach which are easily accessible for everyone.
Capella had deposited picnic and snorkelling equipment at the "secret spot" for us a little earlier and delivered our provisions to us at a set time. The secret spot isn't exactly secret, but it's a beauty right near Old Settlement Beach. On the way, we see the Island Trader boat from Port Macquarie which is bringing provisions to the island. Starting the fire is left to Mr NQN who calls on decades ago experience lighting a fire. They give you all of the equipment that you need and I take out the tablecloth and set the picnic table while he attends to the stubborn fire.
Kindling and newspaper is given and it takes a good 20-30 minutes to get a fire going. I start cooking and there are kingfish fillets, squid, prawns, onions and par boiled potato slices to go on the barbecue along with some garlic butter. To go with this is a salad, some slices of white baguette, butter and two squares of chocolate and walnut brownie.
And another little bonus at Old Settlement Beach are the turtles that are often seen swimming quite close to shore in knee to calf deep water. They are curious and although you aren't allowed to touch them they will swim towards you within one to two metres. There were two that came to look at us before sweeping their fins to take them round in circles or wherever their curiosity or the currents take them.
Our barbecue took a little longer than we thought so we jumped in our Capella golf buggy. It allows us to cover the island quickly and while others bike, some walk. Doing the latter is certainly healthy but perhaps doesn't allow you to see the full range of the island and from talking to some, they stick within the junction of Ned's Beach Road and Lagoon Road. It's a bit of a shame because the south side where Capella is located is beautiful and well worth a visit. We make it just in time for Islander Cruises' snorkelling cruise. Snorkelling direct from the beach doesn't quite yield much to see so the best bet is on one of these boats.
Peter Busteed has been running his business for 21 years and at $45 per person for two hours, it is one of the best priced cruises around. During the cruise, you visit three spots: Horseshoe Reef, Erscott's reed and Comet's Hole.
The wet suit and snorkelling gear are all provided in the tariff. I was eager to try snorkelling but alas, my throat and the relatively chilly water meant that I stayed put in the boat. No matter though because the boat itself has a glass bottom base so I could see everything go past me.
For the snorkellers, the first stop at Horsehoe Reef provided a lot to see but not much for those still on the boat. For us, the best view was on the third stop, Comet's Hole where I saw reef sharks, silver drummers (also called stinkers because they smell and aren't good to eat). I see beautiful wrasses including an iridescent green wrasse who live in harems and learn that the dominant female can change gender to become the dominant male if he dies. Peter throws in a little bread and then some fish pellets. They're trying to wean the fish into eating the fish pellets as they are better for them.
Fred, the double header swims past looking like a curmudgeonly old man. Banner fish, Moorish Idols, butterfly fish, painted morwongs and black and white sergeants swim past in schools. Peter glides the boats over the reef so that I can see everything clearly as if I were snorkelling and it's amazing how unperturbed the fish are by everyone's presence. Everyone's first sighting of a reef shark was understandably nervous but they are generally harmless and not known to attack humans.
After almost two hours out there, people are reluctant to go back in but are full of stories of what they've seen. Mr NQN regales with a story of a reef shark who swam centimetres behind a tiny fish, nose to tail while the tiny fish swam its hardest, perhaps to escape being fish food.
And no expedition is complete without something to eat. We come back in and there's Peter's wife's chocolate cake and coffee and tea for us.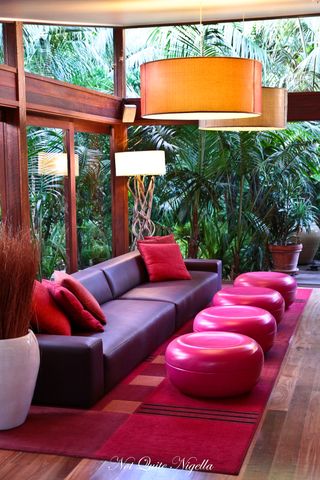 There's time to shower and change as we are booked at dinner at Arajilla restaurant. Arajilla Retreat and Capella Lodge enjoy a friendly rivalry as they are both small resorts with similar clientele. The decor and feel for both are different. Capella is all about soothing blue and white tones while Arajilla invokes a colourful Eastern vibe as owners Jan and Bill have travelled extensively throughout the world.
There's an ayurvedic spa on the premises and dinner is at the main restaurant. Arajilla sometimes allows for outside guests to dine if the house isn't full but in house guests are seated first. There is a three course menu with two choices available and wines are drinks are extra. We sit down and the other guests are friendly and there's a comfortable atmosphere.
The seared scallops are perfectly cooked, sizzling crisp on the outside and soft and yielding on the inside and served with flavoursome large slices of grilled chorizo, deep fried capers, crispy candied pinenuts and sweet vincotto syrup.
The plump dumplings come three to a serve and were filled with a soft mixture of duck meat and wild mushrooms. The strongly flavoured broth is made up of ginger and soy with coriander. The crunchy tempura batttered broccolini gives the soft dumplings a nice textural contrast.
The fish is slightly overcooked and is paired with an Asian salad of green paw paw, herbs and chilli with a sweetish namjin dressing and a ball of jasmine rice.
Grilled beef fillet, button mushrooms, slow roasted local cherry tomatoes, baby beetroot pumpkin, parsnip puree and red wine eschallot butter
The beef fillet is perfectly cooked to order as medium rare and comes with a disc of red wine eschallot butter which adds a fantastic favour to it and slow roasted cherry tomatoes, balls of pumpkin and a smooth beetroot puree.
The double chocolate torte was a layer of thick chocolate mud type cake at the bottom and a dense layer of dark chocolate ganache on top with a paper thin layer of chocolate on top. Cacao nibs add more crunch and the cake is gloriously decadent. It was the kind of cake that makes you forget any sorts of dietary musings or ambitions.
It was hard to choose a favourite dessert though as the black sticky rice dessert is also excellent. It's a round of sweet black sticky rice, a mango sorbet that tasted just of fresh mango, coconut puree drops and crunchy candied ginger pieces on top of the mango sorbet. The staff kindly drop us back to our rooms where we sleep like babies.
The next morning, we wake early and get as much done on this island as we can before we are to depart. A must do at Lord Howe is to be part of a fish frenzy at Ned's Beach. To do this, you insert a $1 coin, get some fish feed in one of the takeaway containers and wander out into the water. "Are there any fish there?" I ask. I'm sort of half blind and Mr NQN answers "tonnes!"
And then I see them, a virtual whirlpool of fish in the hundreds. Throwing pellets into the water makes them even more excited and it's as if you stepped into one of those koi ponds full of fish. They can't really bite at you as they don't have teeth and the waves mostly knock them towards you but it's an incredible experience being amongst that many fish.
Ned's Beach was voted as the cleanest beach in Australia in 2005 and it's a popular spot for many. Snorkeling equipment can be hired at the beach using an honesty system and I could have stayed there for hours feeding the fish.
Before long, it's time to get something to eat. So where is there to eat if you want to eat away from your accommodation? There are a few places to choose from and we went on chef Paul's recommendations.
"Did you go drinking last night?" the man behind the hamburger counter at Thompson's asks me."No" I answer. "Oh well I was going to suggest that you try The Future burger" he answered. "What's that?" I inquire. "It's a burger that has a potato scallop on it."
I haven't had a potato scallops for years, not since they were the best tuck shop item to order because they were tasty and fit a pre teen's pocket money budget. Most locals go for the Crom burger mainly because it tastes like a McDonalds burger although that doesn't really sell it to me. Instead, we sink our teeth into The Future. Cooked to order, with a 100% beef patty, soft bun, cheese, plenty of pickles, bbq sauce, bacon, American mustard and that crispy, crunchy potato scallop it's exactly what you would want when eating a burger. Completely calorific but delicious.
Right next door is the co-op where you can buy items by weight. If you're staying in self contained apartments, many people make use of the range of food available here which are sold at reasonable prices. Mr NQN buys some dried mango and they also sell local's items like eggs and bananas while other produce comes from nearby Port Macquarie. The dispensers have names on them which are the names of the people that donated money to have these dispensers in the store.
Across the road is Anchorage Cafe where they make a large amount of freshly baked goods and cafe style meals for breakfast, lunch and dinner. We take a seat outside and service is very laid back and friendly. They tell us the specials of the day - the barge has just come in and they're excited because there is fresh spinach. I recall Libby from Capella telling us that the businesses on the island often do call arounds and swaps if they're out of certain items. We order a house baked pie with salad and a roasted beetroot salad. They also make lots of fresh bread and cakes baked every day.
There were four pies to choose from and the pork and cider intrigued us the most. All of the pastry is made in house and you can tell because it's so light and crispy with a good amount of soft pork, vegetable and cider filling. The salad, well it's a hark back to those ice berg lettuce salads with a vinaigrette dressing but the pie is a good choice and knowing that the barge arrives once every two weeks makes us appreciate fresh produce more.
The nutty quinoa, brown rice and roasted beetroot salad comes with a very generous amount of halved black olives and feta. I would have loved a slightly creamier feta in this like a Danish or Persian but the dollop of creamy, tart yogurt labne on top does the job.
"If I could invent a perfect island, I think this would be close to it" Mr NQN muses aloud. "The weather is perfect, there's a breeze for kiting, you can sail and you can feed those fish all day" he says as I smack him lightly and smile to myself.
So tell me Dear Reader, do you have your own secret spot for when you want to get away? And when you go away, what sort of activities do you prefer? Cooking classes, sporty ones or just relaxing on a beach?
NQN and Mr NQN travelled to Lord Howe Island as guests of Destination NSW, Capella Lodge and Lord Howe Island Tourism. Meals at Thompson's and Anchorage Cafe were independently paid for.
Pinetrees Lodge
Lagoon Road Lord Howe Island NSW 2898, Australia
Tel: 1800 226 142
www.pinetrees.com.au
Capella
Lagoon Road, Lord Howe Island
Tel: +61 (02) 9918 4355
www.lordhowe.com
Islander Cruises
www.islandercruises.com.au
Tel: +61 (02) 65632021
Arajilla
Old Settlement Beach, Lagoon Road, Lord Howe Island NSW
Tel: +61 (02) 6563 2002
www.arajilla.com.au
Thompson's Store
Neds Beach Rd Lord Howe Island NSW 2898, Australia
Tel: +61 (02) 6563 2155
Co-op
Neds Beach Rd Lord Howe Island NSW 2898, Australia
Monday & Friday: 10am-12 noon
Tuesday & Thursday: 10am-12 noon & 3pm-5pm
Sunday: 10am-12 noon
Anchorage Cafe
Neds Beach Rd Lord Howe Island NSW 2898, Australia
Tel: +61 (02) 6563 2287