I am the world's worst meditator. Alas it's simply a skill that has until now, completely eluded me. It seems ironic that after all of these years, meditation should suddenly come to me. I am sitting on a balcony, on soft cushions framing my buttocks with a landscape of Kentia palm trees and blue water facing me. The weather is a pitch perfect 23 degrees Celsius and a gentle breeze is blowing the branches and leaves of the trees in faint orchestral background. It's hypnotising and every time the breeze blows, I angle my cheek to receive a caress. I sat there for at least a good ten minutes in silence and couldn't even contemplate getting up. And I suddenly realise that this is what a meditative state is.
There's a knock at the door as a member of Capella Lodge's seamless staff enters carrying a bottle of Petaluma Croser and that's the only thing that breaks my reverie. We're in the Catalina room at Capella Lodge on Lord Howe Island. The island is two hours by plane from Sydney and with a total of 300-400 residents including staff, it's a popular destination for honeymooners. Or first time meditators ;)
Lord Howe Island, Australia's first World Heritage listed island, is eleven kms in length and two kms wide. It was created seven million years ago when a large shield volcano erupted from the floor of the Tasman sea and was then forty times larger than its current size. My first impression is that it reminds me of the lush green-ness of Hawaii and in fact, two thirds of the island is covered in forest.
There are no holiday homes on Lord Howe Island and any home owners must live on the island-this is to encourage a vibrant community there. At any one time, they can only have a maximum of 400 visitors to the island. The speed limit on the roads is 25kms per hour and the island has one policeman. There are cars but the preferred mode of transport is bicycle. There is one hospital and one doctor who is on call. There is no mobile phone reception at all on the island and internet is intermittent and slow, which frustrates locals more than holiday makers.
Capella Lodge in the Southern side or "spiritual side" of Lord Howe Island and is situated just above Lover's Bay near to Mount Gower and Mount Lidgbird, the two volcanic mountains that dramatically face the lodge. The luxury lodge is part of the Baillie family property portfolio which also includes its "big sister" property Southern Ocean Lodge. Nine suites make up this private couples only luxury lodge and personalised and accommodating service is what it is also known for along with expansive views and a luxurious suites.
We were picked up at the airport by Libby who along with her gregarious husband Mark, manage Capella Lodge. In a synchronised fashion, she gives us a cheerful mini tour of the island in the car on the way to the lodge while Mark takes care of the bags and they arrive in our suites in time for our arrival.
The first order of the day once you arrive is to relax. There are no distractions apart from the view and when they bring you a welcome tea and some nibblies, all you can do is surrender to island time.
Our suite is a Lagoon Loft which has a lounge area below with a bedroom upstairs, both levels with a balcony to make the most of the view. The bottom floor features a long L shaped lounge, a BOSE music system, a large flat screen television, complimentary soft drinks and a mini bar with a range of gourmet snacks. Teas are by T-bar and there is an extensive range of loose leaf teas that can be provided to suit your taste. A plate of mini lemon meringue tarts awaits and the balcony beckons. And that's where I got lost for a while...
Upstairs, the mezzanine bedroom with the king sized bed sits in front of stunning water and mountain views. The sheets are silky smooth and the bed temptingly comfortable. There are a range of goose and duck down pillows along with a pillow menu and it is the perfect place to lie down and watch the palms dance or you can plonk yourself down on one of the chairs on the mezzanine balcony and sip the sparkling wine.
The bathroom downstairs is modern and all dark colours in basalt stone. There is a large, modern shower with two shower heads: a monsoon and a massage head but no bath (water is from rainwater tanks). I'm pleased to see that there are their own house body products which we tried at Southern Ocean Lodge. From a vanilla ginger lily shampoo, jojoba conditioner, lime cassis body wash and a soap, hand wash and body lotion, all products are made specially for them and are superb. There are also cotton tips and pads, shower caps and a loofah tucked away in the drawers.
Luxurious bathrobes, low rise pillows, leather slippers and a safe are in the cupboard and the resort is a keyless resort but there is a lock if you want to lock the doors from the inside. Backpacks and bikes are provided as guests are encouraged to explore the island during the day and breakfasts and dinners are included in the tariff. The lodge gets up to 50% of its water from collected rainwater tanks and uses solar power for the hot water systems.
After a bit of time enjoying the room (and tell me, do you just enjoy staying in a hotel room as much as I do?), we go downstairs to the main building to have pre-dinner drinks that start every evening at six pm. On the way, we spot some of their protected Woodhens, who make a lovely little squeaking noise. There's a family of them at Capella and they are all tagged and are surprisingly tame.
Each evening, "the girls" which is the team of wonderful all female lodge staff that are gentle and intuitive, design a new cocktail. This evening is a hazelnut cocktail with the distinct, rich and sweet aroma of hazelnuts. Each guest is known to the staff and everyone is on a first name basis.
Canapes also feature in the nightly ritual and the fried dumplings are filled with slow cooked beef and a spoonful of goat's cheese, prosciutto and olive.
Usually, guests can have dinner whenever they please but as it is a Friday night, tonight's dinner is a degustation whereas the other evenings of the week have a la carte menus. We make our way to our tables and ours faces the stunning view of the headland that seems to have its top permanently shrouded in fog.
House made bread comes to the table and there's a white roll with black sesame seeds and a brown rye bread. Both are excellent and served with a choice of Lomondo olive oil from Mudgee or butter.
Capella Lodge have their fish caught by local fisherman with almost daily deliveries straight to the lodge. The menu details the provenance of much of their produce. The first course comes out quickly and it's a shallow dish filled with a rich, salty and strong Balmain bug broth flavoured with kaffir lime, lemongrass and chili as well as tender pieces of balmain bug and mushroom. The flavour is strong and bold and it is perfectly matched with the wine.
Cured kingfish, blood orange, pickled fennel, watercress, chilli oil served with Cloudy Bay Sauvignon Blanc, Marlborough, NZ
The king fish is cured two ways, with beetroot and with blood orange. It is served with thin slices of pickled fennel and fronds of watercress. It's a well balanced dish and the thin slices of chilli at good-at first...I warned Mr NQN just in time for the thinly sliced Jalapeno chillies which are actually from their garden. Our waitress tells us that they started off mild but by now, they're quite strong and I find myself reaching for the bread to dampen the heat.
The ginger and lemongrass sorbet balls are refreshing and sweet and strong in both flavours.
Slow cooked duck breast, raspberries, local rocket, grapes, apple, jus served with Amisfield Pinot Noir, Central Otago, NZ
The slow cooked duck breast came out as three pieces of pink cheeked duck breast with a nice edge of juicy skin around one side. Served with fresh raspberries, sprigs of local rocket, halved grapes and paper thin slices of apple and some raspberry and duck jus, it was a good alternative to duck with cherries. Interestingly, since the boats only bring supplies of food once every two weeks, these picture perfect fresh raspberries were the result of a recent delivery.
Wagyu tenderloin, oxtail tortellini, asparagus, tomato, pecorino served with Henschke Henry Shiraz, Grenache Viognier, Kyneton, SA
The wagyu tenderloin is served medium rare and is tender and sumptuous and comes with two oxtail tortellinis, slender white and green asparagus, sweet tomatoes and pecorino. And while there were plenty of courses, they weren't too heavy and quite a neat portion size.
A deliciously runny number, the Will Studd Brillat Savarin cheese came with house made rosemary flat bread, a dried fig and half a strawberry.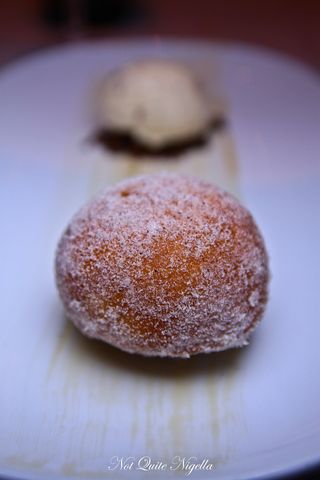 Our dessert was a cinnamon sugar dusted doughnut filled with a centre of Belgian chocolate. To the side was a hazelnut ice cream served on chocolate crumbs. The doughnut was freshly fried and satisfying.
Last and surprisingly, one of the richest offerings were the truffles. These were dark chocolate truffles filled with peanut butter. It's a perfectly decadent end to the meal. When we get back to our room, turndown has been performed and an essential oil is burning in the oil burner and music is playing.
The next morning, we wake and go to the main building for breakfast. Again, it's a perfect 23 degree day. Breakfast is served between eight to ten am which ends perhaps a little early for those wanting to have a long sleep in on the weekend. Although, it's probably a good thing because it allows us time to see the island although I've come down with Mr NQN's throat infection and all I want to do is sleep, a feeling made that much stronger with the comfort of the bed. One thing that means a lot to me is cleanliness and housekeeping at Capella Lodge is excellent and amongst the best I've experienced and they clean the rooms thoroughly each day and tidy up everything. Mr NQN stopped by while they were cleaning to pick up his sunglasses and he said to me "they're even cleaning all the blinds!"
Breakfast consists of a cold buffet selection with poached pears, yogurts, Carman cereals, bircher muesli, friands, breads with three types of Hank's jams (triple berry, marmalade and apricot-the first two being my favourite), honeydew, rockmelon and blood orange.
On the a la carte menu are about half a dozen hot items and each day there is a drink and hot food choice made up for the day. Today's  selection is a mango smoothie and a poached egg with olives and local tomatoes. Mr NQN goes for that while I choose an omelette.
They arrive and the omelette is soft cooked, just the way I like it, with button mushrooms, goat's curd, local rocket, caramelised eschallots and blood orange oil.
Mr NQN's toast is a thick piece of toast with a freshly poached local egg, tomatoes and olive slices. As my throat feels like I'm swallowing razors, I ask for a honey and lemon drink and one of the lovely girls also suggests their extensive range of  infusions and teas. We watch as the clouds lift off the headland outside and decide that it's time to explore the island! Armed with a golf buggy, we set out to see what else this captivating island has to offer. Stay tuned Dear Reader...
So tell me Dear Reader, where did you go for your honeymoon? And for those of you that have yet to go on one, where is your dream honeymoon destination?
NQN and Mr NQN travelled to Lord Howe Island as guests of Destination NSW, Capella Lodge and Lord Howe Island Tourism.
Capella Lodge
Lagoon Road, Lord Howe Island
http://www.lordhowe.com/
Tel: +61 (02) 9918 4355