A first day at a job can be intimidating. Especially when you start work at an advertising agency whose unofficial motto is to "Work hard, party hard." On my first day at an agency I was led around and introduced to each department. And the creative interactive department, once the realm for geeky types had morphed into the "cool" area.
The person showing me around whispered to me "This is the interactive creative director. Don't worry if he doesn't like you," which didn't help my nerves. He was small in stature with a rounded face and body and mischievous blue eyes. He regarded me for a moment and stroked his chin.
"Morticia!!!" he said, delightedly.
I don't know what on earth possessed me to do it but I held out my hand and in a similarly delighted tone I said "Pugsly!!!" He threw back his head and laughed and grabbed my hand and kissed it Gomez style and every time I saw him since we exchanged his Morticia Pugsley conversation.
And as someone that thinks that Halloween, like Christmas is far too infrequent at once a year, when I heard that the Addams Family musical was coming to Sydney and that Sofitel, the official sponsor hotel was creating their very own Addams Family Afternoon Tea complete with an entire suite decorated in the Addams Family style, I jumped on my broomstick immediately.
At the time that it was built in 1969 the building that the Sofitel sits in was the tallest building in the Southern Hemisphere. Originally built to put up Qantas crew, the rooms in the front of the hotel are larger than the rooms in the back. Many parts of the hotel are heritage listed including the fifth floor courtyard, the marble floors and ceilings and the pineapple themed wallpaper.
The Addams Family hotel and high tea package is very reasonably priced indeed at $235 per person a night twin share and this includes overnight accommodation in the specially designed prestige suite (the highest level suite below their presidential equivalent), an A reserve ticket to the show, a souvenir program and a coffee table book called "The Addams Family: An Evilution" by Charles Addams, the creator of The Addams Family.
Also included in the package is Club Sofitel access (which has complimentary drinks, afternoon tea, canapes and pre dinner drinks), breakfast for two, an Addams Family high tea for two with matching cocktails, late checkout, free shirt pressing and free wifi. You can also just book the high tea and the show at $134 a person which includes an A reserve ticket or just the high tea itself which is $59 a person. All available from the 10th-28th March.
So, what is in the Addams Family afternoon tea? It is held in the Soiree lounge downstairs which we are told will also feature a smoke machine to spook it up. First to come out are the cocktails. There is a choice of two including 'Morticia's Martini', a dark cranberry based cocktail made with Absolut Kurant and crème de cassis. The cocktail is finished with a ghoulish eyeball made of a fresh blueberry and strawberry jam stuffed into a lychee.
The elegantly tall Morticia shaped cocktail is 'Pugsley's Poison' which is said to be a bubbling potion, made with Midori, sparkling wine and garnished with a rim of faux blood dripping down the sides. The finger tip is a sugar cube soaked in grenadine to give it a bloody look. I liked them both but preferred the flavour of Pugsley's Poison and the look of Morticia's Martini.
The three tiered tray arrives looking darkly gorgeous. The top layer holds the sweets which include a crackly toffee topped creme brulee, a chocolate religieuse choux filled with vanilla custard, spider's web crisp lemon meringue tarts, a white and a black macaron and my favourite pick of the whole stand, "Cousin It" made out of pashmak complete with chocolate sunglasses which hides his blackcurrant gel centre (a great idea for this year's Halloween party!).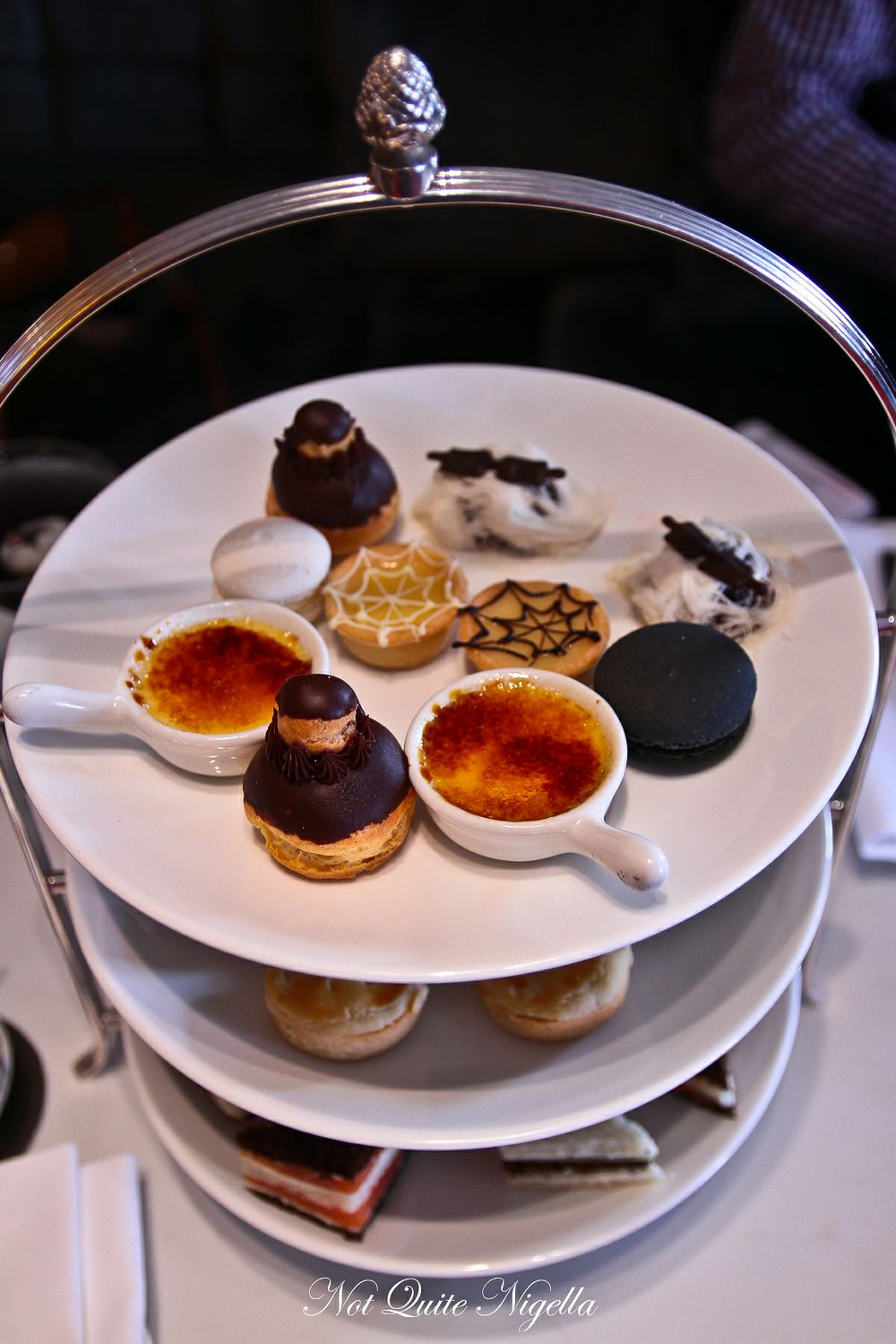 The second layer holds the scones, alas not served warm, but with strawberry jam and light whipped (not clotted) cream. On top of these were a severed finger biscuit with finger tip made out of almond (if you are curious on how to make these, instructions are here). The red "blood" at the end was very salty although we were told that this would be rectified for future afternoon teas. There's also petite apple and currant pies topped with a small gold axe and a chocolate ganache iced square.
The bottom layer held the savouries. There were two types with black and white bread layers. The first was a smoked salmon and cream cheese sandwich and the second was a cucumber, cream cheese and dill sandwich. In the centre was a virgin Mary jelly which was actually a really nice selection-you don't often see savoury jellies at high tea. Last was a soft, warm spinach, sweet potato and cheese muffin.
Our choice of tea came out at the end and I chose a Ronnefeldt Earl Grey while Mr NQN had the chai. This isn't brewed with the milk although it can be if you ask.
The view from the Addams Family suite
So are you as curious as I was to see what The Addams Family Suite looked like? After checking in upstairs on level 5 in the club checkout and riding the elevator to room 1702 on the top floor we arrive at the suite. The lounge area is a visual feast and the first item I spy is the mock electric chair which is really more a vintage barber or dentists chair complete with rust and "barbed wire" (note to self: find out where they got this from and hire it for this year's Halloween party!). A snake wraps around the base of a lamp.
A platter of tiny potion bottles, a glass skull, beaker, decanters and red and black roses sits on the coffee table while a spider's web decorates the mirror complete with faux spiders. A side table houses a display of detached arms under glass domes while the work desk has a range of black and red faux roses, a fruit bowl and petit fours (the canelé, raspberry macaron and the opera cake are especially good). The two pens provided are also themed - one is shaped like a saw, the other like a giant screw.
Just behind the desk hanging from the curtain rod are two black wrought iron cages holding birds and spiders and framed black and red drooping flowers decorate the wall. The mini bar is well stocked with a Nespresso machine and Ronnefeldt teas. The drink selection and mini bars snacks are not inexpensive with a 300ml bottle of sparkling water at $7.
I walk into the crimson walled bedroom and the theme continue. It starts with a wall of spiders to the left. All of the bed linen is black and there are photo frames dotted throughout the bedroom of the Addams Family and a portrait of Uncle Fester and one of Morticia reclining on a chaise lounge.
A wooden light shaped like a lightbulb, a shout out to Uncle Fester perhaps, casts a slightly eerie shadow on the room. The display also includes glass jars with spiders, black skulls, black roses all draped in cobwebs. In the cupboards are robes and slippers.
The bathroom mirror has a black rose decal with a ghost like apparition staring back (although this really does obscure the mirror's reflection) as well as more potion bottles, skulls and black towels. Provided are toothbrushes, cotton buds, cotton pads, loofah, sewing kit, emery boards, soap as well as L'Occitane shampoo, conditioner and body wash but body lotion is on request.
Could this be the start of a new type of luxury-creepy luxury or creepy chic? ;) Despite this, or perhaps because of this, we end up sleeping like babies that night.
It's back downstairs to the fifth floor to partake of some sandwiches and tea. Included in the stay is club lounge access which includes three meals-breakfast, afternoon tea and pre dinner canapes and cocktails. There are four types of sandwiches and hey are excellent, all very fresh and the egg salad and chicken are a favourite. There are also crepes, strawberries and two types of chocolate as well as six types of small cakes and eclairs and macarons.
Relaxing by the window reading my copy of The Addams Family: An Evilution (sorry for the bad iphone pic!)
Service is gentle and deferential here and like all Sofitels, the greeting from staff is "bonjour!" The next morning, we also enjoy breakfast in the lounge and pre dinner drinks and it's not long before Mr NQN finds himself whistling the theme to The Addams Family while I sing with him, off key of course.
So tell me Dear Reader, are you a fan of musicals? And do you have a nickname and do you think it suits you? And if you could have any holiday or celebration more than once a year, which one would it be?
NQN and Mr NQN stayed as a guest of the Sydney Sofitel Wentworth
Sofitel Sydney Wentworth
www.showbiz.com.au/addams-family/hotel.html (offers available from the 10-28th March)
www.sofitelsydney.com.au