I've finally capitulated. I've finally done something that I've effectively managed to put off for my whole life. I was sitting at a lunch one day and I looked around. Other food writers were popping cholesterol pills and talking about the perils of their job. Chins wobbled, cherubic faces shook with sympathy and I realised that if I didn't already look like that, I would perhaps soon.
So Dear Reader, I got a personal trainer. I know, it's sooo not me.
I approached it with trepidation, shopping around. The first place I rang was very nice but didn't have a PT available during the time that I wanted. I know myself very well by now and if I have to get up at the crack of dawn, I won't so I tried a second one. They didn't ask me any questions about what I wanted, they just asked me to come into their Surry Hills location to see what they were all about. Again, I know that if I have to travel somewhere (a suburb where there's no parking) I generally won't. The third call was promising and I hit the jackpot and a few days later, I had my first lesson.
A strange part of me was excited about it. My trainer Nina is sweet and enthusiastic but tough and won't let me get away with anything. My first session left my muscles aching and Mr NQN found me at home on the bed moaning. "I tried to put up the laundry but my arms couldn't....there are no pegs on anything, NO PEGS I tell ya!" I told him desperately and dramatically waving my hands spirit-fingers style because my arms wouldn't move.
The second day was even worse than the first although she kept it interesting. It was a hot and humid day and afterwards, I spent about 20 minutes under a cold water shower trying to cool my burning muscles. By the third day we had ascertained a few things. Firstly, I have no sense of balance and coordination and can fall over easily. We also learned that I loathe any sort of cardio work (or as Kath Day-Knight would call it "huffy puffy"). A few weeks later I'm glad to report that I haven't given up and I've gotten stronger and fitter although I continue to embarrass myself in the company of numerous children and their mums and dads at the park and pay a small fortune for the privilege!
But Dear Reader, I do it because I want to eat these sorts of things. And what are these? They're Hungarian Kremes, or vanilla slices made with thin home made biscuity pastry on the top and bottom and a light and fluffy vanilla filling inside. I first saw them on Eva's fab blog Kitcheninspirations and I loved the way that they stood up so tall and proud yet looked delicate and whisper light. The original recipe is from Zsuzsainthekitchen and she spent ten years devising this recipe.
They're a labour of love, mostly in the pastry making and it's a delicate, buttery pastry that I found tore quite easily. The vanilla custard filling is a surprise though, rather than being firm or damp -both characteristics that the custard in slices can be, it is instead light as a cloud and airy and not overly sweet. It's almost a custard mousse! If the pastry is too much, you could use puff pastry (and to be honest the pastry wasn't my favourite as I didn't find that it had a lot of flavour) but a dusting on top with icing sugar is a must. As is probably a work out afterwards but that's not another day okay? ;)
So tell me Dear Reader, how do you feel about exercise? Love it, loathe it or do you do it because you have to? And exercisers, do you do it for fitness or weight loss?
Hungarian Custard Kremes
Vanilla infused milk
Flaky Pastry
Custard Layer
2 pkg. or 2 Tbsp real vanilla sugar
21g or 3 packages gelatine powder
candy thermometer is essential
Topping
Step 1 - Heat the milk in a saucepan or microwave, scrape the seeds from the vanilla bean into the milk with a paring knife, and add the bean pod to the milk. Cover, remove from heat and allow the vanilla to infuse for one hour. Set aside.
Step 2 - Next make the flaky pastry. In a food processor with metal blades, combine the flour and chilled butter until it resembles a fine crumble. Add the salt and pulse to distribute. Combine the vinegar and the water and stream into the processor until a dough ball forms.
Step 3 - Generously flour a clean surface and roll out the pastry into a rectangle and divide into 4 equal parts. Stack the four rectangles on top of one another and chill for twenty minutes.
Step 4 - Preheat oven to 200C/400F. Once chilled, separate each part and roll the dough into 4 very thin rectangles, roughly bigger than your loaf pan. I used a sheet of baking parchment as a size guide and also to make it easier to transport it to the tin. Place in the bottom of your loaf pan, allowing the dough to form creases to fit into the pan. Repeat for the second rectangle and place on top of the other rectangle - this will be the top. Bake in a preheated oven for 14-18 minutes keeping watch as the pastry burns easily.
Step 5 - When the pastry is golden brown, remove pan from the oven and immediately cut pastry into 12 squares (4 by 3). Wait until cool and carefully remove the squares and set them aside in the same order as they were in the pan, set aside.
Step 6 - To speed thing along, I used another baking tray of the same size for the bottom layers. Repeat with the other two rectangles and bake, this is the bottom layer (do not cut this layer). Allow to cool, and remove from the pan.
Step 7 - Place a layer of plastic wrap into the pan with a generous amount coming up the side  to help you lift it out. Return the bottom layer into the bottom of the pan, smoothing out the side of the plastic wrap.
Step 8 - Next make the custard layer. In a medium sized bowl beat the egg yolks and 2 tbsp sugar for 8 minutes (they will become thick and pale). Add the vanilla.
Step 9 - In a separate bowl whisk together the flour and gelatine. Gradually add the flour mixture to the beaten egg yolks and continue to beat until smooth.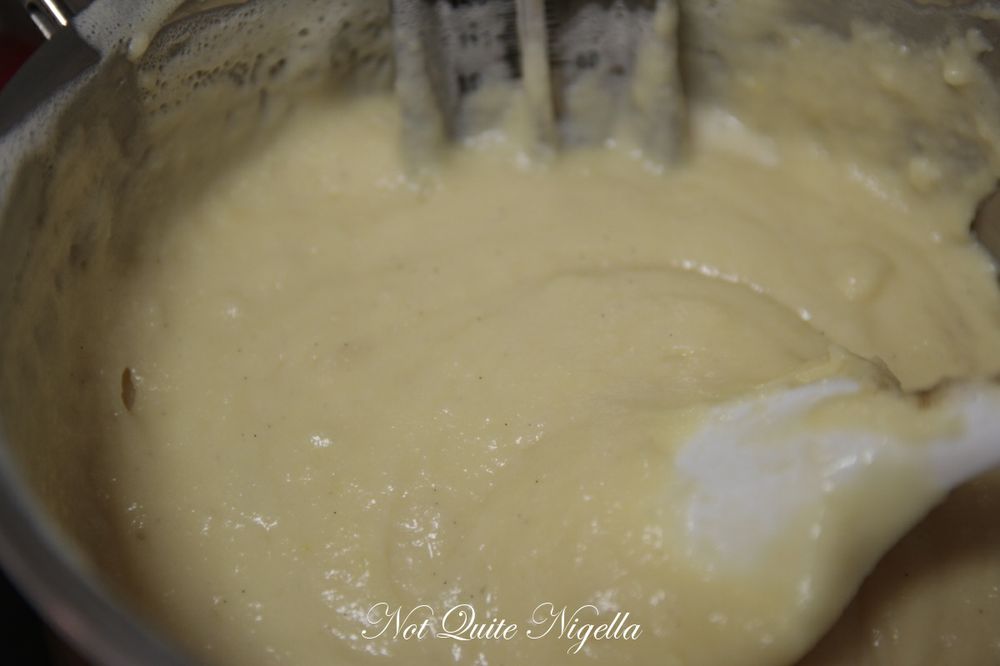 Step 10 - Remove the vanilla pods from the vanilla infused milk and gradually add the vanilla infused milk to the bowl with the eggs and the flour. Over a simmering bain-marie cook the custard stirring it constantly until it reaches 80°C or 176° F with a candy thermometer (be careful as it can burn easily). As soon as it reaches 80° C remove immediately from the heat stir in the butter and set aside to cool.
11. While the custard is cooling whip the egg whites until soft peaks form, add the lemon juice and continue beating until almost stiff. Add 2 tbsp sugar and beat until shiny and stiff. You are trying to beat the sugar into the egg whites so they are no longer grainy (this takes several minutes).
Step 12 - Once the custard has cooled, take about 1/3 of the egg whites and fold it into the custard to loosen it up. Then fold the remaining egg whites into the custard very slowly. Pour this custard onto the bottom layer of the pastry and even out using a spatula, pushing it into the corners and sides. Add the top layer of pastry in the same order that you removed it from the pan, leaving a little space between each one to allow your knife to slide through to make the squares. Refrigerate until the custard has set.
Step 13 - Once set, using the plastic wrap, lift the pastry dessert out of the pan onto a cutting board. Generously sprinkle with icing sugar. Using a wet knife, slice the custard into 12 equal squares, using your top pastry as your guide. Serve cold, perhaps with a dollop of whipping cream