Sunday Kitchen is a cooking class with a difference. This charming mother and daughter team hand down Lebanese family recipes in a class setting. Feast on fresh, delicious home style Lebanese food while Karima Hazim and Sivine Tabbouch regale you with tales and familial fun.
It's 11am on a Sunday morning and I'm excited to learn about Lebanese cooking as it's a cuisine that I eat but don't cook that much at home. The Sunday Kitchen cooking classes are held in Rosebery where there are a maximum of 15 people per class. It is a mostly demonstration style class with some hands-on elements.
Although demo classes aren't really my sort of thing because I like to get in there and cook, the Sunday Kitchen format works. And this is mainly due to the banter and rapport between daughter Karima and mother Sivine. Think of it as a lunch and learn rather than a cooking class.
Although the classes only started in 2019, Karima says, "From when I was about 15 years old I knew and felt there was something incredibly special that was going on in my mother's kitchen as we prepared Sunday lunch together with my two younger sisters. My mother gracefully danced around the kitchen to the music of Fairuz playing on the Sanyo stereo, chopping, stirring, rolling, wrapping, pounding, and singing."
On the menu today we will be learning how to make six dishes from Kibbeh Nayyeh (raw beef mezze), smoked eggplant salad, Samkeh Harra (spicy tahini fish), Sayadieyh (golden fish rice), mum's tabbouleh and Batata Harra or spicy coriander potatoes.
Karima introduces herself to the class and jokes, "Please appreciate the time it took to create these recipes because you'll see mum never uses measurements." The two have almost swapped roles, Sivine the mother is cheeky and pulls faces while Karima the daughter is more serious and sure to hit all the cooking points but the deep warmth and affection are clear between them. Karima is the eldest of the three daughters and also on hand is Amani the youngest of the three.
All of the recipes are printed out for everyone to take home and the difference between this class where you cook everything and then sit down to eat it at the end is that they cook and you eat throughout the whole class. We start with kibbeh nayar, a wonderful raw beef dip as well as a vegan version made using tomatoes and bulghur.
The class has invaluable tips like how to get the best meat for kibbeh nayyer - go to a Lebanese butcher like Darwich (stockists are also provided) who can grind the very lean beef into a paste. They recommend the best brands for bulghur and show us how to make the vegetarian version using ripe tomatoes with bulghur soaked in the tomato juice.
Sivine explains that this Kibbeh Nayyeh recipe is from the South of Lebanon which is different from the North (she grew up in the North in Tripoli). As the North has a large Christian population they pair their kibbeh nayyeh with Arak liquor while in the South the mainly Muslim population add flavour to their kibbeh nayyeh by the copious use of herbs and spices including a Lebanese basil (available from Bunnings as it is used in hedging).
The spice mix is called Kibbeh Kammouneh and it contains a range of fragrant spices including rose petals. We grab some of the bread on the table and scoop it up. It's incredible, one of the best kibbeh nayyeh's I've ever eaten and to this day I can taste it in my food memory. The beef is so creamy and rich but punctuated with the herbs and spices. And the vegetarian version is absolutely delicious-so good that I know I will make this again.
The pair then move onto two eggplant dips both using charred, smokey eggplants that have been cooked on an open flame and then skins peeled off. The first is a smoky eggplant dip with capsicum, pomegranate, chilli, tomato and onion and a good glug of olive oil. The second is a baba ghannoush with Sivine's secret weapon - yogurt. This isn't a typical ingredient in baba ghannoush but it is a worthwhile addition making the dip creamier and tangier. "I could tell my mother's mood by the way she beat the eggplant dip," recalls Sivine.
We scoop up mouthfuls of this with the deep fried bread that they sprinkle za'atar on. On the suject of za'atar, Karima tells us the secrets to buying the best za'atar. Some stores have a general over the counter za'atar but behind the counter are the special blends that they reserve for those that are serious about their za'atar.
Throughout the class they tell us stories of their family. Sivine's mother was a particularly clever woman who built a sweets empire. When she married Sivine's father they were so poor that her dowry was a single donkey. One day she looked at her husband and donkey and thought of an idea: to sell toffee. She made the toffee for him to sell but displayed it on a tray with only half the toffee to make it look like a lot had already been sold. This trick worked and they sold a lot of toffee and built a fortune on sweets.
When the price of nuts in Lebanon was cost prohibitive, she would buy the nuts from Syria where it was half the price. It wasn't just her doing all of this work, it was with the help of the community that the built the business.
Community was vital for families and they would often have "vine leaf therapy" sessions. She would make a call out to her neighbours, Aunties and other relatives in her village. There would be 5-6 women available and they would assist in making the stuffed vine leaves and delicately assembling them in the 20 litre pot. During these 3 hour sessions women would share stories of their day to day life, family, relationships and survival and each woman took on a role. One was the therapist, another the wise woman, the light-hearted woman, the resourceful woman full of natural remedies and the social woman who knew everybody and connected everybody. Their problems would be solved against the rhythmic rolling of the vine leaves.
When the civil war erupted in 1975 it was Karima's grandmother and Sivine's mother that packed up the family, against her husband's wishes (which was a cultural sin at the time) and brought her family over to Australia.
We eat the dips and fried bread while watching them prepare the two main fish dishes. The first is Sayadiyeh or Golden Fish Rice which has an interesting base of burnt onions. The onions are cooked down until black and then water is passed through them and the water is used to colour and cook the rice so that it is a dark brown in colour which will also colour the rice.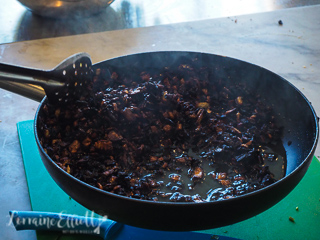 They explain that burnt onions are used as a flavouring tool in many peasant style dishes. "There are no truffles in Lebanon," quips Karima.
The second dish is a Samkeh Harra or a spicy tahini fish from Sivine's hometown of Tripoli. The tahini used is a Lebanese tahini and much less bitter than the ones you'll find at the supermarket.
I never buy tahini from the supermarket, even the unhulled one is too thick and I always try and find a middle eastern store to buy it. It's a smooth, unhulled and liquid tahini and we get a jar of it to take home with us along with some Kammouneh spice mix.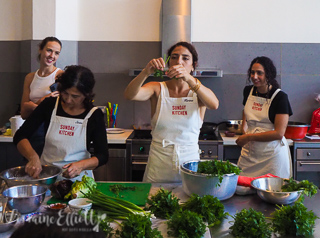 As the fish dishes cook away we get to the participatory area of the class: mum's tabbouleh. The key to this parsley rich salad is to remove all the stalks and just to keep the leaves. Karima shows us how to do this by stripping each stalk of parsley to a single stem and lining these up so that the leaves start at the same point, like a bouquet.
Then once you have your bouquet with stems at one end, you can easily chop the stalks off and them cut up the leaves. Sivine adds lemon juice, green onion, burghul, oil and baharat and someone asks her how many lemons they'll need for the salad.
"It's anything between 1 to 7 lemons," quips Karima.
"Not funny," says Sivine in mock disapproval.
Karima is also involved in another project documenting traditional Lebanese recipes and practices like, pickling, preserving, bread making, cheese making, gardening, peasant dishes and older, rarely seen heirloom recipes.
"Many of these men and women have gone and many of their recipes have been lost, this project is my desperate attempt to preserve as much of the traditional Lebanese cooking practices, recipes and stories from the women and men themselves, as I can, before anymore is lost," says Karima.
So tell me Dear Reader, do you cook much Lebanese food at home? Do you have a favourite Lebanese dish?
Sunday Kitchen
Suite 312 level 3/30-40 Harcourt Parade, Rosebery NSW 2018
Phone: 0411 209 347
www.sundaykitchen.com.au
Cooking classes are $170 per person