Scaccia or Scacce Ragusana is a wonderful Sicilian street food that is a bit like a lasagne crossed with a focaccia and pizza. This treat is all about perfect filling to dough ratios with a layered look. It is also one of the most delicious things you will eat!
"It doesn't matter that there are holes in the dough," says Carm Ruggeri of Sicilian Food Tours. She is at my apartment holding one of her Scacce cooking classes showing me how to make Scaccia or Scacce Ragusana, one of the most delicious street foods from her hometown of Ragusa.
Scaccia comes from the word Focaccia and it is a very thin dough rolled and layered with fillings. Apart from that dough, it is all about the gooey filling, often seen spilling out of the bread. A stromboli is a cousin of this. Stromboli is about perfect layers while Scaccia Ragusana is beautiful in its imperfections. "I like that this is rustic," says Carm.
For anyone for whom dough feels intimidating or just too hard, scaccia ragusana is for you. The dough itself is made using Caputo semolina flour.
It's a high protein flour that allows the dough to be rolled very thin, like a strudel dough. And if a hole should occur, just patch (or don't). That's where the fillings seep out and caramelise.
"There is a shop in Sicily that sells this pastry by kilo. They only sell the dough, scacce, arancini and casateddi," Carm explains. "Scacce are simple to make yet it's a treat and we don't make them often. It's something special we do as a group style feast," she explains. "As a kid we had scacce on Good Friday and as good Catholics we only filled them with all the vegetarian fillings. Easter Saturday then we'd feast with the lamb, pea and onion or sausage and ricotta."
You can book her cooking classes for scaccia ragusana with as little as two people for $200 and all you need to do is buy the ingredients. Or if you have a group and you want her to bring all the ingredients it is $60 a person and she will entertain you with tales of Sicily and teach you the secrets of making a perfect scaccia ragusana.
"My mum has been making scacce my whole life and then I perfected them with my Zia Maria in Italy." They're so delicious that a scacce making class features on her Sicilian food tour itinerary and it was during COVID that she started holding these scacce making classes. "A lot of people are doing things at home now," she says and says that bookings for her classes have been popular Christmas gifts.
I apologise for my tiny kitchen and limited bench space. "I've worked on boards on crates in tomato farms. I'm good," she says.
Carm explains that the language in Sicily is different from the rest of Italy due to the Arabic influences. "The word for hair is "Cappelli" but in Sicily it is "Capidi". Case in point, one of the scaccia that her mother used to make is using parsley, olive oil and caciocavallo cheese which is reminiscent of tabouli.
Carm tells me the secret to a perfect scaccia ragusana. Firstly, make sure that the oven is very hot. Scaccia ragusana should never be puffy, it should be flat and thin even though it is a yeasted dough and the hot oven allows it to develop the thin dough with a lovely bite to it. Also cover your scaccia ragusana with a tea towel for 10 minutes when it's out of the oven. This will help the top of the bread to become softer.
After we make the dough Carm kneads it until it is supple and then we rest it for an hour for the gluten to relax. She has also brought along a quantity of dough that makes around nine scaccia so that I don't have to wait for it to rest.
She shows me the different fillings that she has brought along. "It is poor mans food and you just filled it what was left in the kitchen," she says. There's the classic Sciurietto aka broccoli and cauliflower, cooked until soft and mashed with pecorino cheese and salt.
To this she adds currants and this one has the pastry rolled a little thicker because the vegetable filling is a bit wetter. It is then shaped like a half moon rather than folded over itself in three parts.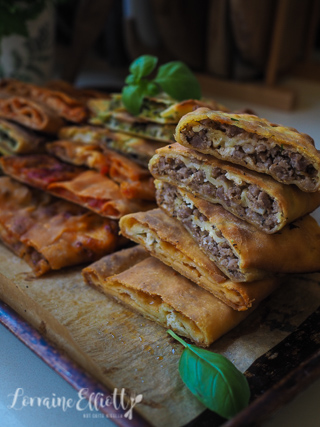 Another favourite is Ricotta e Salsiccia or Italian sausage with black pepper. And just for fun we make a three cheese scaccia ragusana with blue cheese, mozzarella and pecorino. It's heavenly and in the spirit of when they were created, to use up what they have in the kitchen.
Then there's the classic Cipudatta with tomato and onion sauce and Carm's favourite scacce. The sauce is simple but delicious with tinned tomatoes, onion, olive oil and a little tomato paste.
You can of course make these yourself. She has the Scacce Ragusane recipe on her Sicilian Food Tours website along with four fillings but it's better having her there teaching you. When I overfill a scaccia with too much cheese, I ask her, "Did I overfill it?". "No not at all," she says encouragingly before suggesting that we both lift it onto the tray as the filling threatens to spill out.
While her Sicilian tours are on hold she is doing more cooking classes. And next, "I want to do a lingerie and cooking party," says Carm laughing, "What do you think of that?"
So tell me Dear Reader, have you ever tried Scacce Ragusane? Do you enjoy cooking classes? Have you been doing more at home?
Sicilian Food Tours
To book a class with Carm, email info@sicilianfoodtours.com o fill in the form: https://www.sicilianfoodtours.com/contact