"The Finns are coming!! The Finns are coming!!" I say to Mr NQN one night. The Finns in question being Mr NQN's mother Tuulikki, aunt Sisko and uncle Seppo whom we had invited out for dinner. There are also some Danes too: Viggo and his mum Madame Butterfly while Louise and I tag along as the non Scandinavians. The reason for the Nordic style gathering was to visit a new restaurant in East Sydney. Cafe Paci is ex Marque Head Chef and Finn Pasi Petanen's new temporary restaurant scheduled to last for one year only.
Cafe Paci is on the former site of Cafe Pacifico. In fact the sign is the same except that the "fico" and the reference to its former life as a Mexican Cantina has been painted over with black paint effectively renaming it "Cafe Paci." It was a play on words that Pasi liked as well as convenience. Long gone are the colourful Mexican trinkets and the Day of the Dead paraphernalia.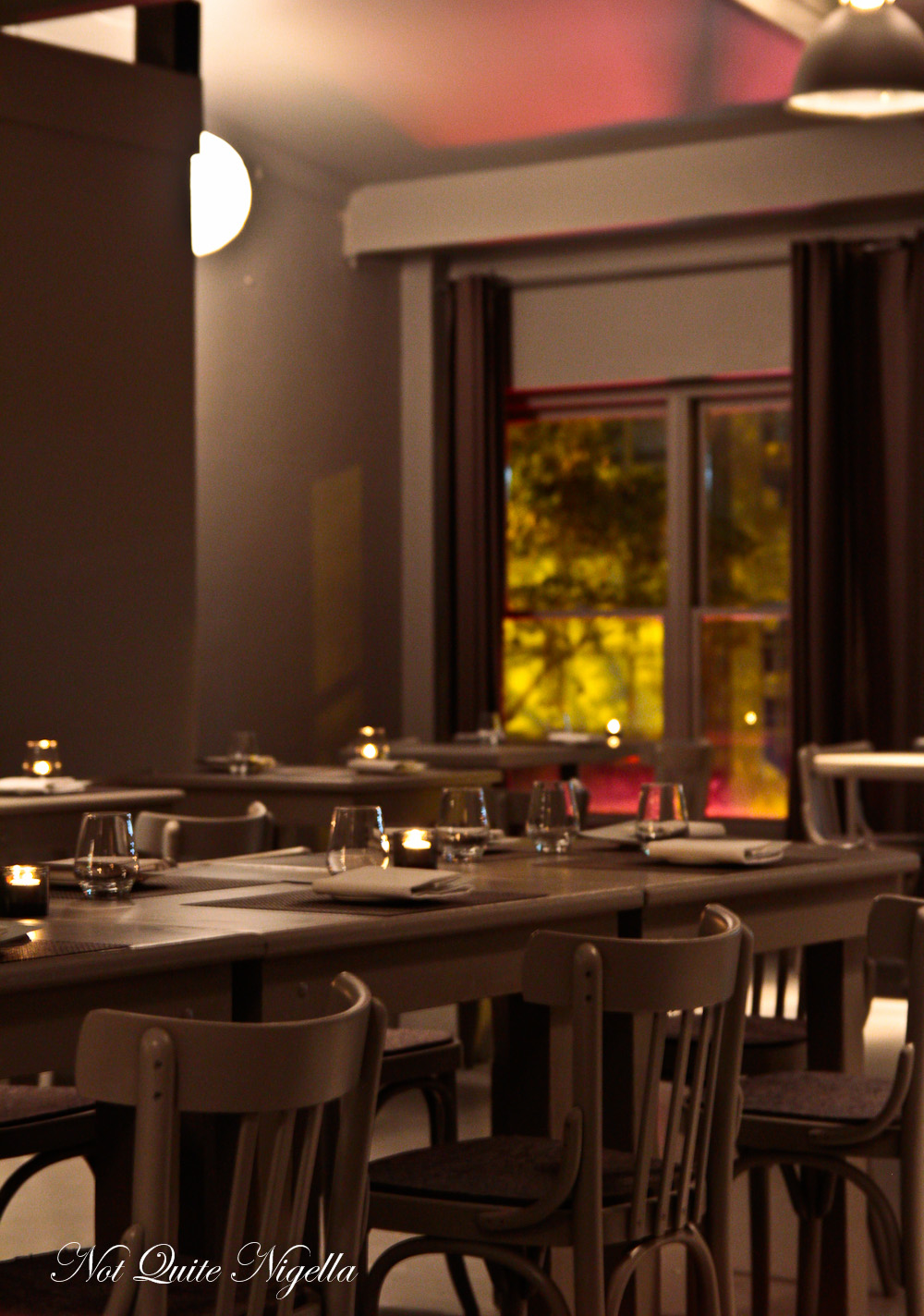 In its place are various shades of grey (resists urge to make 'Fifty Shades of Grey' reference-oops just did!) for what Pasi describes as a Modern European restaurant. It's a minimalist space with the kitchen and bathroom partitioned by a curtain and there is a mural of former Finnish President Carl Gustaf Mannerheim on one wall. Having been disappointed with two sites previously falling through, the appeal of this place for Pasi was that it came fully outfitted. It therefore required a small investment and allowed him the chance to "get our feet wet" with restaurant ownership.
Pasi Petanen
There is a one year lease with a six month option as the building is scheduled for development into apartments. This short time period means that there is less pressure for him as it removes the possibility of winning chef's hats or awards. Also pricing the degustation at $85 per person lessens people's expectations. "We can be a bit more playful" Pasi says. He is steering clear of an all Finnish menu as he feels that Australia isn't ready for a full Scandinavian menu. "It's too hot for it, it's 26 degrees in winter" he says although he does use Scandinavian techniques like curing and smoking.
When we walk in, we are the first group of diners and Pasi is actually getting his photo taken in. He speaks to Sisko and Seppo in Finnish and he mentions Karelian rice pies. I perk up. They're one of my favourite Finnish dishes that Sisko makes superbly.
Karelian rice pies or rye tacos
The snacks arrive first and I'm delighted to see the Karelian rice pies or what they call "rye tacos" on the menu. The pastry as Sisko explains, is made up of rye flour, water and salt and it is filled with a savoury creamed rice filling. On top of these are sour onions, chives and egg butter. They're comforting and wholesome.
The next plate has two items on it: first some raw carrots, fronds-and-all with yogurt and prawn floss which has a concentrated shellfish flavour. The carrots are sweet underneath and we all give the greens a go too-it's like parsley and celery.
The second item are the crispy potato tartlets with crispy chicken skin in a potato shell so thin that they may collapse going from the table to your mouth. The filling is sublimely creamy and silky smooth.
Finnish Rye Bread
All of the Scandinavian ladies love the Finnish Rye bread which comes out with the house made churned butter. It's a generously sized loaf and they bring out more even if you haven't finished your current loaf. It's a dark rye offset by the damp aromatic sweetness of molasses.
White salad, juniper
Our first entree arrives and it's a white salad consisting of a bottom layer of curled up Murray cod and fine shavings of tart and sweet green apple and turnip. There's also a light tangy buttermilk dressing and juniper. The delicate barely there sweetness of the apple is balanced against the tangy, crisp turnip and buttermilk and the silky textured raw fish.
Lamb leg tartare, smoked capsicum, togarashi
This was a striking dish on the plate, almost like a dramatic work of art. It was a lamb leg tartare underneath a layer of smoked capsicum, togarashi and puffed rice wafer sprinkled with sesame seeds. It's a spicy, full flavoured creation and Viggo's favourite dish of the night (and incidentally, it is Pasi's favourite dish). Interestingly, Tuulikki's version looked identical but it had some soft, creamy eggplant underneath it and whilst I enjoyed the lamb, I really loved the eggplant version.
Cabbage, mussel butter, marrow, pomelo
Long time readers may know about the Elliott family and the whole cabbage thing (in short they are crazy about cabbage and dinner during Mr NQN's childhood would be a whole raw cabbage) so I couldn't resist a smile when I saw that they had a cabbage dish on the menu. This was a section of cabbage ever so lightly poached and served with mussel butter, black mussels, a small dish of soft bone marrow and pomelo flesh. Sprinkled over it is a dark green cabbage powder. Although perhaps unassuming the humble cabbage ends up being most people's favourite dish with the mussel butter and tiny mussels providing a creamy contrast to the cabbage.
About this time, the restaurant's other tables arrive and you can certainly feel the effects on the ability to converse. We remark that it would be very noisy once full as some soft surfaces are needed to absorb the sound.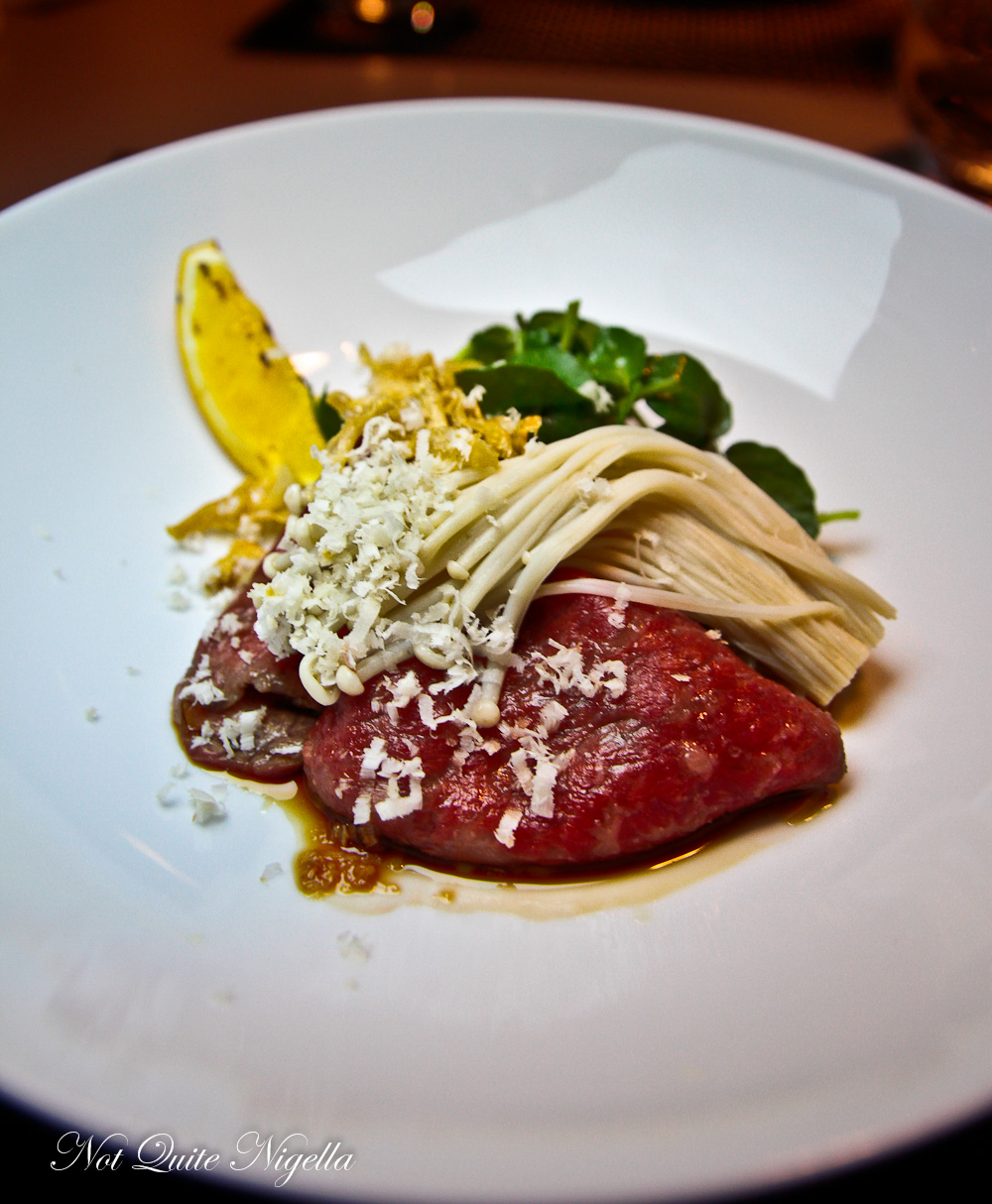 Photato
To be honest we wondered if this was a typo at first. It turns out that it wasn't, it is their version of a Vietnamese Pho soup but without the soup part. Instead it is made up of potato noodles, delicate and fine as thread. Add to this enoki mushrooms and a thin slice of David Blackmore Pure Bred Wagyu which has a wonderful char taste, small garlic chips, charred lemon and watercress and it's a sublime mixture of textures and flavours. It is somewhat difficult to eat with the long potato noodles clumping together. We learn that this is the main dish and we are now onto dessert. Whilst it was delicious, there was a noticeable absence of dishes that came out hot in temperature and it is a menu perhaps best suited to summer months rather than winter which is when we visited.
Comte Cheese with Earl Grey meringue and witlof puree
They ask if we'd like a cheese course added to our menu and explain that today's cheese is Comte cheese which just happens to be a cheese I am unable to resist. Tempted, we order just two plates to share for the eight of us which ends up being just the perfect amount. The 22 month old Comte is served in thin slices with a fabulous Earl Grey meringue and a silky witlof puree. Spreading the puree on the meringue and topping it with Comte is fantastic and it's a great value serve for $12.
Carrot, yoghurt, liquorice
We were confused when looking at the menu as we saw what sounded to be sweet dishes followed by savoury sounding ones but they whisk the bread away and clear the table and set down our desserts. The next dish consists a bottom layer of licorice cake made using a Finnish lolly called "Turkish Pepper"-a favourite for Viggo and Sisko. This is topped with a refreshing carrot sorbet and yogurt mousse and it's delightfully light and refreshing. Even for people that don't go gaga over licorice it's still an excellent mix of flavours with the licorice never overpowering.
Malt, banana, parsley
Louise pipes up when taking to the second dessert with a fork. "Milo" she says and she's right. Indeed there's the flavour of Milo from the malt. Everyone's chocolate malt is a slightly different shape and on the outside there is a layer of sticky chocolate malt surrounding a chocolate mousse centre. This sits on a bed of banana anglaise and a superb parsley sorbet with frozen crystallised parsley leaves which crunch with every bite. While the chocolate is rich, it is tempered by the refreshing and sweet parsley sorbet.
Corn and butter
We wonder if we're getting more savouries because the menu tells us that we are having "corn and butter" and "pork and fennel". But then they ask if anyone would like coffee and we realise that they're the petit fours. Oh those wacky Finns! ;) The Corn and Butter is two fairground favourites in one: it's a sphere of brown butter fairy floss coated with a soft covering of finely ground popcorn. It seems as though someone in the kitchen has picked through popcorn and removed the shell and left just the fluffiest of the kernel. It's fun to pull apart and it's best done two people at a time with one grabbing one end and the other the opposite and pulling. And yes it does go everywhere but we're not bothered because it's too much fun.
Pork and fennel
The pork and fennel course was the chocolate petit four. It is a thin layer of light crackling coated in dark chocolate, fennel pollen and fennel seeds. As much as I love crackling, I wasn't so taken by these although Mr NQN was.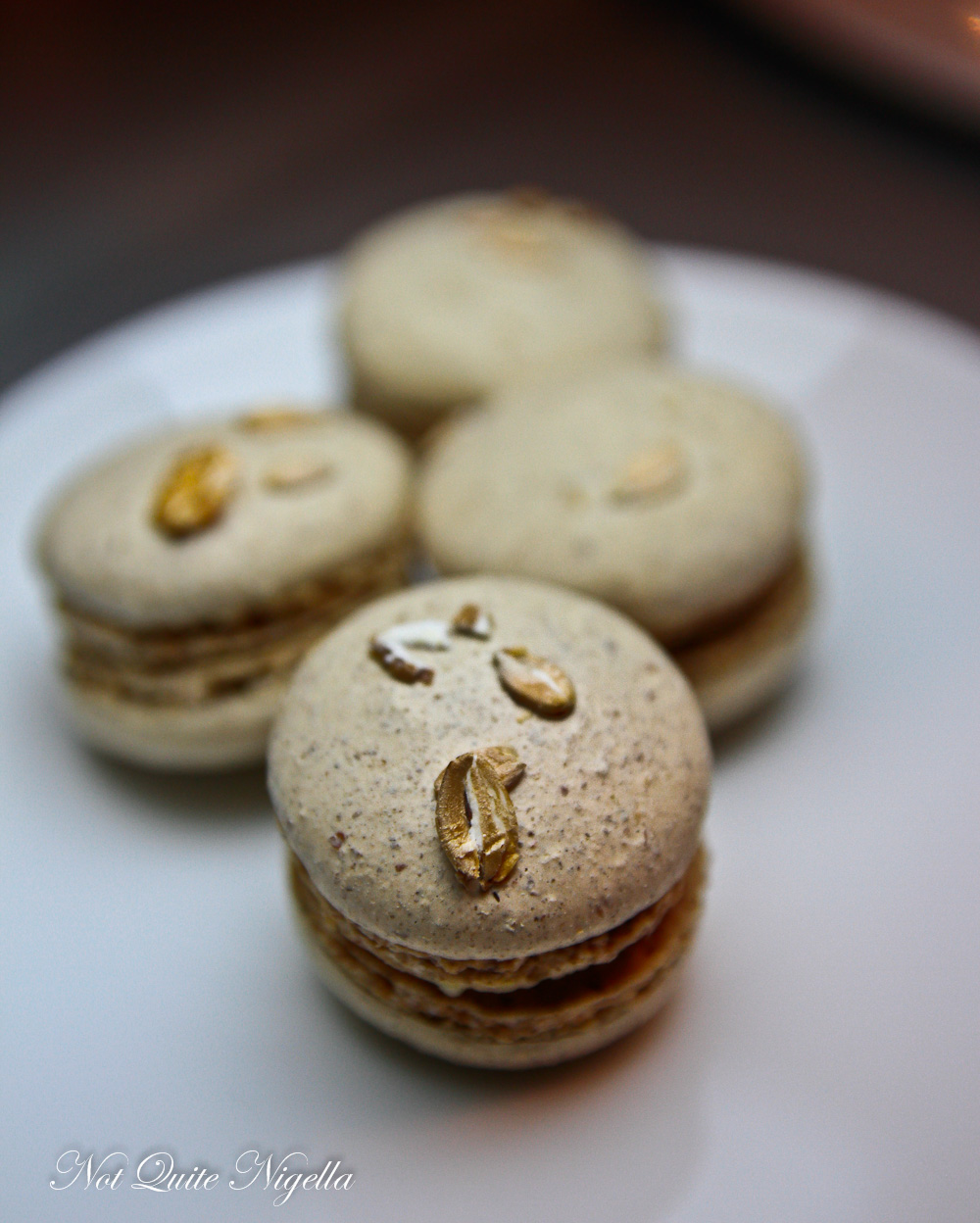 Rye 'ron
The last item was a rye macaron or a "rye 'ron" as they called it. It's a clever idea where a macaron is made using rye flour and filled with butter. With the butter filling it tastes eerily like those digestive biscuits served with butter and it has a stronger, chewier but enjoyable texture and flavour.
Highly original and indeed playful, it seems a shame that it will be closed within a year. But I'm sure I could rustle up the Finns and Danes to go out for another family dinner!
So tell me Dear Reader, if a restaurant is temporary or pop up, are you tempted to visit it more urgently? And do you like a bit of mystery or surprise when you dine or do you like to know what you will get?
Cafe Paci
Level 1, 95 Riley St, Darlinghurst New South Wales 2010
Tel: +61 (02) 9368 7000
Open Tuesday to Saturday 6pm-10pm
For groups of 8 or more, a 10% service charge is added to the bill
Degustation only (full vegetarian degustation available)