Fun Fact: Dear Reader, did you know that the first and oldest continuously used national flag is the Danish? Legend has it that when a fallen Viking was returned to Denmark in a cloth wrapped shroud, the blood and the cross emerged as a striking pattern and became the first flag (called "Dannebrog"). Another legend says that it fell from the sky in 1219 during a battle with Estonia. Either way, the Danes are immensely proud of their flag.
Akvavit is a Danish bar and eating house on the Woolloomooloo end of Crown Street. Perched above the bar at Akvavit is another nod to Danes. Danish Viggo and his mum Madame Butterfly explain that the elaborate papercut on purple background is a design by writer Hans Christian Andersen. Children used to give their own cut outs to their grandmothers and teachers at Easter and if they couldn't guess who the cut out was from, the child would receive an Easter egg.
Papercut
Akvavit serves a range of Danish bar snack items on the menu. There are the usual items like frikadeller (Danish meatballs) and open sandwiches. The Akvavit, a grain or potato based spirit traditionally flavoured with caraway seed isn't actually on the menu and neither is the elephant beer which is odd given the name of the bar. It's only when we ask about it that a bottle of it is furnished. We order some glasses of it because it seemed fitting.
"Skaal!" Madame Butterfly says and holds up a glass of Akvakit (meaning "water of life"). I'm not drinking as I'm driving but I take a sniff. Mr NQN is not smitten but is assured that it is an acquired taste.
Danish Hotdogs $12
As Louise, Viggo and Madame Butterfly were early, they had already inquired and ordered a few items. Whilst the pork sausages aren't made in house, they have a good smokey flavour to them. They're topped with mustard, tomato relish, pickled cucumber and raw and crispy onions.
Danish Hakkerbof $12
The Danish Hakkerbof or beef sliders is a soft, fresh bun filled with a beef patty, soft onion, tomato and lettuce.
Pork Sliders $13
I do love some juicy pork belly and these sliders have a soft, unctuous pieces of pork belly as well as a generous dollop of sweet apple sauce and pickled red cabbage which makes this on the sweet side.
Snitte Plate $18
The Snitte plate features small open sandwiches including hot smoked salmon with caviar and sour cream to herring on potato cakes. "That's an unusual combination" Madame Butterfly says of the herring and potato. "Do you like it?" I ask her. She shakes her head. There's also a small serve of mum's liver pate on this plate topped with sliced mushrooms.
Mum's Liver Pâté $10
If you slap "mum's" on a menu item I always tend to gravitate towards it. This is a rich liver pâté and it goes perfectly with the thin rye bread toasts and slices of mushroom. It is served with pickled onion and cornichons.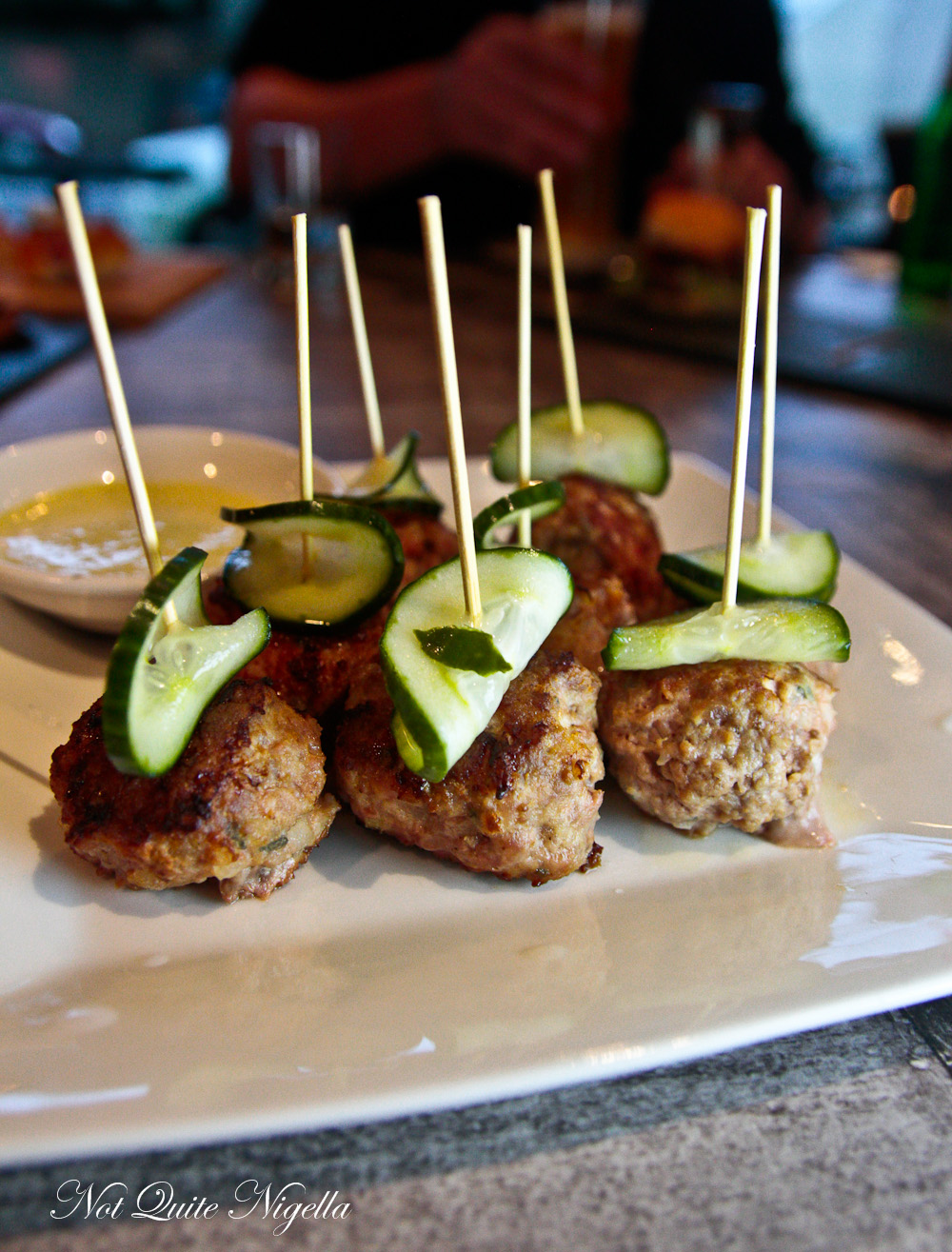 Frikadellar Bites $10
The frikadeller are small meatballs. These are rounder than the flatter Danish version and taste like a combination of pork and veal. They're served with a cucumber pickle on top and a mustard sauce. They're a little on the dry side.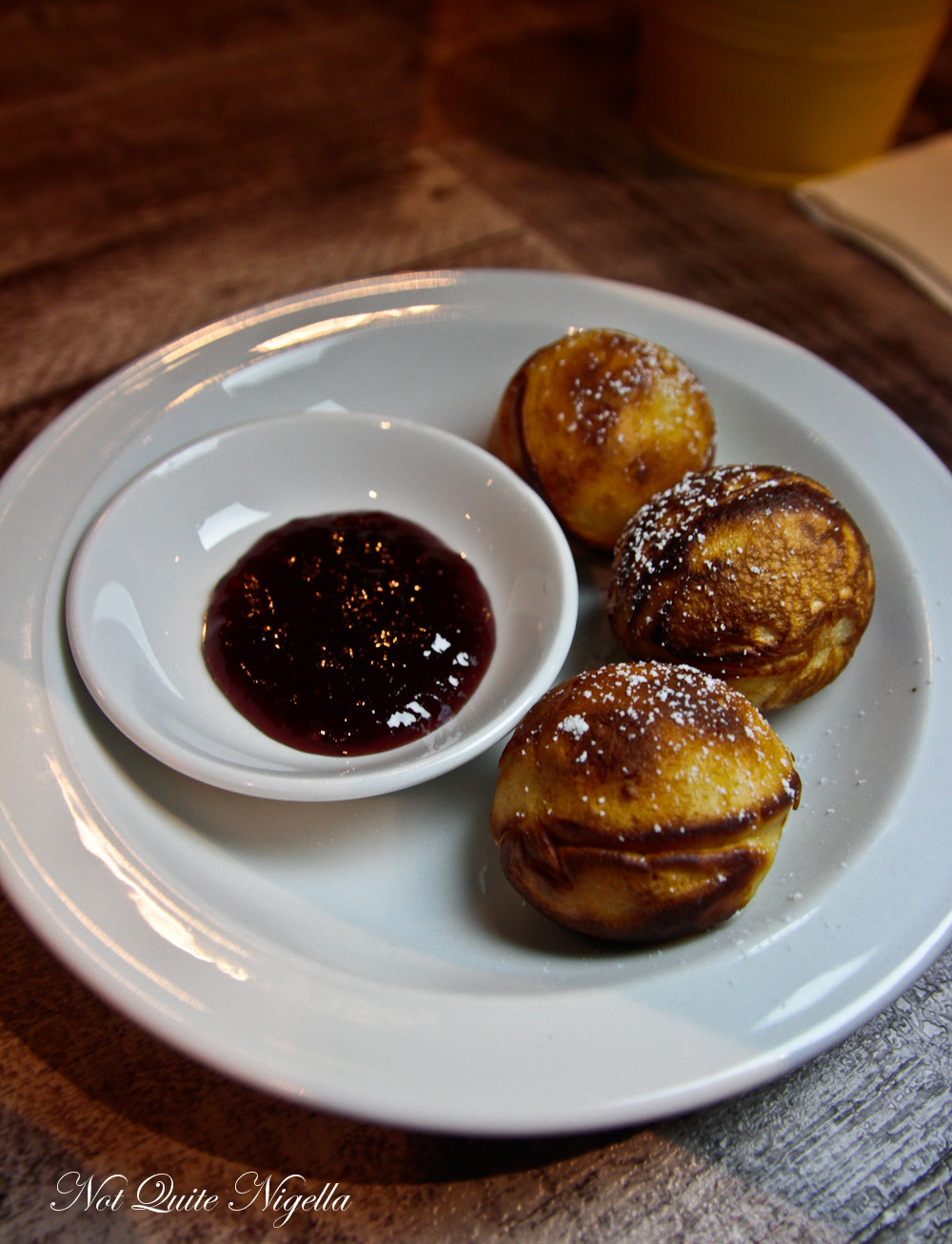 Ebelskivers
There's no dessert on the menu but the waitress that has been conversing with Madame Butterfly and Viggo all night in Danish offers ebelskivers. These are small round balls of pancake dough made in a special pan similar to poffertjes or takoyaki pans with semi circular indents. The name ebelskiver literally means "apple slice". Here there are three to a serve with strawberry jam. These are a bit heavier and denser than normal.
So tell me Dear Reader, do you like learning about other countries' traditions? Feel free to share one of your own! :)
This meal was independently paid for.
Akvavit Eating House & Bar
88 Crown Street, Woolloomooloo, NSW Closed Tuesdays
http://www.akvavit.com.au/