Chef Arman Uz slides his finger across the fillet of the enormous kingfish and looks carefully at it. "It's important to feel the fish for freshness" says the softly spoken chef of Flanagans Dining Room. "It's not just seeing the freshness with your eyes" he explains earnestly. Satisfied that the enormous wild kingfish that came in on the trawler just that morning is fresh, he carefully trims the fillet away leaving just the best.
Five times a week, Arman visits his seafood supplier, the Shellharbour Fish Markets in Shellharbour Square. Every night the trawlers bring in the catch of the day and here, there is no middle man, Arman is buying from the fishermen. Seafood however was not cuisine that the Turkish born chef grew up eating. Brought up in Tarsus and also living in Cappadocia for 15 years seafood is usually pan fried fish or served in stews.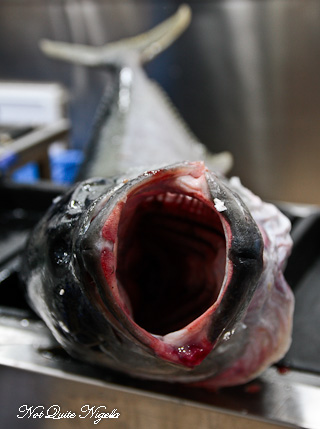 Wild yellowfin kingfish
"There was no McDonalds, hommus was our fast food and I remember buying hommus from a street vendor where he'd make it fresh" he remembers. It was in Turkey that he developed his palate for flavours. They're simple, not overly complicated flavours which suits seafood well. "We're not good with the ocean" he explains smiling. It was after meeting his Australian wife that he moved to Australia ten years ago. He was the Head Chef at Efendy in Balmain but his wife was homesick for the South Coast so they moved to Thirroul.
At the markets he takes the entire supply of rock cod and squid. There's a single moonfish and out of curiosity he adds this to the tab-that is how he developed his knowledge of seafood, through touch, taste and smell trying each one. All of the fish is then filleted for him as he works alone in his kitchen. His purchases today are squid, mackerel, rock cod, snapper and gummy shark. For Arman, the first thing that he looks for is whether the fish is local.
Because the supply of fish changes daily, his picks change daily and rather than rely on a pre-standing order, this ritual allows him to pick the best for the restaurant in terms of quality and price. He spots another fish but recalls that it was there yesterday-it's not fresh enough for him. We take his haul worth just under $1000 back to Flanagans Fish Cafe right on Thirroul Beach (named after Flanagan's Creek).
The adjoining kiosk fulfills orders for fish and chips and drinks but the restaurant is where most of this fish is destined. From there he will unpack the fish and decide how he wants to cook it. It's because of this that the menu changes every single day. On Saturday nights he holds a degustation which is well priced with 7 courses for $69. The decor in this classic 1940 beachside kiosk is airy and relaxing making the most of the on beach location.
We go back to the kitchen where he unpacks his purchases. He shows us a box of home grown nasturtium leaves and an interesting onion bloom-he picks off petals of this delicately sweet onion flower that resembles a dandelion and he will use it to decorate our dishes.
Onion flower
On his menus, he makes a conscious decision to steer away from dishes that other establishments may do like salt and pepper squid. This is often made using frozen squid whereas Arman only uses fresh fish but this means that he cannot make the dish competitively priced. He glances over the purchase order and weighs each fish working out how much he will use in each portion.
Moonfish
He fillets the moonfish and presses down gently on the flesh, it's a soft fleshed fish and he's curious to cook with it to see what it's like. He finds it difficult to do a straight cut on the flesh and the knife wobbles a little. Arman's knife is always sharp and during the process of cutting up a fillet for sashimi, he sharpens his knife repeatedly.
Squid, chorizo, butter beans and ink (degustation course)
The squid is one of the most popular dishes and features on the Saturday degustation. It is simple with its components but this allows the flavour of the ingredients to shine through. Arman massages the squid with olive oil-he explains that olive oil softens the texture of squid while using vegetable oil toughens it.
He doesn't add lemon to the squid so that you can taste the flavour of the fresh squid. The texture is tender and it is paired with a fantastic Spanish chorizo which has a wonderful smokey flavour. Also on the plate are butter beans with a chilli sauce and squid ink, the chilli sauce adding a sweetness to the dish.
Clyde River Oysters, pink shallot, white balsamic $12
The Clyde River Oysters are also served simply-with some pink shallot and white balsamic. They come four to a serve and slip down the throat easily.
Sashimi of kingish, fennel, blood orange $18
Remember that wild yellowtail kingfish? That fish that came in this morning is now sitting on our plate and it's a beauty. Served with a perfectly balanced ginger, palm sugar and blood orange dressing. The fish melts on the tongue and it's the sort of dish that you just don't want to end.
Guinness battered gummy shark (Sweet William) $18
Shark is always a controversial fish as many don't like to eat it. However Arman explains that some shark is very good in fish and chips and when he calls the gummy shark its alternate name of "Sweet William" it is very popular. It's a very pale pink coloured flesh with long fillets and the sharks are long and resemble reef sharks. Here it is served with chips and a fantastic cumin aioli which is a great alternative to regular aioli and suits the moist fish well.
Salt and pepper rock cod, hand cut fries $18
The salt and pepper rock cod is cooked perfectly and retains a moistness to the fish. It's a generous serve with either two smaller cod or one large and the salt and pepper adds a simple yet fitting seasoning enhancing the fish's natural flavour. The hand cut fries are fat and golden without being floury.
Pickled Mackerel, onion flowers, watercress, wasabi mayonnaise
Mackerel is a fish that he likes using although he acknowledges that some of his clientele are reluctant to try it as they may be unfamiliar with it. Still, he puts it on the menu and here it is pickled with Tasmanian garlic, Italian white balsamic and olive oil. The fish changes colour as it is cooked by the acid and it is a toothsome, piquant dish.
Kingfish belly, sweet soy glaze, pickled apple, sesame $18
Arman's purchase of the kingfish means that he has some lovely belly meat from the kingfish which is always the prize cut. Here he trims away all but the prime flesh and he cooks it in a sweet soy glaze. It has a luscious texture due to the belly fat but also the fact that the fish is still raw in the centre.
John Dory with scallops and parsnip puree (degustation course)
Towards the end Arman gives us a little taste of the degustation that they'll be holding that evening. The first dish is a John Dory fillet with plump scallops and parsnip puree. The presentation is beautiful and the John Dory fillets are tender and melting while the scallops are juicy.
Snapper, chips, citrus salt and lime (degustation course)
Given the above dish, it may come as a surprise that the grilled snapper is also on the degustation but each of his degustation menus has a theme. This one is "Best of" where diners voted for their favourite dishes of the season and the simply grilled snapper with aromatic spices was a favourite amongst diners.
Soft chocolate, cream, raspberries, pistachio and finger lime (degustation course)
There's no seafood on the dessert menu, instead it's a rich course tempered with fresh fruit. The chocolate ganache is soft and rich against the tart raspberries and finger lime caviar. The pistachios add an additional layer of nuttiness to this multi textured dessert.
And if you were wondering as I was about the moon fish which he was trying for the first time? He pan fried it and had it for dinner declaring that it was delicious.
So tell me Dear Reader, do you cook more often with frozen or fresh fish? And what is your favourite fish to eat?
Flanagan's Dining Room
Thirroul Beach Promenade, The Esplanade, Thirroul NSW 2515 Tel: +61 (02) 4268 1598 Open Breakfast: Weekends & public holidays from 8am Lunch: Wed-Sun from noon Dinner: Sat nights