Looking for the best fish and chips in Sydney? Summertime is synonymous with fish and chips and there's nothing better on a sunny day than eating fish and chips by the water (and let's be honest, fighting off enormous seagulls). But despite what one might assume, not all fish and chips are created equal. For something so relatively simple in concept there are huge variations in fish and chips from the oil it is cooked in, the batter and the fish used not to mention the chips and the tartare sauce.
Over the series of several days we came, we saw and we overate ourselves. Around 30 fish and chips places were sampled by me, Mr NQN, Queen Viv, Louise and Viggo to create the list of the best fish and chips in Sydney. Some didn't warrant more than a bite while we had to be torn away from some they were so good. Arm yourself with this list the next time that a salty craving hits! Oh and bring the wipes for your hands ;)
*Garfish, Manly *
Fish and chips $16
Manly locals Viggo and Louise have pretty much sampled all of the offerings in Manly and Viggo's favourite is Garfish. While primarily known as a sit down restaurant we had no idea that they also do takeaway until he told us. They hide it well and we're not quite sure why as it is superb stuff. We were excited to see that flathead was used (although we'd assume the fish changes daily) and the house-made tartare sauce is excellent and comes free with the meal. Special mention should be made of their salt and pepper calamari with a hint of five spice. They had to tear me away from that...
Palm Beach Fish and Chips, Palm Beach
Sure it's a bit of a drive but if you've got a beautiful summer's day there really is no better idea than taking the drive up to Palm Beach and pretending that you live amongst the rich and famous (or on a Home & Away set). Along the water on Barrenjoey road is Palm Beach Fish and Chips.
Fish and chips $14.90 plus sauce 30c
There are plenty of tables with views of the water and there are different types of fish on offer for your fish and chips from hake (deep sea cod), barramundi to flathead. Everything is cooked in cottonseed oil and the batter is crispy and less thick and puffy making the hake inside juicy and moist. Extra points for the truly awesome chips and the ice block freezer full of old skool ice creams.
* Fish and Co, Annandale*
As soon as you walk past Fish & Co on Annandale's Booth Street, there are the buzzwords that excite everyone today. Sustainable, line caught, organic (the eggs, not the fish). Fish pies and enormously fat fish cakes are brought to tables but you can also get fish & chips to takeaway. All fish sold here is line caught and a map in the restaurant shows where all of the fish is caught from and there is also raw or "wet" fish for sale too.
Fish and chips $15
The fish used in the fish in chips is hoki from New Zealand with a crunchy beer batter coating and is fried in canola oil. At a cost of $15 it comes with a tub of marvellous tartare sauce (or you can also get garlic aioli or chilli jam). They're square fillets with a deep golden batter crunch to them and are beautifully moist inside with an shattering crunch on the outside. The chips are also good with a decent amount of seasoning to them.
Kiwi Style Fish & Chips, Mascot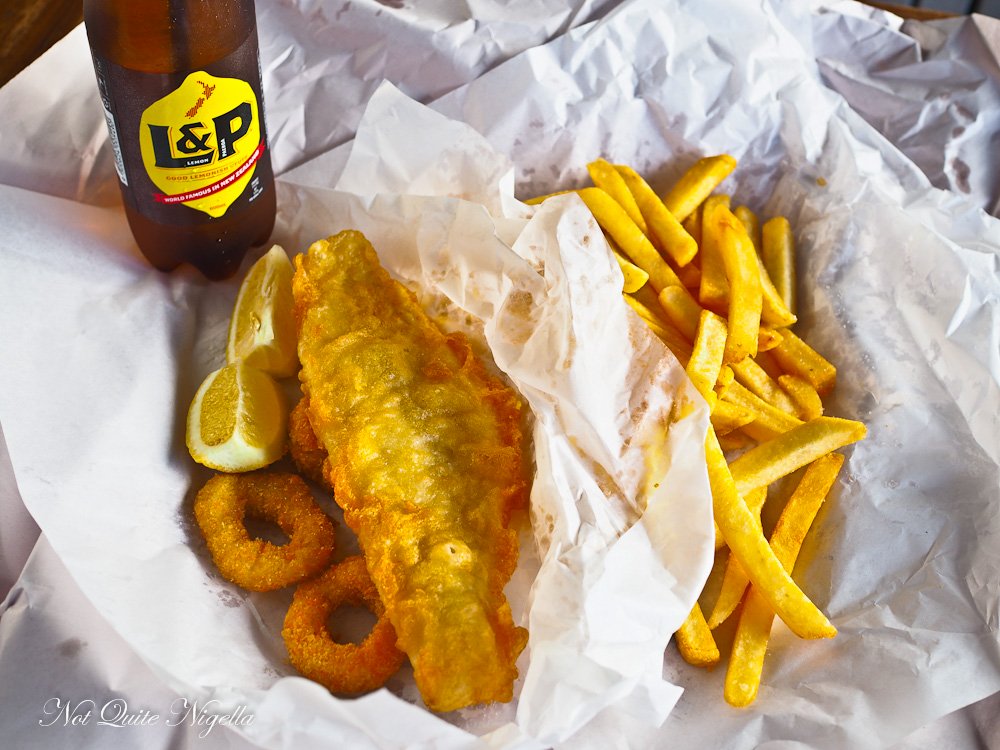 Fish and chips $11
New Zealanders love their fish and chips and at Mascot there's no messing about with Kiwi Style's fish and chips on Botany Road in Mascot. There's no chicken salt here, just beer battered fish with salt and super crispy chips. It's simple and well done. They use canola oil and fish used in the fish and chips are gem fillets (otherwise known as hake) served with a friendly NZ attitude. Oh and there's Rashuns chips and bottles of L&P in stock too.
Mohr Fish, Surry Hills
There's a friendly atmosphere at Mohr Fish as it looks like an old fashioned fish and chips shop. Service at Surry Hills' Mohr Fish is delightfully sweet. When asked whether it comes with tartare sauce, the young man behind the counter proudly tells us that it is home made and it is wonderful. Then offers to give us an extra serve for free. This is a good, solid fish and chips offering-the batter on the flathead is golden crunchy as are the chips plus you can't beat that price.
Fish and chips $9.50
Fish on Fire, Glebe
A favourite for locals, apparently they serve a mean burger. For us, we're trying the fish and chips in this small, unassuming little shop on Glebe Point Rd. The fish doesn't come with tartare sauce although you can buy it for $2 for a medium sized tube of home made tartare which isn't too bad.
The fish is hake and they use canola oil for frying. Whilst the fish isn't bad (again a bit more seasoning would be great), the chips are really what reels us in. They're long and flat and with that rough edge texture that gives you more crunch for your bite while being soft and fluffy in the centre.
The Fish Shop, Potts Point
Fish and chips $24.50 (eat in)
If fish wanted to eat with hipsters they'd end up here. Merivale's offering is in Challis Avenue Potts Point and is a thoroughly themed ode to the sea with fishing hooks or ships in a bottle. The fish is flathead and the oil is cottonseed. The batter is golden and airy or puffy even. The tartare is fantastic though with a nice chunky texture of the pickles.
The Traditional Chip Shop, Bondi Junction
You could be back in the UK here if you take a peek at the menu at the Traditional Chip Shop. This small chain of takeaway fish and chips (with some tables for eat in customers) offers pre ordering where you can skip the queue and pick up your order. This was a suggestion from Viggo and Louise after overhearing English and Irish colleagues raving about the food.
Cod, peas and chips $20, curry sauce $2 extra
Fish and chips in the UK is a bit different from Australian fish and chips. They cook it in Frymax, a vegetable fat and the chips are fatter, stubbier and softer with an option to add chip shop vinegar (which makes them ideal for shoving in a chip butty). The fish is moist but the batter less crisp that the Australian offerings and extras like curry sauce and mushy peas conjure up memories of visits to the UK. There's also a range of UK soft drinks, battered haggis, curry gravy chips, pies, jammy wotsits and burgers and chicken on the menu too.
Seafood Works, Sans Souci
This was close to the classic fish and chips of youth. Here they dry fillet instead of wet filleting the fish which means that the fish isn't laden down with extra water which can dilute the taste of the fish. Also when they thaw the frozen NZ Hoki they don't thaw it in tap water which can dilute the flavour of the fish.
Fish and chips $8.90 plus $1 for medium house made tartare sauce
The hoki is cooked in vegetable oil and comes some nice chips and a non beer batter coating (to cater for muslim customers). Piping hot, well seasoned and with a generous serve of chips, it is another favourite of ours. It was perhaps just the long, thin fillet that we didn't love as much-the fatter fillets seem to have a better ratio of batter to fish.
Peter's, Sydney Fish Markets
A weekend visit to the Sydney Fish Markets is nothing short of chaos as visitors from all over the globe settle in and order platters to share from the various seafood outlets. Some of these have the fish for the fish and chips already cooked so we bypass these and line up at Peter's where an enormous queue already forms. Part of the attraction is the seating area for patrons outside just near the wharf.
Fish and chips $9
The fish is hake and they use cottonseed oil for frying. The fish comes out as one large fillet, not bad although there wasn't much seasoning. The tartare is a Masterfoods squeeze job so it's not in the same league as others and the chips are moreish.
So tell me Dear Reader, how do you like your fish and chips? Do you have a favourite place for it? What sort of chips do you like and yay or nay to chicken salt if offered?
Garfish
1/39 E Esplanade, Manly NSW 2095
Phone:(02) 9977 0707
http://garfish.com.au/
Palm Beach Fish and Chips
1104 Barrenjoey Rd, Palm Beach NSW 2108
Phone:(02) 9974 1110
Fish & Co
41 Booth St, Annandale NSW 2038
Phone:(02) 9660 5575
http://www.fishandco.com.au/
Kiwi Style Fish and Chips
895 Botany Rd, Mascot North NSW 2020 (also location at Coogee) Phone:(02) 9667 2499
http://www.kiwistylefishandchips.com/
Mohr Fish
202 Devonshire St, Surry Hills NSW 2010
Phone:(02) 9318 1326
http://www.mohrfish.com.au/
Fish on Fire
217A Glebe Point Rd, Glebe NSW 2037
Phone:(02) 9660 4212
The Fish Shop
22 Challis Ave, Potts Point NSW 2011
Phone:(02) 9326 9000
http://merivale.com.au/thefishshop
The Traditional Chip Shop
78 Bronte Rd, Bondi Junction NSW 2022 (also location in Randwick)
Phone: 1300 244 774
Seafood Works
4/363 Rocky Point Rd, Sans Souci NSW 2219
Phone:(02) 9529 2555
http://www.seafoodworks.com.au/
Peters
Shop 4 On the Waterfront, Sydney Fish Market, Pyrmont NSW 2009
Phone:(02) 9552 2555
http://petersfishmarket.com.au/