If you're looking for a fun day trip idea over the holidays or a place to have an exquisite lunch or dinner the new The Postman's in Thirroul serves up stunning desgutations featuring local, seasonal produce with an emphasis on the freshest seafood. And bring your camera along!
It came just at the right time, an invitation to visit Thirroul for the weekend just before Christmas. The calm and much needed rest before the storm. We took the easy one hour 15 minute drive down the coast and arrived in Thirroul, a laid-back beachside town.
Chef Arman Uz
The chef Turkish born Arman Uz was formerly from Flanagan's on Thirroul Beach and Efendy in Balmain. The Postman's (formerly known as the The Postman's Quarters) is on the main road passing through Thirroul.
Arman has been at The Postman's for 6 months now. The has had two previous occupants. The first was a Commonwealth Bank in 1940 and the front room is where the vault was located. After that it was a Post Office around 1962 although it was never where the postmaster lived. The room itself is a bit large and needs a bit more done to it to make it a bit more inviting. Arman tells us that he has plans to reduce the number of tables to make it more intimate.
Mid week there is a choice of 2,3 or 5 course meals and on weekends there is a 5 or 7 course menu (very well priced at $65 for 5 courses). As it's a Saturday night we have the five course menu. 90% of the produce is sourced from the Southern Highlands, Kiama, Wollongong and the Ulladulla basin.
Bread is brought to the table and there are two types from a honey oat to a multigrain served warm with house made butter made from South Coast dairy cream. It is sprinkled with charcoal salt that imparts a wonderful smokiness.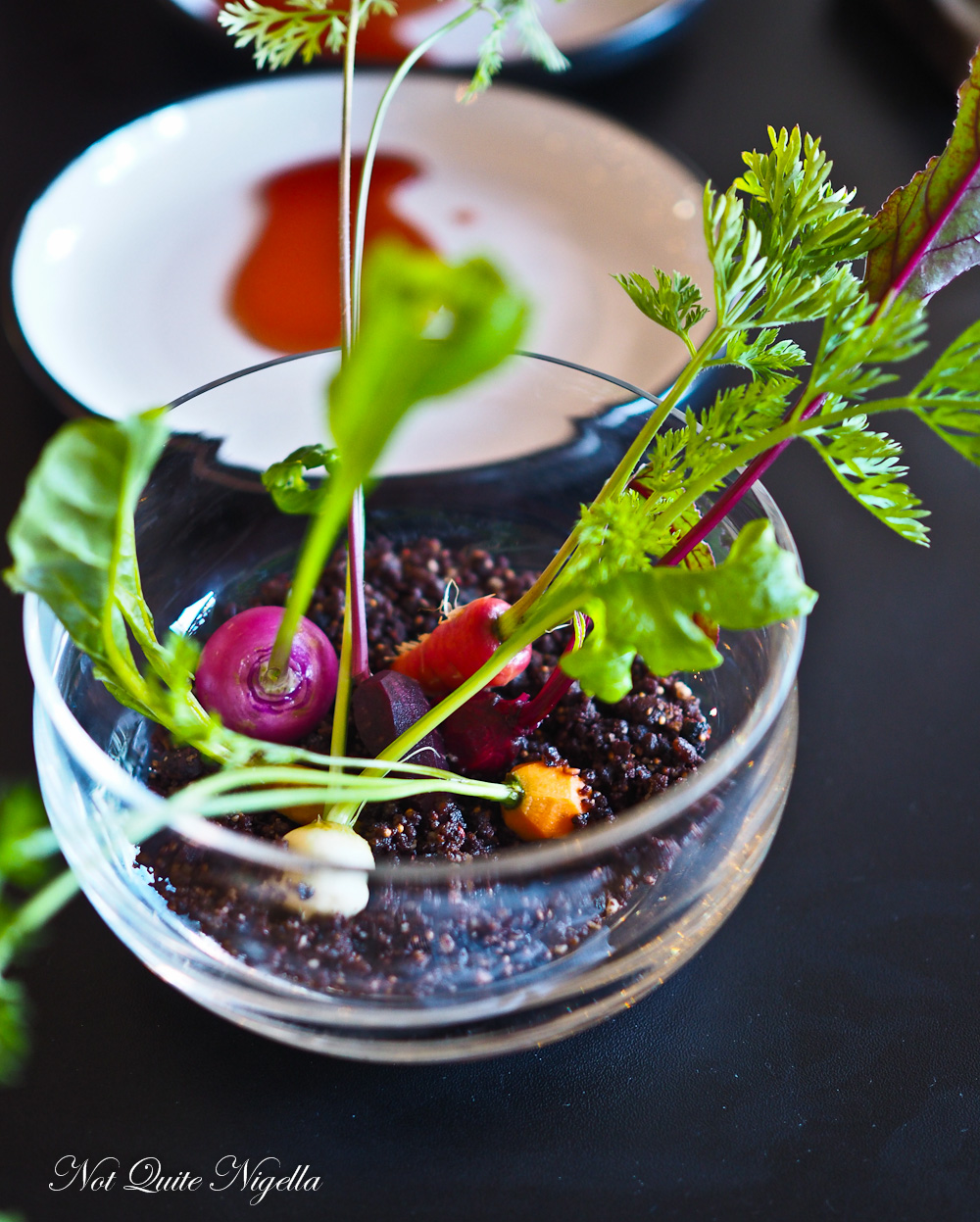 Amuse Bouche
The Edible Garden amuse bouche is sizeable. It comes in two parts, a clear bowl with a base of "soil" of dried fig, walnut, olive and blueberries as well as a dipping sauce. The edible vegetables are from a community farm in Dapto and range from Japanese turnips to tiny carrots to the daintiest miniature beetroot. In a bowl they pour a syrupy balsamic reduction and you can dip the vegetables into this for a crunchy, tangy and sweet sensation.
Oyster, Tarama, cracker and Neptune's Beard served with Bibliotheque Chardonnay Pinot Noir from Adelaide Hills
This is the first official course and it is my favourite course and I kind of knew that I would like it from reading it on the menu-does that ever happen to you? These are black squid ink crackers with three plump Narooma oysters and black caviar tarama cream as well as cucumber and Neptune's beard. You are supposed to pick up the oysters and tarama with the cracker and it's such a perfectly balanced dish both flavour and texture wise.
Snapper tartare, caviar, cinnamon smoke served with Sydney brewing company, Agave and ginger cider
The snapper is from the Ulladulla and it is served with wild Canadian salmon roe, wasabi and lime. It all appears from under a cloud of cinnamon smoke that disperses when the glass cloche is lifted. This is a little salty and strong in wasabi but it really goes perfectly with the sweet cider. Smoke is an ever present and welcome element in Arman's dishes, "My background is the answer for the charcoal and smoke I guess. This is how I grew up. We only have charcoal grills in Turkish restaurants...Some dishes without charcoal flavour still feels incomplete to me."
Squid, eggplant, tomato, wood sorrel served with Serra Vista Verdelho 2015
The menu changes regularly depending on what he finds at the market and what was originally going to be a vegetarian dish called Imam Biyaldi has morphed into this squid dish as he found some squid at the local market so he combined the two ideas. It is tender minute grilled squid from the Ulladulla and Kiama basin. The Imam Biyaldi is a lighter version of the traditional deep fried eggplant. Here char smoked Japanese Eggplant is rested in extra virgin olive oil with garlic, lemon, salt and pepper. This mix is combined with lightly sauteed finely chopped onion, capsicum and a summer tomato mix.
Wagyu, shiitake, carrot, jus served with Serra Vista Cabernet 2014
The final savoury course is the wagyu. The Darling Downs beef is actually a purposefully sourced secondary cut that is lightly smoked it in the oven, then cryovacced and sous vide for 3 days at 55C. It is then cooked for 72 hours and is served with a spiced red wine jus with shiitake mushrooms from Mittagong, a turned carrot, jus filled onion leaves and a spring onion. The star of this dish is definitely the butter tender beef that melts in the mouth and the accompaniments emphasis the umami flavour of the beef. It is paired with a local wine where the winemaker lives just down the road!
Chocolate Caramel Hazelnut and Raspberry served with Centennial Chardonnay, Bowral NSW
By now I'm feeling comfortable and satisfied but not overstuffed which is a nice way to feel after four courses. The dessert course is a rich course with two quenelles of creamy ganache style Belgian dark chocolate with fennel, raspberries and a meringue-sweet caramelised cream which is a gorgeously rich end to the meal. The fennel and raspberries lift the unctuous chocolate and cream. And not a smidge goes back to the kitchen.
So tell me Dear Reader, do you sometimes just know that you will love a course and you do? Would you drive an hour for a good meal? Are you still on holidays and when do you or did you go back to work?
NQN and Mr NQN visited as guests of The Postman's but all opinions remain their own.
The Postman's
258 Lawrence Hargrave Dr, Thirroul NSW 2515
Phone: (02) 4268 5546
Open from 6pm Tuesday to Saturday
www.thepostmans.com/