Theresa Nguyen's eyes twinkle behind her thick rimmed glasses. She's busy steaming some baos in her kitchen, using a recipe of her grandmother's. "I first came up with the idea (of making baos for a living) a couple of years ago but I didn't feel like I could do it." Now years later, she is set to open up her own pop up bao stand in the CBD's Vella Nero cafe on Clarence Street.
Baos are that popular street snack in China and Japan. Many of us encounter these first at yum cha, from underneath a bamboo lid, the risen, puffy buns encase a surprise treasure trove of savoury and sweet fillings. Baos for me are often a bit too bready and I usually pinch off the top part and eat the filling.
While she was growing up, Theresa's Vietnamese grandmother would visit and make these baos for the family. Although they're a traditionally Chinese item rather than Vietnamese, her grandmother would also made Mee Goreng and other Asian food for the family.
Theresa Nguyen
A graphic designer by trade, Theresa still works part time as one two days a week. The three pop up events (Saturday October 12th, Saturday 2nd November, Saturday 7th December 2013)will show her whether there is a viable business to making the soft, steamed buns. She has made 1,500 baos for the first pop up, each snap frozen and steamed on the day.
Chocolate bao $3.50 (or 3 for $10)
But what are the buns actually like in comparison to others? "Most baos are rolled in sugar after steaming them" Theresa explains. Hers contain small amounts of sugar and salt but they're much less sweet than the other commercially made counterparts. Another thing that is different is the colour-these are home and hand made baos and as such there's no white bleached colour. I've made baos before and they looked just like this. "The dough has flour, milk, yeast, baking powder and a little sugar and salt" Theresa explains.
Pork belly bao $3.50
Her baos are also smaller than the large fluffy buns and the ratios are better with an even filling to outer mix. The coconutty pork belly is a four hour slow cooked pork belly with the pieces still intact and jellied. It is cooked in a mixture of young coconut juice, soy, fish sauce and star anise and the Vietnamese filling is a fusion of her Vietnamese background with the Chinese baos.
Miso eggplant bao $3.50
She tells me that the miso eggplant was the hardest to get just right. The sweet eggplant is slow roasted with white miso, mirin, sake, sesame seeds and ginger until creamy and silky and it is paired with a refreshing coriander salsa that lifts the filling. In fact this salsa is good with the other baos like the yellow chicken curry bao and the beef bo kho. The chicken curry is rich in coconut with flavours like turmeric, curry leaves, fish sauce and coconut cream while the Beef Bo Kho is based on a Vietnamese beef stew which is slow cooked in soy sauce, tomato, lemongrass and cinnamon.
And I haven't even gotten to the sweet baos. The runaway hit from the many tastings that she has done is the molten chocolate centered bao. Made with Marou chocolate, a chocolate made in Saigon using Vietnamese ingredients, it oozes out with each bite. She uses Marou Tiền Giang 70% cocoa mass for the filling. The other sweet bao is a gorgeous lemon polenta and almond meal bao that reminds me of those delicious lemon crisp biscuits (my favourite biscuits growing up).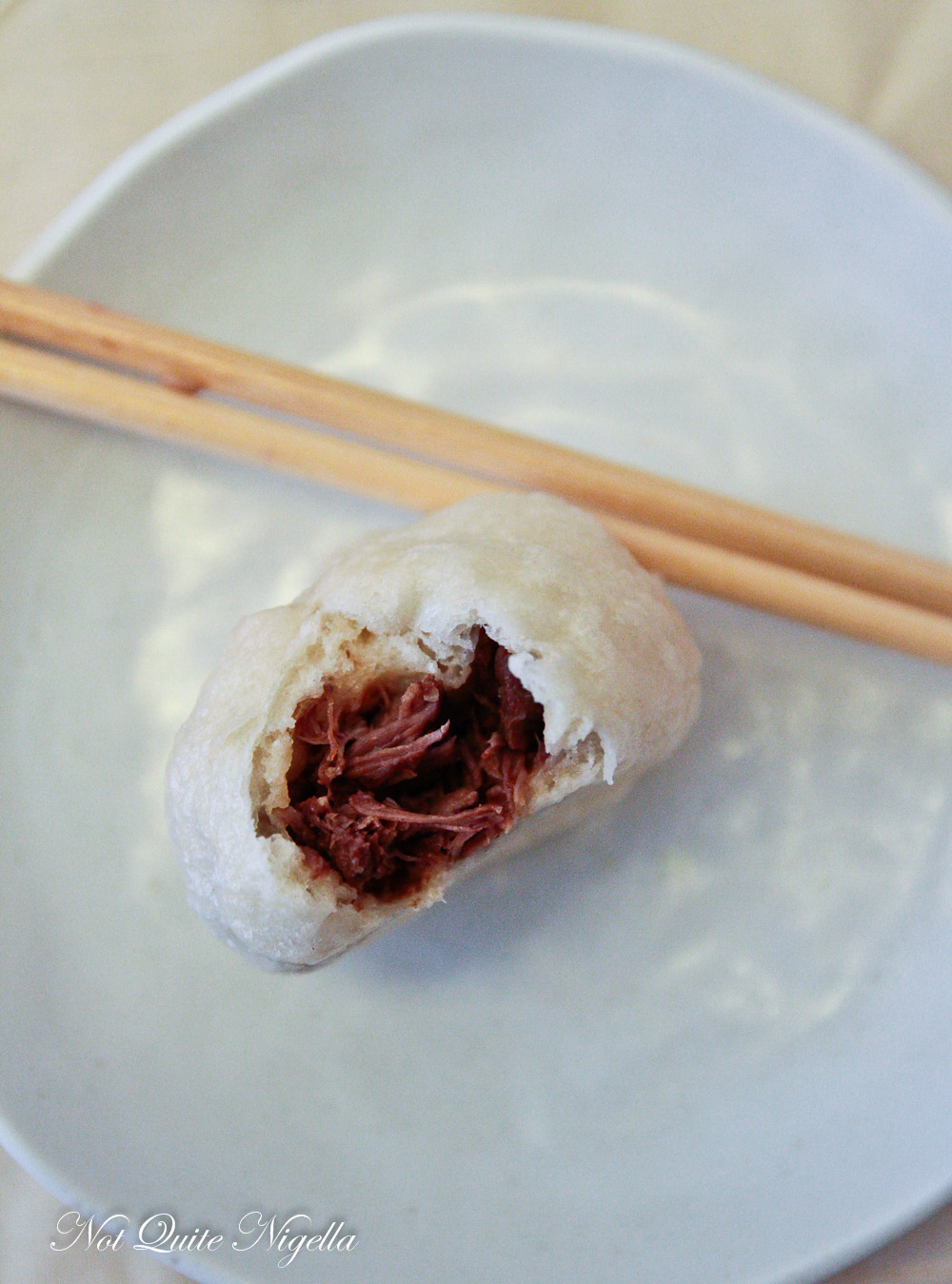 Beef bao $3.50
At each pop up she will have three types of baos for $3.50 each or 3 for $10. Vella Nero's version of Vietnamese coffee will also be served along Strangelove ginger beer. We pop in on the first Saturday afternoon to see what it is like.
It's about 1:30pm and there's a crowd of people enjoying their baos and coffee. The three baos on that day are the pork belly, eggplant and chocolate bao. There are forms where you can fill out your order and a few minutes later your baos are delivered to you on a plate cleverly stamped with the fillings.
The pork belly is soft although there is less sauce in this one, the eggplant has that lovely soft consistency but of course Mr NQN's favourite is the chocolate with a fat pocket of oozy chocolate filling.
Vietnamese coffee $3.50
The Vietnamese coffee is Vella Nero's take on the tall glass of iced Vietnamese coffee. It's a strong coffee with a layer of sweetened condensed milk at the bottom that coffee lover Mr NQN really enjoys.
We pop the soft buns in our mouths and take the last sweet sip of our coffee getting our snack fix in in the midst of a busy day.
So tell me Dear Reader, what do you snack on? And do you snack a lot between meals or do you stick to three meals a day?
Bao Town
Popping up at Vella Nero Shop 3/259 Clarence Street, Sydney, NSW Saturday 2nd November and Saturday 7th December 2013 Tel: +61 0411 771 361