This restaurant has now closed.
If I were to even attempt to be philosophical, I would say that the answer to everything is always dumplings. One Saturday I woke up - it was a beautiful sunny and unseasonably warm Autumn day. But all I could think of was dumplings. It had been half a year since I last had yum cha (yes although I can barely remember names, I remember useless things like that) and I was hankering for some dumplings the same way that Miley Cyrus seeks controversy.
Pu'er at Waterloo sits on the end of Danks Street on the corner of Bourke Street. It's not strictly yum cha here, it's more a menu of dumplings and other assorted Asian dishes but when you've got a lust for those pot sticking, sticky textured, round bottomed beauties like we do, we flip no further than the front page of dumplings. The service is very welcoming and friendly and we take a seat at a striking ceramic topped table that resembles a giant blue and white Chinese porcelain plate.
Premium jasmine tea $9
As the name Pu'er suggests, there's a good range of Chinese teas. Pu'er tea is a tea grown in the Yunnan province of China. It comes in a range of types and qualities, the price of the most expensive would make a tea drinker blush. Pu'er has three types of its namesake tea along with a range of just under twenty hot and cold teas. We decide on the premium jasmine as that is my favourite Chinese tea. It comes as a tea service with a delicate glass tea pot, glass tea cups and a ceramic pot over a tea light to keep it warm. The tea is steeped for two minutes and they pour it into two tiny glass cups where the fragrance is all enveloping. They tell us that the next pot should brew for one and a half minutes as the tea leaves are already wet. The third pot is said to be the best pot and the tea leaves can be brewed for up to six times.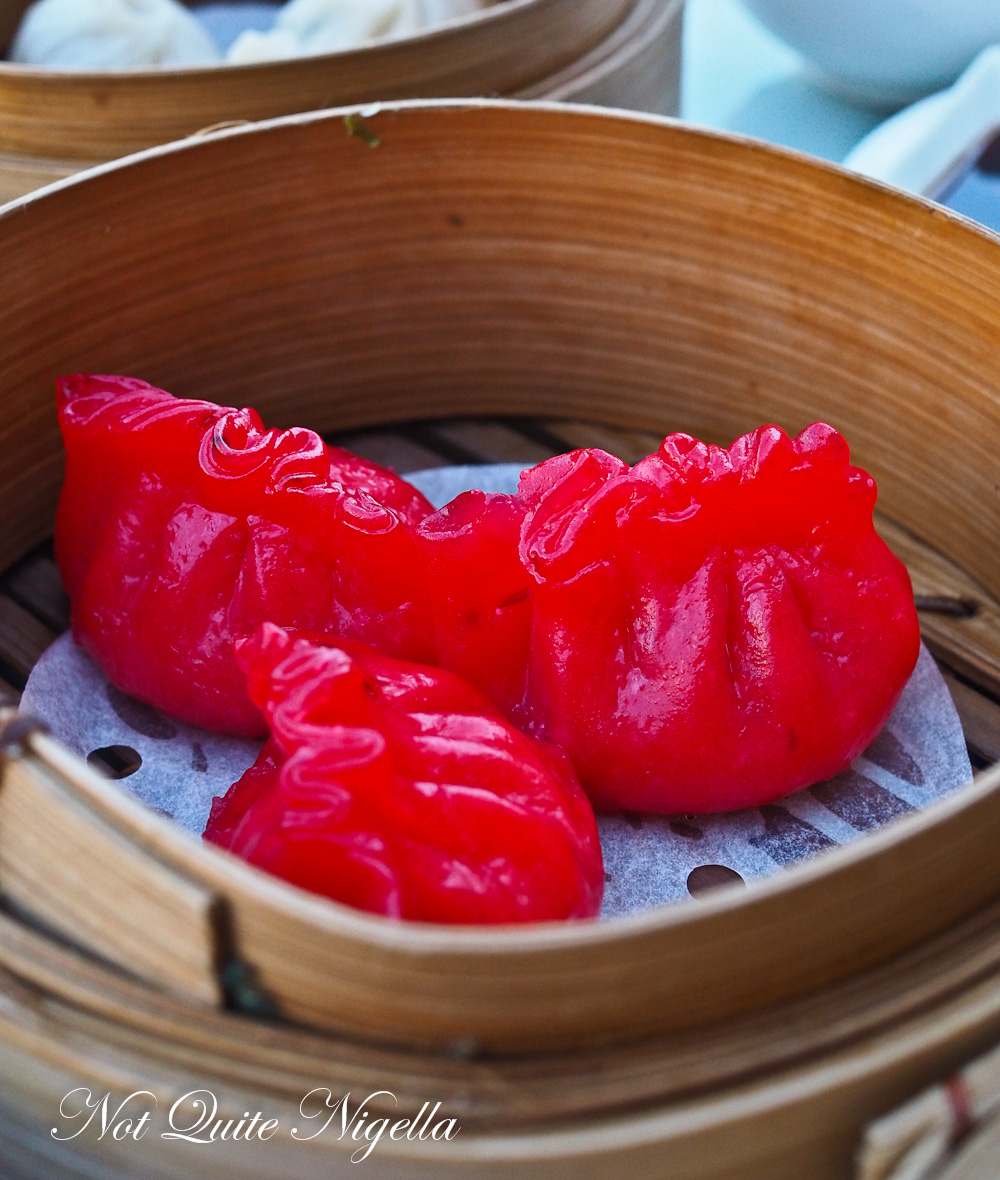 Spicy prawn $8
All of the dumplings are made in-house in a separate kitchen and they all come in serves of three although they can easily upsize them to serves of four. They set down plates with soy, chilli sauce and black vinegar and ginger for the xiao long baos. All of the dumplings are tea steamed. The vivid red spicy prawn dumplings are Cantonese style with chilli marinated prawn and baby bamboo in a sticky glutinous skin. These are one of my favourites although I would have loved a touch more prawn in them.
Scallop dumpling $9
These golden yellow dumplings matched the hue of the tea perfectly. Said to be a Hong Kong style of dumpling, it's a partially open dumpling with soft prawn, scallop and baby bamboo with a little roe on top. The filling is a touch floury but these are sizeable dumplings with good flavour to them.
Siu Mai$8
The siu mai is filled with chicken and shiitake mushroom topped with a seared scallop. They're quite good although I always prefer the texture of the other dumplings over siu mais.
Prawn and Snow Pea dumpling$8
Most of the dumplings are really quite large and these are the largest. These triangular shaped dumplings are another sticky dumpling skin filled with prawn, snow pea and fresh water chestnut for crunch. I find the pleats a little too thick for the filling which is the same with many of the skins.
Mushroom pot sticker $7
There are two vegetarian options and we went with the trio of mushrooms (shiitake, champignon, straw mushroom). They're fine although I find that vegetarian dumplings rarely reach the textural or flavour highs of non vegetarian dumplings.
Shanghai dumpling $7
The xiao long baos are filled with pork and soupT hese plump bottomed dumplings hold a lot of soup and have a satisfying and warming ginger flavour to them. The skins could be thinner though and we left these until last to eat but you definitely want to eat them when they're warmer so that the skin is still soft and pliable. Leaving them until we did renders the skin tough.
Pork, prawn and taro spring rolls $7
We were looking for more yum cha classics and while we rarely order spring rolls we decided to order these. The spring rolls come cut in half with crisp lettuce pieces. I'm assuming that we wrap each spring roll half in the lettuce and dip them into the sweet chilli sauce. They're quite good and the taro adds flavour without making the spring roll overly dry as taro tends to do.
BBQ duck tacos $16
We are talked into the barbecue duck tacos by our waiter. The taco shell is a soft steamed white bun filled with a sliver of barbecue duck, cucumber, spring onion and "secret mayonnaise" (mayonnaise with black vinegar). A little more duck would have been judicious and I leave some of the bun behind while trying to ration the duck for each bite.
Lemongrass panna cotta $10
I had hoped that they might have done a take on the custard tart, mango pudding or another yum cha classic. The desserts are more Western influenced with brownies, donut (albeit with red bean) and a South East Asian sorbet but we go for the lemongrass panna cotta. The watermelon is smoked to order and the red wood smoke is then clamped down under a glass dome along with the watermelon cubes. They remove the glass dome and your immediate space is filled with the redwood smoke. The watermelon retains a little of the smoky flavour - it's quite nice indeed. There is a streak of sweet black sesame gel and the main event, the panna cotta is wobbly but just a bit too light in lemongrass to truly make an impact.
So tell me Dear Reader, how is your memory for food? Do you remember the last time you ate a certain food? Have you ever had a Chinese tea ceremony?
This meal was independently paid for.
Pu'er
This restaurant has now closed.
20a Danks St, Waterloo NSW 2017
Tel: +61 (02) 8399 1331
http://www.puer.com.au/
Tuesday-Friday Lunch 12pm-3pm Dinner 6pm-late
Saturday & Sunday 12pm-late