"You want spring rolls?" a trolley lady says smiling to Mr NQN. It is the second time she has stopped and singled him out for spring rolls. "I reckon next time she's going to ask me if I want a Coke or a beer," he says.
Ahh the perils of being a white boy at yum cha.
It was the long weekend and with an extra day comes all sorts of things: an extra lie in, more time to relax, a less harried weekend and yum cha. When most cafes and restaurants are closed you can count on yum cha being available. And since we hadn't seen my parents after they had come back from overseas yum cha seemed the best way.
My father is obsessed with Hurstville. I'm not sure why, but once every two weeks he and my mother make a trek there. "What do you do there?" we ask them. "We have lunch and buy meat," they say.
So they've already tried Sun Ho for yum cha and they have become members. In fact they explain that on weekdays they give members a 20% discount on yum cha and on weekends there is a 10% discount but since it's a public holiday there is none. What the restaurant also has is complimentary tea. It is located on the first floor or the Hurstville RSL Club.
It is pretty busy this Monday but there are plenty of large tables free. We don't have to wait for a table and the trolleys come thick and fast. The trolley ladies here are patient which is nice. We get a collection of steamer trays within about 5 minutes. I can never quite tell the prices but our total bill for 11 dishes is $84.70.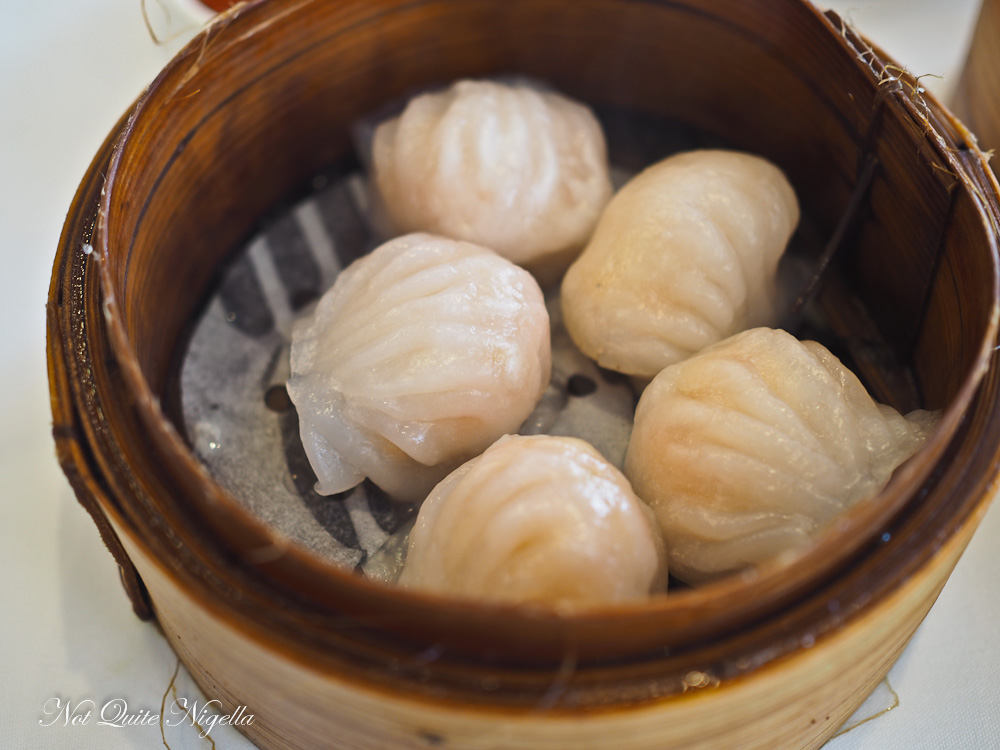 Har Gow Prawn Dumplings
The har gow is our favourite item and we get two steamers of these. They're pretty good-with lots of prawn and a thinnish translucent sticky outer it's a crowd pleaser. Mr NQN grabs dumpling after dumpling pleased that they come five to a steamer.
Prawn Chee Cheong Fan
The prawn chee cheong fan come with a sweet soy sauce. "Slippery little suckers," is all I can say when trying to pick one up. The prawns threaten to fall out of these rice rolls but I manage to get them into my mouth without embarrassing myself too badly.
Siu Mai
The siu mai are thick, bouncy and full. And they're really quite big too!
Scallop Dumplings
These are bursting with filling and I particularly like how thin the skin is on these scallop dumplings.
Scallop and prawn siu mai
There is also a scallop and prawn siu mai. With a mostly prawn filling and topped with a tiny scallop they're my mother's favourite and it's nice to see something different on the menu. We did have one dish that was a "special" item at $9.30 so perhaps this was it because the rest is fairly regular stuff.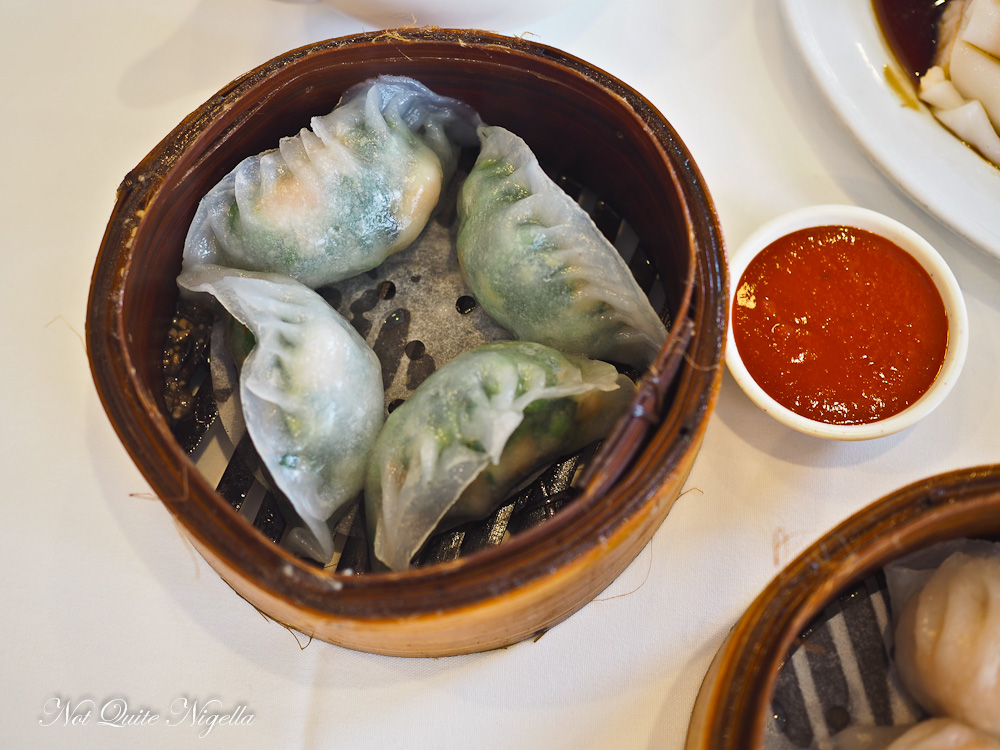 Chive and scallop dumplings
These are some of my favourite dumplings as they're full of chives and scallops. Noticeably bigger than the rest they're made for dunking in the scarlet chilli sauce.
We usually order one fried item but my mother loves deep fried food so we get some Wu Gok with a fluffy, feathery coating, a soft mashed taro filling, spring onions and mushrooms. These are usually fantastic when they are hot but they are lukewarm alas.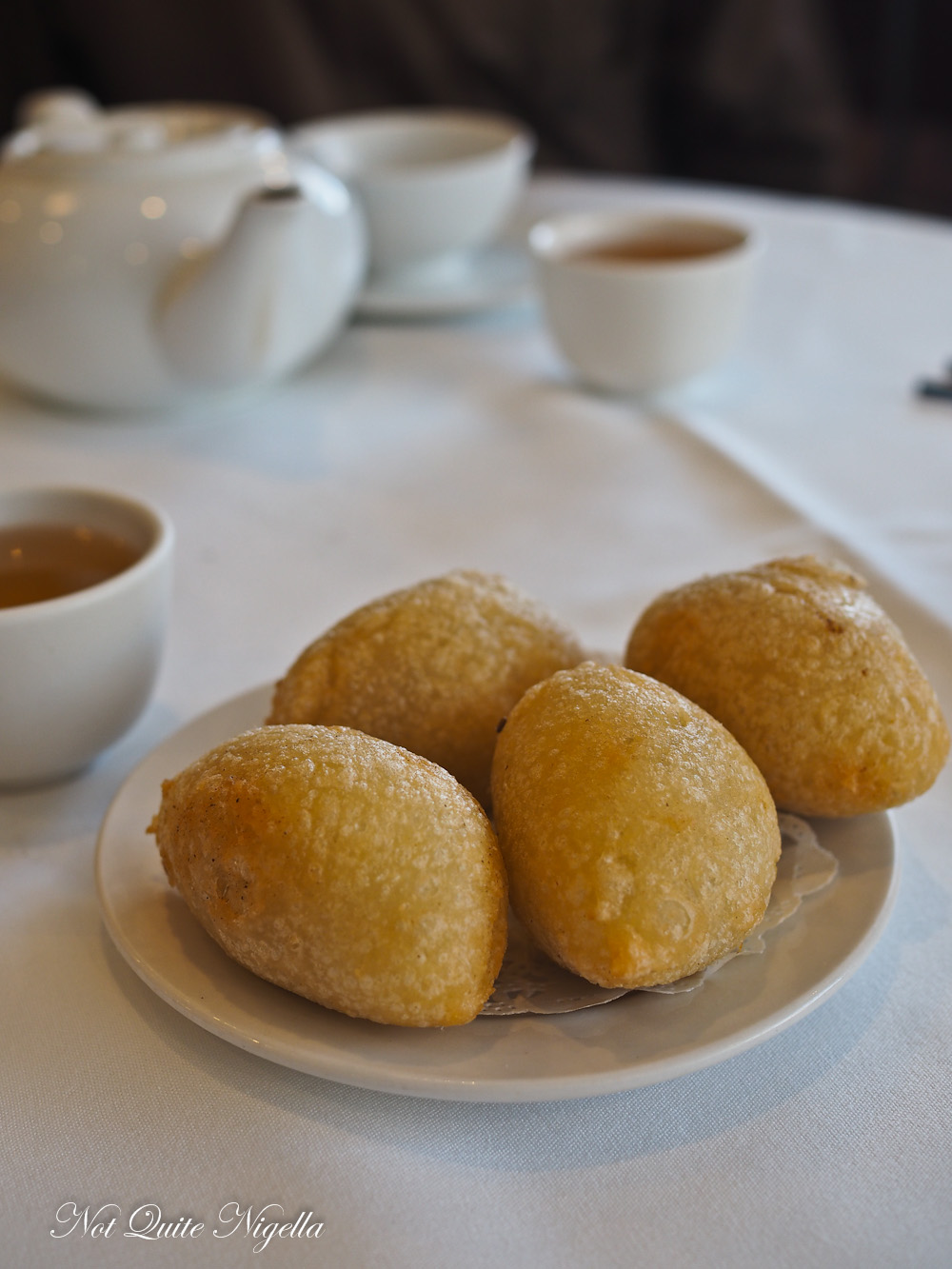 The Ham Sui Gok are better. With a crispy outer and a tooth sticking chewy layer filled with seasoned mince pork they're ginormous and filling.
Mango pancakes
It is nearing 2pm and the crowd is thinning out and the dessert trolleys have become sparse. We ask for the mango pancakes and the egg custard tarts. My mother is allergic to mango so the serving of three is just right for the rest of us. The mango pancakes are filled with slices of mango and cream and a soft, thin pancake. Mr NQN loves these and they disappear quickly.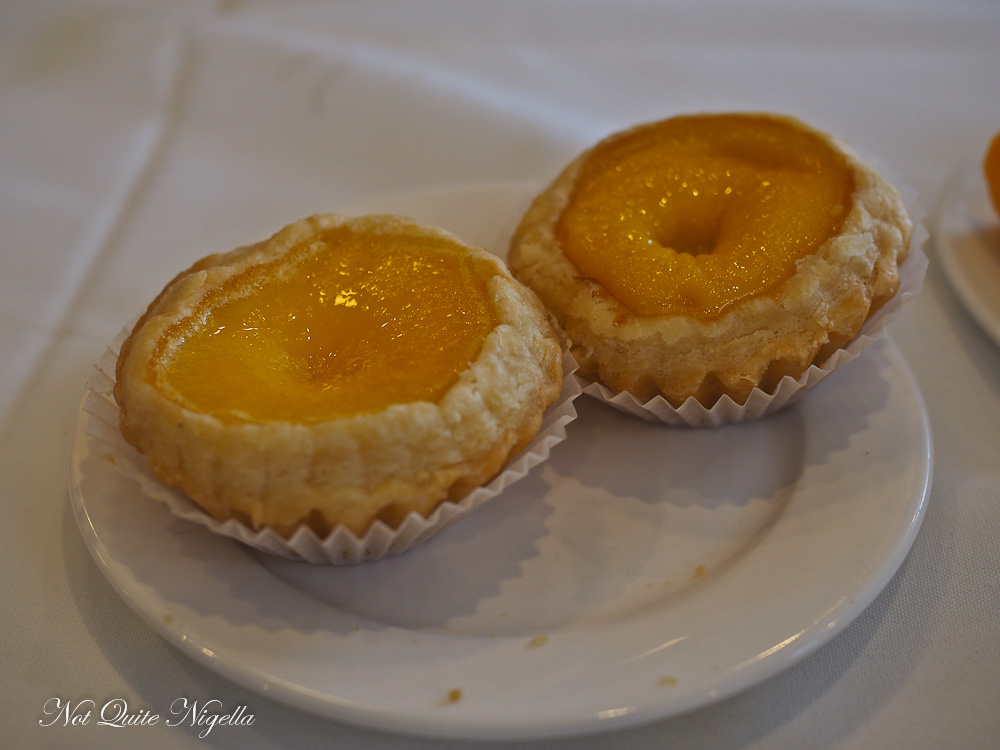 Egg tart
Her favourite is the rich egg tart with layered flaky pastry. It is intensely rich and I can't have more than a bite after the feast of dumplings.
"Would you like spring rolls?" the woman says rolling her trolley past again with a smile and pointing at Mr NQN.
So tell me Dear Reader, what is your yum cha tactic? Get everything at once and then eat? Or graze and get one steamer at a time? Are you ever singled out for spring rolls or forks? And do you ever keep track of the categories of each item or do they just stamp away?
This meal was independently paid for.
Sun Ho
1 Ormonde Parade, Hurstville NSW 2220
Phone: (02) 9580 2022
http://www.thepinnacle.com.au/dining/sun-ho-yum-cha.html