My father came up with the idea for Crystal Seafood Restaurant in Strathfield Plaza by himself (they reportedly also do a great yum cha). His curiosity was piqued by an ad for seafood specials. My father prefers lobster as it is easier to eat than crab and so does my sister Blythe and well, a lobster bargain will always garner his attention.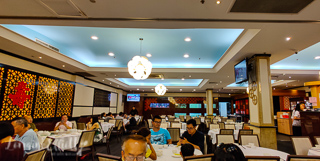 At Crystal Seafood there are quite a few specialties on the mostly Cantonese menu that aren't available like the goat belly hot pot or the red wine ox tail, both of which I wanted to order but I'm out of luck.
We end up going with one of the banquets ($238 for 4 people) which we usually avoid but this one has pretty much most of the things that we want to order. We also add a few dishes to it since there are 5 of us.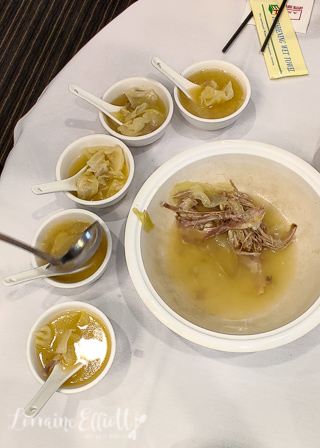 The tureen of complimentary broth comes out-it's a cabbage and chicken bone broth. I love having this at the start of a meal as it feels so wholesome and warming, like a hug.
Then they bring out our lobster who isn't quite thrashing about like the fish going to another table but reluctantly raises a few legs in protest.
The food starts arriving. The oysters on the set menu are steamed. I don't usually like cooked oysters but when I ask for them raw the waiter firmly recommends against this so we compromise - it's tempura'd oysters which it turns out aren't bad at all. We add some soy sauce and some salt and pepper to season them.
I have not eaten sweet and sour pork for years but can I let you in on a secret? I love the stuff. Not the stuff in food court malls which are mostly batter but ones like this with plenty of delicious pork spare rib meat inside. I think I end up finishing most of this dish.
The main dish arrives and it's the shallot and ginger lobster with a double serve of noodles. The lobster is meaty and cooked well so that it is still tender. However I wish we had asked for it to be served with XO sauce as I'm just not getting the hit that I so desire and require from this dish.
The vegetable selection is choy sum and to be honest, they're a little dull and could use a bit more oyster sauce or ginger.
We ordered an extra couple of dishes and one of them is the salted egg coated prawns. I like the flavour but not so much the grainy texture of these but no matter because the rest of my family polish it off.
Blythe lives overseas so whenever she comes home she always orders lamp chops. These are deep fried lamb chops with chilli and garlic. They're not bad and quite juicy and fatty in texture.
The set meal comes with steamed rice but we were curious to try the tomato and creamy sauce rice. There are two sides to this rice, a tomato and onion side with sliced chicken which is very sweet (ketchup sweet). The other side is a milky, creamy sauce with peas and prawns, my preferred side although I don't think I'd order this again.
There's a really long wait for our last dish, the steamed fish. After we've been waiting a while we ask one waiter who says that steamed fish takes a while to steam. "It takes 12 minutes," says my mother under her breath. After 30 minutes the fish still hasn't arrived and Mr NQN has made plenty of "They've gone out to catch the fish," dad jokes.
40 minutes later and after asking pretty much every waiter what's going on, the steamed fish finally arrives. And it's a barramundi which is the only seafood I am allergic to. From all reports it's very good and it's really my fault for not asking as barramundi is a common fish served at Chinese restaurants.
We have so much left over and as my parents have been subsisting off take away for the last few weeks because they've moved so we pack it up to go. Mr NQN spoons the food into the containers provided and my mother admires his skills. "Waaah so skilful," she says. This is coming from the woman who never compliments anyone especially her children. "He's literally scooping food into boxes, what sort of skill is that?" I mutter.
I had space in my tummy for the dessert. The first part is some sesame balls and some fried pastry pieces dusted in icing sugar with orange slices.
The next course or "dessert of the day" is my favourite. It's a warm, sweet soup made of red beans, mung beans and it represents comfort food to me. I'm too full from dinner to finish my bowl so I wonder if I can take it home with me (because Blythe and my father also don't want theirs either). "You can't take home the soup!" says Mr NQN. "But I loooove this..." I argue back.
I ask the waiter if it's ok to get a container to take it with me and explain that it's my favourite bit of a meal. He kindly comes back not just with a container but one full of the red bean soup for me to take home. He packages it up in a bag so that it won't spill too. The wait for the fish is forgotten!
So tell me Dear Reader, what is your favourite part of a Chinese meal? Do you like the sweet soup? What's the longest you've waited for a dish to arrive?
This meal was independently paid for.
Crystal Seafood
Strathfield Plaza, 29/11 The Boulevarde, Strathfield NSW 2135
Monday to Friday 11am–3pm, 5:30–10:30pm
Saturday and Sunday 10am–3pm, 5:30–10:30pm
Phone: (02) 9763 7738