A few months ago I had someone over for a work meeting. I don't often do work meetings at home but I couldn't leave the apartment so I figured that I may as well cook something and we could discuss things over lunch. I made a quiche and my guest seemed to enjoy it and finished her serve off in its entirety. A little later she told me that it was rich so that she also didn't have anything for dinner that night.
I just stared at her smiling mutely. Mainly because I had had dinner that night as per normal and I didn't think that it was that it was that rich! And unless I had a really late lunch, there's no chance that I'm ever skipping dinner!
Which brings me to a treat that you may think would be terribly calorific but isn't so bad. These are maple pumpkin donuts. Except that they aren't deep fried, they are baked in a donut pan. I am usually one to shun single use items but I've decided that baked donuts are completely calorie free (it's all relative ;)) and as such I promise to go on a baked donut baking spree afterwards to get good use out of my new donut pan.
A few weeks ago I bought three butternut pumpkin for 99c each. By the way did you know that we call them pumpkins but in American they call them squash? I use them interchangeably in recipes when pumpkin is specified, mainly because I was completely ignorant of this fact until recently and they always work out.
These donuts are really good and not so bad for you too. Much of the batter is actually made up of roasted, pureed pumpkin. When they're straight out of the oven they're soft, light and gorgeous and there's no reason why you wouldn't want these in place of a deep fried one. And never skip dinner.
So tell me Dear Reader, do you ever skip dinner? And do you call butternuts pumpkin or squash?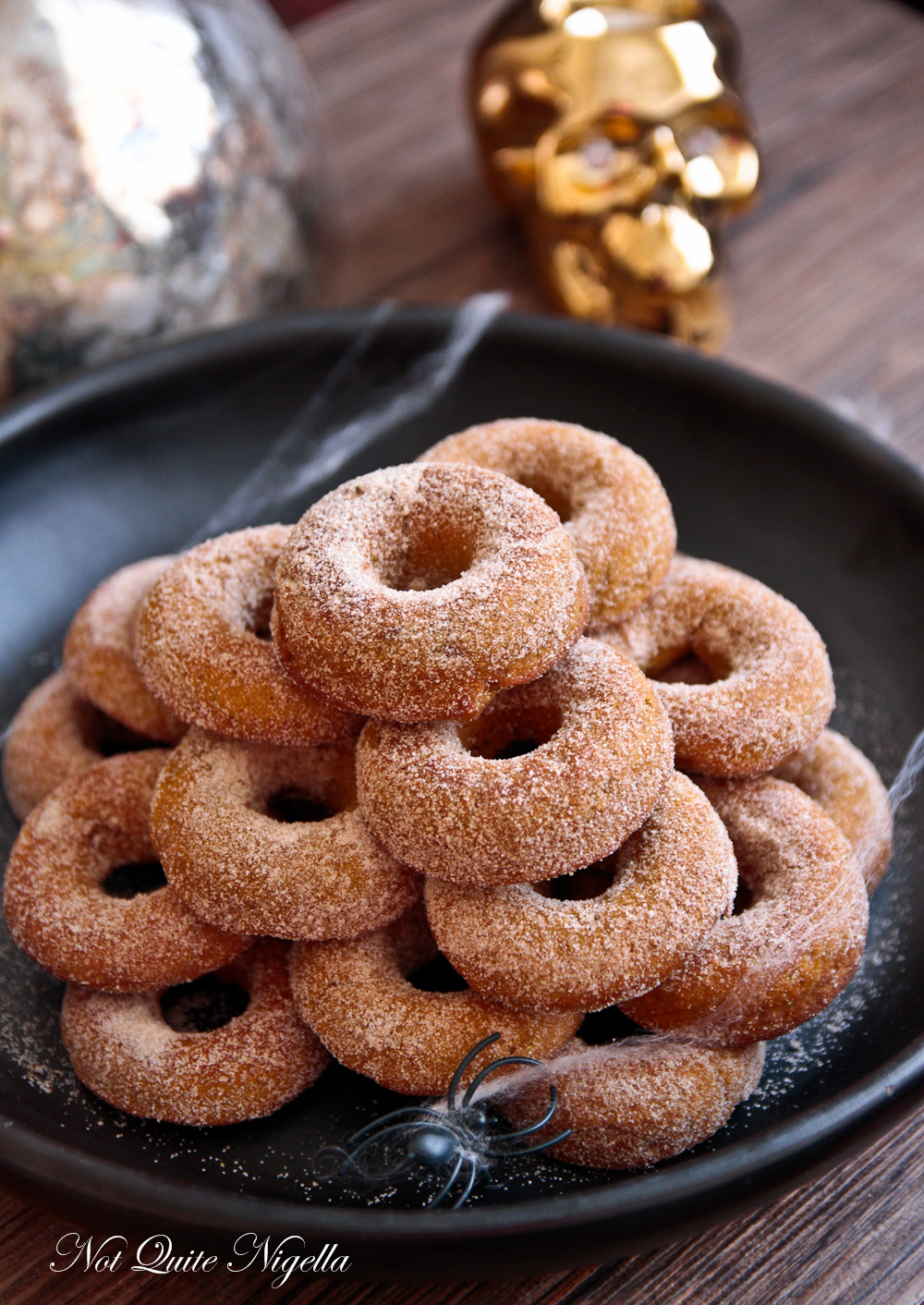 DID YOU MAKE THIS RECIPE? Share your creations by tagging @notquitenigella on Instagram with the hashtag #notquitenigella
Maple Pumpkin Baked Donuts
Makes 30 donuts
1 3/4 cups plain flour
2 teaspoons baking powder
1.5 teaspoons ground cinnamon
0.5 teaspoon ground nutmeg
1 teaspoon salt
1/2 cup oil
3 eggs at room temperature
1.5 cups pumpkin puree
1 cup brown sugar
1/2 cup maple syrup
Non stick oil spray
Cinnamon sugar (mix 4 tablespoons white sugar with 1 teaspoon ground cinnamon)
Step 1 - Preheat oven to 180C/350F and spray the cavities in a donut tray with oil. In a large bowl, whisk the flour, baking powder, cinnamon, nutmeg and salt together until combined.
Step 2 - In another bowl, whisk the oil, eggs, pumpkin puree, brown sugar and maple syrup and add this to the dry ingredients. Mix with a wooden spoon or spatula to combine. Allow to sit for about 5-10 minutes to puff up and thicken a little (it's quite runny at first).
Step 3 - Fill a piping bag with some of the mixture and then pipe the batter into the donut cavities a little over half full. Bake for 15 minutes.
Step 4 - Remove from oven and while hot, gently lift these out with a spatula and toss in the cinnamon sugar.