Ever tried Munkki? No I'm not talking about monkeys but rather Finnish Munkki's. Munkki is simply the Finnish word for donut. The word Munkki translates to monk. There are three theories as to why. The monks were said to make donuts for the eve of Lent. Others say that the donut resembles the distinctive "tonsure" hairstyle that monks had with the bald centre. The third is that once the dough is cooked, it comes out fat and brown like a monk! The dough is a bit sweeter than other donut recipes and Munkki can be either be ball donuts with filling or circles made from wrapping dough around a stick. And today we've got four delicious filling ideas for you!
Recently I was featured in a Finnish magazine called Menaiset which is like the Finnish version of the Women's Weekly. They interviewed me about Mr NQN's family and my experiments with Finnish food. It was a lovely feature and shortly after two Finnish cookbook writers and bloggers contacted me. They asked if I would be interested in receiving a copy of their cookbook called "Ruokakirja" (literally food book) by Riikka Kantinkoski and Kaisa Nieminen.
I was delighted at the offer and within a week a package arrived from Finland from their publisher. It was a gorgeous hardcover book full of moody shots. It was also entirely in Finnish (as I expected). I flipped to a page where I stumbled upon Munkki donuts. And knowing how much Australia seems to be in love with donuts, I knew that I wanted to make these and fill them with some delicious combinations.
I did struggle a little when translating the recipe. Finnish is one of the most difficult languages to learn for English speakers and when in Finland I would have to look for the Swedish signs where there were sometimes words in common. Also Finnish recipes use a measure called "dl" which is roughly equivalent to 1/2 a cup (I think!). So I was more inspired with their recipe rather than following it diligently.
Once I made them I wrote up a list of a dream team of fillings. It was mainly based on what I wanted to eat and what I had in my fridge. I started with a classic Nutella donut - that was easy and it is also a crowd pleaser. From there I branched out to a coconut cream and finger lime using the finger limes I had bought the weekend before. After that it was a banana cheesecake filled with a cream cheese icing type of filling. The last was a spiced nutmeg custard topped with a bruleed fig from our little tree!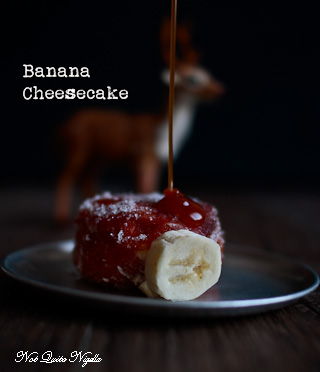 There was a bit of an embarrassing situation about these donuts. You see with over a dozen donuts I gave them away to my agency. But then I realised that I hadn't taken enough photos of them so I called and asked if they were all gone. I was so embarrassed because honestly who gives donuts and then takes them away? Only the worst kind of people. Mr NQN who works nearby went to collect them and on the walk home he was bewitched by their smell. He never craves donuts or fried food but he was intoxicated by these-so much so that he ate one.
On the walk home he stopped a group of protesters. They were protesting the cutting down of trees along Anzac Parade for the light rail and he had a chat to them because we are both so sad that these heritage trees will be cut down. One woman also became bewitched by the donuts peering over at the box he was holding. She asked him where he got them from and he answered "my wife made them." She sighed and explained that she was Jewish so she could only smell and look at them. She took a last sniff and he was on his way.
So tell me Dear Reader, have you ever tried Munkki? Which filling appealed to you the most? Is there a food smell you cannot resist? And what do you think is going to be the next craze after donuts?
Munnki Finnish Donuts