This ramen burger is a take on the famous ramen burger which is doing the rounds of the internet. Diners queue for hours for the cult companion food of the Cronut. The trend started in New York with Japanese American chef Keizo Shimamoto. He is the star of ramen documentary Ramen Dreams and the blogger at Go Ramen!. An appearance making ramen burgers on Good Morning America spurred plenty of other media appearances and every day, his ramen burgers sell out quickly.
In Sydney, a ramen place called On Ramen sells ramen burgers but people that had tried them had varied opinions. I wanted to do my own version with more Japanese flavours including miso, mayonnaise, teriyaki glaze, mirin and sesame. So one afternoon I experimented with the burger. It's a very easy burger to make and immensely appealing not just for the novelty. A lot of people claim that it doesn't sate the thirst for a bowl of ramen or a hamburger. I'd say that whilst it certainly isn't anything like a bowl of ramen, it is like a burger and a juicy, delicious one at that. If you thought that the Cronuts were too much trouble, I would definitely recommend tipping your hat to this craze and making a ramen burger.
There's the saying "what happens in Vegas stays in Vegas." The same could be said about what happens in a family stays in the family (unless of course you blog about it ;)). Mr NQN's brother Manu is a charming, sweet boy, but he is often late to everything. His excuse once was "It's just family!" But the point being is that the way that you behave with family is not the way that you behave with strangers, business associates or even friends. Sometimes your family quirks are not readily understood by others. Including your spouse.
There was a very hot spring day a couple of weeks ago where temperatures reached 36C/96.8F. I worry about my parents and their health as they are getting older as we all are and when I called them, there was no answer on the phone which is unusual. They are homebodies and leave the house to shop in a routine and it wasn't shopping day.
I rang a few times and there was still no answer. I had paranoid images of them lying on the ground with heatstroke and being unable to answer the phone. I wondered whether I should go over there and check on them when they answered my email saying that they'd been at a funeral and that it was in an air conditioned so they were fine. I invited them over for dinner that night and told them that I would call them when Mr NQN came home.
They usually answer on the first ring or two because they were expecting the call but the phone almost rang out. My mother finally answered and slighty alarmed I blurted out "What took so long?" fearing of course that image of my parents lying prone on the ground suffering heatstroke.
Mr NQN snickered at the directness while to my mother, it was perfectly normal. "Whaaat?" I said to him not understanding him chiding me for being so direct. As we waited for them to arrive Mr NQN said "Do you think your dad will bring his own rice?". I told him that I was absolutely certain that he would.
"What do you think is his favourite food?" he asked.
"Rice. It's a no brainer" I answered, stirring the curry. I made salads for my dad who found curry too hot while the curry was for my mum. They arrived, my father with his container of rice and sat down at the dining table which was cleared of Halloween detritus but still had a gothic mansion backdrop and hanging, bobbing heads.
Mr NQN asked my father his favourite food and without missing a beat my father answered "Rice" and then proceeded to declare the curry too spicy. And when he asked them about my "What took so long?" comment they looked at him with the same "Whaat?" expression. You see family don't mind directness or sitting amongst a gothic mansion setting with bobbing heads.
As much as my dad loves rice, my mum loves noodles. This is an item that I would make for her. She also loves Japanese flavours and loves Japanese and Vietnamese restaurants. I ended up loving the results so much that I ate the burger at 4pm shortly after I finished shooting the pictures, much like the time that my parents would have been eating their dinner. Who says that the apple doesn't fall far from the tree?
So tell me Dear Reader, do you behave differently around family than friends? And do items like the Cronut and Ramen Burger pique your interest? Would you queue for them?
Did you make this recipe?
Share your creations by tagging @notquitenigella on Instagram with the hashtag #notquitenigella
Ramen Burger
An Original Recipe by Not Quite Nigella
Makes 4
Preparation time: 45 minutes
Cooking time: 20 minutes
4 packets of ramen (1 packet of ramen per burger)
4 eggs
600g/21ozs beef mince
2 tablespoons white miso
2 tablespoons mirin
1/4 cup green shallots, chopped
1 clove garlic, minced
1 tablespoon sesame seeds
1 teaspoon sesame oil
2 flavour sachets from the ramen
Oil for frying
2 teaspoons Kewpie mayonnaise
Lettuce or cabbage leaves
For teriyaki glaze
3/4 cup brown sugar
1/2 cup soy sauce
1/2 cup water
1/4 cup rice wine vinegar
1/4 cup mirin
1 clove garlic sliced
4 slices fresh ginger
Step 1: Cook ramen in boiling water (without the flavour or vegetable sachets) according to directions. Rinse under cold, running water and drain well. Beat eggs and place in a bowl and then using a fork, mix around the ramen in the bowl coating well.
Step 2: Take eight round takeaway containers of the same size (or at least matching pairs so that the sizes of the patties will match) and divide the ramen evenly into the eight containers. Cover with cling film and nest one into another. Weigh down with cans. Refrigerate for 30 minutes.
Step 3: Meanwhile, make the teriyaki glaze by placing all of the glaze ingredients in a saucepan and simmering until it becomes thicker. It takes about 10-15 minutes and just make sure to watch it so that it doesn't burn.
Step 4: While the teriyaki glaze is simmering, make the patties by mixing the beef mince, miso, mirin, shallots, garlic, sesame seeds, sesame oil and two flavour sachets from the ramen into the mix to flavour it. Divide into four and shape into balls and flatten to round patties and refrigerate until needed.
Step 5: Once the ramen has had its time in the fridge, heat a frypan on medium heat (about 7 out of 10) and add some oil. Remove the can and cling wrap and fry the ramen patty until crispy with some browning-it will hold together better if the ramen browns (see above). Turn over and fry the other side. Repeat with the rest of the ramen.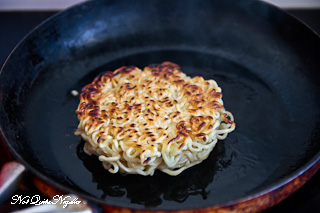 Step 6: Add a little more oil and fry the beef patties on both sides until as done as you like them. Brush the patty with the teriyaki glaze and then place the patty on top of one ramen bun with mayonnaise and cabbage or lettuce. Place other half of ramen bun on top.