Family gatherings come thick and fast at this time of the year. Just a couple of weeks before Christmas we had a family get together in the park for Mr NQNs sisters baby blessing aka baby shower. Both women and men were invited.
Being a hippy family means that things are much less formal than usual. The baby blessing was held on picnic rugs and accordions and violins were brought out to provide the music. I'm sure that my parents in their very non hippy ways might have muttered "My god are we related to gypsys?" They seemed a bit bewildered by it all.
Mr NQN's father Roger arrived a couple of hours later (on "Roger time") and he observed Amaya's friend with her 10 month old girl swathed in pink. "What's the little boys name?" he said completely not picking up on the colour cues. The baby girl's mother looked at him astonished.
Salmon Tarator
Cauliflower, radish and orange blossom salad
Beetroot, quinoa & blue cheese salad
In any case, that gathering was the calm before the storm. A few days before Christmas the entire Elliott family decided to implode. One by one they opted out of Christmas celebrations. What should have been a nice time with family became a seething hotbed of resentment, demands, disorganization and passive aggressive behaviour. One demanded one thing while another demanded another and neither would budge.
Brazilian cheese bread
So we did what anyone at the end of their tether did, instead we celebrated with people that understood the genuine meaning of Christmas. Friends are like family, except you actually choose them. We had Queen Viv, her son Michael, Julie, Alistair and my parents. And Mr NQN's mother Tuulikki, perhaps befuddled and confused by her own family's behaviour decided to come along to our Christmas celebration.
Taramasalata and beetroot hummus dip with Afghan bread
It was with a nervous wait that I watched the weather. We had decided to go with a hot weather Christmas but of course the weather was hot one day and then cool the next. The food centrepiece would be a whole baked salmon accompanied by salads and pavlova. The salmon dish is called salmon tarator and it's a baked salmon covered with a garlic yogurt sauce, toasted walnuts and fresh herbs and not only is it a show stopper but it's really easy too.
And by Christmas miracle that morning everything was ready two hours early (which never happens, trust me ;)). I had saved time by doing a few things the night before (the pavlova, roasting the beetroot and cooking the barley and quinoa) and that morning I baked the salmon. It was an enormous specimen at 4.5 kilos and I couldn't even fit it in my oven. I had to cut the head and tail off (which only affirmed to me that I don't think I could murder anything) and set it off to bake while I made the garlic sauce and the herb topping.
With the car laid down with supplies, we drove to nearby Centennial Park where other groups of families had already staked out areas. We found a picnic spot and set up while Mr NQN went home to let our guests know that we had a little Christmas surprise for them - an outdoor Christmas! There were nine of us assembled around the table and we had a wonderful time talking about all things food and bizarre around the world.
Chicken lollipops
Queen Viv told us a tale of how she had once caught an octopus and the ensuing battle to get the thing back into the water while trying to dislodge one of its many arms that had suctioned themselves on the boat. Alistair talked about how Julie had finally let him in the kitchen and over his cooking career he had made 100 pavlovas. Mr NQN and Michael talked about cycling and Tuulikki talked about monkeys while my parents laughed.
I prepared the pavlova just before serving as the birds that stalked nearby looked as though they could take us on. Alas the pavlova looks a bit rough and ready but it's the taste that counts right? The pavlova was followed by one of the things that I look forward to most during Christmas is my Dear Reader Matilda's Italian Christmas cookies! Every year I dance with happiness when these come in the mail. There was much laughter, affection and food - the way that Christmas should be.
Matilda's Italian cookies
And if your Christmas is stressing you out, spend it with those you love and who appreciate you! And if all else fails, watch this video!
So tell me Dear Reader, what do you want most in the world for Christmas?
Merry Christmas Dear Readers and I hope that you have a truly splendid and wonderful Christmas. Thank you for all of your support this year and thank you for reading!
Lots of Love,
Lorraine xxx
DID YOU MAKE THIS RECIPE? Share your creations by tagging @notquitenigella on Instagram with the hashtag #notquitenigella
Salmon Tarator
Adapted from a recipe by Greg Malouf
4-4.5 kilo salmon
3/4 cup olive oil
Salt and pepper
150g/5ozs walnuts, roasted and finely chopped*
Juice of 1-2 lemons
1 medium red onion, finely diced
3 large red chillies, diced
2 cups coriander leaves, finely chopped
1/2 cup mint leaves, finely chopped
1 tablespoon sumac
Yogurt dressing
1 garlic clove
1 teaspoon salt
400g natural yogurt
50ml/1.7ozs tahini
Step 1 - Have your fishmonger clean and gut the fish. Rinse it under cold water. Pat dry and allow to come to room temperature. Preheat oven to 150C/300F. Place fish on a large sheet of baking parchment and season with salt and pepper and rub with a few tablespoons of oil. Wrap up and bake for 40 minutes and then turn over and bake for 35 minutes or until fish is cooked through. Unwrap and cool to room temperature.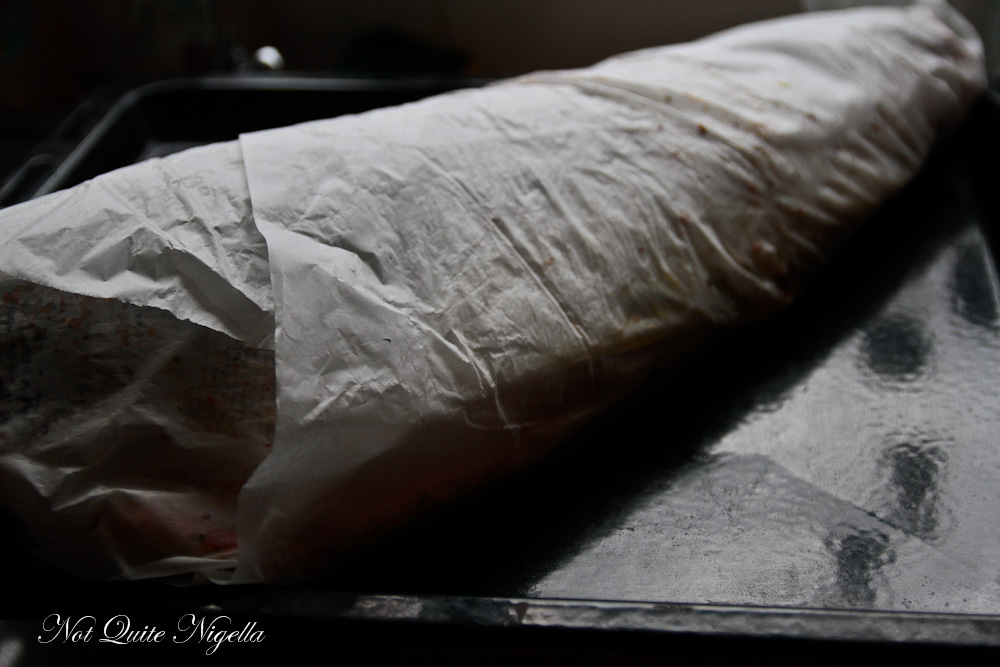 Step 2 - While the fish is cooking, make the dressing by combining all of the ingredients in a food processor and blending until smooth. Set aside.
Step 3 - Mix the walnuts, lemon juice, onion, chillies, coriander, mint leaves, sumac and remainder of the olive oil in a bowl.
Step 4 - Cut along the head from the back along the tail and remove the skin. With a knife, gently remove the grey flesh exposing the pink flesh. Coat with some of the yogurt dressing and then cover with the herb mixture.
*To roast walnuts, bake in a 180C/350F oven for 10 minutes.
Lychee & Mint Soda
500ml/1 pint lychee juice (drained juice from tinned lychees)
500ml/1 pint soda water, chilled
Bunch fresh mint leaves
Step 1 - Mix the lychee juice and soda water and add mint leaves. Serve over ice with extra lychees.
Beetroot, Quinoa & Blue Cheese Salad
1 kilo beetroot bulbs
2 tablespoons olive oil
1/2 cup quinoa
3/4 cup chutney of choice (I used Charlie's spiced cherry chutney)
75g/2.5 ozs blue cheese
1/4 cup walnuts
Red microherbs (optional)
Step 1 - Preheat oven to 180C/350F. Wash beetroot bulbs and place in a cast iron pot with the oil and place lid on top. Roast for 60-90 minutes until a knife can pierce through them easily. Cool. Peel the skin - it should slip off easily.
Step 2 - While the beetroot is roasting, cook the quinoa by soaking it in 1 cup of water for 15 minutes and then simmering it for 15 minutes. Remove from heat and allow to cool for 10 minutes before fluffing with a fork. Cool.
Step 3 - Cut the beetroot into eights or bite sized pieces. Toss with the cooled quinoa and chutney. Add small cubes of blue cheese and walnuts and herbs. Season with salt and pepper and dot with microherbs.
Cauliflower Salad & Radish Salad
Adapted from a recipe from Saffire Freycinet Lodge
1 head cauliflower, cut into florets
3 tablespoons oil
Salt & pepper to season
3 radishes, finely sliced
1/2 cup green raisins, soaked in hot water
1 cup pearl barley
100g/3.5 oz butter
Juice of 1 lemon
2 teaspoons orange blossom water
Step 1 - Preheat oven to 200C/392F. Line a large baking tray with parchment and place the cauliflower florets on top. Drizzle with oil and roast until golden. Season with salt, pepper and sugar.
Step 2 - Cook the pearl barley by simmering 1 cup of pearl barley with 3 cups water for 35 minutes. Drain and reserve the water (add some sugar to this for a delicious drink).
Step 3 - Fry the drained barley with butter and toss with the cauliflower, green raisins, radishes, lemon juice and orange blossom water. Season with salt and pepper.
Lollipop Chicken Wings
500g/1 pound wing drumlets (cut flesh from bone at the small end of drumlets)
2 1/2 tsp salt
2 1/2 tsp sugar
1 teaspoon five spice powder
A dash of pepper
1 egg
1 cup cornflour or cornstarch
Oil for deep frying
Method: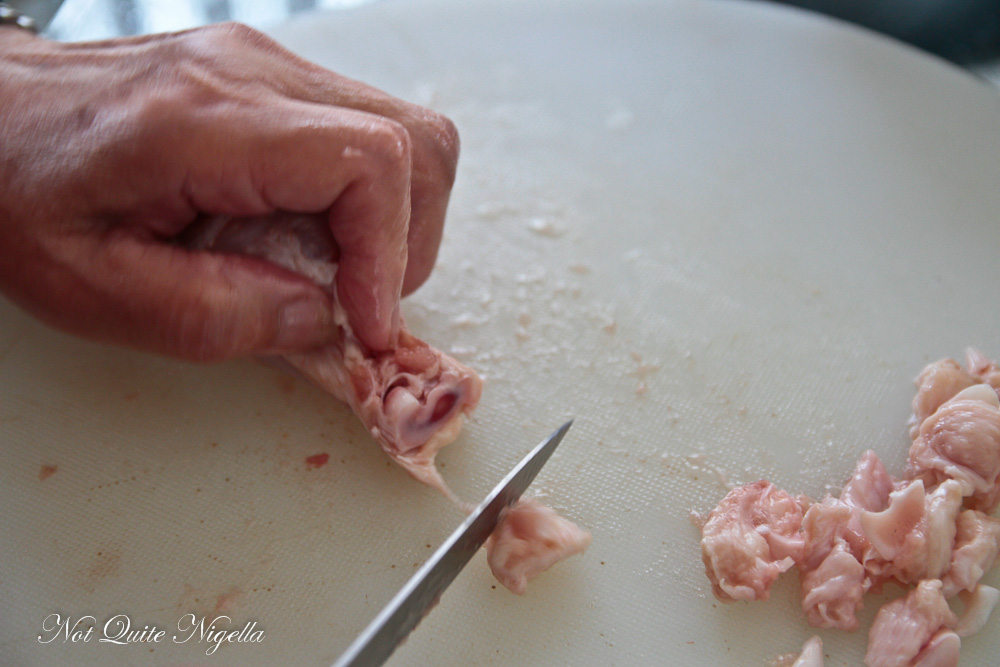 Cutting off the bottom of the drumstick
Scraping the meat and skin
Step 1 - Cut the drumlets are shown by slicing away the bottom and then pulling up the meat to form a lollipop. Scrape the meat from the bone with a sharp knife.
Step 2 - Marinate the prepared chicken lollipops with salt,sugar, five spice powder and a dash of pepper. Leave overnight.
Step 3 - Add a beaten egg to the marinated lollipops. Mix well. Roll each lollipop in a container of corn-flour. Make sure each piece is fully covered with corn flour.
Step 4 - Heat a deep fryer with oil and
White Cherry Pavlova
An original recipe by Not Quite Nigella
5 egg whites
1 1/4 cup of caster sugar
1 1/4 teaspoon of vinegar
1 1/4 tablespoons of cornflour
400ml/14 fl ozs. pure cream
2 tablespoons of caster sugar
White cherries and lychees
Step 1 - Preheat oven to 200c/392F. Mark a circle on a sheet of baking paper. Make sure that mixing bowl and beaters are thoroughly clean (I always wash them with detergent and very hot water beforehand and leave it to air dry). If there is any fat or oil on these your pavlova will not beat up stiffly.
Step 2 - Separate yolks from whites, ensuring that no yolk goes into the whites at all. Beat in electric mixer on low at first then increase speed gradually until it starts to get fluffy. Add vinegar and roughly 1/3 of the sugar by the tablespoon until the mixture turns dry looking. Then another 1/3 of the sugar and the cornflour gradually and beat until stiff and sugar has dissolved and then add the remaining sugar. Test by inverting the bowl, if the meringue does not move then it is ready. Spoon onto the prepared paper.
Step 3 - Reduce heat to 130c/266F. Place on middle rack and bake for 1.5 hours. Once its time is up, leave it to cool in the oven with the door propped open.
Step 4 - Whip the cream with the caster sugar until soft peaks form. Just before serving, dollop the cream on top of the meringue and top with cherries and lychees.