According to pretty much every Tasmanian that we met "There's no such thing as bad weather, only inappropriate clothing."
Only two days before, the sun shone brightly turning foreheads and shoulders bright pink. Then for the next few days, there was rain. So much of it that we thought that even the clouds must be tired of wringing water out.
When the weather is inclement, being at a place like Saffire Freycinet is not so bad. I need little excuse to burrow myself under the covers and watch the rain fall outside in front of the misty mountains from our suite's view.
Saffire Freycinet is Tasmania's only world class all inclusive luxury lodge which was opened in 2010 - the shelf in the guest waiting room practically buckles under the weight of awards. On the east coast of Tasmania it overlooks the Hazards Mountains, Freycinet Peninsula and Great Oyster Bay. From the top, the property resembles a stingyray mid-flight.
We are greeted with a warm welcome and two glasses of Pirie Estate Tasmanian sparkling wine. They give us a tour of the property which only twenty years ago was a caravan park. The bush landscape outside the windows are all original plants from the area. When construction was started, they removed all of the plants and held them for three years while Saffire Freycinet was being built. They were all then replanted.
We're led past the spa to our suite, #17 the Kestrel suite which is one of their signature suites which spans a sizeable 96 square metres. All of the suites share the same floor to ceiling view of the mountains.
Oh that view. I'm almost grateful for the rain so I have an excuse to slip my feet under the tangerine shaded wool throw and watch the view change. The bedroom is open plan and everything is designed for view watching.
The king sized bed is comfortable albeit slightly bouncy and in front of this is a chess set, GenevaLab iPod dock, books and small pieces of art work. In front of this is a lounge and a set of chairs and table. The television is hidden away from view and a press of the discreet button lowers it.
Wireless is fast and available throughout the whole property. The mini bar is all inclusive and includes a bottle of Tasmanian white, red and sparkling wine, beer and boutique Tasmanian whisky, gin and vodka as well as snacks like apple chips, crisps, jubes, chocolate and house baked biscuits-these are all replenished each day. There is an excellent selection of Tea Forte tea and coffee and fresh milk.
The heated floor bathroom is also luxurious. A feature of the signature suite is a bath with a view out to the mountains and a seated deck area. There are Saffire branded amenities made by La Gaia including shampoo, conditioner, body wash, aroma mist and creme. There are also razors, toothbrushes, shoe shine, sewing kit, mineral bath, bath bubbles, cotton tips and pads. The showers have dual shower heads and an extra massage head each operating at a separate temperature. A closet also holds bathrobes, slippers and a yoga mat.
The staff at Saffire have a genuine interest in making sure guests enjoy themselves and they make sure to include new activities so that repeat guests have something to do. The guest waiting room also holds over 200 DVDs and books for viewing. However if there was one piece of feedback, it's that if an outdoor activity cannot go ahead due to inclement weather, an indoor activity could replace it like one of their cooking or mixology lessons.
The list of complimentary activities is excellent including golf, fishing, archery, winery visits and one of these is the very popular oyster farm visit. Our guide Joel takes us on the ten minute drive to the oyster farm where a six generation sheep farmer Giles Fisher decided to make a sea change. At his farm he grows Pacific oysters although the region is abundant in mussels, scallops, crayfish and abalone.
Joel hands us our waders and we remove our boots and shoes and keep our socks on tucking our pants or leggings into the socks. I even keep my coat on underneath the waders as we need to keep as warm as possible and to stay extra dry, we don a hooded Gore-Tex jacket on top and wade out to the oyster traps.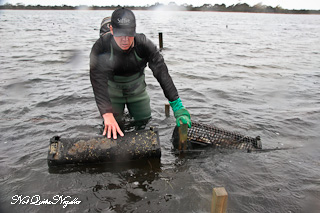 Oysters can grow up to 70 years in age in which they'll reach about 1 metre/2 feet in size and oyster farmers keep them as pets to see how large they can grow. Most oysters served at restaurants are about two years old.
The oysters spend the first eight weeks in the open ocean where they feed and put on a lot of weight and they spend the next 18 months in these nets where they will grow to maturity and fill up the entire net. They start as spats which are tiny larvae that attach themselves to posts and rocks and grow from there.
Oysters can filter litres of water in an hour and up to 50 gallons of water a day. Joel opens up an oyster for us and shows us the various parts including the cilia or hair, heart, kidneys and the large creamy part which are actually the gonads. He then shows us how to shuck oysters followed by the most important bit: the eating!
Joel asks us how many oysters we'd like to eat and we tell him "Lots!" and he gets as many as his waders can hold.
Joel lays out a white tablecloth on the wooden table that sits out in the sea. He pours two flutes of sparkling wine and proceeds to shuck oysters for us. There is fresh lime to go with the oyster or ponzu sauce. We knock back oyster after oyster and relish in the view and the scenery around us and the absolute freshness of the oysters.
Oysters can live up to four weeks after they are harvested but eating them fresh, five minutes after harvesting is a rare and unique treat. Joel offers to get more oysters and as much as it pains me to say no, I must because we have dinner soon.
We return to Saffire and the fire crackles during this unseasonably cold patch and the rain continues drizzling. It's a good excuse for us to return to the suite. I do some work while Mr NQN curls up for a nap.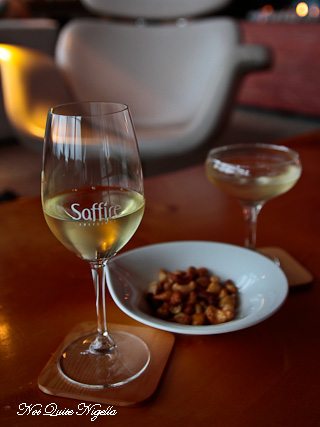 Pre dinner drinks start from 5:30pm onwards and these are taken in the lounge. There is a cocktail every evening and this evening's is a mix of Frangelico and white chocolate liqueur. Visually, I had expected a creamy looking cocktail but it tastes delicious and like a dessert and cocktail in one.
They bring out some moreish lime and chilli cashews. Canapes also arrive which include a tuna teardrop sushi with avocado and crayfish wontons which are crispy and filled with plenty of crayfish.
We make our way to the main restaurant Palate. You don't need to make a booking for dinner, you simply show up when you would like to have dinner which makes things less formal and lets us feel more at home.
A cup of prawn consomme with horseradish cream arrives to whet our appetite. It's strong with prawn flavour and delicious and ends up with a creamy finish from the horseradish cream.
There's a choice with having, 2, 3 or 4 courses of a 5 course degustation. We decide to go with the 3 courses with cheese if we had room (who am I kidding, we always have room! ;) ). Service is lovely and they offer to match the courses to the wines. There is an extensive 60 bottle inclusive wine menu all available by the glass although other wines can be purchased.
Warm salad of local black mussels, chorizo, cavalo nero, herbs, vine ripened tomato, pimento, ligurian olives, pita bread
The local black mussels are wonderfully soft and tender and served in a comforting stew with vine ripened tomato, capsicum, olives, cavalo nero and chorizo.
Slow cooked rabbit wrapped in Tunisian brik pastry, cassoulet of white beans
My eyes were for the slow cooked rabbit which was shredded and wrapped into a neat rectangle wrapped in the very thin and crispy Tunisian brik pastry. It sits atop a bed of white bean cassoulet. It was perfectly seasoned and full of flavour with a nice contrast of textures of the soft cassoulet and crispy pastry.
Steamed boarfish, yellow lentil dahl, natural yogurt, charred spring onions, eggplant pickle, coconut and coriander masala
The steamed boarfish is very moist and topped with a coconut and coriander masala. It's a mild flavoured dish showcasing the delicate flavour of the fish and the accompaniments are interesting and this was a very light option compared to the other ones.
Carpet bag steak
I did find that within every course, there were dishes that were a definite favourite and with the mains, this was it. A lot of meals in Tasmania are very good because they start with excellent ingredients and Cape Grim pasture fed beef is one of them. Here it is stuffed with oysters and circled with spec. It's served with herb butter, smoked bone marrow, kipfler potatoes, eschallots and horseradish.
Roasted banana, creme caramel, palm sugar, young coconut granita, macadamia nut praline
This dessert was almost like several desserts in one. There were slices of lightly roasted banana with a creme caramel pudding with a palm sugar bruleed top. Sprinkled above this is a young coconut granita and a scoop of banana ice cream and macadamia nut praline. As much as I like the young coconut granita, I don't think it needed it as there was perhaps one too many elements in the dish.
Old fashioned steamed apple and ginger pudding, vanilla bean ice cream
The dessert is a simple but comforting one and features a soft steamed pudding with crispy edges. It was dotted with generous amounts of stem ginger and topped with apple slices and came with a creamy vanilla ice cream.
Caprifeuille St. Maure, Montboissier cheese plate
Despite being quite sated, I am unable to resist the lure of the cheese board. They bring it over and explain the six cheeses which are all from France as well as the C2 from the Bruny Island Cheese Co. I try the Caprifeuille St. Maure goat's cheese and the Montboissier cow's milk cheese from Auvergne with the distinct ash layer in the centre. They're served with lavosh, walnut toast, pear slices, date and quince paste.
Turndown has been performed in our suite and a pot of chamomile and lavender tea waits for us on the credenza while robes and slippers are laid out for both of us. The blinds have been drawn and music is playing. Taking a bath with mineral salts we soak away any mild travelling maladies and we climb into bed and listen to the faint noise of raindrops.
The next day's start is buoyed by a luxurious sleep in and I skip breakfast in anticipation of lunch. Alas, the newest addition to their activity program Le Pique Nique, a picnic on the beach is at the mercy of the elements and the 40km winds mean that we will miss out on that experience.
Instead, we head towards the main building for lunch. Lunches here are relaxed affairs with a range of salads, bread, cheese and dessert with two hot meal options prepared to order.
Being a complete salad freak my eyes widen at the selection of four from a delicious celeriac remoulade; beetroot & goat's cheese with Tasmanian quinoa; Asian bok choy and ginger salad and my favourite, a roasted vegetable salad with toasted almonds and baby capers. There are also fresh prawns as well as crusty baguette and crispbread.
Dessert is a rhubarb and apricot crumble with a quenelle of thick double cream and a choice of two cheeses: the Saint from Bruny Island Cheese Co. and the Montboissier with fresh medjool dates.
It's a swift walk down to the beach - swift because the winds ensure that dawdling is kept to a minimum. The sun is out, in all of its beauteous bursting glory as if to keep any disgruntled at bay and the rays warm us nicely. There's a box of gumboots thoughtfully placed a the gate for those more daring but for me, I'm headed somewhere else: Saffire's award winning spa.
Rocks pave the way to the spa where I am booked in to have a Natura Bisse facial for sensitive skin which is $240. Each suite has $100 credit that goes towards the spa and for $100 you can have a 40 minute Swedish massage. I'm shown through to the dressing robe where I disrobe. Shrugging on a warm robe and slippers, I make my way to the tranquil waiting room.
My therapist Taye is waiting for me and explains the treatment to me. The facial is designed for those with sensitive skin and contains 30 ingredients that are guaranteed to be non reactive. You can choose from from facials using different brands like Australia's La Gaia, Spain's Natura Bisse and Italy's Vagheggi.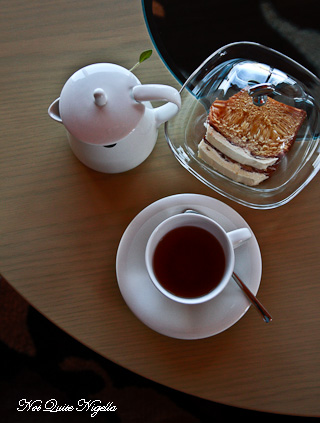 The magic moment (when you doze off into bliss land) comes quickly and before I know it, my time is over. My skin feels noticeably rehydrated and I'm relaxed. It's not an inexpensive treatment but having the credit applied to it brings it in line with most other treatments elsewhere in Australia.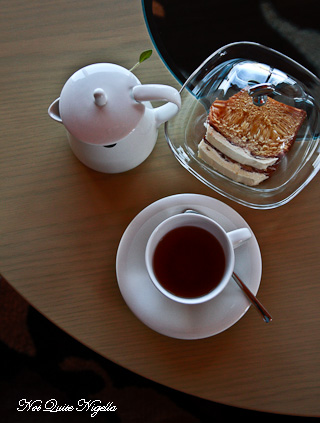 After I return to my suite I seem to have lost Mr NQN to the wilds of Freycinet as he has set off on a mountain bike. I sit down to a cup of tea and a lovely surprise - a slice of madeira cake with icing.
It's funny how doing nothing can make you just as hungry as being active. An hour later, Mr NQN returns and his computer tells him that he has burned 242 calories. I hope that being the subject of a facial has done the same (I doubt it) but then the ingestion of the slice of madeira cake won't have helped either.
Still, we make our way to pre dinner drinks where everyone is staring out at the view or staring at their phones/tablets. Today it's sparkling and clear and even though we've taken so many pictures of the view, it doesn't stop us and everyone else taking more.
The cocktail of the day is a Tom Collins and the pre dinner canapes are fish and chilli dumplings as well as pork dumplings. They're both easy gobbled up and we make our way to Palate. One of the bar staff escorts us to the restaurant which is a nice touch. We decide to go with the 5 course degustation menu this evening.
White asparagus, gruyere comte crem, organic milk skin, seeds, nuts, grains, Jamon Iberico de bellota
We both love the crisp texture of the fat white asparagus spears and the crunch from the quinoa, barley, hazelnuts and pepitas. The organic milk skin tastes just like milk except it is as crispy and thin as a potato chip. The torn pieces of jamon iberica add colour and flavour and the gruyere comte cream is a thin, slightly salty cream that binds it together. We did have to ask for a spoon for this just to get all of the little bits and cream in a spoonful.
Local flathead cooked in squid ink, shaved Southern calamari, black abalone, ligurian olives, tomato, spaghetti
Executive Chef Hugh Whitehouse explains that it is a dish that people don't normally choose but since they added it to the degustation they've had a great response to it. It is a local flathead sous vide in squid ink. It rests on a twirl of locally made spaghetti with slices of tender Southern calamari, black abalone, juicy and salty Ligurian olives, tomato, broad beans, basil and olive oil to finish it off. It was my favourite dish of the evening, the spaghetti just right and the other elements adding much flavour and texture.
Free range duck breast, organic beetroot, smoked beetroot juice, cocoa, brassica greens
Our third course is the free range duck breast, cooked through (we usually have it pink) and seasoned well. It is served with sweet organic baby beetroot, a smooth textured smoked beetroot puree, brassica greens like cavalo nero and golden and purple beetroot chips.
Flinders Island lamb breast, Lebanese style kibbeh, burnt eggplant, pine nuts, minted yogurt, spiced chickpeas, lemon jam
The sizes of the courses are just right and even thought five courses may sound like too much food, we find that because it is rich, the smaller portions are perfectly sized for even the perpetually hungry Mr NQN. The lamb breast from Flinders Island is juicy and soft with an appealing layer of caramelised skin on top. It is served with a kibbeh made with cracked wheat, lamb and filled with toasted pine nuts. There is also a burnt eggplant puree, mint yogurt, spiced chickpeas and the tiniest dab of tart lemon jam.
Vanilla panna cotta, raspberries, white peaches, preserved cherries, Miellerie honeycomb
What was lovely was that they offered us both dessert courses instead of us both having the same dessert. They explain that instead of using gelatin to set the vanilla panna cotta, they use egg whites which changes the texture of the panna cotta. It is wondrously silky but really pronounced in egg flavour which can polarise people. It is topped with local raspberries, white peaches, preserved cherries and crunchy Miellerie honeycomb.
White chocolate, strawberries, rose
The white chocolate dessert is a vanilla semifreddo layer and a frozen strawberry layer on top. It comes with diced strawberries, dried rose petals and a single pink edged candied rose petal and it is wrapped in a white chocolate collar. Nothing beats strawberries and cream as a combination and we both adore this. Walking back down to our suite we realise that this is our last night.
The next morning, like a newly hatched shut in, I let Mr NQN go upstairs to have breakfast while I order room service. I can't let go of this view and the idea of having it while watching the latest episode of Homeland and wearing my robe proves too tempting.
I flick to the room service menu in the compendium and am pleased to see that it is included in the package price. There are also about a dozen selections for the all day menu and supper menu each and they cover all of the bases and there are three kid's selections.
Fifteen minutes later breakfast arrives with a smiling staff members who arranges it perfectly. The smoked salmon on the menu is a luscious runny centred egg, about half an avocado, layers and layers of Tasmanian smoked salmon and feta with lemon.
The herb omelette is a light omelette and the fruit salad comes as a double serve although only one was ordered. Extra pastries, two juices and two black sticky rices topped with vanilla custard and finely diced mango complete breakfast. There's so much that I message Mr NQN to come back down to the room to help me finish it.
As we pack up to leave, Sapphire isn't letting go, after all she's a girl with considerable charms. We go upstairs after checking out to wait for our transfer to the airport. A staff member offers a slice of berry pavlova roulade and some Onetik Grand Cru cheese - a divine number.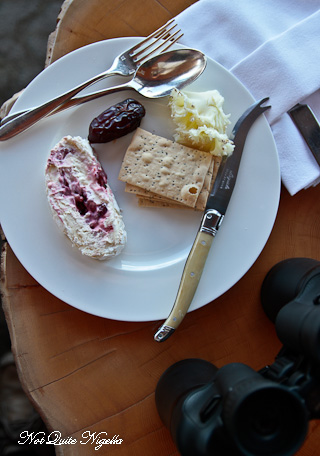 We take the Mercedes transfer to the airport and two and a half hours later we arrive at the Saffire lounge. Yes Saffire has their very own airport lounge so no matter if you're flying economy or business, you have somewhere quiet and calming to wait. It is stocked with Tasmanian snacks, cheese, wine, chocolates and drinks.
At the end, Saffire is all about exceeding expectations, no matter how high they may already be set. An oyster farm visit isn't just a look see, it's an indulgent experience tossing back unlimited amounts of the freshest briney Freycinet oysters, dinner isn't just dinner, but it is anything that you want it to be and even something as simple as breakfast is a chance for them to impress. I shall consider my socks suitably knocked off.
So tell me Dear Reader, are you hard to impress and what place has impressed you the most? And do you like all inclusive lodges and resorts? And how many oysters can you eat in one sitting? I think I could eat three dozen if given the chance! ;)
NQN and Mr NQN stayed at Saffire Freycinet as guests of Saffire Freycinet
Saffire Freycinet
www.saffire-freycinet.com.au/‎ 2352 Coles Bay Rd, Coles Bay TAS 7215
Phone: +61 (03) 6256 7888