Pitter patter go the drops of rain outside our hotel room. To wake up to nature's beating symphony is as unexpected as finding a turtle in bed (perhaps seeking refuge from the rain). After a beautifully sunny 28°C day yesterday, we have awoken up to a 10°C day in Hobart.
Getting dressed we wait until the rain lightens and then our way out of the hotel. This is my second visit to the Henry Jones Art Hotel located right on the wharf. The 1804 site was originally an IXL jam factory and traces of that remain. The hotel is full of history and now art. Exposed brick walls sit directly sandstone and wooden beams and art lines the walls giving the space richness and colour.
Our room, #220 is a deluxe spa harbour view room and Mr NQN falls in love with its rustic splendour as soon as he walks in. He marvels at the tin ceiling and runs his hands along the brick. The rooms are spacious and feature a king sized bed, a leather lounge, work desk and flat screen television.
My favourite part is the bathroom which is housed behind frosted glass. There is a comprehensive amount of Molton Brown products in stock from shampoo, conditioner, body lotion, shower gel, toothbrushes, shaver, loofahs, nail file and cotton pads and tips.
The SOK elliptical spa bath sits at one end and it looks welcoming (although you'd best leave some time to fill it) and the shower is spacious and the sink has plenty of room to place your bits and pieces. Original artwork features in every room and indeed every hallway.
Borrowing umbrellas from the hotel we walk along the wharf and to Salamanca where we are on the lookout for lunch. We arrive at the Machine Laundry Cafe which is the busiest corner on this rainy day. It's a quirky place where people can put in their laundry and have a coffee or a bite to eat.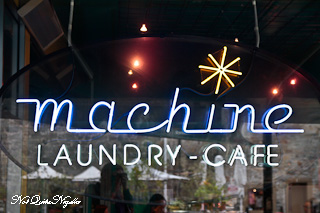 We sat inside where it was warm and shrugged off our jackets and defrosted. It must be noted that Taswegians are perhaps made of stronger stuff and some were sitting outside.
Service is friendly and they recommend some dishes and let us know that most of them apart from the burgers can be made into half serves which delights me so because that means more tasting.
Hot blackcurrant and orange $3.50
I haven't seen a hot blackcurrant juice perhaps since my last visit to Tasmania but it's tailor made for the chilly weather. Like a hot toddy but with an extra dose of vitamin C but without the alcohol, it warms us up nicely.
Mango milkshake $6
Lured by the sound of a real mango milkshake, Mr NQN orders this. It's good and is similar to a mango lassi.
The Magic Mushy half serve $9.50 (full serve $14)
There is a bit of a "Woah mama" moment as I check that these are actually half serves - I can't imagine how enormous a full sized serve is but the portions are very generous. I don't usually order vegetarian dishes unless I'm feeling in need of vegetables but I'm very glad that we ordered this. It's a slice of sourdough bread with a triple medley of mushrooms, crumbled feta and salsa verde. It's so full of flavour with a chewy texture from the sourdough and it's dish where you'd never miss having meat.
The Old New Egg Dish with chorizo $9 plus $2 for chorizo (full size $14)
The old new egg dish has a slice of garlic sourdough spread with beetroot relish and topped with creamy feta scrambled eggs and wild rocket. There is an option to have this with chorizo and the juicy chorizo is smoky with a peppery flavour.
Hot cakes $15.50
Have a read of the following description and tell me, does it not make you melt? "Peanut butter crumble, banana and chocolate hot cakes with salted caramel sauce and double cream" and yep you bet we ordered it! I know, you have to limit yourself sometimes to perhaps a few mouthfuls or at least have a husband who can eat like a horse. The hot cakes with a banana centre are spongy soft and topped with a generous amount of salted caramel sauce, thick, dollopy double cream and peanut butter crumble.
It's still raining when we we but we quickly duck over to the ferry with collars and umbrellas up to visit MONA. When it first opened entry was free but now it is $20 per person and $20 for the Mona Roma ferry which is a sight in itself. I watch Mr NQN's face as he notices little details like the signs for the bathrooms labelled as "Busting?" and the sheep and cows.
Arriving at MONA half an hour later we take the 99 steps up to the top. The owner of MONA David Walsh is an enigmatic figure that has emerged from his own shadow. He is a maths genius and millionaire who made his fortune from devising a system to win on horse racing.
His art collection started when he was trying to find a way to spend his earnings and transport huge sums of money from country to country. He invested in Egyptian mummies and the collection at MONA is his private collection. It has become so renowned that MONA is a tourist destination in itself and is the most visited attraction in Tasmania.
We take our O device which is an iPod touch configured to bring up exhibits located around the person operating it. The Sex and Death exhibit that I first saw years ago has evolved to incorporate other works and the current exhibit is The Red Queen.
I won't ruin the surprise for those of you that are going but I think that even Mr NQN was surprised when one work of art was a trampoline that you could jump on. At the same time as you are jumping, a staff member chimes the bells around the trampoline.
The famous Cloaca that mimics that human digestive system is still there drawing viewers as always but others have gone like the wall of vaginas. Overall I still loved the original Sex and Death exhibition because they are two of my favourite topics but it is still absolutely worth a visit.
Another drawcard is the cellar door which is a popular spot for people to try one of the Moorilla wines made using all Tasmanian grapes. The Muse is the European style wine ideal for cellaring and Praxis are their new world wines. For $10 you can try wines and beers in their tasting and this is refundable with any purchase.
It's raining again when we board the ferry back across to Hobart. It seems the perfect sort of weather to stop and have a cup of tea and a cake at Daci & Daci Bakers on nearby Murray Street, a short five minute walk from the ferry terminal.
There's an excellent selection of breads, pies and sausage rolls the latter so fat and filled with wonderful sounding fillings. However as we have dinner in a few hours, we go for the sweet selection in which there are two displays. Larger whole cakes can also be purchased and there is a colourful selection of macarons.
Tropicana $8
If you're ever seeking tropical bliss (and you might in this inclement weather) then I would suggest a slice of this mile high tropicana. With mango, passionfruit, strawberry jelly, sponge layers and coconut it's a layered delight, all soft, spongey and moist with diced pineapple on top. And more power to you if you can finish the enormous slice.
Strawberry and cream macaron tart $8
The strawberry and cream macaron is a large macaron base topped with a molded vanilla bean pannacotta edged with shredded coconut. Inside is a layer of strawberry jelly as a surprise. The pannacotta is a little on the firm side but it's creative tart and the strawberries and cream are a natural match.
Brownie bite $4
They sell large slices of brownie for $15 but they suggested trying a brownie bite which is made up of brownie mixed with dried fruit and nuts and dipped in chocolate and rolled in cocoa. It wasn't bad but I admit I preferred the cakes.
We hurry back to the Henry Jones scurrying through the doors to the warmth inside. We're thankful that tonight we have dinner in the hotel where we can stay inside and not worry about bundling up in coats, scarves and gloves (although I did see two gentlemen wearing shorts which just caused me to shiver - I'm guessing they were locals ;) ).
At 6pm we are the first guests but it starts to fill up later on. We start with the bread while we look over the menu which is split up into two sides: classics and evolution the latter of which is the modern take on dishes. The house made white sourdough and rye is excellent and it comes with an amazing caramelised butter and a regular salted butter. But caramelised butter wins every time.
Cauliflower puree with coriander salt
The amuse bouche is a cauliflower puree with a foamy top sprinkled with a lot of coriander salt on top. It was a tad too salty for me especially if you got a lot of the coriander salt on top in the mouthful (which of course I managed to).
Oysters $3.50 each
We decided to order just Tasmanian produce for our entrees and mains. We started with Marion Bay oysters simply served with lemon. I'm not sure when Mr NQN became such an oyster lover but he never used to like them so that meant that I happily got a whole lot to myself but now he's claiming that he loves them! Oh well, I did get to have eight of these gorgeous oysters to myself.
Oxtail broth $22
The oxtail used in this is Robbins Island full blood wagyu braised tail served with herbed spaetzle and caramelised onion. The broth is flavoursome and warming and the ox tail is a tender piece of crispy edged oxtail meat.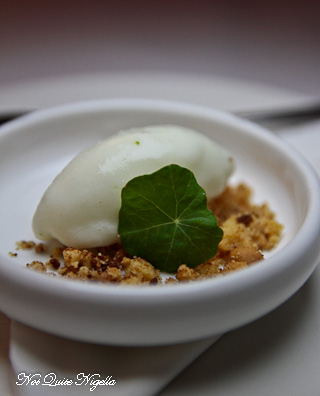 Yogurt sorbet with pinenut crumble
The gorgeously tangy yogurt sorbet does the trick of refreshing the palate although the pinenut crumble wasn't really needed and left a lingering flavour which counteracted the refreshing properties of the sorbet.
*Flinders Island Lamb $39 *
Mr NQN and I are divided over our favourites. I loved the Flinders Island lamb loin and belly with a slightly sweet olive purée, spiced freekeh, roasted carrots, wilted greens and preserved lemon. The loin has a wonderful flavour to it while the belly is incredibly rich. The only complaint is that I would have loved a bit more of the olive puree which really brought all of the elements together on the dish.
Bruny Island pork $38
The Bruny Island pork used here is from the farm that we visited the day before. It's a coffee rolled loin with a swede and pear puree, broad beans, porcini soil and a spring garlic emulsion. The pork which is a mix of Berkshire and Wessex Saddleback is flavoursome and edged in a very thick roll of fat.
Date Ice Cream $16
The date ice cream comes as two quennelles of ice cream. It's not particularly strong in date flavour but it sits on a bed of wild rice and honey spiced granola with dots of rum and orange gel and caramel powder. I did like the crunchiness of the granola but really wanted more date flavour in the ice cream.
Pistachio $16
The pistachio ice cream is similar, it doesn't really taste like pistachio at all (admittedly I'd just come from dairy judging ice cream and the pistachio was the winner) but I felt a bit wanting. It is a refreshing dessert with apple snow and a strong, really quite firm mulled wine jelly on bottom.
Still, nothing beats the luxury of going upstairs to your room to sleep off a wonderful day of trampolining, riding sheep, food and chasing rain.
So tell me Dear Reader, do you prefer modern or traditional art? And given the choice, would you opt for more half serves or would you go for full serves?
NQN travelled to Tasmania as a guest of The Federal Group. Purchases made at Machine Laundry, MONA and Daci & Daci were independently paid for.
Henry Jones Art Hotel
25 Hunter St, Hobart TAS 7000 (03) 6210 7700
Machine Laundry Cafe
12 Salamanca Square, Battery Point TAS 7004
Phone:(03) 6224 9922
Mon - Sat: 7:30 am - 5:00 pm Sun: 8:30 am - 5:00 pm
MONA
655 Main Rd, Rosetta TAS 7011
Closed Tuesdays, entry $20 and $20 for ferry for non locals
Daci & Daci
11 Murray Street, Hobart TAS 7000
Henry's
25 Hunter St, Hobart TAS 7000 (03) 6210 7700