Flying into Launceston, the plane crosses over paddocks and fields in the Tamar Valley where producers and farmers raise cattle, grow truffles and people churn and culture butter. If you're visiting Launceston, try these four fabulous foodie experiences and find out where to stay!
1. Breakfast at Bryher
Our first order of the day is breakfast. Bryher is a cafe located on George Street in Launceston. Alison and Tristian were chefs that relocated from Sydney to Launceston after a visit 6 years ago as they wanted to have a better connection with farmers.
All of the pastries and sweets are baked in house. The donut selection changes daily and the pastry selection looks divine. I order a coffee made using locally roasted beans. The milk in the coffee is Pyengana milk, the same makers as the wonderful cheese. I'm not usually much of a coffee drinker but this coffee is excellent.
Once a week they visit the producers to keep up the relationship. I also try the baked eggs with Cotechino sausage, silverbeet and preserved lemon.
2. Dinner at Stillwater Restaurant
Dinner is at Stillwater, one of Launceston's best restaurants. Located along the water it takes up residence in a converted flour mill building. Upstairs is a providore well worth visiting and there is also a wine bar space for a more casual setting during the day and night. The restaurant is open for breakfast, lunch and dinner.
For dinner I try the 5 course "Trust the hand that feeds you" menu that is a combination of dishes from the menu plus some edited versions of the dishes for $125 a person or $195 with matching wines. They come out with a basket of sourdough and Tasmanian Butter Co. butter. The bread is made here and sold upstairs in the providore.
This is followed by an amuse bouche with a whipped cod roe with sumac with slices of focaccia and paper thin, crisp lavosh. I think this serve is meant for two people but you know me, that was all mine baby.
Having hoovered up bread and a substantial amuse bouche the first official course comes out. It's a Yorktown Organics baby beetroot salad with goats cheese, a poppy and linseed cracker, watermelon radish, curly endive and apple cider vinaigrette. It's delicate and earthy at the same time and I find myself scraping the bowl with my knife.
The next course is perhaps my favourite course. It's truffle season when I visited - this year truffle season started two weeks late and we are peak truffle season now. The truffles are from Tamar Valley truffles and they're served with a Huon salmon with truffle honey, shaved egg yolk and puffed rice on top. I have no other words other than "incredible". You can taste every element but together they are so much more than just a sum of their parts.
The next course is a scallop course and I'm surprised to see such a generous amount of scallops. They're seared Tasmanian scallops served with a pumpkin, sour cream, chives and brown butter sauce with katsuobushi flakes, much like swaying bonito flakes. The scallops are gently cooked and Tasmanian scallops are smaller with the roe on and are softer in texture.
By now I'm really full. Because you know I just hate to leave a scallop on a plate. Then the duck breast comes out cooked medium rare. It comes with shredded celeriac with a buttermilk dressing, an umeboshi gel and thinly sliced purple haze carrots. The slightly sour and salty umeboshi gel really enhances the duck and has given it enough sweetness so that it works like cherries. And to the side is a bowl of magnificent bacon jam Brussels sprouts. I'll let that sink in for a little bit - yup bacon jam Brussels sprouts!
Next is a pre dessert: a small ball of ice cream edged in a thin chocolate shell with spiced crisp bread. It's cooling and quite sweet.
And then dessert comes out. It's a lemon leaf baba made using lemon leaves from the garden where the spongy cake is soaked in lemon leaf syrup with a lemon sorbet, lemon foam, lemon gel and a pomelo gel for tartness. The lemon gel and the white chocolate powder bring the dessert an element of sweetness.
3. Harvest Community Farmer's Market
If you happen to be in Launceston on a Saturday the Harvest Community farmers' markets on 69-71 Cimitiere St are a great place to start off the day. There is a collective of around 30-40 stalls many of which change regularly depending on seasonality. The stalls range from ready to eat food stall to producers with many offerings tastings before you buy.
I try some kombucha from the Three Fermented Queens stand and they're just the right amount of sweetness (my favourite is the blueberry muffin). And we also sample some delicious cultured truffle and regular butter from the Tasmanian Butter Co.
Then feeling a bit peckish I try a home made sausage roll and lemon tart from the lovely Rae at Delicious Little Things. The sausage roll is perfect for the wintry weather and it comes with some of her mother's delicious home made relish.
Just opposite is her brother in law's stand One on the Slide and he sells sliders (although they're much larger than a typical slider) with a range of different fillings on bread that he has baked. All of the toppings are from local businesses, some with stands just nearby. We try a luscious Tasmanian salmon slider with 41 Degrees South Salmon.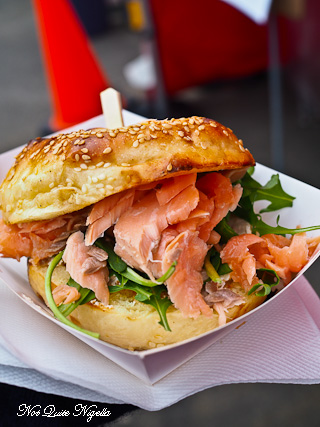 There's also another stallholder Meat Bread Cheese that sells filled sandwiches and rolls. We try one of their halloumi and chorizo rolls with salad and relish and mayonnaise. They're very generous on their fillings with several slabs of halloumi.
4. Me Wah: A Local's Favourite
Tasmanian restaurant Me wah (meaning pretty and picturesque) is often called Australia's best Chinese restaurant. I must admit that when people (all Tassie locals) waxed lyrical about how superb it was, I did think "But really who goes to Tasmania to eat Chinese food?". Then I looked further into Me Wah and took a lot at their menu featuring some of Tasmania's best produce and made a booking.
The restaurant appears like a typical Chinese restaurant but with a mostly Caucasian clientele but what sets it apart is the service. In a genre where indifferent service is matched only by tasty food the service at Me Wah is genteel and accommodating.
We order a la carte although we can see that they do push the banquet or feed me meals. We start off with their dumpling selection-hand made dainties from prawn har gow, a delicate steamed fish dumpling, a scallop dumpling and the favourite, a mushroom and Tasmanian truffle crystal dumpling with the perfect hit of truffle.
We segue into a black pepper beef made with Cape Grim beef-a real treat the beef is succulent and melts in the mouth. It sits atop a bed of onions and sliced button mushrooms.
They are known for their prawn and scallop dishes but wishing to stay in the local territory (the prawns are not local) we order the scallop curry made with Tasmanian scallops. These scallops are smaller than other scallops and come with the roe on. They're creamy and plentiful and you can see the synergy between this dish and the curried scallop pie made so famous in Tasmania.
Desserts are inspired by Chinese flavours-there's a peanut dessert and a mango sorbet that are more elaborate than any other Chinese desserts. We try the deep fried ice cream made with a large scoop of house made vanilla ice cream with a Jatz cracker crust, Swiss meringue and a crunchy bits of mandarin scented cookie and a strawberry sauce on the bottom with salted caramel sauce on the top.
Where to Stay: Peppers Seaport
Accommodating options in Launceston can be quite limited but the pick is the Peppers Seaport, right next to the marina and within short walking distance to some great restaurants.
There are several types of rooms but the river side has sun drenched rooms keeping guests warm in the cold weather.
I am in one of the one bedroom suites which is like an apartment with a good sized kitchen, four person table and a nice lounge room to relax in. Suites are the only types of rooms that have small balconies as well.
All guests get a bottle of Tasmanian Cape Grim still water to help themselves to and in winter the lobby reception area is where they can help themselves to a cup of hot chocolate (regular or chilli hot chocolate) with some house baked shortbread.
The bedroom is simple with a wonderfully comfortable king bed (the sheets are so soft and smooth!) and a cupboard with robes and slippers.
The bathroom has Appelles Apothecary products with soaps, body lotion, shampoo and conditioner. And downstairs is Mud restaurant, said to be one of the best restaurants in Launceston.
So tell me Dear Reader, have you ever visited Launceston? Are you a fan of a trust the chef menus or do you prefer to choose your own? Do you usually finish everything on your plate? And when you book a hotel, how important is the view from the room?
Meals at Bryher, Me Wah were independently paid for. Meals at Stillwater and stay at Peppers Seaport were hosted but all opinions remain NQN's own.
Bryher
91 George St, Launceston TAS 7250
Phone: (03) 6380 9893
Stillwater
2 Bridge Rd, Launceston TAS 7250
Phone: (03) 6331 4153
Harvest Launceston Community Farmers' Market
71 Cimitiere St, Launceston TAS 7250
Me Wah
39-41 Invermay Rd, Launceston TAS 7250
Phone: (03) 6331 1308
Peppers Seaport
28 Seaport Blvd, Launceston TAS 7250
Phone: 1300 987 600