Don't be alarmed, there are indeed voices talking to you when you step into the elevator at Hobart's newest hotel the MACq01, open for just two months. There are 114 voices of notable Taswegians that feature in each room and they call themselves a storytelling hotel.
The MACq01 is part of the Federal Group that also own Saffire, Henry Jones Art Hotel as well as other Tasmanian hotel properties. Open on the 1st of June 2017 there's still the new hotel room smell made up of woods and leathers.
The welcome from the doorman and porter is warm and hospitable and he takes our bags for us and waits for us while we check in. The name MACq01 comes from its location on MacQuarie Wharf. The original shipping shed there was known as MacQuarie 1. When it was removed to build the hotel MACq01 was designed as a replica with modern design enhancements.
The check-in staff offer us a copper cup of iced tea and we sip our drinks and take in the lobby which centres around a circular fireplace. There is also a display of indigeneous Australian art works and artefacts in the lobby.
There are several room types here and they're split based on the outlook. The Hunter rooms face Hunter Street while the waterfront rooms afford guests stunning views of the Derwent River. The first and second floors house the rooms while the third floor has the suites and these only face the waterfront.
We are staying in superior waterfront rooms and the rooms are very spacious at 52-55 square metres. Each room has a different Tasmanian personality. Mine is Deny King a pioneer who was said to be grounded but resilient. A few doors down is Saroo Brierly whose story was made famous in the film "Lion".
All rooms and suites are named after Tasmanians that have shaped the state and these are divided into five personality types:
The Fighting Believers
The Hearty and Resilient
The Colourful and Quirky
The Grounded, Yet Exceptional
The Curious and Creative
The room is decorated with Deny King in mind with a tree landscape depicting "grounded" while the lights are said to be mushrooms. The bed is quite comfortable although quite bouncy which is a surprise for a new hotel. Also the sheets are new so they haven't become silky smooth and the quilt cover is textured (yes I am obsessed with smooth sheets).
The modular leather lounge is very comfortable and just made for relaxing and looking out onto the water. In lieu of traditional magazines there is a book depicting the stories of the 114 personalities that feature in the hotel. There is also a View Master with 3D slides showing black and white images of the history of Tasmania.
Planning your next trip? Ensure you have the right coverage with HeyMondo travel insurance that includes COVID-19 protection. Plus, if you use our link, you'll receive 5% off the price. Find the best deals on flights from all airlines in various currencies with SkyScanner and set up alerts to get notified when prices drop. For reliable transportation options, look no further than 12Go Asia, offering train, bus, ferry, and flight transfers worldwide. Book your transportation now and enjoy a stress-free journey.
When you purchase through these links I will get a small commission at no cost to you. Thank you for supporting me! :)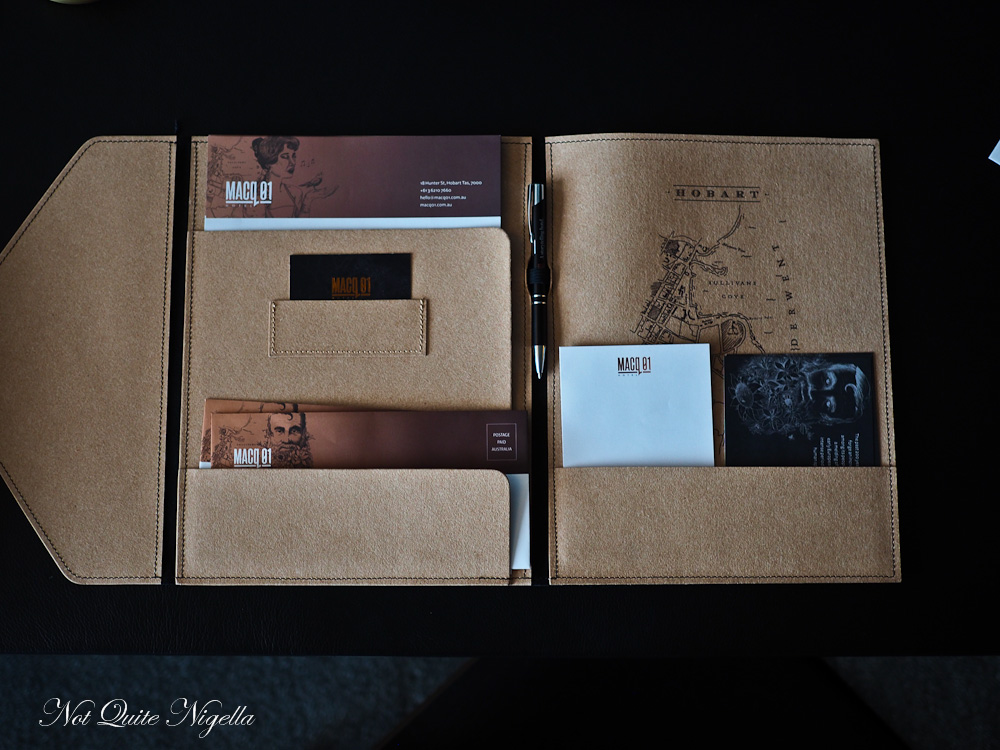 The colour tones are neutrals with brass and blacks which give the rooms a seductive luxe feel. An iPad takes the place of a traditional compendium. A beautiful leather bound stationery set is a bit old school among the modern trappings.
There is a BOSE sound system and the mini bar is made up of Sud Polaire pre mixed cocktails with proper glasses and there are mostly Tasmania boutique products in the mini bar.
If you do have to work the work desk is expansive and the leather chair comfortable. Internet is fast and free and the rooms are well sound proofed-even if you decide to play Purple Rain on your BOSE speaker your neighbours can't hear it (I just know ;)).
The bathroom is an excellent size with double sinks, Appelles Apothecary toiletries and a gorgeous bath and a separate shower. Next to this there's also a sizeable luggage and dressing area.
There are comfortable grey robes and slippers and lots of thoughtful things made to make your life easier like multiple plugs, international adaptors and fresh milk for tea.
There's even a hand written card from the team welcoming us to the hotel and giving us a little history of whom the room was named after. And because they knew that I love food, there was a little tip to try a delicious local treat-the donuts at Small-Fry!
So tell me Dear Reader, which room type would appeal to your personality the most? The Fighting Believers, The Hearty and Resilient, The Colourful and Quirky, The Grounded, Yet Exceptional or The Curious and Creative? And what do you think of a hotel like this? Is it your style?
We loved it so much that we picked the MACq01 as our Hobart accommodation for our latest Tasmanian Experiential Traveller tour! Come and travel with us to Tasmania for an intensely foodie wonderful gourmet adventure!
NQN stayed as a guest of MACq01 but all opinions remain her own.
MACq01
18 Hunter St, Hobart TAS 7000
Phone:(03) 6210 7600
www.macq01.com.au/