Dear Reader, ever wondered what one of my travel itineraries look like? Here's a peek!
7am Wake up
7-11am Catch up on work and writing
11am Get ready for ferry to MONA (museum of old and new art)
11.40am Ask for directions to MONA wharf from hotel staff
11.50am Realise that I am lost and ask about half a dozen people how on earth to get to the ferry
12pm Just make it onto the ferry when the hand passes 12noon only to realise that the ferry doesn't leave on time and that I have probably instantly pegged myself as a "mainlander" because I've run onto the ferry like my legs were on fire!
"I had nightmares after I visited MONA a fellow traveller said to me. Another said she was greeted on one floor with a wall of vaginas. Errrm what? Yes a wall of 150 casts of vaginas (I never thought I'd ever write that on this blog). It's one of their many, many controversial art works at MONA. As I absolutely adore modern art I didn't think I would exactly be having nightmares over it but I was curious to see what It would be like. MONA has been called a "subversive Disneyland" and sits on an eight acre peninsula that curves into the Derwent River.
I alight the ferry and see a huge flight of stairs up top of the entrance to MONA that serves to work up an appetite. The actual museum is housed on three floors below on basement levels of a heritage building and has attracted considerable interest not just because of the controversial nature of modern art.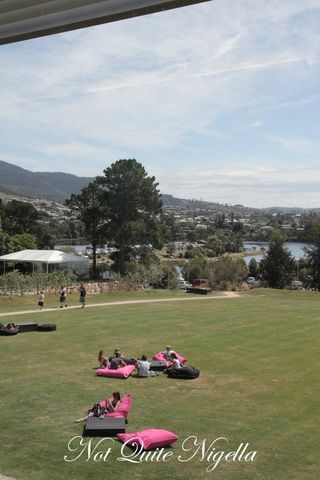 He explains that owner David Walsh is a big fan of tennis and when he is in town he visits the museum every day. Walsh is an interesting person famous for being mysterious and enigmatic. He is a mathematical genius that made his fortune through gambling and started by counting cards at Blackjack. MONA and its corresponding restaurant, cafe, winery, cellar door, wine bar and museum is his own vision. And does he ever play tennis on Hess courts during the day I ask Andrew? "Well you never know with David!".
But before we get to the vaginas (again never thought that I'd write that either), we are going for lunch at MONA's main restaurant The Source. Named after the famous painting by John Olsen of the same name it is a restaurant helmed by chef Philippe Leban. The menu is modern French with an emphasis on seafood. I have a glass of the sparkling to start with. It's a Moorilla Muse vintage brut 2006 and the wine bottle labels in themselves are talking points. They photographed performers from the Ballet Lab and put these unfolding black and white photos on the labels which gives them a definite sensual quality.
All of the bread is baked here and comes with regular butter or seaweed butter. I like the seaweed butter with the baguette which gives it a little extra saltiness from the seaweed.
Lightly poached bug tail, translucent radish, rosemary, Ginger, lime and ikuve oil dressing $25 served with a Muse Pinot Gris 2008
You know that the food just has to be beautifully presented at a restaurant for a museum slash art gallery. This has succulent tender pieces of poached bug tail covered with overlapped, paper thin, translucent radish slices and topped with swirls and splodges of a ginger, lime and olive oil dressing which gives it an Asian flavour. The beautifully cooked bug and delicate radishes and dressing are a perfect symphony and it is light and beautiful.
The seafood here is gently cooked and soft and delicately flavored. I only tried a little of this but it is lovely with a creamy parsley jus and sea foam. I know foam is said to be over as a trend but it kind of fits as sea foam.
The roast duck comes as a four part dish. The apple sherbet resembles a pommes puree but is a slightly tart apple puree and there is a slender, succulent piece of duck, a crispy skinned piece of duck meat and a slice of seared foie gras and a baton of black pudding croquette. I wasn't quite sure where the spice bread came into it, the croquette didn't taste particularly of a spice bread coating. Each component is lovely itself but the gentle interplay of textures from the soft foie gras and crunchy croquette to the tanginess of sherbert with the unctuousness of the duck make this a keeper.
The broth for this is poured at the table and I try a little of the fish with small pea size balls of tender carrot and it melts in my mouth. The key to cooking the fish like this according to sous chef Vince is the induction stove which sits pride of place by the pass in the centre of the room. I watch as they sponge it off and squeegee it clean and he tells us that it allows them to control the temperature so precisely on a piece of fish like this with even cooking all over. And you can tell it cost a bomb-the price of a house apparently!
Oh me oh my, this looks wonderful. Twenty of the plumpest, meatiest Tasmanian cherries on the stem sit on my plate lightly poached and spiced. There is a red cabbage sorbet in the centre as well as some splodges of slightly sweet double cream. I take a spoonful of the red cabbage sorbet and it is...just like the red cabbage that I made for Christmas! I admit I do prefer the cherries on their own with the cream but the red cabbage sorbet is actually quite nice on it's own. But those cherries, I know there's a sexual theme here but they're orgasmic!
_Camembert fondue grill fromager $17 _
Our lunch finished we head down towards MONA where I get myself an "O". What is an O? It's an  interactive iPod which senses where you are in the museum and tells you about each exhibit near you with the relevant information as there are no signs next to the pieces. The O gives you general information on the work plus some irreverent choices such as  "Artwank" and "Gonzo" which is a commentary provided by the owner Walsh who has quite a sense of humour. For the time being, admission to MONA is free and it only opened on the 21st of January. Initial figures for attendance see between. 5,000-8,000 on a weekend and 1,300 per day on weekdays.
Ok are you ready to come along to my trip inside MONA? I will warn that the images are quite explicit and may not be for everyone. Send all letters of complaint to Santa please (he's not busy this time of year) and whilst I didn't have nightmares I can't guarantee that sensitive souls won't. And if you're my parents, please stop reading now. Thankyou :)
The current exhibition is called Monanism with approximately 460 of Walsh's favourite pieces and is only a portion of his private collection and as time goes on, he will reveal more of the collection in separate exhibits. I must admit that after such a close amount of time to lunch it's perhaps not the best time to go see some excrement being made. Yes, poo. Yes they have this brilliant exhibit called "Cloaca professional" by Wim Delvoye which appears as some sort of scientific experiment that mimics the human digestive system.
At 5pm Cloaca (whom they refer to as a human and have cast as a male) gets fed food from the MONA cafe and the machine chews it as if a human would and it passes through the various stages of the digestive system and 6-11 hours  later excrement emerges! And yes I know what you're going to ask and yes it does actually smell strange down here-like acid reflux rather than actual excrement. This is one of eight Cloacas around the world and some places sell the actual excrement for $8,000. Personally I'd rather a Birkin but each to their own...
I've featured some photos of my favourite pieces. This work sifts through information sites on the internet and highlights certain words in light and water which represents the incessant amount of information we are subjected to.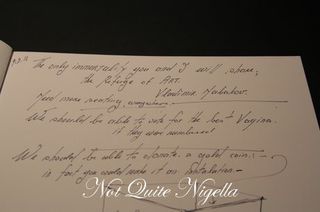 And the vaginas? Well I don't want to ruin the surprise and I wasn't able to get a hold of the artist to get his permission. The artist Greg Taylor (and oddly I knew a Greg Taylor, could it be the same one? I'm thinking not) calls it "C***S and other conversations" and features 150 life sized plaster portraits of ladyparts. There is a function on the "O" where you can like or hate a work and this one was liked by a mere 10% of people that visited although it seems to attract a lot of visitors. The response from women versus men is interesting-women tend to discuss and look at them whereas men tend to look quickly and then shuffle away.
The most well known one that appears here is Sir Sidney Nolan's Snake which wraps around on one wall and MONA was built to fit this work.
'Tracing Time' 2007._Claire Morgan (Belfast, Ireland, 1980). _Installation of nylon thread, dandelion seeds, taxidermied wren, dead leaves and lead
The path to the mummy is littered with deep black water and stepping stones!
One of the last exhibits I take a look at is the mummy. There is an ever present 20 minutes queue to get in as only two people can go in there at one time. And why? Because there is black water on the side that is a little deep and people may fall in otherwise. Interred on one side is a real mummy and on the other side is a depiction of what the mummy would look like under the swathes of bandages.
I leave inspired and I can 't wait to show the photos to Mr NQN. I board the ferry where I return to my home away from home, the Henry Jones Art Hotel which is Australia's first dedicated Art Hotel. Formerly an IXL  jam factory founded by Henry Jones, the 1862 sandstone building has now been converted into some of Hobart's swishest hotels. The portion of street that it sits on is rich in history this particular portion called Sullivan's Cove is one of the first sites for European settlers in Australia. Every Friday night they conduct an art and history tour for guests.
Service from everyone in the hotel is excellent and extremely deferential without going overboard or being stuffy. I'm given a king spa waterview corner room which I am particularly delighted about as I haven't had time for a leisurely bath on this trip yet. The room is on the second floor and is enormous and features artwork, some to purchase some house collection and four sets of windows. The view outside is of the pier and I try some of the Pure Tasmania products when I freshen up and they feature local ingredients like Bridestowe lavender and organic sweet orange and the body lotion is lovely and thick (not one of those watery ones that you tend to get).
The room is warm and welcoming and has exposed beams painted brick and exposed sandstone and wooden blinds and there is a frosted glass bathroom with a large spa bath and a doorless shower. I do hear the television next door and thankfully the person next door goes to bed early and there are also no robes or slippers to be had. The in room broadband is very fast and costs extra ($25 for the 36 hour stay). Also room service didn't quite replace all of the things that I had used like milk and I ran out of Earl Grey tea as this wasn't replaced.
I meet Rod the general manager at Henry's restaurant on the ground floor right next to the lobby. It's their formal  restaurant but feels comfortable at the same time. The menu features many local Tasmanian items and I have found that I've worked up quite a bit of an appetite walking around MONA all day like an excited puppy.The menu has two sides-the classics and evolution. Classics are the favourites from the repeat guests and evolution is where the chefs play around with market produce and this menu changes frequently. Looking around, the room features an exhibition of photographs depicting an affair and the artwork featured changes seasonally.
The ciabatta bread comes as thick slices with some of their very good home made butter. The bread is spongey and soft in the centre whilst with a thin crust on the outside and despite the fact that I don't usually finish my bread, I go for a second slice.
The amuse bouche is marinated beetroot ribbons with thin slices of jamon iberico ham and some labne cheese. Despite my initial reservations (I don't much like raw beetroot but love it cooked) the three elements go together perfectly and it is a very generous amuse bouche size although this may be because I was dining with the General Manager ;)
The quail is gorgeous, absolutely lip smakclingly so. It comes with a slight curry taste and a spicy pepperiness that tingles on the lips and tongue and is given a lovely and unexpected depth of flavour from the lap cheong chinese sausage.
The beetroot dish came with goat's cheese and segments of orange and was a very clean tasting dish although out of the two I was more rapturous over the quail. The goat's cheese is from Bonnet Hill which is a mere 20 minutes away from the hotel.
I was pre warned that this was not your usual beef bourguignonne and this was the only item that I ordered from the classics menu as I do love Tasmanian Cape Grim grass fed beef. This is a twelve hour slow cooked sous vide style short rib and comes out as a rectangular block shaped portion of beef alongside some cauliflower puree, lardon cubes and eschallots. I take a knife to the beef and it has an incredibly delectable texture and flavour. It's soft and tender but not soft like a typical slow cooked beef stew where it falls apart easily, it still has some gelatinous resistance but when you take it to your mouth it just melts. It's heavenly and I can still remember this dish vividly.
The pork belly comes with little mounds of poached apples and thin slices of radish. The rich pork belly meat is moist and soft and lends itself to the slight tanginess of the poached apples.
The Austrian style spiced biscuit is aromatic with the aromas of mixed spice and clove. It's filled with an ice cream and is accompanied by slices of poached pear.
You can see it right? No, not the ghost but the amazing amount of crumble (which is really why I always order crumble). The pistachio crumble is buttery and moreish and the "apple fettuccine" is slightly cooked but perhaps not quite cooked enough as it still retains a bite to it. The saffron and honey ice cream is extraordinarily creamy and heady with saffron and honey. It sits on a crisp honey feuilletine biscuit. I eat most of the crumble and ice cream before I hit my wall. That evening I fall into a very satisfied sleep borne of exhaustion, exertion, excitement and satiety.
The next morning I repeat my mantra of "I'm late, I'm late!" and get ready quickly and rush out of the door to visit Salamanca Markets. Deceptively large, it features over 300 stallholders and operates from 8:30am-2:30pm every Saturday. I take the brisk 10 minute walk from the hotel reveling in the mid 20 temperatures knowing that it will be much warmer back home in Sydney.
Much of the fresh produce is at one section where we see a colourful range of produce. Organic is quite common here with a lot of organic berries, apricots and stone fruit for sale. I buy some lovely apricots that are tree ripened and lusciously sweet and only $5 a kilo or 50c each.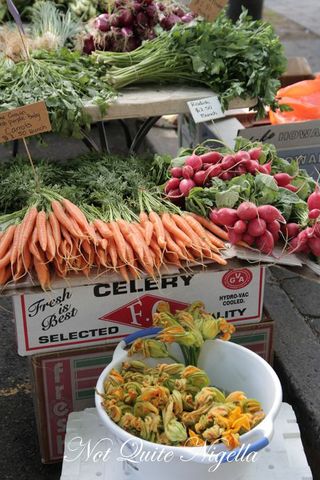 There is also a small vintage and a bric a brac section to the markets including these pretty jelly molds in stainless steel and copper.
I wish I had room in my luggage for these nuts! I only scraped by as is and my bags got a "heavy" sticker slapped on them :(
I also stopped by the Grandvewe cheese stand and tried some of their cheeses. They sell sheep's milk cheese which is said to be good for many lactose intolerant eaters. Their soft curd with herbs and the Friesland Fog has a wonderful creamy tartness. They also do sausages and yogurt along with cheeses.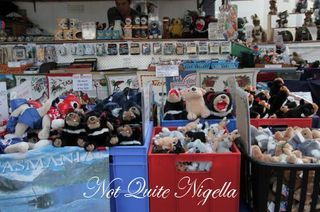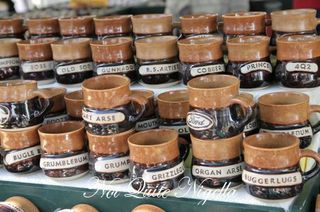 Much of the ready to eat food is more of the sausage, fast food and kebab variety but my attention is caught by a single pie stand that sells, among other flavours, scallop pies. I buy one and even though it's terribly early, I eat the scallop pie for breakfast. Again it has a light curry sauce to it and a warm, flakey crust to the top and a nice shortcrust crust on the base. I could do with more scallops though (what's new right?).
And what a more fitting way to bring to an end to a epic 36 hours in Hobart and a short trip to Tasmania! I came, I ate and I saw and I lugged an oversize bag of luggage home with me too.
So tell me Dear Reader, what's the shortest amount of time you've spent in a place where you've packed in a lot of things?
NQN travelled to Tasmania as a guest of Pure Tasmania, Brand Tasmania and the food and wine industry of Tasmania_
_
MONA (Museum of Old and New Art)
651-655 Main Road, Berriedale TAS 7011
Tel: +61 (03)6277 9900
Henry Jones Art Hotel
25 Hunter Street, Hobart TAS 7000
Tel: +61(03) 6210 7700
Salamanca Markets
Salamanca Place, Hobart
Every Saturday