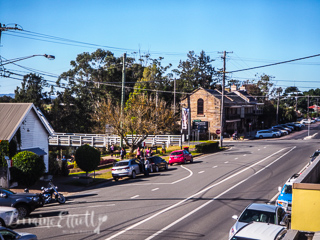 A weekend in Morpeth, Lorn and Maitland in the Hunter Valley with friends and our beloved little dog Mochi was just about the perfect mid winter tonic. We discover some of the region's foodie treasures while staying in a cosy cottage!
Of our group, Mochi and I are the first to arrive at Morpeth, a gorgeous historical, riverside town with old Colonial buildings on the main street. We are staying at The Close in a self contained cottage on Close Street that sleeps up to 12 people with three bedrooms. Nina and Garth are following close behind and Mr NQN will get the train up after work this Friday.
Ometto's, Maitland
For our first night we stop by Ometto's pizza (meaning little man) for some takeaway pizza. We order four pizzas and a couple of salads to have with the wine that Nina has brought.
Calabrese piccante $20.00
The drive home feels like it is taking forever as the smell of pizza fills the car steaming up the windows. We rush out of the car, pour the wine and set out plates and cutlery and open the boxes. I sink my teeth into Bianca pizza with Taleggio and porcini. This is Nina's choice, I don't tend to like bianca pizzas because I love tomato and it's mild but not overly strong in truffle.
_Margherita (V) $18.00 Taleggio e Porcini $24.00__
I much prefer her Calabrese Piccante with San Marzano tomato sauce, fior di latte, red onions and hot sopressa salami and nduja Calabrese especially with a drizzle of chilli oil. I also enjoy the simplicity of the Margarita with buffalo mozzarella. We also ordered a special which was also delicious with pork and fennel sausage, onion and gorgonzola and the toppings are well balanced.
Garth goes to pick up Mr NQN from the train station and we stay up talking and drinking wine before deciding that it's been a hellishly long week and go to bed.
Let me show you around The Close, our accommodation for the weekend. There's a lounge room that seats 4 people, a large 10 seat dining table and a well equipped kitchen with enough equipment to cook a nice meal.
Downstairs has two queen bedrooms, one has an ensuite while the main bathroom has a bath. Upstairs is the third loft bedroom as well as a landing with two extra single beds.
There are robes in the bedrooms to stay cosy in. And very importantly for us, it's dog friendly. Heaters are provided in each room while the air conditioning unit warms up the rest of the house.
Common Ground, Morpeth
The next morning Nina and Garth go for a run, I train inside while Mr NQN sleeps and then we are ready for breakfast. The best place in Morpeth for coffee is Common Grounds, a cafe on the main street of Swan Street in Morpeth. Even little Mochi is a fan as she is offered some snacks from the staff.
Matcha Latte $5 chai latte $5, lemongrass and ginger tea $5 and cappucino $5
We take a seat outside, order a range of coffees (the chai latte and matcha latte are excellent) and browse the menu.
Cornbread $20
We try an item from the breakfast menu, the grilled cornbread with herbed goats cheese, grilled asparagus and stewed tomato, the sweet tomato cooked down so it is intense and sweet.
Chilli Lime Squid $21
I also enjoy the flash fried chilli lime squid so tender in texture with salad greens and a caramel soy with cherry tomatoes and coriander.
Icky Sticky Patisserie, Lorn
The five of us then pile in the car with Mochi sitting in the middle of the back seat between Nina and Garth. We are headed towards the town of Lorn but we have to get there early. Why?
Because Icky Sticky Patisserie is a ridiculously popular patisserie and cake shop that sells out of their sweet treats very early. Pastry chef Claudia Ford shows us a selection of their items from the buttery croissants to their incredible frangipane filled almond croissant.
Icky Sticky has been open for just over 1 year. The owners Jessica and Phillip lived and worked in Melbourne (he was a former pastry chef) but returned to Maitland to set up the patisserie. In that time it has already amassed a solid following with their combination of heavenly tarts, buttery pastries and wonderfully friendly service. We reach there just after 10am and the treats are rapidly selling out.
All of their pastries are made daily and sometimes during the weekend there may be a special item like today's raspberry and passionfruit eclair which I adore. The best seller is the luscious strawberry and raspberry tart with a creme patissiere filling and fresh fruit on top. The chocolate and banana caramel tart is another favourite along with the lemon meringue tart and chocolate and raspberry mousse. Oh and don't leave without an almond croissant!
Meg's Kitchen, Lorn
If you're looking for something a bit healthy and made of wholefoods and chemical free with unprocessed flours, just a few doors down is Meg's Kitchen. "We are just a couple of old hippies" says Meg who is a pastry chef and chef and she has been making this style of food for 27 years although with the recent swing towards vegan and wholefoods people are seeking it out more now.
She caters for vegan, gluten free and allergies and her sweets don't contain refined sugar. Most of the produce is grown at her home. We try a turmeric raspberry loaf which is fresh and wholesome as well as a fig topped ginger tart where she uses the dried fig fruit to sweeten the cakes.
My favourite is the chorizo and cheese roll, heated up. Meg uses Lorn Butchery's chorizo sausages. And for the cold weather she gives us some of her "Meg's liquid gold" which is a white balsamic reduction made with unrefined sugar that is wonderful on salads, fresh berries and before roasting beetroot and a local Largs honey topped with toasted macadamias.
Lorn Butchery, Lorn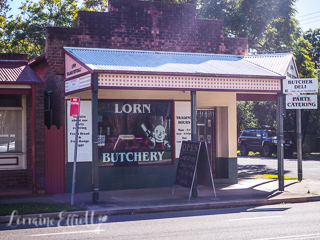 "We have fun. This is like a Lilly shop for adults," says butcher Darren Davidson of his 4 year old business Lorn Butchery. Taking a look at the display it is filled with mouth watering cuts, many already marinated and flavoured so that they are easy to prepare at home in the oven or the slow cooker. There's Greek lamb or Lamb Baby Bakes that are marinated so that they're full of flavour. They also make their own bacon and cabanossi on site too.
I'm looking for something to cook tomorrow night for dinner for a Sunday roast dinner. We decide on a roast pork with a gorgeous Canadian maple marinade which he rolls up and slathers with the maple sauce. I leave with my brown paper bag in tow and we head back to the house to stash away all our spoils.
The Cunning Culinarian, Maitland
We then head out to the Cunning Culinarian in Maitland for lunch. Owner Alina Mackee has had the business for a year after cooking and catering in the area and building up a following. Her talented chef Jorge Rojas makes everything from scratch.
They're famous for their brownies as well as their gluten free caramel slice. There is also have a range of items for people to take home and cook including fall apart soft lamb shanks, vegetarian pastas and roast potatoes.
Tempura Eggplant Burger $18
The cafe is an airy, light-filled space with a menu full of goodies. Nina and I seriously fall for the tempura eggplant burger with house made tzatziki, rocket and a local James and Rose brinjal pickle on a seeded milk bun served with sweet potato wedges. It's so utterly delicious with just an ideal range of textures and flavours that you could easily convert someone to vegetarianism using this and they'd happily cross over. I'm such a fan of the James and Rose brinjal pickle that I buy a jar to take home.
Ultimate Brekkie Roll $15
Or if you want a bit of everything for breakfast try the ultimate breakie roll. There's herbed eggs, bacon, avocado, rocket, relish and smoked honey aioli all in generous proportions. It's indulgent and delicious.
Shakshuka $20
Nina's choice is the shakshuka which is a delightful version with richly flavoured middle eastern spiced tomato and capsicum sauce and two runny centered poached egg and lightly toasted Turkish bread on the side.
Homemade brioche waffles $18
We had to end on something sweet. The brioche waffles are puffy and soft with a divine vanilla bean cream, maple syrup, fresh banana and a salted pecan brittle for a lovely crunch.
We also take home some lamb shanks, roasted potatoes as well as two salads-the amazing broccoli, cranberry, bacon and slivered almond salad and the curried roast carrot salad as well as a range of the brownies, melting moments and caramel slice for afternoon tea!
Jubilo Gelato, Maitland
Bill and Robyn James were missionaries who started up Jubilo gelato after travelling in Cairns and seeing the gelato on offer there. The shop on the corner of Ken Tubman Drive has been open since February 2017. There's a large range of gelatos on offer both in the display and plenty more in the back too.
My favourite gelato is a surprising one: it's a burnt caramel vegato or vegan gelato. Bill explains that they made it to support a now defunct vegan restaurant but there's still such a demand for it that they have 6 flavours available at any one time. I also like the salted butterscotch one and the plain chocolate. All of the milk in the regular gelatos is from Norco, the north coast farmer owned coop milk. And during summer many of the gelatos like the mango are made using fresh fruit.
Morpeth Sourdough, Morpeth
We head back towards Morpeth to visit perhaps the brand that people most associate with Morpeth - Morpeth Sourdough. Steve Arnott is a sixth generation baker and the circa 1850 building on Swan Street was the home and workplace of the Arnotts family. It is where his great, great, great grandfather founded the business that would become one of Australia's most recognisable brands.
William Arnott was a confectioner who made biscuits and wedding cakes and in particular bridal cakes. There are some original artefacts to one side and the building is said to have the oldest original Scotch oven in the country. Now Stephen sells his sourdough loaves and muesli from the site.
While their breads have a huge following, it is actually their mueslis that outstrip bread sales. All of the mueslis are preservative free and there are three flavours: regular, deluxe and berry.
Steve says, "Allison (his wife) is the mastermind I'm just the make it guy." The GFC forced the couple to re-evaluate the business as spending in the gourmet category dropped sharply as people struck gourmet items off their shopping list. They had 26 staff to take care of so they decided to switch to muesli (and there's porridge coming up too). We try a white sourdough and an olive loaf, both wonderful toasted up in the morning along with the crunchy deluxe muesli that comes in satisfyingly sized chunks.
Campbell's Store, Morpeth
Across the road from Morpeth Sourdough and about 170 metres away is Campbell's store, a labyrinthian store cum vintage store cum cafe you can weave your way through and up and almost get lost. Or make your way down Green Street and enter the food store you can find a treasure trove of locally made jams, preserves, sauces, chutneys, chocolates and house made cordial.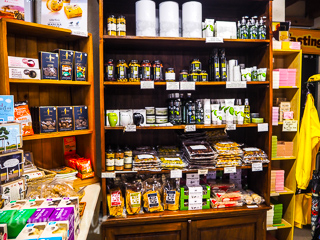 You need time to browse the shelves here and there are always items for the tasting. We bought some delicious goodies to snack ona dn embellish our dinner: gold salt, gold mustard, hazelnut milk jam, pork jam (for our roast), bean dip, dried figs for cheese, raspberry and coconut rocky road and a chocolate balsamic sauce.
The Rigby, Maitland
It's late afternoon and time for a nap for Nina and burpees for the boys as well as some headball (a ball attached to a band around the head, don't ask, it's as silly as it sounds). I make a cup of tea and sit down with Mochi and write on the couch for a few hours and before long it's time to leave for dinner at The Rigby back in Maitland.
Dubbed a Melbourne style bar, it's a gorgeous welcoming space with several areas to sit down from clusters of chairs and lounges to regular tables. As we have Mochi, we make our way to the heated courtyard in the back that is beautifully decked out with a large table, chairs, lounges and plenty of heating as well as blankets.
The Rigby is in a restored 1870s heritage building and is owned by father and son team Howard and Nick Bourne. Nick is taking care of us tonight and he is super friendly and accommodating. We start with a round of drinks: a mulled wine, hot buttered rum, a Bridge Road Robust Porter and a "Once You Go Black" cocktail with rosewater, gin sour and activated charcoal that looks strong in flavour but is gorgeously light and not overly floral. We're big fans of the hot buttered rum, a sweet and rich buttered rum balanced with chocolate bitters as well as the warming mulled wine with plenty of citrus.
Charred sourdough with garlic butter hot pot $10
As we've been eating a lot today we decide just to share a few dishes. The charred sourdough comes with a sizzling cast iron pot of garlic butter. I'm convinced that I need this every night during winter and we dip piece after piece of garlic butter into the bubbling garlic butter.
Fried buttermilk chicken, smoked chilli aioli $22
We start with the fried buttermilk chicken which is from one of their set menus. There are some dishes on the set menu that don't appear on the a la carte and I just had a hankering for some fried chicken. It's tender, boneless pieces of lightly floured buttermilk marinatef chicken served with smoked chilli aioli on the side.
Braised lamb shoulder, cauliflower, pomegranate, labne, black grape sauce $38
The braised lamb shoulder is slow cooked on the bone and then the meat is removed and shaped into a round and served with cauliflower puree, pomegranate, labne balls and a rich black grape sauce. This is a gorgeous dish and not particularly "lamby" which can be a challenge for Mr NQN and not a scrap goes back to the kitchen.
Slow Cooked Duck leg, aromats, Dutch carrots, orange yogurt $26
We also loved the slow cooked duck leg that falls off the bone easily. It's served with fantastic Dutch carrots and a tangy, creamy orange yogurt.
Potato gnocchi ricotta peas, truffle oil $20
Nina's loves her choice of potato gnocchi with ricotta, peas and truffle oil. The truffle oil is not very strong in this but we all love how light the gnocchi is and the gentle sweetness and creaminess of the peas and ricotta. Nina squeezes some lemon on the ricotta and is rather proud of herself when she describes it as "zesty". "See, I can use descriptive food words," she says beaming.
When Garth orders another porter beer Nick brings it over with some dark chocolate callets and suggests that we taste the beer before and after some of the chocolate to see how the beer flavour opens up which it certainly does!
Baked brie, walnuts, honey and rosemary $16
As we've got so many lovely cakes at home we decide to order desserts that are a bit different. And you don't often see a baked brie on a menu but like the garlic butter pot, mulled wine and hot buttered rum, is there no better accompaniment to a chilly edged night? It's served with toasted walnuts, a drizzle of honey, rosemary and thin sourdough croutons.
Mulled Wine poached pear, white chocolate pot, orange biscotti $16
We also order the mulled wine poached pear with a side of white chocolate cream and crunchy orange biscotti. And we're so comfortable sitting out the back that we almost don't want to leave.
We take the short drive back to Morpeth where we engage in a loud round of car karaoke before we all decide that we are way too exhausted to stay up. I fall into bed exhausted by 10pm only to be roused at 7:30am on Sunday by my alarm to work out. Everyone else has gone for a run and I wrap Mochi up in a jacket and she sleeps on the couch while I train. I wish I were Mochi.
Bikesmith Espresso
It's a chilly morning the next day when we go out for breakfast. We leave for breakfast around 10am to get to Bikesmith Espresso in Maitland.
The cafe was started by Tim Skinner who was a miner for 15 years but got tired of the lifestyle so he and his wife Louise decided to combine a love of mountain bikes and coffee instead. The chai latte is very white peppery while Mr NQN enjoys his cold brew and Nina and Garth enjoy their cappuccinos.
Breakie wrap $10
The menu is made up of simple items as the kitchen isn't very large and there's a range of healthy snacks, raw balls and slices from a local supplier as well. We share the breakie wrap in a toasted tortilla filled with bacon, egg, tomato, red onion, spinach, sour cream and cheese. It's served nice and warm for the cold morning.
Italian Turkish $12
The Italian Turkish is my favourite item albeit quite small. It is filled with salami, red onion, salad greens, olives, relish and Swiss cheese.
Cheese Royale Toastie $9
There are two types of cheese on the cheese royale toastie: Red Leicester and Swiss cheese on slices of toasted sourdough.
Avocado Toast $12
Nina loves her avocado toast with feta cheese and toasted seeds on top for extra crunch.
Donarch Chocolates, Tenambit
Less than a 10 minute drive away is Donarch Chocolates in Tenambit that produce stunning chocolates in an unassuming strip mall. Once you walk in, the gleam from the chocolates hits your eyes. Donna Archer started the business based on one chocolate - the chocolate raspberry heart. She wanted a raspberry chocolate that tasted of real raspberry and it was her success with this chocolate that started the business. She uses Cacao Barry and Callebaut chocolate to create her delicate and beautiful creations.
Her customers fall hard for the salted caramel that she makes with Maldon salt - this has a pronounced saltiness that reminds me of salted caramel chocolates in France where they don't shy away from the salt. She even tried reducing the level of salt in it by 10% and customers noticed straight away.
The muscat truffle is my favourite and was created by accident when they accidentally rolled the truffles in drinking chocolate instead of cocoa giving the truffle a crust coating on the outside. Her son Paul who works in the business quips, "Most of these are really just good mistakes."
And while the peanut butter looks like a fancy Reese's peanut butter cup it has white caramel chocolate and caramelised almonds for additional texture. Donna's chocolates are known for their bold, true flavours-there's no mistaking which one you're eating. The honey butterfly is also divine as is their version of a marzipan and the passionfruit birdcage.
And if you're lucky they won't have sold out of the chocolate coated honeycomb made with privet honey from their very own beehives. This is amazing. There's even a secret stash for the regulars because it sells out so quickly!
The Bronte, Morpeth
Sunday is a very busy day for Morpeth and a chilly morning has turned into a glorious day. Nina and I are headed off for afternoon tea at The Bronte guesthouse back in Morpeth. It is located at the top floor of the guesthouse in a terrace that is bathed in sunshine.
The afternoon tea needs to be pre-booked and it has an Asian element to it as well as three matching Teetotaller teas for each course. It is also fantastic value at $55 and includes a glass of sparkling.
The first tea we try is the ginseng and chamomile tea with the savouries. There are dumplings made by Sukimama in Newcastle that are plump and delicious. There are also roast duck blinis as well as lovely little tomato and goat's cheese tarts and cucumber sandwiches.
Then comes the sweet layer. Where they can, they source as much local as possible. There are Icky Sticky patisserie fruit tarts and a crumble tart as well as enormous, fluffy scones served with a deep bowl of clotted cream and raspberry jam. These come with butterfly pea flower tea where you squeeze lemon into the blue tea to turn the colour to purple.
And then to finish, is an "after dinner mint" tea made with mint and aniseed with a Donarch honey butterfly chocolate!
The Smelly Cheese Shop
A few doors down on the main street in Morpeth is the very popular Smelly Cheese Shop. There are three Smelly Cheese shops in the Hunter region and although this is the smallest there is an excellent range of cheeses. Staff are very friendly and Rose guides us through a tasting of local cheeses, all produced in the area.
There are some firm favourites although all of the cheeses on the platter are good. We love the washed rind cheese, the labne with dukkah and the goat's cheese feta in particular. The best seller is the Southern Cross Creamy Blue, a medium blue whose punch is tempered by the creaminess of the cheese (she tells us that a quarter of the cheese in the shop are blues). And there is also quite a range of vegan cheese too, the baked almond feta being my favourite.
Dinner At The Close
And dinner at home is a delicious mix of goodies from local businesses. I'm the only one that really cooks of the four of us and I was exhausted so I was very happy that all I had to do was turn on the oven and cook the maple roasted rolled pork from Lorn Butchery, heat up the lamb shanks and roast potatoes from The Cunning Culinarian and the vegetable roll from Meg's Kitchen while Mr NQN, Nina and Garth lay out the cakes from Icky Sticky Patisserie and Meg's Kitchen, salads from The Cunning Culinarian and cheese board from The Smelly Cheese Shop, honey from Largs and all of the condiments from Campbell's store.
It's a feast to end all feasts really with a bit of everything. The pork roast is divine with the Canadian maple sauce plus some extra "ham jam", the lamb shanks tender while the roasted potatoes moreish. Nina declares the curried carrot and feta salad her favourite ever salad while I declare the same of the broccoli, bacon and cranberry salad and we finish on creamy cheeses and sample all of the wonderful cakes. We even season with gold salt because, well why not?
So tell me Dear Reader, is food a big feature of your weekends away? Do you ever do car karaoke? How often do you go away with friends?
NQN and Mr NQN were guests of Maitland but all opinions remain her own.
Ometto Pizza Bar
489 High St, Maitland NSW 2320 Phone: (02) 4030 5916 omettopizzabar.com.au/
The Close
73 Close St, Morpeth NSW 2321 Phone: (02) 4934 6080 theclose.com.au/
Common Grounds
4/142 Swan St, Morpeth NSW 2321 Phone: 0499 342 002 facebook.com/cafemorpeth/
Icky Sticky Patisserie
2/27 Belmore Rd, Lorn NSW 2320 ickystickypatisserie.com/
Meg's Kitchen
Shop 6/25 Belmore Rd, Lorn NSW 2320 Phone: (02) 4934 7463 facebook.com/megskitchenlorn/
Lorn Butchery
48 Belmore Rd, Lorn NSW 2320 Phone: (02) 4933 6510 lornbutchery.com.au/
The Cunning Culinarian
245 High St, Maitland NSW 2320 Phone: 0477 773 150 thecunningculinarian.com/
Jubilo Gelato
8/1A Ken Tubman Dr, Maitland NSW 2320 Phone: (02) 4934 4963 jubilo-gelato.business.site/
Morpeth Sourdough @ Historic Arnott Bakehouse
148 Swan St, Morpeth NSW 2321 Phone: (02) 4934 4148 sourdough.com/bakery/morpeth-sourdough
Campbell's Store
175 Swan St, Morpeth NSW 2321 Phone: (02) 4933 1407 campbellsstoremorpeth.com.au/
The Rigby
307 High St, Maitland NSW 2320 Phone: (02) 4030 5705 www.therigby.com.au/
The Bikesmith & Espresso Bar
Address: 326 High St, Maitland NSW 2320 thebikesmith.com.au/
Donarch Chocolates
49 Maize Street, Tenambit, New South Wales, Tenambit NSW 2323 Phone: (02) 4202 9721 facebook.com/donarchfinechocolate/
The Bronte
145-147 Swan St, Morpeth NSW 2321 Phone: (02) 4934 6080 thebronte.com.au/afternoontea.html
The Smelly Cheese Shop
Shop 2 / 129 Swan Street, Morpeth NSW 2321 Phone: 0432 928 512 smellycheese.net.au/