This restaurant is now closed
They say nobody can drive you as mad as family but there's a special place in your life for adopted family. That is, people that you are as close to as family but you have chosen to be family rather than those banded together by genetics. To me, friends like people like Belinda and Nick count as siblings.
And there's nobody that quite understands any strange plans like siblings. It was Belinda who discovered County Dining on Instagram and suggested that we make a day trip to the Morpeth to have a late lunch and then drive back home to Sydney straight afterwards.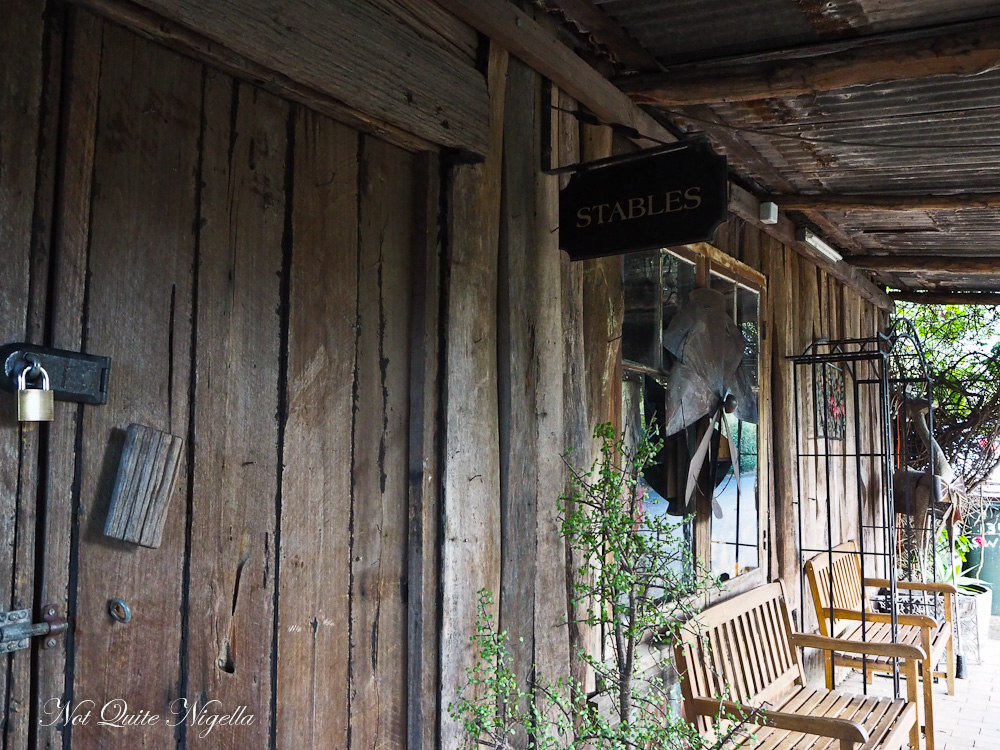 We gave ourselves an easy day. A 11:30am start from the inner west where we picked up Belinda and Nick. The road trip started with a stop at a gas station to buy lollies, snacks and water and before we knew it, we were on the way. Morpeth is just over two hours away from Sydney and once you get on the highway it is a smooth drive. We concentrate on discussing critical issues like catching up with Nick's "lovelife" and how he found himself getting a lap dance to how he swears that Splice ice blocks taste like Yakult.
Once we arrive in Morpeth we spend the first hour poking around the shops. There are some great stores in this small town and I find myself buying bread, jewellery, plates and bowls. When our tummies start rumbling, we adjourn upstairs at the Morpeth Sourdough bakery to County Dining. Chef Jamie Ryan is in the small kitchen downstairs.
Located at the former Arnott's Bakehouse the restaurant takes up the first floor of the building and there is a nice outdoor table area as well as a cosy indoor space. We are dining at 3pm - the restaurant is open all from noon to evening which makes the trip from Sydney easy and since the sun will be down soon we choose to sit indoors.
Blue plates, bone handled knives and tactile napkins dress each table and it's a very comfortable set up. Some slices of warm Morpeth Sourdough bread and parmesan rind butter are brought to the table. It's a nice crusty loaf and the savoury butter whets our appetites.
The menu is share style and made up of a few grazing plates, five small plates ($22 each), three large plates ($34 each), three sides ($8 each) and three sweet plates ($15 each). Between the four of us we can pretty much have a good go at most of the menu and we just opt out of two dishes, the olives and the Ploughman's Lunch.
Service is friendly and our waitress introduces herself by name (we later realise that Heather (Moore) owns County Dining along with Jamie). There's just three other tables dining at this in between time.
Bone marrow on toast 3 for $12
They are nice enough to include an extra bone marrow on this unprompted as there are four of us (Mr NQN was just going to miss out as he doesn't like bone marrow). It's not the jellied, unctuous texture that bone marrow usually comes as. Instead, it's minced almost like a rillettes in texture. You simply lift the bone and eat it, the lightly toasted bread soaking up all of the dripping juices from the luscious marrow. Even marrow hater Mr NQN enjoys this although Nick misses the texture of the bone marrow.
Pumpkin arancini 4 For $14
The pumpkin arancini are served in egg cartons, their outside coated in crunchy golden panko bread crumbs while the inside is filled with soft and sweet pumpkin. It is served with a garlic aioli on the side. Although I had planned just to taste these, I ended up finishing it all.
Chicken liver parfait, skin crackling, cumquat, cornichons $22
Our small plates arrive together. The chicken liver parfait is as smooth as butter and spreads perfectly on the slices of bread given. It is paired with some incredibly addictive chicken skin crackling (yes! It's a thing!), some cumquat skins and cornichons. Belinda isn't as taken with the cumquats and they would perhaps benefit from being diced a bit smaller as they can be strong but the pate itself and the crackling is divine.
New season asparagus, 64° yolk, parmesan oil, olive caramel $22
The new season asparagus is served char grilled with a 64 degree egg yolk that bursts into a golden river of yolk on the olive caramel, pangrattato, raisins and hazelnuts.
Yellowfin tuna ceviché, radish, blood orange, crème fraîche $22
I perhaps made the mistake of eating this last and because it's quite a subtle tasting dish I should have perhaps tried first along with the asparagus. It is four slices of yellowfin tuna ceviche with radishes, blood orange and dabs of creme fraiche. It's subtle, lusciously textured and refreshing.
Planning your next trip? Ensure you have the right coverage with HeyMondo travel insurance that includes COVID-19 protection. Plus, if you use our link, you'll receive 5% off the price. Find the best deals on flights from all airlines in various currencies with SkyScanner and set up alerts to get notified when prices drop. For reliable transportation options, look no further than 12Go Asia, offering train, bus, ferry, and flight transfers worldwide. Book your transportation now and enjoy a stress-free journey.
When you purchase through these links I will get a small commission at no cost to you. Thank you for supporting me! :)
Black pudding, crisp pig ear, bacon rillettes, chestnut mushrooms $22
However the crisp breaded pig's ear is everyone's favourite starter. Although difficult to cut, it has a great chewiness to it and is perfectly paired with cubes of black pudding, chestnut mushrooms and the bacon rillettes is just one of those genius things that you should probably add to every single dish.
Tasmanian salmon, seared + cured, traditional niçoise garnish $34
There's a small break and then our mains come out. Although not a dish that you'd expect to see in this combination, the salmon is so perfectly cooked in its two treatments (seared and cured) and the Nicoise salad that accompanies it suits it well. There is a cube of balsamic jelly that is sweet with a slight acidity to it as well as saffron potatoes, green beans, olives, tomatoes and white anchovies.
Braised lamb belly, parsnip puree, petit pois, mint bread sauce $34
The lamb belly is all rich flavours that hit you as soon as you take a bite. There are two discs of rolled lamb belly served on a bed of smooth parsnip puree, petit pois and a fantastically flavoursome mint bread sauce.
Potato dumplings, sweetcorn, braised leek, kale, goats curd $34
Generally you don't necessarily expect everyone's favourite to be the vegetarian dish. But the vegetarians had it with this dish. The potato dumplings are like largeish square potato gnocchi paired with a divine sweetcorn puree and goat's curd. Add to this some sauteed kale and a sweet braised leek and it's the perfect balance of sweet, savoury and comforting. I was also caught scraping the plate with my fork.
Polenta chips, tomato relish, parmesan, Cauliflower in gorgonzola cream and Sautéed green beans, pangrattato $8 each
The sides come out on a wooden tray. There are fat, crunchy edged polenta chips with a coating of parmesan and a dab of tomato relish. Also on the tray are cauliflower florets in a gorgonzola cream-the cauliflower has a good texture although we wish the cream sauce was a bit thicker. Thirdly there are sauteed green beans with a sweet, crunchy pangrattato that I found addictively good.
We ask for a 30 minute reprieve for the desserts. The boys go for a walk down to the bridge and take a peek at the vegetable garden while Belinda and I just want to curl up on the couch for a nap. It's now around 5pm and we have the place to ourselves except for one table.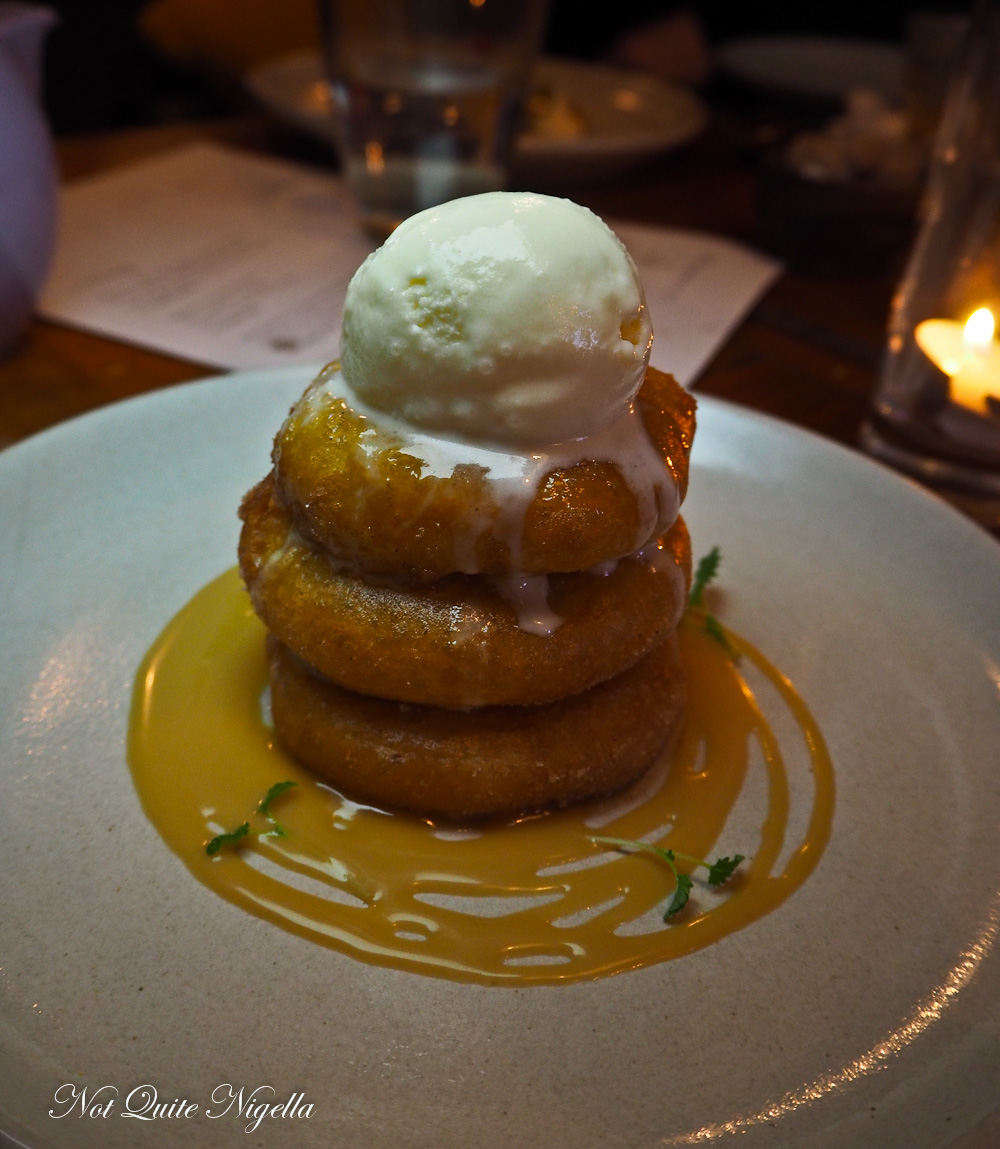 Granny Smith fritters, butterscotch sauce, ricotta ice cream $15
I really wanted to like these and I think I almost forgot that these had apple in them when they were set down and I thought that they were donuts. It's not bad but there's a lot of apple inside the thin skin outer. it is paired with a butterscotch sauce and a mild and creamy ricotta ice cream.
Coconut panna cotta, pineapple, meringue, citrus curd $15
Coconut, you were always going to be my favourite. Lusciously wobbly and tasting of pure coconut cream it is perfectly paired with shards of crunchy, sweet meringue, pineapple pieces and citrus curd. It is light and refreshing.
Flourless chocolate pudding, peanut brittle, mascarpone $15
Although I'm usually the last one to order a chocolate dessert at the end of a rich meal this is a good dessert and isn't too heavy considering our previous spread of courses. The peanut brittle is more like brittle crumbs and there is a raspberry sauce, fresh raspberries, chocolate sauce and a quennelle of dulce de leche and dabs of mascarpone to lift it up.
We're offered the cheese course but we have to beg off. It's around 6:30pm and our late long lunch is now over. We have just the drive back to Sydney to contemplate which of course is accompanied by more stories accompanied by raucous laughter. Family...well sometimes you can pick them!
So tell me Dear Reader, do you have "adopted family" i.e. friends that you consider family? And how often do you go on road trips? Do you prefer just day trips or overnight ones?
This meal was independently paid for
County Dining
148 Swan Street, Morpeth, Maitland, New South Wales 2321
Tel: +61 (02) 4934 4343
Fridays from 12pm to late
Saturdays from 12pm to late
Sundays from 11am to 4pm