If someone asked me to describe Llankelly Place, in the heart of Kings Cross I'd say that it was like the other Kings Cross in London. Specifically Harry Potter's London where the train to Hogwarts appears at Platform 9 3/4 out of nowhere. Because as I'm walking down Llankelly Place I wonder to myself where on earth did the three new restaurants come from? Did the earth suddenly part to reveal more real estate on this small, tight alleyway?
I'm meeting Ute for dinner at Kim, a modern Korean restaurant. It is busy this Friday night. When I booked they told me that they only hold tables for 20 minutes and seeing the queue form outside the small restaurant you can see demand is high. The vibe is buzzy and noisy and we have a little trouble hearing some of what our waitress says.
The rain hasn't helped matters and retro tables and mismatched chairs have moved further under the awning making things that much busier for staff. We are handed one page paper menus. We ask about the name Kim. Certainly it's a natural fit for a modern Korean restaurant. Our waitress explains that it was chosen because the name Kim is versatile with many meanings.
One of the two chefs in the kitchen comes from a sweeter background. David Ralph is one of the co founders of Kakawa Chocolates (the truffles appear on the dessert menu) while the other chef is nutritionist and ex Ms G's Tae Kyu Lee.
The first taste or Anju comes out from the kitchen and it is pieces of dehydrated beetroot and parsnip which taste like salted deep fried crisps. To the side is a tiny sliver of black garlic, all dense darkness with a caramelised sweetness.
Yangnyum tonk dak $18 6 pieces
The chicken wings comes densely packed, the thick breading and saucy coating making them almost cling together. I dislodge one coated in nuts and shallots and take a bite. The meat still clings to the bone but the sauce is bold and strong with a slight sweetness to the spicy chilli. They're very rich too and I can just manage two.
Dotori Mook Muchim $12
The next dish is made up of soft taupe coloured cubes of acorn jelly with a mix of mushroom and shredded sesame leaf on top. Ute takes a bite and declares that she has had acorn jelly before in Korea. "This is better" she says of the item that she considered bland. Made from acorn starch it's mild in taste. Historically it was a food that was used to feed the starving during the war. Here it is buoyed by the mix of mushrooms and sesame.
Prawn Jang $18
We ordered the prawn jang as they told us that we wouldn't find it anywhere else. The prawns come out with unattached heads, the bodies fermented in soy. This is a two parter dish and a bowl of rice topped with a raw egg yolk and seaweed is set down with it. You are to mix the prawn meat with the rice. It's an interesting dish and the prawns have a creamy texture to them but the flavour of rice wine and fermented soy is strong in this over taking the whole dish.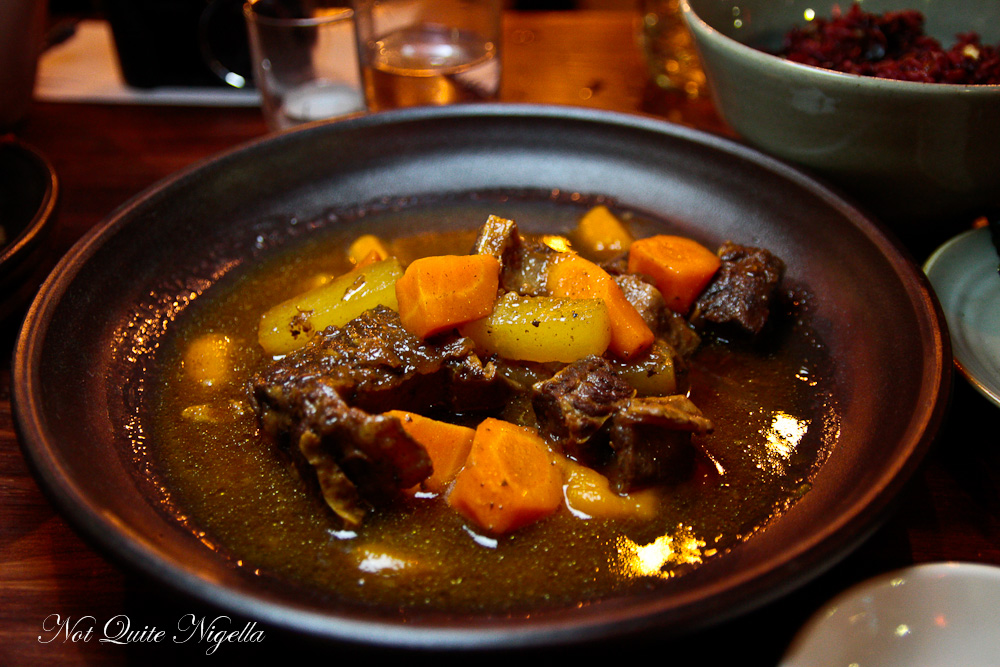 Kalbi Jjim $26
We dithered between the Bossam lettuce wraps and the Ssam chicken thigh but I eventually gave into my love to beef short ribs and this ends up being one of our favourite dishes. The soy braised beef short rib is served off the bone with carrot and pear. The flavours are rich and well balanced and the sauce is perfect for the rice.
Nine grain rice with roasted seaweed $4.50
The rice comes as a generous serve and I usually just have a little and am done with rice but I keep going back for more scoops. Said to be nine grain rice, I mostly see red rice and beans but it's nuttily delicious with a variety of texture. It's served with seasoned roasted seaweed which you can fill with the slightly sticky rice.
Haemul Pajeon $12
It seems our pancake has gone A.W.O.L. so we inquire about it. It comes out shortly after and it's quite different from a traditional Korean pajean pancake which is usually the size of a frisbee in its smallest incarnation. This is petite and packed full of seafood with very little batter. Ute is torn. "I love batter but I really like this" she says and I agree. The crispiness of the seafood and green onion is appealing though I do yearn for a bit of batter. It comes with a small side of refreshing and sweet onion pickle.
Hoddeok $12
"Oh no, no, no" Ute says when the waitress shows signs that they might be out of the dessert that we had clapped our eyes on as we sat down. She comes back with good news. We have the last serve of the donuts. Just earlier we had been debating the merits of donuts. I'm fussy with them - to me they must be worth the calories. And these babies are. Said to be Busan style doughnuts they are small crunchy sugar coated dough balls with a thin shell filled with sunflower seeds and nuts. The black flecked white squares are creamy black sesame parfait and there are crunchy, slippery basil seeds to give it more crunch.
Sikhae $10 for 2 serves
To finish, we try a pot of sikhae which is a malt punch with ginger and cinnamon. It's pleasant enough but very sweet. The sweetness gets a reprieve from the ginger which gives it a refreshing element.
It's getting late so we ask for the bill which comes with grains of raw rice on a plate. But looking outside at Llankelly Place and Kings Cross, the night has only just begun.
So tell me Dear Reader, do you often arrive on time for a booking? Would you try to be more on time if you knew that your table was only held for a certain amount of time? And would you prefer modern or traditional Korean food?
This meal was independently paid for.
Kim
24–30 Springfield Ave, Potts Point, entrance via Llankelly Place
Tel: +61 (02) 9357 4578
Hours Monday to Saturday 5pm–10pm
kim-restaurant.com.au