The crew from Moon Park in Redfern are back with Paper Bird and now they're located on Crick Avenue in Potts Point. With a modern Korean Australian menu the slightly subterranean feeling space is dimly lit at night. And some good news - the shrimp brined fried chicken from Moon Park is back!
I'm here with Potts Point local no-longer-vegetarian-Laura and we are progressing. She went from being sometime vegetarian to eating chicken skin to now to chicken meat.
A good thing because everyone is talking about the fried chicken. It's all I can think about all day. We order this along with a few of our lovely waiter's recommendations. We both give the drinks a miss, we've both been going out a lot lately so a little break won't hurt.
Scallion pancake, jamon and shiitake $15
The first two snacks to arrive and I'm in love. A thin scallion pancakes is topped with sliced shiitake mushrooms and thinly sliced jamon. It is quite small so I savour every bite. Another few of these please!
Taco-yaki: octopus, bulldog sauce, rice flour tortilla $8 each
This is not a typical takoyaki at all and admittedly the name taco (which honestly I couldn't really read in the dark light) does disclose this. It's a small tortilla topped with a tender piece of octopus with bulldog sauce and mayonnaise. It's absolutely delicious albeit gone in a bite or two.
Menbosha: prawn toast sandwich $10
If there is any sort of prawn toast I'm there. This is literally a small prawn toast sandwich with thin crouton slices of bread with prawns and creamy cabbage coleslaw. It feels a bit like Barbie food as it is tiny. It's good and I guess it's fun pretending like you have giant fingers.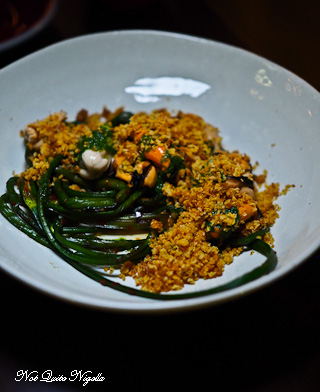 Pickled Mussels, flowering garlic chive, kimchi, toasted breadcrumbs $18
Our waiter's recommendations were solid but this was one that he said people loved but he hadn't tried personally. It has plump pickled mussels with long draped strands of garlic chives with kimchi and garlicky crunchy breadcrumbs. The flavours are strong and it's a nice enough dish but perhaps not one I would hanker for.
Bibimbap: spanner crab, Brussels sprouts, egg and nori $28
Similarly, we had really high hopes for the bibimbap but after the strong flavours of the starters and the mussels this feels very muted. The spanner crab is lost in texture and flavour among the squares of nori, Brussels sprouts, chilli sauce and egg.
Shrimp brined fried chicken, soy and syrup $25 for 5 pieces
We are waiting a while for the fried chicken and we see many plates of this go past so I'm sure we're not the only ones that miss Moon Park's fried chicken. The chicken finally arrives, five pieces of luscious, tender chicken with diced black sesame daikon pickles. We each pick a favourite piece and crunch away dipping the meat in the sweet sauce. I'm in heaven and Laura and I discuss our mutual love of fried chicken over any other kind of fast food.
Milk bingsu, hazelnut, yuzu curd $13
It's time for dessert and the characteristically blunt but charming Laura describes this dessert as "a mindf*(7". What looks like a blanket of snow is a whole lot of flavours and textures once you dig in. There's hazelnut ice cream that has almost a sesame quality to it. There's also yuzu curd and milk granita. Each spoonful is different depending on how much yuzu curd or hazelnut ice cream you get.
Steamed egg pudding, grapefruit and coconut $13
Laura is much more smitten with the nursery comfort of the steamed egg pudding. It reminds me in texture of a sweet version of chawanmushi (but less eggy) and there's toasted flaked coconut on top to give it crunch. The grapefruit sorbet is extraordinarily tart even to the point of jarring breaking any sort of pudding eating reverie.
So tell me Dear Reader, what is your favourite fast food above all else? Are you a fried chicken lover? Did you ever try Moon Park?
This meal was independently paid for.
Paper Bird
Crick Ave just off 46 Macleay St Potts Point, NSW
Monday to Friday 7am-11pm
Saturday 8am-11pm
Sunday 8am-3pm
www.paperbirdrestaurant.com