Even though the flight from Guangzhou to Bangkok is a short one at three hours it doesn't mean that I'm any less excited to check out the business class offering, especially since I had thought that I was travelling economy and there was a last minute upgrade. My luggage is tagged with a Sky Priority label and I am handed a lounge pass to China Southern's Pearl Lounge that admits one.
The lounge has a modern red and white look to it and spans out over two floors, the higher floor up two flights of stairs. Next to the bottom lounge is a smoking room which doesn't bother at first until a few passengers go in and out and the smoke escapes from the room and by then it really does start to bother and I can see why people climb the two flights of stairs to escape it. Its around 7.30am so there is a breakfast spread. There are Western items like scrambled eggs, pots of yogurt, wrapped crustless sandwich quarters, an interesting sort of beef sausage with water chestnuts but I'm lured by the decent dumplings (prawn har gow and vegetable dumplings-although these are pork with peas and not vegetarian as one might assume).
I try some of the black sesame congee but it is not my cup of tea. There aren't many things to put in it like thousand year old eggs and pickled ginger, just pickled vegetables and chilli bean paste. The noodle soup is served all day and is made to order. I ask for a beef noodle soup with noodles and little tortellini style dumplings. The chef comes out to make it and its ready in about five minutes. The soup (which I forgot to photograph!) is delicious and the noodles well cooked and it reminds me of noodles that my mother used to make - comforting and flavoursome.
There's a call over the loudspeaker for my flight so I make my way to gate 102 which is about three minute's walk away. My seat is 2H, an aisle seat in the eight seat business cabin on the Airbus 320 in which I am the only occupant. I am offered a drink of juice from my polite but serious cabin attendant who never breaks a smile the entire time. She hands me an English newspaper and places a shoe bag in the seat pocket and slippers below and asks me if I would like dim sum or seafood noodle soup and I choose the former.
There are thick quilts and pillows and as I have the cabin all to myself it's easy to fall asleep which I do for the first hour and they thoughtfully pull the shades shut for me. When I awake and take my bag from the overhead locker she comes around to see if I would like my meal and brings it out in a few minute's time. Just because you can never have too many dumplings....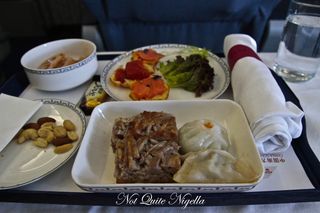 She takes out the table and lays out a tablecloth and hands me my tray of food. On it is are two slices of shredded savoury taro cake that have been baked-they're a little dry. There is a lamb and cumin dumpling and a vegetable dumpling, both quite nice although chopsticks would have been great for this meal as the rice dumpling resolutely stuck to the fork. There is a chilli lotus root salad which I would have perhaps finished if I weren't already full from the lounge and three canapés on soft sort of croissant rounds with smoked salmon and caviar and a semi dried tomato. For dessert, there's also a piece of Dove milk chocolate.
During this time she offered me a portable television and headphones which hangs from the pocket in the seat in front of me.
She then offers me a fruit plate, it's fairly hard fruit and not sweet. As she removes the savoury plate, my impassive polite but yet to hint at a smile flight attendant gives me back the same fork that I've been using for the savoury meal to eat my fruit with.
An announcement comes over that we are starting descent and before I know it, the flight is over. And if you've ever flown a Chinese airline, you know that once the plane lands, the sound of seat belts clicking can be heard throughout the whole plane and people rush to get off the plane first. The flight attendant knows this and she quickly shuts the curtain separating the business class cabin from economy and that gives me a few metres head start. I'm not in a rush but on the last leg which was economy, I was crowd surfed about ten rows ahead by eager to get off passengers. It was either get trampled or just get carried along with the crowd.
So tell me Dear Reader, once you land, do you always wait for the seatbelt sign to go off before getting up?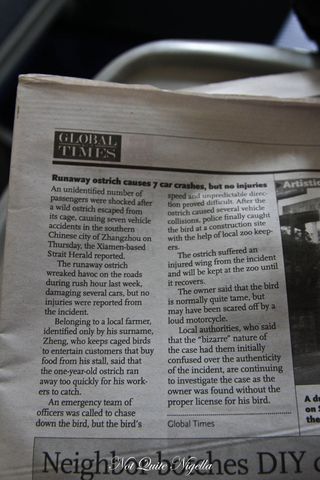 Runaway ostrich makes like a hastened passenger...
NQN tested out the flight as a guest of China Southern Airlines
China Southern Airlines
www.flychinasouthern.com/