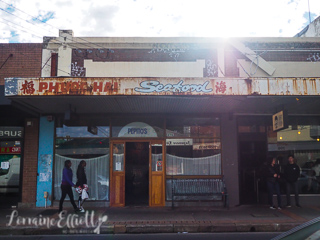 Pepito's is a brand new Peruvian restaurant on busy Illawarra Road in Marrickville. There cinematographer turned first time restaurateur José Alkon brings dishes from his native Peru in a taberna style setting.
I'm going to be upfront with you Dear Reader: getting a table at Pepito's is likely to be only challenge. José says, "We can't believe the demand we are receiving,". Indeed the best advice for those without a reservation is to come at 5pm when they can nab some bar seating.
Even though social distancing is in place, there is something very welcoming about the space be it from the staff who are all very friendly to the inner west décor. José decided that Marrickville would be the location for his first taberna as it reminded him of Juanito in Barranco. "To me Marrickville is like Barranco - bohemian, creative, edgy, has an amazing history, it's wild and rough around the edges haha," he says.
His family first arrived in Australia when José was 8 years old. They returned to Peru but during the Shining Path war they migrated to Australia. He first conceived of this restaurant idea two years ago when he was with his friend chef Diego Muñoz - in fact Diego helped him design the food.
So what can diners expect? José says, "I don't classify us as a 'Peruvian' restaurant. I don't think we can be authentic to the cuisine without the ingredients. Ours is an adaptation. Just as all the cultures that migrated to Peru created 'Peruvian cuisine', we have migrated to our little Marrickville taberna our own cuisine. That's what I warn Peruvians anyway," he says laughing. "I have no interest in being a 'Peruvian' restaurant, Pepito's is a restaurant. Period."
We start with drinks. The wine list has lots of interesting choices from chilled reds, sustainable picks curated by Where's Nick Bar as well as an artisanal selection of the national Peruvian drink Pisco.
Punch $18 Chilcano $18
We go for two cocktails because Sunday lunch out is one of my favourite meals of the week and as good a reason to celebrate as any. For me it's a Chilcano with acholado (a type of Pisco), Pepito's ginger ale, lime and bitters and Laura has a Punch with quebranta (a Pisco grape varietal), pineapple syrup, lime and bitters. Both are excellent.
Choros a la Chalaca Mussels, Chalaca salsa $15
The first plate to arrive is of the mussels. José is from Lima so I'm expecting lots of delicious seafood and this doesn't let us down. The petite black mussels are topped with a piquant onion and lime salsa on top that only emphasises the freshness.
Causa de Camarones Prawn, potato, avocado $18
Causa is an important historical dish for Peruvians and is based on the potato, of which Peru grow so many varieties. When Peru was fighting for independence the troops subsisted on potatoes topped with toppings and this was given the name Causa or the "cause". This is a modern interpretation with a bed of creamy mashed potato with prawns, avocado and olive aioli. This is one of our favourite dishes and we scrape the plate clean.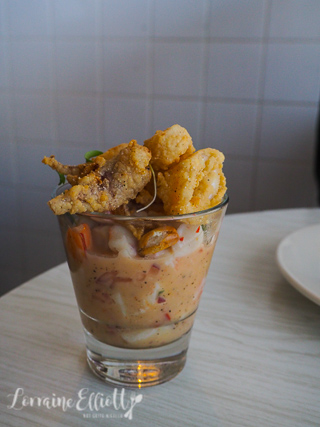 Leche de Tigre with Calamari $21
There's one special of the day and that is the Leche de Tigre, literally Tiger's milk. It is a tangy lime and onion ceviche made with prawns and octopus with a topping of fried calamari on top. Like the mussels, it has a lovely tangy hit.
Papa a la Huancaina Fried potato in Huancaina sauce $12
In Peru, potatoes are called "Papa" and these fried potato halves are served with a Huancaina sauce. Huancaina sauce uses the Peruvian aji chilli that colours the sauce yellow and there's plenty of red onion, tomato and huancaina sauce although you might probably want this to come out with the Anticuchos (the skewered meats) as this fits more like a side dish for meat.
Calamares Pucusana Fried Calamari in Pucusana sauce $15
Everyone loves fried calamari and this is a tasty plate of crunchy, crisp and tender calamari on a Pucusana sauce which is a tangy and creamy. There's also pieces of fried sweet potato too.
Corazon Skewered ox heart, potato, panca, salsa Huancaina $17
The next two items are the Anticuchos which are cuts of meat (usually inexpensive ones like hearts) on skewers. I have really fond memories of standing in the streets of Cusco and eating beef hearts hot from the grill. Here there are quail and ox hearts (and mushrooms too although we didn't order these). My favourite are the Corazon or ox hearts that are so tender and flavoursome with a thick, rich flavoursome sauce, red onion and sauce Huancaina, that delicious creamy yellow chilli sauce. I think one of the reasons why I like Peruvian food so much is their love of a sauce.
Codorniz Nikkei Skewered quail, Nikkei style $17
Nikkei is the name of the fusion of Japanese and Peruvian cuisine and is one of the earliest fusion cuisines. The quail is given the Nikkei treatment with ginger and sake. It's quite salty but nevertheless delicious and tender with a sweet sake sauce.
Pan con Aceituna Olives, triple cream, onions, limo chili, pan francés $8
The last items to come out are the sanguches aka sandwiches. They adore their sandwiches in Peru and my favourite ever vegetarian sandwich is a Peruvian invention. This too is also clever with olives, triple cream brie, oregano, salsa criolla and chilli on a toasted bun.
Jamón del País Ham, criolla sauce, pan francés $9
I also enjoy the ham roll with salsa criolla (or pico de gallo), lettuce and chilli on a toasted bun. I also slide some of the pork from Laura's half of the roll (she doesn't eat pork) into the vegetarian bun above and that's also delicious.
There's no dessert but just head out to Marrickville road where there's plenty of choice.
As for José's career change he says, "I'm still passionate about cinematography...my end plan is to be able to be more selective on my projects and just focus on the shoots that drive my passion rather than just agreeing to anything....last year I actually did a campaign for Tourism Peru. By far my favorite shoot filming my country's most beautiful places."
So tell me Dear Reader, have you tried much Peruvian food? Have you ever visited Peru?
This meal was independently paid for.
Pepito's
276 Illawarra Road, Marrickville NSW, 2204
Wed – Sat: 5pm till late
Sun: 12pm to 5pm
pepitos.com.au/