"We had to order because Cheryl was about to eat my hand," Belinda explains as I rush in, half an hour late and extremely apologetic for a dinner date with Belinda and Cheryl. Who knew that I had to leave 75 minutes to get from my house in the east to Strathfield? I was of course vexed by Parramatta Road. Taking a seat and shaking open my yellow napkin I look around at the restaurant that Belinda had booked us into called In Asia. It's enormous with lots of booth seating and is about a quarter full this Tuesday evening.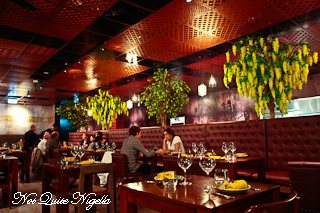 Cocktails and mocktails (for me) are ordered and we flick through the menu. It's quite a large menu consisting of pan Asian meals. The chef is Thai so we expect the Thai offerings to be good and we go veer towards some of the more unusual sounding items. Just as I've caught my breath and settled myself in, the owner comes around to the table (as he does with everyone) to check whether everyone is happy.
My mocktail is a super sweet drink made with lemongrass, kaffir lime,fresh coconut juice and lemon squash. From the first sip, it reminds me of tropical holidays but it's too much on the sweet side and is better once the ice melts into it.
Cheryl is in raptures over the caramelised chicken wings with the delectable sweet and savoury sauce. They're very similar to my mother's chicken wings although she tends to cook them until they almost fall off the bone. We even save the sauce to have with rice we are so smitten with it.
These are good. Light, crunchy and perfectly seasoned albeit without much horseradish flavour, they taste mostly of pork mince breaded and crumbed. There are two sauces, a sweet clear sauce and a salty soy based sauce. The salad that it sits on is perhaps best left behind but the squares themselves are very moreish.
There was actually more wasabi or horseradish flavour in these than the fritters above. They're balls of rice blanketed with lightly seared salmon sashimi with a swirl of avocado cream, roe and spicy mayonnaise. It's like aburi sushi in a slightly different form.
The siu mei are good although I would have preferred more prawn which lends the siu mei a springier texture and these taste mostly of chicken. The roe on top does give it a good salty burst though.
It takes a strong person (or a vegetarian) to resist the words caramelised pork belly and we are glad that we ordered it. Pork belly is hard enough to resist ordering as is but these pork belly cubes are crisp edged and sweet with tamarind sauce. These go surprisingly well with the crispy panko coated boiled eggs with fully cooked yolks.
This was probably the only dish that we didn't really like. My fault entirely as I was intrigued by how different it sounded. The waiter did try and steer us towards the duck but Cheryl doesn't like duck so we ended up with this. It's quite tangy but not quite the balance that we were after.
Perhaps our favourite main, the Korean style barbecued wagyu beef is smokey, juicy and tender and goes well with the crisp grilled pear. I must admit that I like sandwiching the beef into the roti and making up a new dish altogether.
The Massaman curry is slow cooked until very tender and served in large pieces with halved baby potatoes, cashew nuts and a rich, creamy gravy which is just made for the roti.
Service throughout the night is very pleasant and courteous although it is really a matter of having to call for service as we sat for a good half hour with our mains finished before someone cleared them. But once they came over they were unfailingly polite.
A rather funny name the popular popcorn parfait is very pretty (oops there goes another "P"!) and is made up of frosted flakes, popcorn that tastes like sweetened condensed milk, grilled sweet corn and a frozen caramel jersey panna cotta. It's pleasant enough but needs a sauce as it is a little dry with the popcorn and cereal.
Although this looks less spectacular than the popcorn parfait we all preferred the Monkey Snicker which is a glass filled with thick Asian style banana pudding, passion fruit curd, pandan foam, long slices of banana chips, pandan granita and shredded coconut.
And the drive home was just 25 minutes once the traffic had subsided!
So tell me Dear Reader, do you ever combine dishes together to make a new dish while you are dining out? And what's the longest you will drive for a meal?
This meal was independently paid for.
In Asia
81 Concord Road (corner Clermont Avenue), North Strathfield NSW
Tel: +61 2 8765 0778, +61 2 8765 0779
Lunch Wednesday – Sunday 12pm – 3.30pm
Dinner Monday, Tuesday & Wednesday 5pm – 10pm
Thursday, Friday & Saturday 5pm – 10.30pm
Sunday 5pm – 10pm
http://inasia.com.au/