Taste of Shunde is a restaurant that focuses on the regional Chinese cuisine. There are show stopping dishes that you won't see anywhere else in Australia with plenty of seafood, bamboo cooked noodles and fried milk dishes. The star of the show is the spectacular roast goose or the incredible seafood platter that has to be seen to be believed!
Laura and I went to Taste of Shunde in Hurstville for yum cha a few months ago and were so intrigued by Shunde food that we planned a return visit to the restaurant for dinner. Shunde (pronounced shoen-day) is an UNESCO Creative City of Gastronomy. Its food is influenced by its location on Pearl River Delta in Southern China with Guangzhou to the north and Hong Kong to the South. Some consider Shunde to be the birthplace of Cantonese cuisine and in it you'll find plenty of seafood and in particular fish (some say that in Shunde there are 100 ways to eat fish), milk custards and goose. Steaming is a particularly popular method of cooking in Shunde as it preserves the flavour and nutrients of food and this is referred to as "sauna".
For dinner we decided to try the Eastwood location of Taste of Shunde. Laura had texted the number provided and booked us a table. The answers were short one word responses and we didn't actually know if the booking would go through but there we are on a Saturday night walking down a small arcade lined with eateries and sure enough they have our booking. If you eat early you do want to book Dear Reader because Taste of Shunde is heaving. If you don't have a booking I'd recommend going around 8pm when there are some tables available.
It has been a while (2.5 years!) since I ate a restaurant this busy but we plunge into the crowd and take a seat at our table. Taste of Shunde is owned by Sam and Sue Luo. Their daughter Julie works at the Eastwood branch and she is super friendly and lovely and explains that her father is also president of the Shunde association in Sydney too.
We order some tea and look through the menu. It's huge but there are dishes that everyone seems to order. Sue takes our order but clucks at the amount of food we've ordered in a maternal boss lady sort of way. Laura and I explain that we will take things away to be eaten at home which placates her somewhat but when we suggest one more thing, she grabs our menu and says "Enough!"
There are a few dishes with fried milk. I've tried it a few times at Chinese restaurants and I've never been that into it as it has a fairly mild flavour as it just tastes like milk but it's good to order it here so that Laura can try it. The stir fried milk ends up tasting a little like tofu or an egg white omelette with prawns and scallops with pine nuts.
Then comes my favourite dish of the night, the roast goose, definitely one of the best roast goose I've ever eaten. When you peek into the kitchen you can see the uncooked geese on the counter air drying in front of the fan and this step takes out the moisture from the skin and makes it super crispy. The skin is also slightly thicker than duck so you get this resounding crunchiness from each bite. The meat is so flavoursome and the plum sauce that it is served with makes this roast goose absolute perfection. This dish is one of the best things I've eaten this year and this is worth a visit in itself.
Bamboo is often a vessel for steaming or cooking food in China. I've had sticky rice cooked in it in China at the Longji rice terraces but never noodles. The bamboo here is used for steaming noodles with either prawn or chicken and we went with the prawn as we already had the chicken dish below. I don't know how anyone manages to get the vermicelli noodles out of the bamboo without spilling it all over the tablecloth. The noodles are flavoursome with garlic and the prawns well cooked so that they are tender and not dry or overcooked at all.
The chicken with kohlrabi is a dish unveiled at the table. The woman that brings it checks that I am ready with my camera before she cuts open the foil to reveal a platter of chicken with sauce. The chicken is bone in and flavoured with a ginger and rice wine sauce. The chicken is quite bony so if you don't like meat on the bone it might be a challenge to eat with splintery bones but the flavours are good and ideal for having with rice.
There's one dessert on the menu and it's a steamed milk pudding or double skinned milk. Traditionally in Shunde it was made using buffalo milk. We ordered one and it is interesting because the milk isn't sweetened at all and has a slightly grainy texture to it but then Sue passes our table and asks if we would like one and gives us another and this one is silkier, more like a panna cotta.
We start chatting to Julia and she's so friendly and brings us out a treat-it's some custard buns and walnut buns. The walnut buns have a sweet bean paste and walnuts in them and are shaped like brown golf balls while the custard buns are filled with salted egg custard in them. They're absolutely delicious.
We are so enamoured by the food here that after talking to Julia we end up with a list of other dishes to try and truthfully we could never forget about that enormous seafood platter. Another date was made a few weeks after and we had seafood on the mind. This time we had big eater Mr NQN in tow to help us work our way through the seafood platter.
The newer Hurstville branch of the restaurant is quieter at dinner time. While it's a Friday night it's about two thirds full. We flick straight to what we want on the menu and order tea. There are six types of Chinese black tea available in the $2 a head tea and service charge. There are two sets of chopsticks on each setting (one for serving, one for eating) and they bring us some wood ear mushrooms and a delicious soy, onion and chilli sauce.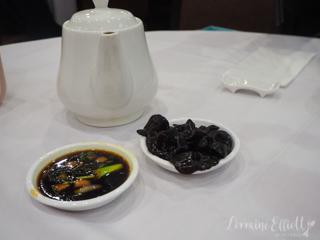 Shortly after we order, the barbecued pork arrives. While it doesn't really look like the picture it's absolutely delicious. I love the thick, flavoursome and aromatic glaze and this has a good amount of fatty pork mixed with lean. It's such a delicious version of char siu that I have to stop myself from filling up on this and even sometime vegetarian Laura tries some of this.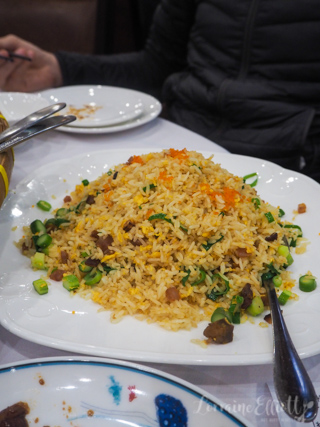 We also ordered some fried rice on Julia's recommendation. It is really tasty with lots of finely diced lup cheong in it and is full of flavour and goes really well with the barbecued pork.
There are two choices with the seafood platter: one with steamed Murray Cod and the other with coral trout. We opt for the Murray Cod which is either $198 with 3 sauces or $238 with 4 sauces. You can also add on other items like abalone, oysters and scallops. We opt for the four sauces which are: ginger & shallot, black bean & olive, red chilli and green peppercorn. The whole platter measures around 60-65 cms in diameter and is quite a sight being set down on the table as staff have to clear the table to make room for it. The bamboo platter is lined with a giant lotus leaf and on top of this is rice noodles and set on top of that is a perfectly steamed Murray cod, prawns and pippies.
The fish is divided into the four sauces and they're all absolutely delicious and distinct from each other but Mr NQN and I adore the green peppercorn fish (and he doesn't even like cooked fish!) and the black bean & olive one while Laura likes all four sauces. The fish is absolutely luscious and perfectly cooked and the clams end up as a tiny cup of clam and sauce. The prawns actually don't taste like a lot because they've got their shell still on. I peel the prawn and dip it in that soy, onion and chilli sauce and it's fantastic. And upon further digging we find the rice noodles at the bottom that have soaked up all of that sauce - these are heavenly. While this is an expensive platter, it's really designed for 3-4 people as being the only thing that they order. Looked upon that way it isn't too expensive. What is interesting is that at the Eastwood branch we saw almost all tables had a seafood platter but here in the Hurstville one we are the only table.
"Oh my god my Spanx just rolled up my leg," says Laura.
So tell me Dear Reader, have you ever tried Shunde food? And would you order the seafood platter?
This meals were independently paid for.
Taste of Shunde
Shop15 A5, A7/1 Lakeside Rd, Eastwood NSW 2122
Open 7 days Monday to Friday 11am–3pm, 5–10pm
Saturday and Sunday 10:30am–3pm, 5–10pm
Phone: 0402 328 982
9-11 Crofts Ave, Hurstville NSW 2220
Open 7 days 10am–3pm, 5:30–10pm
Phone: (02) 8385 9720