Vinh Phat is a popular yum cha restaurant open 7 days a week and serving up yum cha delights from 9am-3pm. They were the first restaurant in Cabramatta to serve yum cha in 1985 and have been at their current location for 8 years. If you venture out on a weekend be prepared to queue to get a table but rumour has it that the yum cha is one of the best and the best value. So what is their yum cha like?
There are two challenges to having yum cha at Vinh Phat. The first is finding a parking spot in busy Cabramatta. To aid in this quest I have outfitted Laura with some lucky feathers (seriously, I swear by them as good luck tokens) and Laura is chanting and visualising a parking post. With these two things in play, by some minor miracle we nab a park in a car park 2 minutes walk from Vinh Phat. That's challenge one completed.
The second challenge is the queue. Laura has to run a quick errand so I offer to get in line first. I'm standing across the road from Vinh Phat and when the cars clear I see the queue snaking around the block. Eek. The texts come fast from Valentina, they're trying to find a park too and yes they did see the queue and would we like to go somewhere else? By then Laura has arrived and joins me in the queue and we discuss our options. Having heard that the best yum cha in the area is here I am persuaded to keep in line but she goes off to find another yum cha place just around the corner and to ascertain the situation there as a plan B. Thankfully the line at Vinh Phat moves quickly and we are halfway up the stairs when Valentina and her family arrives. Before long we are checking in, they are spraying our hands with anti bac and we are sitting down at a table. "45 minute limit," says the lady bringing us pots of tea.
Everyone is ravenous so when they come around with a tray of fried calamari we grab it. The battered calamari is crisp and very tender on the inside.
"I need to be a white girl and get a Coke and some sweet and sour sauce," announced Laura. We are out of luck-they don't do sweet and sour sauce but Cokes and sparkling waters are ordered all round.
Then we try prawn rice paper rolls. These are multi layered and thick and stuffed with prawns inside with a sweet soy sauce on top and they disappear quickly.
I'm sitting near the aisle so that I can pick things out. Next are two types of siu mai, one regular pork and one scallop seafood one. They're both delicious and I am not usually a siu mai lover. The scallop and prawn one is perhaps a little bit better but I'm splitting hairs as they're both excellent.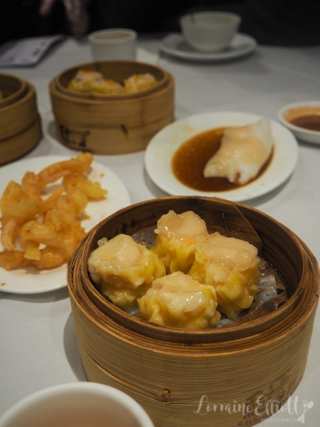 The BBQ pork triangles are also popular. They're sweet with a good amount of char siu pork filling with a nice flaky pastry.
We also get some Chinese greens that are perfectly cooked with a good crunch and a judicious amount of oyster sauce.
One of my favourite are the taro footballs with the wispy threads on the outside. They're deliciously saucy on the inside and one of my favourites of the day.
I also like the ham siu gok, the deep fried sticky rice footballs. They're a textural thing for me and I love the sticky texture of the outside and the crispiness from the deep frying. Valentina's son Will isn't so sure as he doesn't like them for this very reason.
The spring rolls are deliciously crisp and overall the deep fried goodies are very tasty. We did try and order more steamed dumplings because that's our preference but they don't seem to be coming around which is one of Mr NQN's main complaints about yum cha (and is why he is windsurfing instead of joining us today). And to me, the variety and freshness are two things that will set a yum cha restaurant apart.
Katie has brought along her boyfriend Sam along who has moved from Queensland and this is his first yum cha experience ever. While we were queuing the topic of chicken's feet came up and Sam said that he was keen to give everything a go including chicken's feet. This is also Katie's first time so they start nibbling. You basically take a bite of the chicken's feet which is very soft and cartilaginous with a lot of skin. It is very soft so you can remove the meat from the bones and then spit the bones out. To everyone's surprise they both like them and go for seconds.
We manage to flag down some prawn har gows and order two steamers of these. These are good and packed with prawns.
"If you want more tea you do this," says the gruff lady when Valentina asks for more tea. You take the lid off the teapot and tilt it. My bad, I should have explained that to her.
Our favourite item EVER is the prawn filled doughnut rice paper roll which we don't know what is called officially and when they ask us if there are any special orders we don't know how to explain it. Then Laura remembers that I told her to save a photo on her phone and we show it to them. We love these so much we're almost tempted to get three of them. Holy heavens they're good. This is a textural thing. Inside is seasoned, prawn mince inside a Chinese donut and this is wrapped in rice flour wraps. HEAVEN. If you haven't ever tried this at yum cha, you must.
We're very full by now and nobody has much of an appetite for wobbly striped jelly or mango pudding or pancakes but Laura likes to conclude her meals with egg tarts so we get some plates to share. These are not very sweet at all and I do prefer them sweeter. And Sam having his first bite of them says, "Christ! It's like scrambled eggs!".
One point to chicken's feet, zero to the egg tarts.
And the bill? It's $23 a person which goes to prove why yum cha is always better in a group than as a couple.
So tell me Dear Reader, do you ever change your mind about eating at a place or do you like to keep to your plans? Are you yay or nay to egg tarts?
This meal was independently paid for.
Vinh Phat
12/10 Hughes St, Cabramatta NSW 2166
Open 7 days 9am–3pm, 5–10pm
Tel: (02) 9726 2720