If you're looking for a new yum cha place then make the trip to The Panda Yum Cha at Macquarie Centre. You'll find the usual yum cha classics in an unusually gorgeous setting. Is it worth the wait? Find out how you can avoid the 1.5 hour wait!
There was an intense back and forth between Laura and I about the time in which to go to Panda Yum cha. We had originally planned to leave around 12:30pm and get there at 1:30pm but since it closes at 2:30pm we didn't want to miss out on any goodies. So a plan was made to leave at 11am instead which would get us there at noon.
It's been a good many years since we visited Macquarie Centre and The Panda Yum Cha is located slightly outside main Macquarie Centre building off the car park on Level 3. As we reach there we see only half a dozen people milling outside. "Ooh that's a good sign," we whisper to each other hoping that we're early enough. We overhear the woman telling people checking in "one and a half hours" and we assume that she means that there's a 1.5 hour time limit. But no, that's the wait for a table. I punch in my details into the keypad and they tell us that they will text us when a table is ready. You can also bypass the whole booking drama by booking ahead of time on their website as The Panda is one of the few yum cha restaurants that take bookings.
Laura and I do some shopping and she's in the middle of trying on a dress when we get the text an hour later. I hit the button to confirm and we haul ass back to the restaurant as they only hold the table for 5 minutes. Inside the restaurant is gorgeous, it's spacious with a moon and clouds theme that sounds odd but somehow works.
There's no trolley service as such perhaps because of COVID-19 and instead we place our order online. There's the regular dumpling offerings as well as the restaurant's main offerings of more substantial dishes. Service is efficient if not overly friendly but hey it's a Chinese restaurant during yum cha hour so it is what it is.
The taro footballs are one of the first to arrive. They're tasty and feather light and crisp on the outside with a thick taro filling and mince on the inside but alas on the cold side. I wish we had asked for these to be put in the oven to warm them up. We take the leftovers home and then reheat them in the oven later that evening and they're much tastier that way.
We start with the first few dumplings put down. The spinach and prawn dumplings are such garlicky crowd pleasers with what feels like a healthy start with all of that spinach inside them.
We segue into the steamed prawn dumplings (Mr NQN's favourite but alas he isn't here). They're good and tasty although we end up preferring some of the other seafood dumplings over this.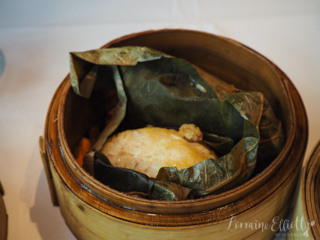 The steamed glutinous rice comes as two wrapped parcels. They are freshly steamed and piping hot with a tasty combination of mince and Lup Cheong or Chinese pork sausage inside.
Another favourite dish is the stir fried radish cake. I adore radish, turnip and taro cakes as they remind me of Singapore and Laura hasn't tried these before so we ordered the radish cake as that came stir fried with XO sauce which we both love. The radish cake has slightly crispy edges with crunchy bean sprouts and the XO sauce seasons them well.
The scallop dumplings are fat and plump and filled with scallop inside a sticky rice flour exterior.
The seafood dumplings are fine although they're quite fishy in flavour so I don't have more than a bite of these. I don't think I'd order these again.
These are my favourite dumplings - I adore the sticky mochi type texture and they're so crisp on the outside as they're fried fresh. There are advantages to ordering from a menu as often when it comes around on a trolley it isn't as crisp as it has been deep fried some time prior.
We didn't overly love the fried stuffed steamed eggplant as it was quite bland. Although there was a sauce on it it really didn't add a lot and there wasn't much flavour to this dish.
I'm glad that we checked if all of the dishes had arrived because while most things arrived at once there was one steamer missing. It is also our favourite dumpling of the day, a steamed prawn dumpling with dehydrated grated carrot on top. It's a touch sweet with pleasingly textured prawns inside and coriander. Absolutely delicious.
It's dessert time! Laura usually loves egg custard tarts but I only like them if the pastry is super flakey so in lieu of quizzing the busy staff we opt for choices we both like. The panda buns were ordered more for the look. They're very cute steamed buns filled with a sweet black sesame filling.
The black sesame ball is a crisp, perfect orb coated in white and black sesame seeds. Pulling it apart it's a gelatinous glutinous rice flour beauty so sticky in texture with a delicious sweet black sesame filling. 10 out of 10 for these!
So tell me Dear Reader, do you notice if you don't receive a dish? Do you usually stick to dumplings at yum cha or do you order the bigger dinner style items?
This meal was independently paid for.
The Panda Yum Cha
Shop 3390/55-61 Talavera Rd, Macquarie Park NSW 2113
Hours: Wednesday to Monday 11am–2:30pm, 5:30–8:30pm
Saturday and Sunday 10:30am–2:30pm
pandayumcha.com
Phone: 0477 290 677