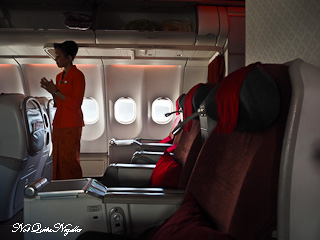 The trip to the airport is usually prefaced with scrambling around in our apartment. Last minute forgotten items are quickly retrieved, doors locked and then promptly opened again as things like chargers are remembered. Mr NQN drops me at Sydney International Airport at 7am and I check in for my flight with Garuda airlines.
Business class check in is smooth and I'm handed the boarding and express queue passes. As I am on a media ticket I don't have lounge access - this is usually with Qantas. At the end of the Garuda check in desk is a queue for passengers to prepay their Indonesian visas. Garuda has an unique service on selected routes called "Immigration on Board" where if you have prepaid for the visa, they check you through while up in the air so that you bypass the long queues at Denpasar or Jakarta airport.
The plane we are flying on is an A330-200, a small plane with a two section business class cabin. My seat is 8C on the last row of the front section with 18 seats. The seats are 53cms wide and have a wide 74inch pitch. The 777 Boeing business class seats have in flight wifi but a smaller seat pitch at 43inches. Service is friendly. They offer us blankets, newspapers and drinks are brought around. I take a glass of Billecart Salmon Rose champagne.
The amenity kits are handed out along with menus. A four course lunch is served today with a choice of beef, fish or pasta. I take a peek at the amenity kit. It is by L'Occitane and features socks, brush eye-mask, toothbrush, toothpaste, ear plugs, face cream, lotion, lip balm, cleansing cloth and an eau de toilette.
Take off is smooth and given the early hour most other passengers fall asleep. I recline my chair and do some work and they take our orders for the meals (the pasta option isn't available). We start with some canapes: a marinated vegetable skewer and a mango salad cup. There's also a bowl of cashews, wasabi peas and yellow split peas.
Our appetiser comes next along with my drink order and it's a some slices of tandoori chicken and a coconut crusted prawn with some minted yogurt on the side. Warm crusty rolls come out and these are good and I slather some butter on one. It's funny how accustomed your stomach gets to the idea of lunch once it is laid out in front of you.
Indonesian beef Semur
The beef is a popular choice and unfortunately my seat mate misses out as she was sleeping when orders were taken (the other choice is steamed snapper fillet in saffron sauce and lemon veloute). The beef Semur comes as chunks of saucy beef, chilli and rice and it's quite good. The sauce is a sweet, soy based sauce and the rice, usually not great in flight actually isn't sodden and overcooked.
Dessert is a choice of cheese or an individual lemon tart and fruit. I go for the cheese and there is a cheddar, brie and blue cheese and some crackers. I would have loved some fruit to go along with this. Tea is offered and gratefully accepted along with a delicious chocolate truffle.
It's a 6 hour flight so there's just a bit of time to check out the entertainment. I watch The Descendants and fall asleep reclining the bed.
I'm awoken 2.5 hours prior to departure. A flight attendant and an immigration officer come past with a trolley. He takes my passport and forms and I am returned the passport along with an orange card that I am told to hand in at the airport.
I sit up and read my book and they offer me a hot towel and a tub of ice cream, Serendipity "Death by chocolate" and a drink. The six hours has passed very quickly and I change into my warm weather clothes before we land ready for my Bali adventure-stay tuned Dear Reader!
So tell me Dear Reader, do you change into clothes for the destination before you land? And what do you think of the Immigration on Board idea?
NQN tested the flight as a guest of Garuda Airlines
Garuda Airlines
https://www.garuda-indonesia.com/au/en/index.page