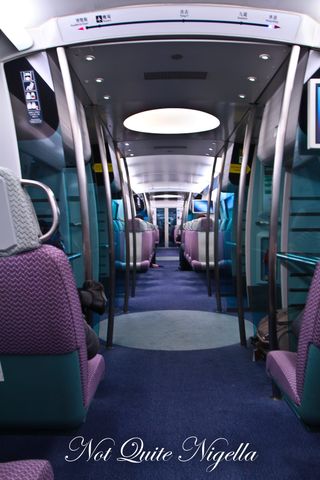 How do you usually get to the airport? I guess it depends on the city that you are in and the proximity of the airport to where you are staying as well as the cost of taxis versus public transport routes. And if you have lots of bags, then sometimes it is a sanity saving measure to hop in a taxi rather than wrangle multiple or heavy bags onto a train. At Hong Kong Central Airport Express Station, you can self check in your baggage all the way to the plane (and your subsequent destination) so all you need to do is carry on whatever you don't want to check through. The train, which many locals swear by to get to the airport, is clean and fast and it doesn't take long to arrive at the airport.
We're boarding the Virgin Atlantic VS200 flight which leaves Hong Kong at 7:20pm and we have access to the Virgin Business Class lounge. There is a small buffet with sandwiches as well as a menu that offers a la carte options.
Chicken Laksa
The chicken laksa is probably not going to fall into the category of traditional laksa but the spicy noodles, okra, egg, fried shallots and quartered boiled egg still hits the spot with Mr NQN.
Chicken vermicelli salad
At first I had to do a double take. There wasn't much chicken at all in this chicken salad and I much preferred Mr NQN's choice.
Champagne in coupe glass and in flight pyjamas
Before we know it, the flight is being called. Boarding through a business class queue is quick. They quickly hand out the sleep suits or pyjamas which are a long sleeved top and bottoms in black fleece. They're comfortable and come in their own little pouch. I don't know if you're meant to reuse them but we still sleep in these at home! The only criticism is that the pants could come with some elastic in the waistband. Otherwise they're nice and warm for in flight PJs, especially since some flights are Arctic cold.
The food comes out quickly so that people can sleep which helps given the early hour at which we will land. The appetiser is a grilled zucchini, bocconici and tomato skewer. It's nice enough but I preferred the other one with pesto which gave it more flavour.
Although perhaps not the best presentation, the prawns were succulent and the mushrooms and cubes of tofu full of flavour.
I tend to really like soups on flights as I get dehydrated and the clear soup is flavoursome and warming.
Mr NQN's filled pasta was really quite good. I recalled the pasta dish in the Sydney to Hong Kong route also being good and I think that's possibly why they always seem to run out of the pasta (I heard some people behind us being told that they were out of it). The vegetables are perfectly cooked and the sauce was just right and large filled pasta pillows like this seems to translate well onto planes.
I have to admit that I found this dish a little strange. The prawns had a sweet, fruity glazed sauce on top of them and some shredded vegetable noodles and rice. Rice doesn't seem to go so well on flights and this dish left me wanting some of Mr NQN's pasta selection.
I have a bit of an obsession with two things on planes: Virgin Marys (to clear blocked sinuses) and cheese and crackers. I'm not sure why I like the latter and cheese is often too cold on planes. The crackers could be crisper and the cheese closer to room temperature.
I don't eat cheesecake often but when I do see it on a menu, I go for it. This had a mango sauce with it and a nice thin crust to it. The cheesecake was light with a little bit of tang.
And how much did I enjoy sleeping in the pyjamas? Enough to sleep through breakfast apparently! ;)
So tell me Dear Reader, how do you usually get to the airport? By taxi or by train or car?
NQN and Mr NQN tested out the flight as guests of Virgin
Virgin Atlantic Airways
www.virgin-atlantic.com