These recipes are brought to you by Sunbeam
While growing up I always considered my parents to be strict. They certainly were when you compared them to my Australian friends' parents. But then one Christmas we visited my cousins in Singapore and I realised that compared to them, my parents were free wheeling hippies.
My relative had three boys. Each child received one m&m a day if they were good. Our eyes widened. "Just one m&m?" we said gulping deeply. We looked around hoping that our parents didn't overhear this ghastly idea. Nevertheless, dessert at our house was fruit and rarely cake. I remember my mother baked cheesecake once and there was on occasion a steamed brown sugar cake but this was rare.
Which probably explains my obsession with the stuff. And I'll happily admit that icing or frosting is one of my favourite parts (which probably explains my obsession with cupcakes but not muffins - a muffin is just a nekkid cupcake). The people at Sunbeam asked me to share with you my seven favourite frosting recipes, a post that I have been itching to do for some time.
Keen bakers will know that it's great to have a mixer (high end or budget) in their kitchen. I have two bench top mixers that sit on my countertop permanently. All of these recipes are made using their new planetary Mixmaster® bench top mixer, manufactured since 1948. The mixer comes with four head attachments including a whisk, dough hook, beater and the very nifty Scrapemaster™ beater. Hand held mixers are fine for light mixing but bench top mixers are sturdier and can mix for a longer time, particularly with heavy bread or bagel doughs.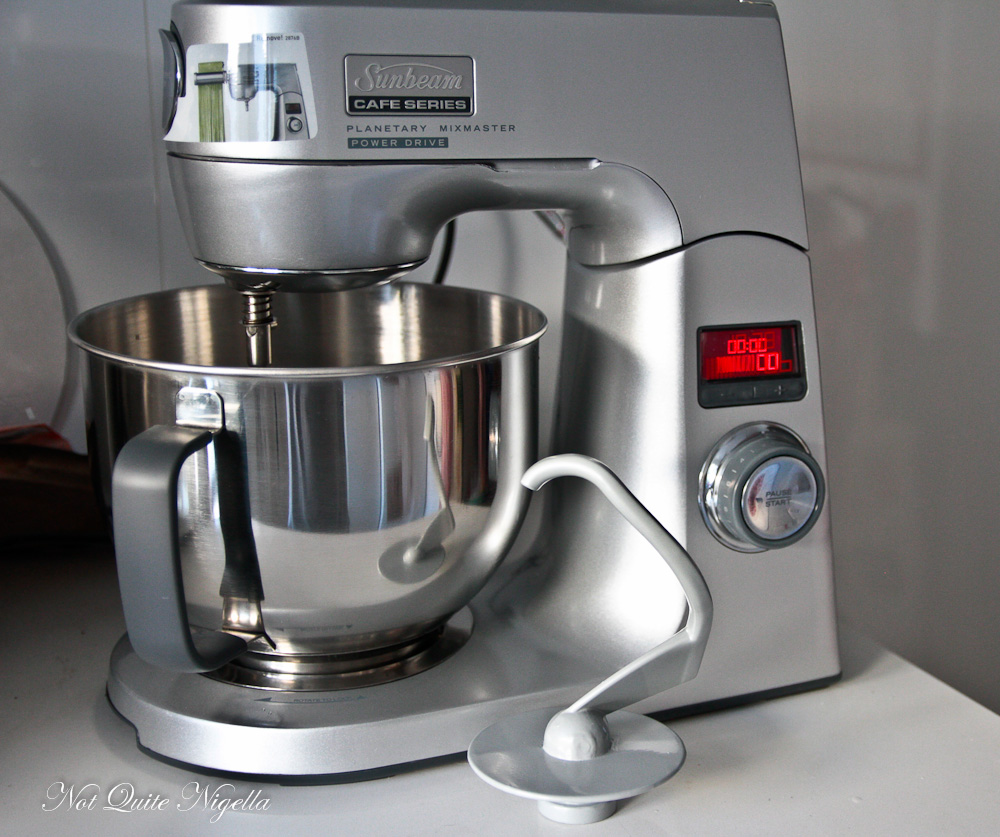 There are lots of bench mixers on the market at the moment so Sunbeam also developed 7 measures of mixing - 7 tests every good mixer should be able to achieve.
Whisking & Aerating: using a whisk attachment, whisk 2 egg whites to stiff peaks in less than 2 minutes
Mixing: using a scraper beater, combine wet & dry ingredients to produce a smooth, consistent mixture; result required in 2:30
Creaming: cream butter and sugar to be light & fluffy in under 7 minutes
Kneading: knead wet & dry ingredients evenly into a smooth soft ball of dough in 5 minutes
Cookie dough: combine wet & dry ingredients into a consistent mixture in 2 minutes with limited head movement
Stability & heavy loads: remains within its footprint on the bench top and limited head movement whilst mixing heavy loads
Ease of use: easy and intuitive to use
All of the following seven frosting recipes use at least one of these measures and are truly some of my favourite frosting recipes ever. There is a dairy free coconut frosting that is somewhat of a miracle (I'm not kidding, I promise) and the easiest two ingredient chocolate buttercream. I've also included a recipe for the best tasting home made ready to roll fondant there is as well as a berry swirled marshmallow frosting, a salted caramel buttercream, royal icing with a twist for when you've run out of eggs and a delectable eat-by-the-spoonful peanut butter and chocolate cup frosting.
So tell me Dear Reader, are you a frosting person? Growing up what was dessert at your house? Do you think it influenced how you eat today?
1. Whisking & Aerating
DID YOU MAKE THIS RECIPE? Share your creations by tagging @notquitenigella on Instagram with the hashtag #notquitenigella
"Have Faith" Coconut Frosting (Dairy Free)
An Original Recipe by Not Quite Nigella
This frosting puts the mixer to the test and was one of my favourite frostings of the seven. If you've ever used a hand held mixer, you'll know that running it at full power 10 minutes is just beyond the capabilities of most as they can easily overheat and break down so don't try this with a hand held mixer or you'll get mad at me if it breaks down.
This frosting goes to prove that those that can't eat dairy aren't the poor cousins sitting at the kiddies table. They too can have an incredibly delicious frosting. I call this the "Have Faith" frosting because quite honestly I thought that this would be a waste of time until the very last minute when it came together. You can make it with dairy by subbing all purpose flour for coconut flour, milk for coconut cream and butter for coconut oil.
4 tablespoons coconut flour
1 cup coconut cream
1 cup virgin coconut oil, melted
1 cup sugar (I used caster or superfine but by all means use coconut sugar if you want to keep to the theme)
Step 1 - In a small saucepan cook the coconut flour and coconut cream on medium heat until it forms a grainy mix. It only takes a couple of minutes. Remove from heat and cool completely.
"Lorraine, where are you taking us?" I hear you say. "Hush sweet darlin', trust me," I answer putting my finger to your lips.
Step 2 - Place the coconut oil and sugar in a mixer and fit it with the whisk attachment. Whisk for 1 minute to combine, then stop and add the cooked but cooled flour mixture. Whisk on high for anywhere between 7-12 minutes. It will look semi translucent and like it just won't come together at all. But sometime during this time, it will become white, fluffy and gorgeous! Have faith!
Marshmallow Boysenberry Swirl Frosting
An Original Recipe by Not Quite Nigella
This is a fabulous frosting for cupcakes and cakes alike (actually come to think of it, what else would you frost? Don't answer that ;)). I know that making a syrup and using a sugar thermometer can seem intimidating but my sugar thermometer was one of my best purchases. If anything it takes out the guessing of trying to figure out when sugar is ready-and trust me it's not like you can stick your finger in it. I like adding fruit swirls to marshmallow and your favourite jam flavour is ideal for this.
1 cup caster or superfine sugar
1 cup water
4 egg whites (about 120g/4ozs)
pinch of cream of tartar
2 tablespoons boysenberry or your favourite jam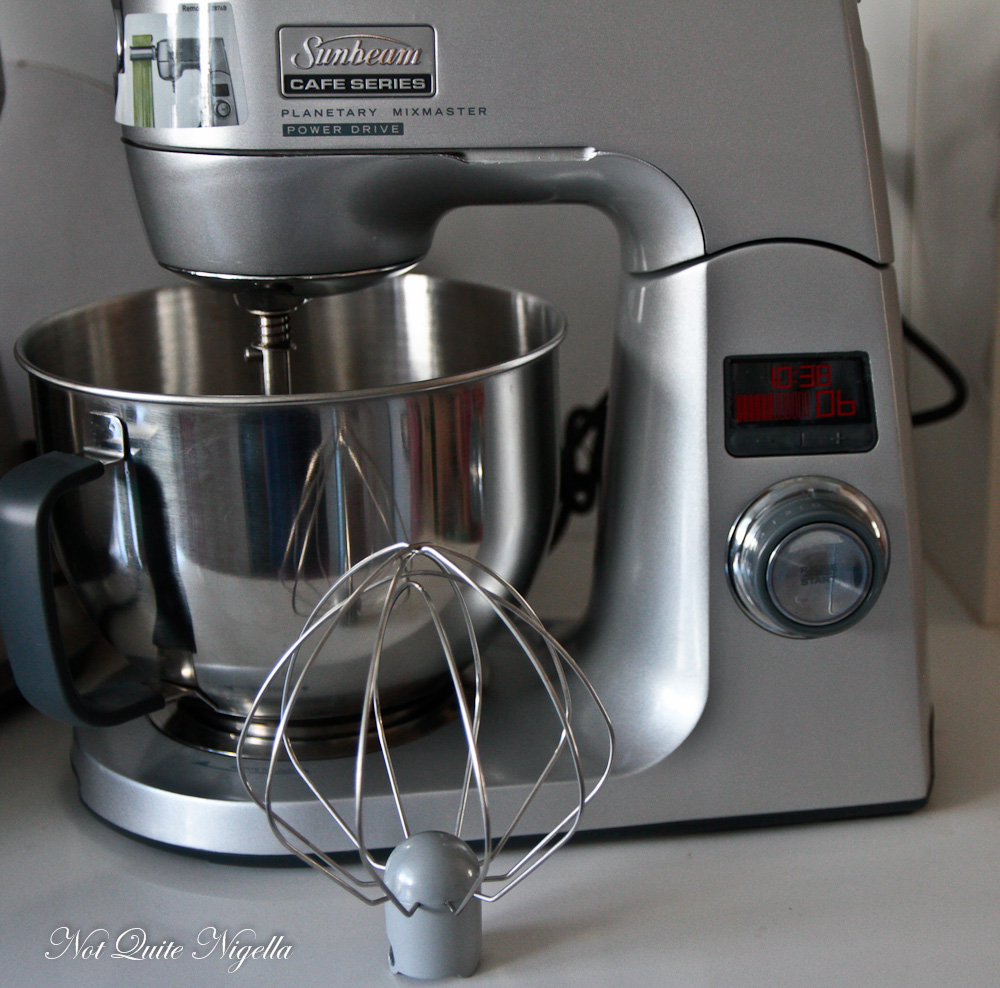 Step 1 - Add the egg whites and cream of tartar to the mixer bowl and fit it with the whisk attachment. Then place the sugar and water in a small saucepan and without stirring, make a syrup. Place a sugar thermometer in the pan and simmer rapidly until it reaches the "thread" stage at 114C/238F.
Step 2 - When it looks as though it is getting close, whisk the eggs on the highest setting until you get soft peaks. Then when the sugar syrup reaches the correct temperature carefully add it to the egg whites whisking until it becomes thick and stiff. Stir through the jam. Pipe or spread onto a cake.
Salted Caramel Buttercream
I originally used this to fill in salted caramel macarons but this is just as good on top of a cake as hiding away sandwiched inside a macaron. And I don't know why but the Dirty Dancing quote "Nobody puts baby in the corner," came to mind at that point. This does require making a caramel but apart from that it's really quite easy. You can make the salted caramel ahead of time and put it in the fridge until you're ready to add the butter. Just don't eat it first.
150g/5ozs. caster or superfine sugar
1 cup cream, heated
1-2 teaspoons salt (or to taste)
150g/5ozs. butter, softened and cut into cubes
Step 1 - In a heavy based saucepan, place the sugar and heat this on medium to high until it turns into a caramel shade (watch it carefully). Remove from heat and add the cream - it will bubble up. Put back on the heat and take a spatula and ensure that any hard caramelised bits melt. Cool to 45C/113F and add the cubes of butter and salt and stir until smooth. Refrigerate until set.
Step 2 - Fit the mixer with the whisk attachment and whisk the mixture until fluffy and smooth.
2. Mixing
Royal Icing
An Original Recipe by Not Quite Nigella
Royal icing is the queen of icings for cake and cookie decorating. I always tend to have eggs in the fridge but sometimes I run low on them and I can either put the eggs in the cake or the frosting. But did you know that if you have one of those pavlova eggs with meringue mix inside you can use that instead of eggs? I know right? And here I was thinking that those eggs were a bit silly and outdated...
2 tablespoons of Pavlova Magic or meringue powder
3 tablespoons water
225g/8ozs. icing or confectioners sugar, sifted
Step 1 - Place the meringue powder and water in the bowl of a mixer and fit it with the Scrapemaster™ spatula beater attachment. Beat until foamy - a minute or two should do.
Step 2 - Add three quarters of the icing sugar into the bowl and beat the mixture. Check the consistency-add more water or sugar if necessary depending on whether you want the royal icing to draw outlines or fill in the outlines. Always keep royal icing covered as it dries out very easily.
3. Creaming
Easy 2 Ingredient Chocolate Buttercream
Adapted from Cookies & Cups
You're either going to kiss me or curse me because this is such an easy recipe to make chocolate buttercream. It is either a good thing or bad thing depending on how much self control you have (I have none). I usually make frosting or icing after I bake a cake but in this case, I suggest that you make it first and then have it set and then all you have to do is beat it together after the cake has baked. And needless to say, like all frostings, it's fraught with danger should you ever calculate the calories.
225g/2 sticks butter
1 cup chocolate chips
Step 1 - Melt the butter and chocolate in a saucepan on medium heat. Stir to make sure that there are no lumps of chocolate. Set aside at room temperature or if the weather is hot, place in the fridge to firm up. Don't worry that the butter floats to the top.
Step 2 - Scoop the mixture into the bowl of the mixer and fit it with the Scrapemaster™ spatula beater attachment. Beat until light and fluffy.
4. Kneading
Delicious Home-made Fondant Icing
An Original Recipe by Not Quite Nigella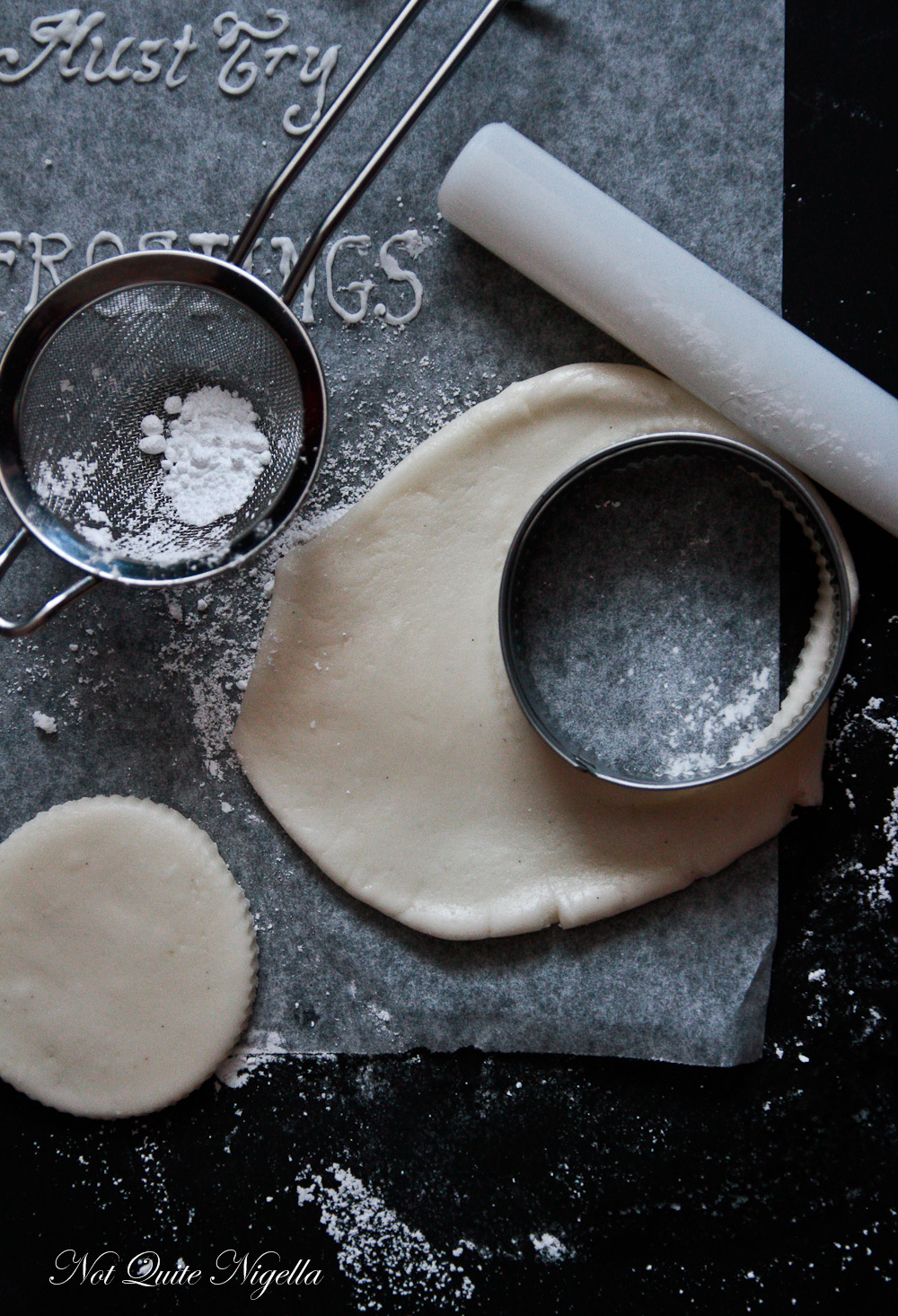 Whenever I hand someone a cupcake covered in fondant the first reaction is to remark that they think it's cute and then they peel off the fondant and throw it away. Store bought ready to roll fondant is pretty average stuff. This however is not. It has flavour and rolls like a dream. I'm not going to claim to always make this from scratch - sometimes the last thing you want to be doing when faced with daunting cake decorating task is to make fondant but try this once at least so that you can try a fondant that actually tastes good.
1/2 cup milk
3 tablespoons gelatine powder
1 cup corn glucose or corn syrup
2 tablespoons butter
1 tablespoon vanilla extract
3 teaspoons vegetable oil plus extra to grease cling film
1.6kgs icing or confectioner's sugar
Gelatine sprinkled on top of milk
Once melted, it turns liquid
Step 1 - Place the milk in a wide bowl. Sprinkle the gelatine over the milk until the surface wrinkles. Microwave the milk and gelatine mix until it turns clear (I do it in 30 second bursts on 50% power). Set aside. In a large glass jug, measure the corn or glucose syrup, butter and vanilla and microwave this for 1-2 minutes until it foams and bubbles. Stir in the gelatine milk and set the whole mixture aside to cool to lukewarm temperature.
Step 2 - Place half the icing or confectioners in the mixing bowl and fit it with the dough hook. Add the lukewarm mixture to the bowl and knead adding more icing sugar until you get a good consistency.
Step 3 - Brush some oil on a large sheet of cling film. Scoop the mixture onto the greased cling film. Don't worry it won't come together quite yet and needs to rest. Cover the fondant up tightly and then rest overnight. It will then be ready to roll.
5. Cookie Dough
Peanut Butter and Chocolate Cup Frosting
An Original Recipe by Not Quite Nigella
I'm pretty sure that there must be a branch of modern poetry devoted to the pairing of peanut butter and chocolate. Have you noticed that whenever you bring it up as a combo everyone says how much they like it? (Well except for those allergic to nuts). This frosting is seriously good and rich - and like peanut butter you can eat it by the spoonful.
1 cup peanut butter (crunchy or smooth)
3/4 cup icing or confectioners sugar, sifted
1/2 cup/113g/1 stick butter, softened
6-8 Reese's peanut butter cups, chopped
Step 1 - Place the peanut butter, icing sugar and butter in the bowl of an electric mixer and fit it with the Scrapemaster™ spatula beater attachment. Beat until light and fluffy.