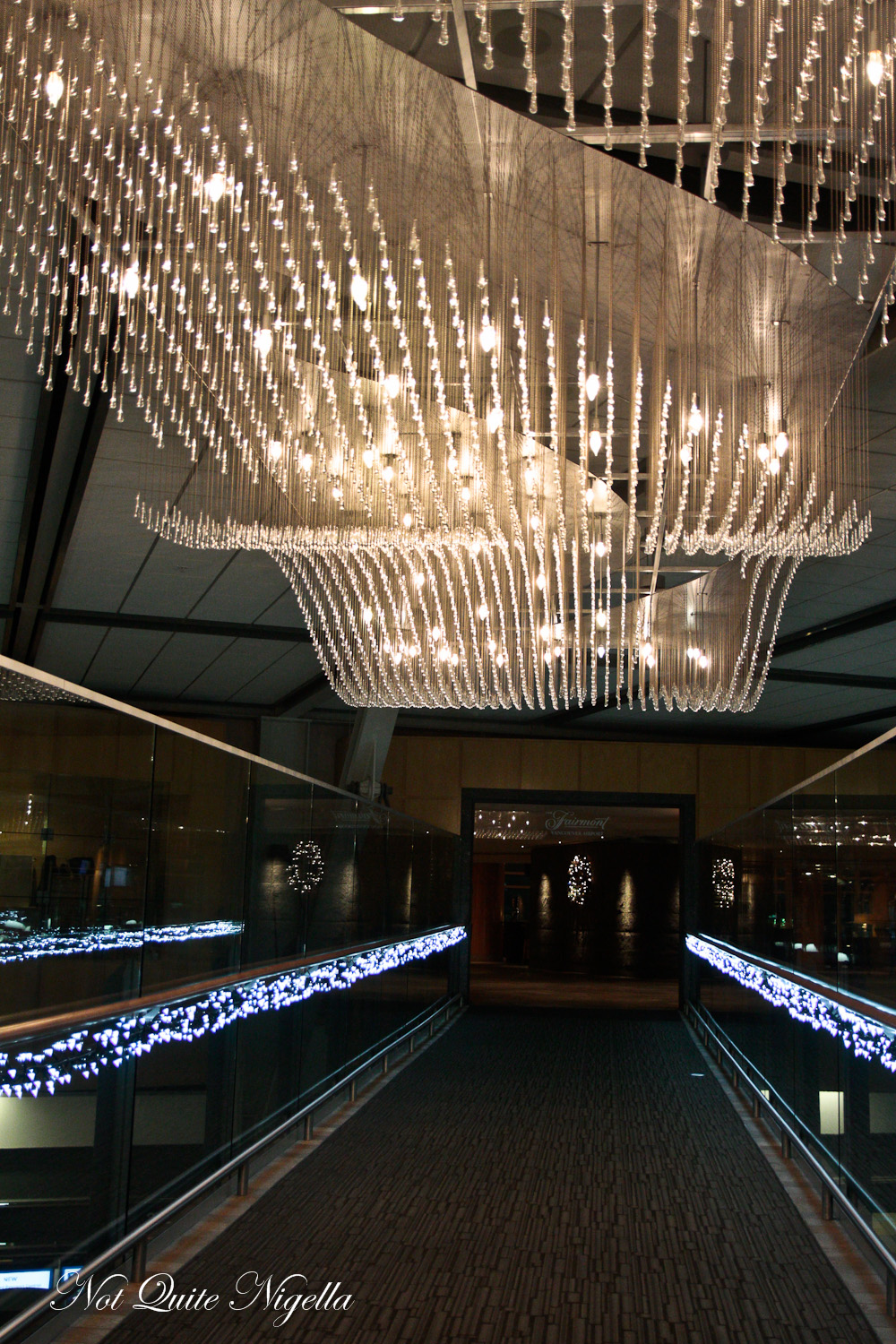 Everyone has their favourite hotel chains and for me when visiting Canada, the Fairmont is one of them, particularly the gold floors which are like a first class hotel within a hotel. But in Vancouver the Fairmont Hotel has something even more special. The hotel is located right within the Vancouver airport terminal.
Not near, behind or in front but right in the terminal so that when you look out your window, planes taxi past and the busy airport morning unfolds right in front of your very eyes. You don't need to leave the hotel airport terminal in the Winter to get to your hotel. All you is collect your bags, walk to the end of the terminal and go up the elevator to the 4th floor and check in or the 14th floor if you're staying on the gold floors.
When I check in on the 14th floor I'm greeted with a friendly smile and they tell me about the daily breakfast in the lounge. Every evening from 5pm the lounge has canapes and there is a dessert service between 8-9pm as well as refreshments during the day (alcoholic beverages are extra).
View from the room
I make my way to the room which is number #1411 and I'm gobsmacked by the view. I can imagine how much aviation enthusiasts like my friend Freaky Flier would love this as you can pull up a chair and watch planes come and go all day. Despite the close proximity of the planes, the rooms are completely quiet. Not only are they double glazed but there is an additional layer of argon gas between the glass panels for further sound proofing.
The room has extremely comfortable beds - I like the Fairmont beds so much that I tried to buy one. Alas shipping was $3,000 due to the weight and distance which almost matched the cost of the bed itself. The air conditioning is excellent keeping the room to the temperature set without blowing too hard or being noisy.
Next to the bed is a pair of bincoulars and a control panel that allows you to control temperature, lighting and everything else in the room. The mini bar has a good selection of items.
The marble bathroom features a large separate bathtub that opens out onto the rest of the room with a sliding privacy screen. The amenities are by New York based brand Le Labo personalised for The Fairmont - the gorgeous scent is Rose 31. There is shampoo, conditioner, body lotion, body wash, shower cap, nail file, shoe shine, cotton buds and tips.
There's a knock at the door and it's housekeeping to do a turndown. She addresses me by name which is always nice and personalised and proceeds to turn down the room while wearing gloves, leaving me two bottles of water by the bed. For a late night snack, there are two delicious chocolate dipped shortbread in a plane shape and two squares of chocolate. This is not an ordinary airport hotel.
I wander into the lounge for a drink and there's a range of canapes laid out including fresh smoked salmon and crab meat cups as well and cheese and crackers. I ask for a hot honey and lemon drink and they bring it straight away along with an offer if I ever need any more honey or lemon to ask. The honey is actually produced by The Fairmont with hives nearby and at the Fairmont Waterfront.
Later when I come back from dinner, the same lounge staff member Amanda asks me how I'm feeling and offers to bring me more lemon and honey which I gratefully accept. I have been having a terrible sleep while on this trip with one sleepless night followed by a night when I can't wake up which I'm sure contributed to my chest infection.
So when I slide my feet into the bed's smooth sheets and fall asleep, it's for a Rumplestiltskin-like slumber of 14 hours. I've completely missed breakfast in the lounge but come 4pm I make my way down to the main room to have an afternoon tea. I'm grateful that they have extended my checkout to 8:30pm as my flight is leaving at 11:20pm and this allows me time to shake off my groggy state and shower before the long flight back to Sydney. They also allow day rates if you fly in early and leave late at night.
The Mistletoe afternoon tea (I visited in December) is held in the Globe Lounge where there is a roaring fire crackling away. I choose a tea from their thirteen strong list. I've selected the Jetsetter which is a low caffeine black tea grown in the Himalayan Foothills. It's designed to help with jetlag and is described as "lightly astringent with a malty character." For $12 extra you can add on a glass of sparkling wine, Bellini or a Mimosa.
They bring out the three tier stand and we start at the bottom with the sandwiches. There's a smoked salmon, cucumber and horseradish on a lovely dark rye bread. The house smoked turkey, cranberry mayo and cranberry loaf is also a favourite - I've never tried cranberry bread before but it's delicious and really adds flavour and moistness to the bread without verging into super sweet raisin bread territory. The only sandwich I didn't go for was the cinnamon pear, apple and candied pecan with the Fairmont Vancouver Airport honey butter on sourdough bread. The slices of pear and apple were thin and didn't quite stand up to the thick, dry bread.
There were two cinnamon, raisin and pumpkin seed scones per person with clotted cream from Devon and strawberry jam. The pumpkin seeds lend the scones and additional texture and I find myself getting full by this stage.
Onto the sweets (which of course is a separate stomach! ;)). I pick up the chocolate pistachio cone. It is thickly dipped in chocolate and crunchy with pistachios. I don't really go for the duck eggnog and nutmeg cheesecake but the spiced fruit cake is aromatic and toothsome and the spiced pumpkin tart is delicious and fragrant with pumpkin pie spices.
I go back up to my room and shower and pack up. I wait in the club lounge with one final hot drink, hoping that the excess of honey and lemon will stave off too much coughing as I know how irritating that can be to other passengers on a flight. Amanda in the lounge comes over to ask me how I am feeling. She sweetly offers to put together a package of Fairmont herbal teas all with different properties to help get me through the flight. She brings these over wrapped up with Christmas ribbon. I gratefully accept them and I feel ready for the long flight home.
There's another little surprise waiting for me and that is the Airport Butler service that meets me in the lobby of the Fairmont. My butler takes my bags and whisks me through the queues. It's a popular service, particularly when people arrive in large family groups and need expedited help through queues with children, or for those with a non English speaking background or older parents that may need a bit of assistance at the airport.
And with that short journey to the airport downstairs, I'm ready for my flight home!
So tell me Dear Reader, do you ever stay at airport hotels? Do you like to watch the planes come and go? And would you ever use an airport butler service for either yourself or a family member?
NQN stayed as a guest of the Fairmont Vancouver Airport and travelled to Canada as a guest of the Canadian Tourism Commission and Tourism Richmond.
Fairmont Vancouver Airport
Vancouver International Airport
3111 Grant McConachie Way
Vancouver British Columbia, Canada
V7B 0A6
http://www.fairmont.com/vancouver-airport-richmond/
Airport Butler
http://www.airportbutler.com/