I have a recurring dream and it goes like this. I am my adult size (which admittedly isn't very tall) and I'm on a child's first tricycle. In my dream it's out of control and I find myself screeching around the corner, flying over giant cracks in the pavement and going down stairs my head bobbing uncontrollably. It's a mortal fear of bike riding. I realise it's not normal and that millions, probably billions can ride a bike but it's a fear of mine. It wasn't helped by an ex boyfriend teaching me how to ride a bike in a concrete car park where I fell off  and received a giant scar on my chin. And I never rode again until Mr NQN (who rides to work) convinced me to ride on the back of a tandem bike. So when I receive the itinerary telling me that I'm booked to ride a bike around Stanley Park I'm full of trepidation. But first things first-breakfast! Mr NQN and I head off to Cafe Medina on Beatty Street in Vancouver.
Waffle porn. I wonder if anyone pinches one?
Lavender Latte
The lavender latte is delicious and distinct with the lavender flavour, tasting of dried lavender flowers. It's also slightly sweetened so that it doesn't need any sugar.
Moroccan
Mr NQN chooses a very intriguing breakfast cocktail containing blood orange juice and sumac. Not bad at all!
Waffles
The waffles are made fresh daily on the premises and the tempting display near the window excites me (you know I get excited about food!). Toppings are $1.00 extra and we try a few of them. I love the white chocolate pistachio topping especially when mixed with the mixed berry (tart and sweet) and the waffles are worth every calorie.
Smoked salmon bagel
I try some of Mr NQN's bagel. We ordered smoked salmon as that is a speciality here and it's creamy on a thin, toasted bagel giving it just the right ratio to topping (sometimes thick bagels just don't work for me unless they're slathered with inch thick topping (yes I'm a glutton). The smoked salmon is redolent in dill which I love and it's accompanied by a lightly dressed rocket salad.
Fricassee
The fricassee is an item that they just aren't allowed to take off the menu. As soon as I see beef short ribs I'm wowed and whilst I don't usually eat short ribs for breakfast but I figure when in Canada do what they do right? The fricassee is presented in a cast iron skillet and features a bed of shredded beef short rib meat, diced green apple, rocket and two sunny side up eggs. It's good but very rich and we can imagine very popular come the winter months.
My strategy of course was to load up on carbs and delicious food in preparation for my Tour de France effort aka cycling around Stanley Park.
Mr NQN wants an adult's sized version in our place. In our tiny place...
I shall name thee...pineapple island!
When I told Tourism Canada about my embarrassing fear they booked us a tandem bike instead which is a huge relief. We rent our tandem from Bayshore Bikes bikes and I'm wobbly at first and we need to get our instructions clear. When Mr NQN is going to stop or change gears he tells me, or risk embarrassing himself with a screaming back seat rider. Stanley Park is one of the largest urban parks in North America at 1,001 acres and is best negotiated by bike rather than by foot. We are headed to The Teahouse in the upper section of Stanley Park which is about a 30 minute ride or closer to 45 minutes if you stop and take pictures as we do.
Canadian Beaches-with logs to rest against!
_
_
The view from in front of The Teahouse
We reach Ferguson Point and The Teahouse is a welcome oasis (especially for my sore bottom! Too much info? OK I know...). Walking like a cowgirl I alight the bike and we park it and make our way inside. There is an outside patio area and an inside area which has wide windows and a beautiful view. The menu is said to include typical West Coast cuisine and I am drawn to the seafood and something light as we've had a late breakfast.
Amuse bouche
Our amuse bouche is a juicy scallop ceviche which is highlighted with mint vinaigrette and given a touch of crunch from diced Spanish onion.
_Caesar salad with chicken $14
_
Mr NQN lets  me share this caesar salad with him. The grilled chicken breast doesn't actually have the grill taste but it is moist and tender. The cos salad leaves are perfectly dressed with the creamy anchovy dressing and tiny bacon pieces.
_Poutine $9
_
You know I missed poutine right? So I had to order this. The chef here actually hails from Quebec. It comes with the cheese curds and gravy but the chips aren't perhaps quite hot enough and the curds don't fully melt. The chips also get soggy quite quickly.
_Scallops $10.50
_
The Qualicom Pacific scallops are local and come from an Island just north of Nanaimo. They're fat and juicy (oh how I do love Canadian scallops!) and the texture is less stringy than other scallops and the inside texture is creamy in texture and almost a touch watery in the centre. It's on a bed of the omnipresent olive and caper tapenade but I prefer them just grilled with a drizzle of olive oil. And don't you just love those prices?
Prawns $14
The wild prawns are also local and come in a cold, spicy tomato soup. They're good with a lovely bitey texture and I particularly like the char grill flavour with the spicy soup.
Halibut $26
Mr NQN's thick fillet of halibut comes pan seared and accompanied by an heirloom tomato and fennel salad and a creamy fennel sauce. Intriguingly the deep fried chickpeas are a welcome crunch to the sweet tomatoes and aniseedy fennel and soft fish.
Lime cheesecake $8
We'd seen the cheesecake making the rounds of the restaurant. We're not disappointed and the cheesecake is light and delectably good. I love the addition of lime which I find really lightens rich cheesecakes. The base is quick thick but it is buttery and the cake is accompanied with a luscious mango cream. I made emergency stomach room for this negotiating with my stomach to do more bike riding around Stanley Park afterwards.
Pistachio creme brulee $8
The pistachio creme brulee comes with a thin, crunchy toffee top which gives a satisfying crunch when tapped with the spoon. Inside the custard is silky although it does taste more almondy than pistachioey (and there is such a difference in the taste of those two nuts).
Like all deals with the exercise devil, I must pay the penance and get on the bike. Mr NQN is patient with me even when I'm cursing my love of that cheesecake and yelling that "My ass hurts!". He even rides me back along the bike paths back to the hotel where I walk like a cowgirl to our room. I'm so elegant darlings!
Mavis
Do you remember me telling you about Mavis and Beau? They are the Fairmont Hotel's mascots. These golden labradors are available for walking should you miss your dog, for general greetings and potential food pilfering from guests (all done politely of course). And they're absolutely adorable. Mavis is older than Beau, wears a Louis Vuitton collar and is the diva of the two. She goes up to the hallowed Fairmont gold floors and seems to just love food to no end. Beau however is a chilled character that spends most of the day chilling and lying about as he just about can't be bothered doing all that much apart from chilling. And yes there is a startling similarity with Mr NQN and I. Except Mr NQN would refuse to wear Gucci whereas Beau wears a Gucci collar.
Mr NQN and I decided to take Mavis on a walk to Japadog, the famous hot dog stand that has everyone in Vancouver salivating. In fact we've lost track of how many people including strangers have recommended Japadog to us (although my friend Kathy was the first to tell me to visit it). So one afternoon we took Mavis for a quick stroll to Japadog (sorry Mavis, no Japadog for you but you did get treats!).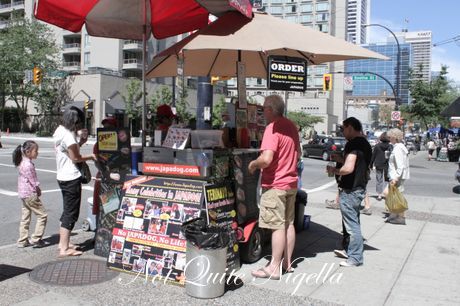 We take her out and she's slow at first which is understandable as the poor dear is nine years old. She speeds up when she sees the first hot dog stand and we pass two stands that aren't Japadog and she speeds up each time. We reach the stand and it's the one with the small crowd around it.
People are looking at the stand and I overhear the conversation of one man to another who is new to the Japadog phenomenon. The sage says to the newbie simply "It's the teri mayo, that is it." The man receiving these words of wisdom nods and orders some to go. I do the same upon Kathy's urging and order a beef Japadog and they give me a laminated number and I wait. There is also a store that has opened up but as a lover of street food I'm sticking with the original experience.
Japadog Teri Mayo $4.75
I'm busy reading the home made looking put together sign with pictures of famous celebrities including Anthony Bourdain (who featured it in an episode of "No Reservations" and Ice Cube who apparently ate 10 of them. A few minutes later, as Mavis is eyeing off the treats so well hidden in Mr NQN's hand, I get my Japadog. It's a pink beef sausages, a lightly toasted white bun, shavings of nori seaweed (which promptly go straight up my nose!), teriyaki sauce and Japanese mayo. It is very good indeed, probably the best quality hot dog you can get.
And as for Mavis? Well her eyes did follow the hot dog as it was passed from Mr NQN's mouth to mine but I think she was licking her lips in memory of her treat.
So tell me Dear Reader, do you have a recurring dream?
NQN and Mr NQN explored Canada as a guest of Tourism Canada
Medina Cafe
556 Beatty Street, Vancouver, BC V6B 2L3, Canada
Tel: +1 (604) 879-3114
The Teahouse
Ferguson Point, Stanley Park Drive, Vancouver, BC, Canada
Tel: +1 604.669.3281
Japadog
899 Burard Street, Vancouver, BC, Canada