Most tourists, and I include myself in this category when travelling, tend to stick to the main city centre, seeing iconic sights and dodging crowds in the highly traffic congested business or downtown areas. Some are on a schedule packed so tight that the idea of venturing out further into suburban areas seems inconceivable.
However rewards can be had for those that do in the city of Vancouver and if you want to hang where the locals do, go a little south towards Main Street and the Mount Pleasant area. Considered one of the up and coming areas to shop, eat and drink the area holds well merchandised boutiques, baristas and beer artisans not to mention some of the best restaurants in Vancouver.
Gene
For cafes, the wedge shaped hipsteriffic Gene draws a crowd. With a cat theme there is a small but neat selection of drinks and food available and free wifi which would explain the plethora of people working on laptops.
Whenever I'm in Canada I love London Fog tea (ironically not available in London). It's an Earl Grey tea with a shot of vanilla syrup and a lot of foamy milk and I usually order one every day I am in Canada. But here my head is turned by the Polish Pillow, a coffee substitute made of barely, rye, chicory and roasted beet syrup. Here they add milk and some raspberry syrup which gives it an unusual fruity flavour.
I spy a knotted, gnarled glistening danish at another table but alas that was their last. Instead I content myself with a slice of fabulous carrot cake with thick cream cheese icing and shreds of carrot. I take to it with a fork while people watching.
49th Parallel
I meet my friend Lisa a little way down on Main towards 13th Street at 49th Parallel. They're known for their coffee and selection of Lucky's donuts in myriad flavours. The donuts beckon from their glass partitioned peep show, each one increasingly more voluptuous than the next. I choose the plumpest one of all, a bursting from its seams with maple syrup, apple and bacon. I exclaim at seeing a "Flat White" coffee, a uniquely Australian and New Zealand coffee.
Flat White $4CAD
I try a little of Lisa's flat white. Described as a 5.5 oz Australian style latte, the flat white is just that if any homesick Australians are seeking a comfort from home.
Venezuelan Coffee $4.50CAD
I order the Venezuelan coffee with a caramelised milk reduction. It is served with espresso and texturised milk. It's sweet but not as sweet or strong as Vietnamese coffee.
Apple maple bacon fritter donut $3.50CAD
Described as a fritter rather than a donut, the donut is anything but subtle. There's a sweet apple sauce, a strong maple flavour and tiny pieces of diced bacon on it. And yes it's real and yes it's magnificent ;)
Boutique browsing is a past time on Main Street and we weave in and out of shops trying to avoid the patches of rain. There's plenty for men as well as women with a focus on local artisans and prices reflect that with specialist stores and gift boutiques. It's a good place to find a unique, locally made gift.
The Fish Counter
Shopping inevitably makes me hungry and we spot a new fish cafe on Main Street towards 22nd Avenue. The Fish Counter was started by Michael McDermid a marine biologist and a chef Robert Clark, a chef and pioneer of the sustainable fish movement.
The paint is barely dry when we stop in so we need to forgive any waits and rough edges. Michael recommends his favourite dishes to us, marking them down on a laminated card which gets passed to the chefs. All of the fish is caught sustainably and all take out containers are compostable.
The wait isn't long but as it's meant more as a takeaway the eating in space isn't plentiful. However there seems to be six of us that want to eat in and only a proper table for two. We miss out and perch on the side of a bench balancing plates.
Ling cod $10.95CAD one piece
The ling cod comes as one piece with a plentiful amount of hand cut fries, tartare sauce and coleslaw. The fish is crunchy and succulent under its billowing golden shell but needs lemon and salt. The tartare sauce is excellent as are the Kennebec chips and the kale and cabbage coleslaw is spot on. It's not a creamy coleslaw, in fact the cabbage is dressed in a sweet vinegar not unlike this Chinese cucumber pickle dressing. It's just what the fried fish needs to cut through the oil.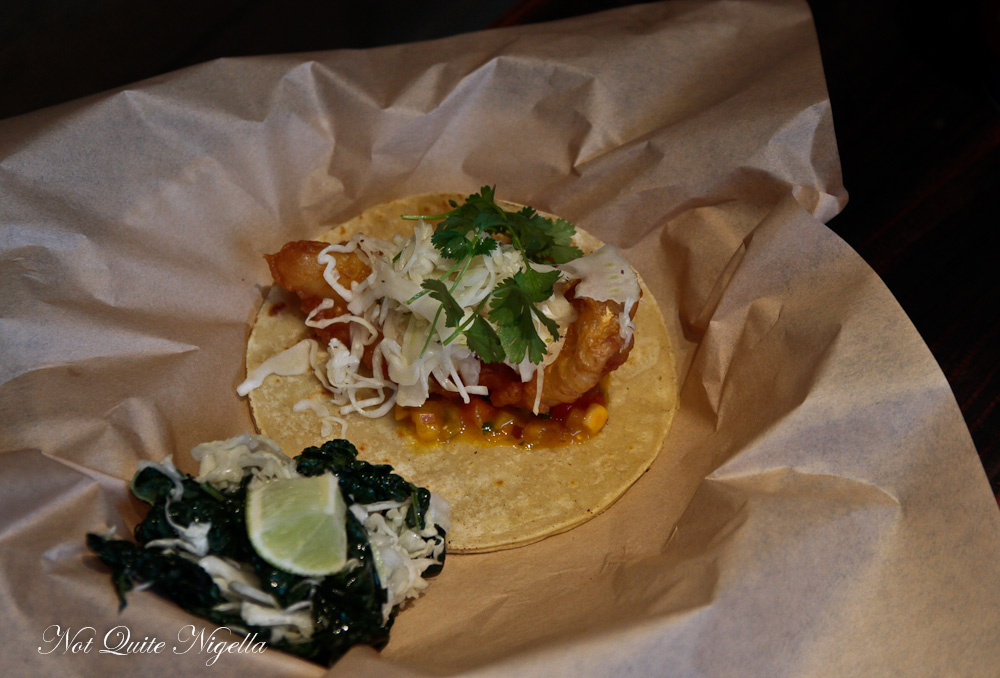 Baja Fish Style tacos $5.95CAD
We didn't realise that the cod was in both the fish and chips and the fish tacos (our fault for not looking) and the fish again needs some seasoning. It filled a double corn tortilla, mango salsa, cabbage and a side of kale and cabbage coleslaw. It's not bad but I still think the best fish tacos in Vancouver are still at Go Fish.
Bouillabaisse $6.90CAD
The bouillabaisse is made to order and comes with a piece of baguette with a thick topping of garlic sauce. The broth sings with flavour although the fish chunks are a little dry but the mussels and clams are succulent and tender.
Chocolaterie de la Nouvelle France
We've barely wandered a few shops down bemoaning how full we are before we stop.
"Oooh a chocolate shop!" I exclaim.
Lisa replies "Oooh shall we go in?" and I greedily concur. Can you see why we are friends?
Chocolaterie de la Nouvelle France's chocolatier Anne-Geneviève Poitras is from Montreal and she hand creates truffles and squares made using a combination of Valrhona and Cocoa Barry chocolate. In fact she is busy making caramel at that second and trills that she will be with us in a moment but the caramel cannot wait. We amuse ourselves by looking at the chocolate selection before our eyes settle on the chocolate tasting for two people for $16.
"The only thing is that I don't recommend that you share the squares," she says before explaining further that each square is precisely balanced with just the right amount of flavour on top in the centre and if you snap off a corner or half, the flavour would be unbalanced. And she's deadly serious too. We choose our chocolates, hot chocolate and drinking chocolate and sit at one of the three tables. We watch as a steady stream of customers comes in to browse and buy.
Aztec Drinking Chocolate (top) Jasmine Hot chocolate
On the menu is a hot chocolate and a drinking chocolate. The hot chocolate is more liquid and foamy whereas the drinking chocolate is thick, rich and dark. We choose the jasmine flavour which is divine, the lightest touch of jasmine in every sip. She has thoughtfully separated the drinks into two mugs for easy sharing.
The Aztec drinking chocolate has a tiny sprinkle of chilli flakes in the centre and is a darker, thicker French style hot chocolate. I love this one a bit more but it's impossible to finish as it is so very rich. We avail ourselves of the cups of water that she provides.
They bring out the chocolate tasting tray in order of mildest to strongest with helpful little notes on what we are eating. We start with the square of almond, fleur de sel and coconut on a 40.5% milk chocolate from Ghana. It melts on the tongue. The Earl Grey tea truffle is next. It's quite mild and subtle, perhaps for those that find Earl Grey too "soapy".
Our favourite truffle is the Blackcurrant tea, the fruity flavour sweet and all enveloping. The chilli dark chocolate is a square of lightly spicy 72% Venezuelan dark chocolate and then we move onto the two caramels.
The silver wrapped bon bon is the vanilla bean caramel that I become so smitten with that I buy two gift boxes that she has her clerk carefully wrap in a white box with a wax seal. They'll go straight to my dearest friends unless I plunder them beforehand. We down the rest of our chocolate drinks and set off into the rain. Yes there's no nice way to break this to you but it does rain a lot in Vancouver.
33 Acres Brewery
For a drink of the hoppy kind, we stop into 33 Acres brewery which has a cute boutique in one corner and a minimalist but stylish decor. Just open this year it makes just three types of beer with only two available at the time of visit: a California Common and a West Coast Pale Ale. In Vancouver the current coffee trend is for pour-over coffee made using a filter cone where the water is slowly poured over the coffee grounds.
*Bakers Dozen *
We stop along at Bakers Dozen-despite the name it isn't a bakery but an antique store with quirky windows and just about anything that you could want in one store all sorted and displayed in theme. There's even an anatomy section where for $650 you can have a model tooth complete with nerves inside.
"Can you show me where the daggers are?" someone asks and the clerk responds "Sure, let me show you our collection!". I buy a tin toy as a gift after spending much time slowly browsing the aisles.
Le Marche St George
Dodging rain, eating and shopping can make anyone weary so we cab it to Le Marche St George, just off Main Street and the corner of St George Street in a residential area. The shop is beautifully merchandised in a rustic French style and there's a small cafe inside that serves tea, coffee, crepes and tartines as well as fantastic artisan provisions.
It's here that I do a bit of food gift shopping going for Canadian bourbon barrel aged maple syrup and molten hot salt with three spices. We also order drinks which come in either a 12 oz or 18 oz size-both of which are enormous.
I try an eggnog latte while Lisa goes for a London fog, both served in enormous mugs. We sit down and rest our feet while sipping and shopping more and I can see why its a neighbourhood favourite. They offer us a teapot of their own soothing herbal tea blend which is made with mountain tea, spices and petals.
Burdock & Co.
Cementing Main Street's emergence as an up and coming area, Burdock and Co. opened in the Summer of 2013 to much acclaim. Chef Andrea Carlson uses her relationship with suppliers to get the best produce for the restaurant. Their wine list is made up entirely of naturalist wines which are wines made in small batches without any chemicals or preservatives at all.
Eating at Burdock is on a first come first served basis and they don't take reservations so we're there early at 6pm. The room has a banquette wall on the right hand side and a large raised share table on the left and the restaurant seats just thirty people. Five bar seats line the open kitchen.
The walls and ceilings feature different textures including reclaimed timber and the mismatched lampshades glow with a warm light. They describe it as "urban barn". Indeed the name Burdock & Co is based on family owned hardware stores and references Chef Andrea's favourite local root vegetable.
Le Vigneron cocktail
They bring out some mini cocktails for us to start off the evening and this is a Le Vigneron cocktail made with an ounce of pinot oir, Solera brandy, dry Vermouth as well as caraway and fennel shrub and Cascade Celery Bitters.
Freshly shucked oysters, 6 for $18CAD
We start with oysters and these are from Marina's Top Drawer oysters. They are large oysters topped with a sprinkle of apricot granita which emphasises the oysters' mild sweet melon-like flavour and light saltiness.
Caramelised sunchoke terrine, nasturtium salad, pistachio, gala applevcinaigrette $13CAD
Our next course is a caramelised sunchoke or Jerusalem artichoke terrine. They are roasted and sliced as a terrine with a caramelised nasturtium sauce on the side. There is also chopped pistachios and thinly sliced sunchoke and a burst of green salad. This light dish is superb and gives us a taste of things to come.
Fried chicken and pickles, charred chilli vinegar $14CAD
The fried chicken is miso marinated chicken with a panko crust, deep fried until golden but still succulent and tender. Each piece is cut in half giving six pieces and there's a lime mayonnaise underneath it which is quite mild (I would have loved a bit more lime) as well as a charred chilli vinegar which packs great flavour and punch. To the side are pickled mushrooms and beetroot cut into balls, discs and squares.
Marina di Ciogga squash dumplings, baby artichoke, chestnut browned butter $11CAD
The prices are so reasonable here, particularly when compared to Australian ones given the produce and care taken. The Marina di Ciogga squash dumplings have tapered ends and are made with chestnut and served with brown butter, baby artichokes and thinly sliced squash on top interleaved with Fermiere grana style cheese.
Slow roasted bison ribs, spicy tomato glaze, charred green onion $20CAD
Because Bison is a lean meat, it needs to be cooked very slowly and the bison ribs are cooked three times before serving. There are three thick ribs with an aromatic spicy tomato glaze redolent with cinnamon and star anise on top of a yogurt tahini with charred spring onions on the side. The meat is beautifully tender and I spoon more of the sauce and yogurt tahini and mix it up with the softly shredded meat.
La Pyramide Cheese, Hives 4 Humanity honey $12CAD
Oh how I love a cheese course and every intention of just having a bite is thrown out when I sink my teeth into the lightly toasted rye bread topped with a wedge of the farmhouse La Pyramide goats cheese rolled in ash. The honey on top comes from Hives For Humanity who work to grow the healthy bee population in Canada.
Salted Caramel apple crisp, vanilla ice cream $8CAD
Dessert is a three course affair as we try three out of the four desserts. All are baked to order so require about 15 minutes wait. The salted caramel apple crisp has a deep layer of piping hot salted caramel apples and they are topped with a nutty crumbly topping. On top of this is a scoop of vanilla ice cream.
Pear and frangipane tart, cream $8CAD
The pear and frangipane tart comes with a quennelle of cream. The frangipane is baked until chewy and sweet, almost reminiscent of crack pie and the pear slices are held within the chewy tart. This was my favourite dessert.
East Van Roaster Chocolate Pots de Creme $8CAD
The chocolate used is made by East Van Roasters who roast their own cacao beans. The chocolate pot de creme is smooth and creamy like a chocolate custard.
And to finish? Macarons in black sesame, chocolate and chai. The black sesame wins my heart but it's a close race.
So tell me Dear Reader, do you try and venture into new neighbourhoods when travelling or do you stick to the main attractions? How many meals a day do you eat when you travel? And do you prefer thin or thick hot chocolate?
NQN visited Canada as a guest of the Canadian Tourism Commission and Tourism Vancouver. Purchases made in this story except for Gene Cafe and Burdock & Co were made independently.
Gene Cafe
2404 Main St, Vancouver, BC V5T 3E2, Canada
Phone:+1 604-568-5501
Saturday to Sunday 8:30 am - 7:00 pm
Monday to Friday 7:30 am - 7:00 pm
http://genecafe.ca/
49th Parallel
2902 Main Street, Vancouver, BC V5T 0C1
Tel: +1-604-872-4901
www.49thparallelroasters.com/
The Fish Counter
3825 Main St, Vancouver, BC V5V 3P1, Canada
www.thefishcounter.com/
Chocolaterie de la Nouvelle France
198 E 21st Ave, Vancouver, BC V5V 1P8, Canada
Phone:+1 604-566-1065
chocolaterienouvellefrance.ca
33 Acres Brewery
15 W 8th Avenue, Vancouver, BC V5Y 1M8
+1-604-620-4589
33acresbrewing.com
Bakers Dozen Antiques
3520 Main St, Vancouver, BC V5V 3N3, Canada
Phone:+1 604-879-3348
Sunday 12:00-5:00 pm
Monday to Friday 11:00 am - 5:30 pm
Saturday Closed
La Marche St George
E 28th Ave, Vancouver, BC V5V 2N2, Canada
Phone:+1 604-565-5107
Monday to Friday 8am-6pm
Weekends 9am-6pm
www.marchestgeorge.com/
Burdock & Co
2702 Main Street, Vancouver, BC V5T 3E8
Phone:+1 604 879 0077
Open 7 days a week Reservations only for parties of 6 or more
Dinner from 5PM
Weekend Brunch 10:30 AM until 2PM
burdockandco.com