Me wanty piggy!
"'I'm SO going to steal that pig!" I whisper to Mr NQN. The pig I'm eyeing off is about piglet size and I'm dying to tuck it under my arm and race off. Sure it's a gold coloured pig and it's sitting on the table of a restaurant that has invited me to dinner so I'm not exactly going to carry through with my threat. I've never really felt the urge to steal before, until I saw this pig that is. "Just take it, I won't say anything" whispers the Australian waiter to me with an exaggerated wink. Haha, we're such convicts!
We're The Salt Tasting Room on intriguingly named Blood Alley in the historical area of Gastown in Vancouver on our last leg of our Canadian trip. I'm fascinated by the name Blood Alley (yes I'm a ghoul) and they mention on the menu that they are not quite sure why it is called Blood Alley although theories suggest that it may be because of a butcher in the alley or the fact that it was a rough and tumble area in the past or the most ghoulish reason - public executions were held here!
Back to the present, less murderous time, they specialise in smoked meats and cheese tasting plates along with wine flight matchings. Diners choose three items from the ten meat or ten cheese selection on the chalkboard, then three condiments from the list of ten. Based on these selections, the staff can select wines to match or you can choose your own. The providence for cheese are marked in parentheses, whilst with meat it's marked by supplier and with condiments it's by country.
Beef tongue salad
Our waitress is very helpful and knowledgeable and suggests a couple of items and we leave the rest to her and the chef to choose. We start with the beef tongue salad. I know you may be thinking that tongue can be really thick (well like our tongues) but this is an exercise in lightness. There is a mixed mesclun salad, paper thin and every soft slices of beef tongue and radish and manchego cheese. it sits on a bed of gribiche sauce which is like a tartare sauce made with boiled eggs.
Tasting plate $15
Our tasting plates arrive with the matching wines. My tasting plate has Mike Vitow's corned beef with Guinness mustard. Mike Vitow was a former New York taxi driver that arrived here and started making his own corned beef when he realised that there wasn't any quite like it. It takes him two weeks to make a batch. It is soft and wonderful and I enjoy it with the thin slices of bageutte. The Guinness mustard is made at Irish Heather.
The second item is Wild Flower Honey Head Cheese with Picalilli relish. Head cheese is not actually cheese but it's the meat from the head of a cow that has been cooked for 6-8 hours so that it is very soft. It is combined with aspic and made into a terrine shape and then sliced thinly. It's good although I'm not a huge aspic lover. However I find the strong picalilli relish a touch too strong for it and head cheese is better by itself. The third item is a British Columbia Ash goats cheese from Happy Days Dairy with a Similkameen honey which is amazingly creamy and luscious. It's paired with some Okanagan Valley apricots which come from one of the owners farms. The apricots are slightly on the green side though and would be great once riper.
Wine matching for tasting plates $15 extra
Tasting plate $15
Mr NQN's dish started with a Salt Springs Moonstruck ash ripened camembert with Similkameen honey which is liquidey, light in colour and delicate in flavour. We fight over this and it's also perfectly paired with Black Widow "Oasis" wine.
His next course is a lamb salami with an almost musty smell at first but once tastes is quite similar to a regular salami. It's served with Naramata cherries which are also from the owner's farm. These are absolutely sweet, huge and juicy. He has this paired with "Poplar Grove" Syrah.
The last item is the Abruzzo with basque olives. The abruzzo has a distinct fennel flavour to it and the basque olives are meaty and delicious. This is paired with Orofino Pinot Noir.
Chocolate terrine with rhubarb compote
The one advantage to eating a relatively spare main and entree is stomach room for desserts! We finished off with a chocolate terrine. The dark chocolate terrine is utterly rich and decadent and I make fast work of it. It's coated in butter shortbread crumbs and a small scoop of rhubarb compote which is a little on the tart side so I leave this.
Blue Cheese cheesecake
I knew I'd love this having made one a while back and this is fantastic. Without the Similkameen honey the blue cheese might be on the verge of too much but with the honey it's perfect. The very crunch nutty crust gives it the necessary contrasting texture to the syrupy honey and rich cheese.
We go downstairs to visit the Salt cellar which is also a private dining room or function room.There are little piggies everywhere but none as beautiful as my golden pig. The pig I had to leave behind! And if anyone sees a pig as beauteous as the one in the first picture please let me know-I am pining for it.
Later that evening we return to our hotel, the historic Fairmont Hotel which has been opened since 1939. They are a Canadian chain of luxury hotels and resorts with an excellent reputation and we were excited to see that we were staying here. When we checked in downstairs we were told that we had been upgraded to the Fairmont Gold rooms which has it's own separate check in. Excited, we go upstairs - it's like being upgraded to business or first class!
Everything is that much shinier, smoother and just damn better in this world. The Fairmont Gold floors are like a hotel within a hotel. Guests have free internet access, gym access, lounge access where there's a constant supply of canapes and nibblies from am to pm, free breakfast and more luxurious rooms. There is a DVD library with classic movies and they make guests popcorn to watch these movies. They have three i-Pads in stock for guests to use and lovely loose leaf teas including a Canadian ice wine tea and a maple tea.
In this world, toilet paper has a gold seal
In the rooms themselves, there are modern touches combined with traditional decor. To have your room serviced or to notify them of a do not disturb, you simply press a button. All lights have two levels of brightness, there is a pillow menu with a selection of six pillows. and my two favorite touches? The two labrador retrievers downstairs which are the hotels mascots. Mavis and Beau are two Louis Vuitton and Gucci collared dogs that take up station by the concierge desk.
Guests that miss their dogs can take them for a walk and periodically we see Mavis or Beau lounging on our floor or greeting guests (guests with food get an especially enthusiastic hello ;) ). Also impressive was when we retired for the night they asked us if we would like a wake up call and we said yes. They then asked us if we would like a pot of tea or coffee and juice with our wake up call. Within minutes of our wakeup call there was a knock at the door, Mr NQN stumbled to find a robe and do it up and our tea and coffee pots are delivered. Civilised!
Breakfast the next morning is a delicious and sane affair-mainly because I've had a cup of tea and woken up properly rather than stumbling downstairs to take my first cup of tea. Taken in the lounge the breakfast selection is extensive. I decide to make some Canadian staples: a toasted bagel with cream cheese and B.C. smoked salmon and capers as well as waffles with bacon and Canadian maple syrup. We also help ourselves to the fruit available which includes raspberries, blueberries, strawberries, melons and pineapple.
I try my smoked salmon bagel. Holy macaron this is good. Before you know it I've gobbled down the smoked salmon and gone back for seconds and then thirds. It's the freshest, best smoked salmon I've ever had. And sorry fellow diners that day, I am responsible for a large part of the depleting supply of it that day.
Mr NQN loves the waffle with bacon, fruit and real maple syrup that I've made him. He also helps himself to a muesli and yogurt berry cocktail in a martini glass. Coffees are made and brought to the table and before you know it Mavis arrives on the 9th floor and says hello! What a lovely start to the day and we feel well prepared for the adventure ahead of us!
So tell me Dear Reader,have you ever gotten the urge to "borrow" something? ;)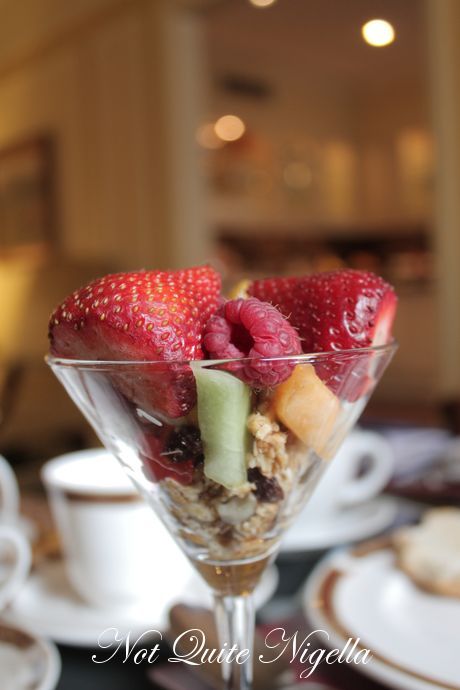 NQN and Mr NQN travelled to and explored Canada as guests of Tourism Canada
Salt Tasting Room
45 Blood Alley, Vancouver, BC V6B 0C4, Canada
Tel: +1 (604) 633-1912
Fairmont Hotel
900 West Georgia Street , Vancouver, British Columbia, V6C2W6, Canada
Tel: Toll free 1(866) 540-4452