The area of Richmond, Vancouver is a destination in itself. An area with a maritime history, there are also areas like Finn Slough, home to one of the most fascinating communities in Canada where time appears to stand still. Combine this with a large migrant population and there is plenty to see and do beyond Vancouver Airport.
I am in the back of a cab, the motion gently lulling me to sleep and my eyes start to close. The taxi stops and starts on its way from Vancouver to Richmond, a 30 minute trip given a few more stops and starts from the rain and Christmas traffic. Occasionally awakened by a lurch in the traffic, I see the taxi driver looking at me in the rear view mirror.
Alarmed but drowsy I beg myself to stay awake enough so that I don't wake up in some deserted warehouse with a sadistic taxi driver. I can say for certainty that paranoid goes hand in hand with sleep deprivation and I safely arrive at Richmond, the airport area of Vancouver which has a rather interesting culinary and cultural scene in itself.
Gluten free chocolate cupcake from Bell's Bake Shop, Steveston
I must admit that I've never really given much specific thought to areas around airports but Richmond has some interesting statistics. 60% of the 200,000 population of Richmond is Asian and of that, 45% are Chinese. This makes for a great fix of Asian food combining Cantonese, Vietnamese, Filipino and Korean food, sometimes mixed with Canadian ingredients.
There are three distinct areas of Richmond - a maritime area, farming area and downtown area. The maritime area is located on Lulu Island (which is comprehensively diked) where there is also Downtown Richmond. Connected to Lulu Island by bridge is Sea Island (where the airport is located).
Steveston is the maritime area located on the Southwestern corner of Lulu Island. The heritage British and Japanese fishing village is situated where the Fraser River and Pacific Ocean meet. Signs of its former life in the 1800's as a cannery area are still apparent with one of the 15 original canneries now converted to a museum. Nowadays one of its claims to fame is being the shooting location for the television show "Once Upon a Time" where it is transformed into a town called "Storybrooke" and it is also boasts the largest active fishing fleet on the West Coast of Canada.
My introduction to this pretty, misty seaside town is through food. I am with Julia at the Blue Canoe waterfront restaurant which is busy this Saturday evening. There's an ice hockey game on so there's the occasional cheer when the team scores. The fish at Blue Canoe is fresh local caught fish and chef Danilo Ibarra hails from Peru. I'm excited to see Dungeness crab on the menu.
Half Dungeness Crab $18CAD
The crab is the first item to arrive. It's a half crab simply boiled and served with a grilled half lemon and drawn or clarified butter. The crab is easy to crack as the shell is quite brittle and the meat is very easy to pry out. It's soft, slippery and sweet and comes out as large chunks of tender, sweet crab. The legs are easy to eat too and you can easily pry out a large piece of crab meat to dredge in the nutty clarified butter. Heaven!
Lobster macaroni and cheese $19.99CAD
I've had fairly average mac and cheese over the years - I tend to find them nursery bland at times. But not this mac and cheese as the garlicky macaroni and cheese is filled with perfectly cooked macaroni that retains texture and an aged cheddar, mozzarella and gruyere cheese fondue sauce and a herb panko crust. There was just a couple of pieces of lobster in this though so it's not rich in lobster but it is full of flavour.
Mussels and fries $15.99CAD
The black mussels are medium sized tender mussels that have been cooked in a flavoursome mix of garlic, shallot, fennel, tomato, white wine and cream. It's an excellent dish that comes with a side of hand cut French fries on the side and ketchup. I asked for mayo and they didn't go all Pulp Fiction on me.
Haida Gwaii Halibut $29.99CAD
The halibut is a locally caught fish caught from the archipelago off the north coast of British Columbia. The halibut is cooked well but what really captures both of our taste buds is the creamy chanterelle mushroom sauce. The mushrooms at the bottom and the locally grown fingerling potatoes soak up the sauce nicely and it's a sizeable serve.
There's barely enough room for dessert but what will a couple of desserts hurt? The chocolate tres leches cake is made using goats milk, condensed milk and evaporated milk. It's like a milk chocolate pudding in one with the spongey cake soaking up the chocolate milk nicely.
The hazelnut parfait is sprinkled with flaked almonds and a chocolate sauce and is a refreshingly good way to finish a long day.
Another area about ten minutes' away from Steveston that is worth stopping at and exploring is the very unique area of Finn Slough (pronounced "finn slew"). It is a community and area that attracts tourists and photographers because of its quaint and ramshackle look. It is a small fishing community with approximately 50 residents and 18 households living in floating or wooden piling supported houses. Finn Slough is located on the south end of the Fraser River at the end of Number 4 Rd.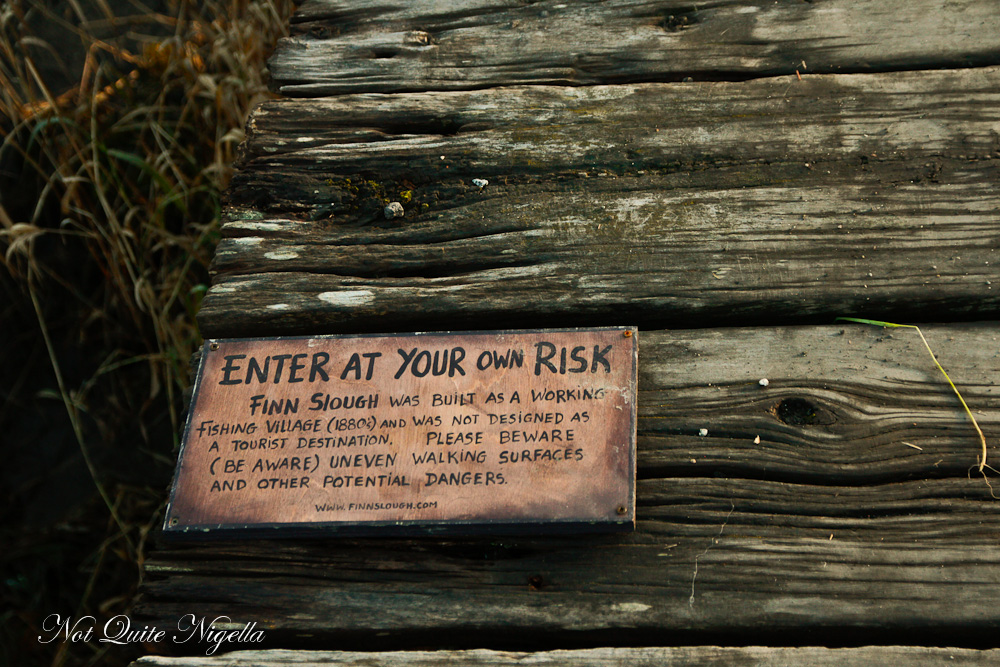 The land was settled in the 1880's by Finnish pioneers who became skillful fishermen. Today it is the only fishing community along the Fraser River with many residents still living in the fifth generation original scow houses which were all built to fit the environment. The houses have composting toilets and heat is provided by wood burning stove.
The residents are engaged in an ongoing battle to obtain Crown Titles for their land against the Fraser River Port Authority. The issue is with property titles for land that has been built on slowly shifting river beds. Distrust is historical as Finland was in 1918 declared an enemy country by the Canadian government but nowadays very few Finns remain in the community having moved to more permanent dwellings.
Visiting Finn Slough it is like stepping into a living museum. The first thing we see is a sign with "enter at your own risk". It is popularly accessed by cyclists and retains and other worldy atmosphere to it. Cross the wooden bridge carefully as the wood creaks and seems to almost buckle at times. We are mindful to keep a distance and not to go too far in as it is a residential area.
Julia drops me back at my hotel for the evening, the Sheraton Richmond that sits in the middle of downtown Richmond. The hotel is situated next to a few others in a cluster and is a short drive to the airport. Check in is polite if not particularly warm and I make my way upstairs to room #399 on a Starwood Preferred guest floor. It's the end room of the corridor and is a decently sized conference business type accommodation.
I find some Sheratons more of a conference or business hotel with amenities to match. There's no mini bar but there's a coffee maker with Starbucks coffee and takeaway cups for people to make their coffee to go. I do some work before hopping into bed mindful that tomorrow, I'll see a very different side of Richmond!
So tell me Dear Reader, have you ever tried Dungeness crab? And do you eat your fries with ketchup or mayo or something else?
NQN visited Richmond as a guest of the Canadian Tourism Commission and Tourism Richmond
The Blue Canoe
3866 Bayview St, Richmond, BC V7E 3B6, Canada
Phone:+1 604-275-7811
Open 7 days 11:30 am - 11:30 pm
Sheraton Richmond
http://www.sheratonvancouverairport.com/