Gluten intolerants and coeliacs beware, Autolyse Bakery is a red zone. Not only is it a bakery where they make breads and pastries on the premises every day but the bread is so fresh and good you may find yourself scoffing large chunks of it with butter with gay abandon.
It was a Sunday afternoon trip to check out the Central Park complex with Mr NQN, Belinda and her girls Mia and Ruby. It was a cold but sunny winter's day and we had already walked around the complex. The third floor has a food court with a predominance of chain eateries but the one place that caught our eye was Autolyse Bakery on the lower ground floor.
Earlier this year Belinda and I had visited the original Autolyse Bakery in Canberra and had come back to Sydney with a range of breads, cakes and slices. The new location is similar to the Canberra one with an airy open kitchen and white New York subway tiles. You make your order at the front counter from choices on the blackboard and then take a potted plant with a number to your table and help yourself to a glass of water.
The prices are excellent with nothing eclipsing $15. Service however...well let's just say that there were some issues that should have perhaps been sorted out as it has been open for four weeks. We take a seat at the table with our potted plant. While we wait for our food Mia takes little sister Ruby to the bathroom. They return a few minutes later. "I flooded the bathroom," says cheeky 6 year old Ruby who Mr NQN apparently claims have a lot in common with... crickets
Our food starts arriving and they all come out on wooden boards with a large section of fresh baguette on each board. And that's where the gluttony begins as we tear off a chunk of the crusty bread and spread salted butter over it. The salad is a well dressed, fresh mix of kale leaves, roasted beetroot chunks, orange segments and crunchy walnuts and quinoa.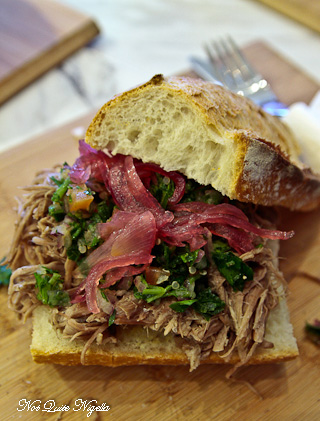 We dig into the lamb sandwich next because it smells delicious. There is a generous portion of slow cooked lamb inside and it is given a good amount of freshness from the tomato and parsley as well as pickles. Even though Mr NQN usually eschews lamb and is feeling poorly, he eagerly gobbles down this sandwich.
The bouillabaisse comes in a large bowl and we dunk some bread into the soup. The fish is wonderfully tender and there are also some mussels, clams, prawns and calamari inside. This dish is great value and full of delicious seafood and Belinda murmurs that she will definitely come back.
"Arrghh!" six year old Ruby says as the sardines are brought to the table. She's alarmed by the sardines with their heads on. They are served with a garlicky skordalia and a citrus salsa on top. Whilst I love sardines, I prefer them filleted for ease of eating when out.
So if brunch is like a cross between breakfast and lunch then we are perhaps eating "linner" i.e. lunch and dinner or "teanner" i.e. afternoon tea and dinner. With that in mind we take a walk across to inspect the pastry cabinet where there are fresh croissants, pain au chocolat and tarts and another displays holds larger cakes, mainly cheesecakes.
The pear and mascarpone cheesecake is very light in texture but not particularly strong in any flavour pear or otherwise. It is also not sweet at all.
The Paris Brest is a choux ring filled with hazelnut pastry creme inside. I prefer the pastry a bit crisper but the hazelnut cream inside is quite pleasant.
Out of the three the salted caramel tart is the pick. The tart shell could be thinner but the filling is a rich, thick combination of salted caramel and chocoalte ganache with a little sprinkle of salt in the centre.
So tell me Dear Reader, do you eat three meals a day or do you combine meals e.g. brunch and linner? And do you prefer fished filleted or on the bone?
This meal was independently paid for.
Autolyse ##
Lower ground level, Central Park, 28 Broadway, Chippendale, NSW
Tel: +61 (02) 8074 9458
Open 7 days 7am-5pm
http://autolyse.com.au/