In Sydney breakfast or brunch is almost a sport in itself. Come the weekend people sleep in and take advantage of the many cafes in each suburb. There are always the stalwarts on an Australian breakfast menu: smashed avocado on toast, granola and yogurt or French toast. But if you're looking to spice up your breakfast life here are seven places that offer you something a little bit different for breakfast!
Erskine Villa, Erskineville
I think I expected Erskine Villa to be a bit grungier inside than it is. And it is a bright, breezey cafe with an indoor and a nice outdoor area with booths. But JY and I are here for one thing on the menu: breakfast poutine. They've since removed it from the menu but will make it if requested. It's a poutine with fresh cheese, curry gravy, slow cooked egg and house made morcilla. OK so our fries could have been a little more golden and crisp but it's gooey and rich especially when you break the yolk on top of everything. And dare we suggest that you go with a side of tatertot waffles? These have the crunch that the fries lack and come topped with a horseradish creme fraiche.
If you happen to be dining out with a healthy friend there's something for them too right at the opposite end of the spectrum. Their breakfast bowl comes with beetroot hummus, quinoa, avocado, brownie rice, radish, carrot, cucumber and edamame (ours is missing the edamame but they bring some by). Okay it's not gutsy and gooey like the poutine but it's actually pretty good. The brown rice roll has a slight sweetness to it from the sushi vinegar dressing and it comes together nicely.
Shuk, North Bondi
Sydney. Bondi. It's a no brainer to visit but Bondi Beach is always packed and do you think you could find a park if you tried? No. A little further away from the promenade towards North Bondi is Shuk, short for Shakshuka. Breakfasts here are Bondi healthy but with an Israeli twist.
There is the most common type of shakshuka with tomato and baked eggs but the Green Shakshuka is baked eggs with fennel, zucchini, kale, caramelised onion, feta, spinach, cream, olives and sourdough and it is delicious (even for a meatlover but you can also add chorizo, halloumi or lamb if you want).
The Israeli breakfast is perhaps the biggest prize though. Arriving on a large platter there are 2 eggs done the way you want (I'd recommend the 6060 eggs that are cooked for 60 minutes at 60°C/140°F). There is also an Israeli tomato, cucumber and onion salad as well as olives, labne with za'atar, hummus, raspberry jam, avocado, tahini, two pieces of toast and a small bowl of granola, fruit and yogurt. Try this with a house made spiced ginger soda or a green juice with dates, ginger, cucumber, avocado and coconut water.
Blaq Piq, Surry Hills
When I was growing up there were often news headlines that Asian people were taking over Australia. I was unaware of my people having a grand plan to take over Australia but I'd guess it the army would be powered by green tea. There's plenty of matcha at Blaq Piq. The name Blaq Piq is not only a nod to porky goodness but is also a portmanteau of the three owner's names. The matcha latte is strong and comes with a side of sugar syrup. It packs a punch with a bitter aftertaste. One that you either love or hate. This one is on the strong side and honestly I prefer the more subtle ones that I had in Japan.
I try the pancakes, pandan flavoured buttermilk ones no less and they're fluffy, soft and served with a scoop of coconut icecream with little pieces of coconut, nata de coco jelly and colourful fruit on the side as well as a serve of salted palm sugar syrup.
I'm more a savoury lover for breakfast though and I melt for the wagyu corned beef by Rangers Valley and soft googy 63°C eggs served in folded over steamed buns with watercress and a blanket of hollandaise. The only question will be how to eat them-pick them up or use a fork and knife.
So. 9, Waterloo
When I was in Vietnam, I sat down to breakfast at the hotel at which I was staying. I had a quick walk around what was offered but what caught my eye was the banh mi station at the breakfast buffet where they were made fresh to order. Banh mi for breakfast? What a great idea!
We had eaten at So.9 for a family dinner but then I spied the banh mi station which is only open during the day. A few days later we return to try the banh mi, intrigued by the list of banh mi fillings. I often get a craving for them and I was eager to find out if the So. 9 ones were any good because it is so close to where we live.
There are two sizes of rolls, regular and baby rolls. Two baby rolls are just $8 while a regular is $7 so we decide to try all of them in baby roll size except for one for Mr NQN because he likes large lunches. His choice is the lemongrass beef bread roll which is made with thin slices of tender lemongrass beef. He declares it the best banh mi he's ever eaten.
My two baby rolls are the combination pork banh mi and the tomato meatball banh mi. I try the combination and it's good with all of the usual items except for the mysterious brown sauce that I always for extra of. Either there isn't much or it isn't there. Still I love the crunch of the pickle and salad element. Plus the bread rolls are super crunchy and fresh. The tomato meatball benefits from a squeeze of Sriracha chilli sauce on it but is comforting and saucy.
Then for good measure we try the other two rolls bypassing the vegetarian roll. The grilled pork mince at first looks like pork belly slices but it's a sliced meatloaf. This is crazy good but then I take a bite of the pulled chicken banh mi and all bets are off. Sometimes the chicken rolls can be a bit dry because it's just chicken breast. This is saucy and oh so moreish. There's plenty of mayo, chilli and salad and all I can do is think about when my next one will be!
Spice Bazaar, Narrabeen
Looking for a scenic drive north? On weekends, Narrabeen's Spice Bazaar holds breakfasts from 11am-3pm. The eatery is not fancy or hipster but it is good, honest food with very friendly service. The breakfasts also happen to be gluten free and vegan just because a lot of South Indian cuisine is this way.
You may have had mango lassi but have you ever tried a savoury lassi? Not just with salt but with ginger and chilli? It's delightful and a great prelude to the main event. And a masala chai comes with whole spices and slices of ginger and is just the trick for a cool day- you can sweeten it to your taste with honey or sugar.
A dosa is an enormous, crispy, thin pancake that comes filled with a spiced potato and onion filling and is served rolled up. The ends are lovely and crisp and it is served with a spicy, almost clear soup and two chutneys: a coriander and coconut and a tomato, garlic and onion chutney. You tear off a piece and dip it into the chutney. Next to it are an idli, a small South Indian savoury breakfast cake made of fermented black lentils and rice that is surprisingly mild in flavour. Next to it is a vada a donut shaped deep fried snack.
A Uttapam is similar to a dosa but thicker in size but with a similarly crispy outer. There is chopped tomato, onion and chilli cooked into the pancake which is then served folded over with the same two chutneys. It's similar to an egg white omelette and has an appealing sponginess. And the best thing? We are full but don't feel heavy or weighed down afterwards!
Boon Cafe, Haymarket
By day the proposition at Boon Cafe is completely different from that at night. It's Thai Isan food at night but during the day it's breakfast until 11am (strictly) with pan Asian delights like a Big Boon Breakfast with congee or Asian versions of toast.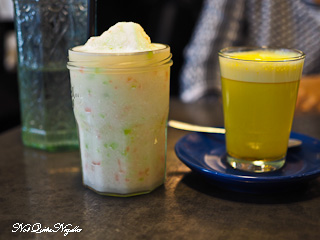 A breakfast drink of Yakult Pipo is an Iced Yakult drink blended with noodles and is very much on the sweet side. On the opposite end of the spectrum is JY's order of the turmeric and honey milk drink, a mild, healthy tasting drink.
Toasted breads are thick white slices topped with a range of items including house smoked chilli relish with pork floss and mayonnaise ($5.50) or a soft, warm pandan custard ($5). These are served street food style i.e. ready for easy eating so that they are already cut up into pieces and come with a skewer for easy spearing.
Sokyo, Pyrmont
Hankering for a traditional Japanese breakfast or just curious to see what a traditional Japanese breakfast is? At Sokyo at The Darling there are options for a traditional and modern Japanese breakfast. So just what is involved in a typical traditional breakfast? It's a selection of fish of the day, miso soup, rice, pickles, nori and in this case a silky smooth chawanmushi with shiitake mushrooms and radish. Today's fish also happens to be a divine Glacier51 Patagonian toothfish.
Or if you're looking for something else, there's also the pork katsu sandwich. Soft, white, crustless bread is filled with panko crumbed pork fillets, miso tonkatsu sauce and an extra serve of this honey mustard mayonnaise which you can't help but spread on top. On the side is a red and white cabbage salad with yuzu goma dressing.
There's also a traditional hotel buffet breakfast (both are $38 or the choice of one a la carte item plus a tea or coffee is $25). Bookings are only taken before 8am.
So tell me Dear Reader, do you prefer sweet or savoury for breakfast? How often do you eat out for breakfast? Which stop did you like the look of the most?
All of these meals were independently paid for.
Erskine Villa
63 Erskineville Rd, Sydney NSW 2043 Phone:(02) 9517 3957 http://erskinevilla.com.au/
Shuk
2 Mitchell St, North Bondi NSW 2026 Phone:0423 199 859 http://www.shukbondi.com/
Blaq Piq
11 Alberta St, Sydney NSW 2000 Phone:(02) 9283 8852
So.9
CASBA, 1/18 Dank Street, Waterloo NSW 2017 Phone:(02) 8542 7137 http://www.so9.com.au/#about
Spice Bazaar
1431 Pittwater Rd, Narrabeen NSW 2101 Phone:(02) 9970 7630
Boon Cafe
1/425 Pitt St, Haymarket NSW 2000 Phone:(02) 9281 2114 http://www.booncafe.com/
Sokyo
Level G, The Darling The Star/, 80 Pyrmont St, Pyrmont NSW 2009 Phone:(02) 9657 9161 https://www.star.com.au/sydney-restaurants/signature-fine-dining/sokyo