Originally hailing from Israel, La Mama del Gelato Anita or "Anita Gelato" specialises in over-the-top, rich combinations of flavours in their gelato. All gelato is made on the premises and the number one best seller is the Cookieman, a crunchy, chocolatey mix of chocolate, hazelnuts, meringue and biscuit that has to be tried to be believed. The unlimited frozen yogurt bar features 54 different hand made toppings.
Our eating challenges elicit several questions:
Did you really eat all of that in one day?
Did you get sick?
Did you put on weight?
How long was it before you could eat that food again?
Although we might be slightly mad to do these challenges, we aren't entirely foolish (although that is always up for debate). We tend to choose our favourite foods for these challenges so it was safe to say that given the opportunity, we could have eaten each food the next day.
But it's a good six weeks after our gelato challenge that we tried gelato again. Not because we didn't want to eat it, but the opportunity hadn't presented itself. It was actually through an article I was writing for the Central Park magazine that I wandered into Anita Gelato.
La Mama del Gelato Anita or Anita Gelato was originally an Israeli brand of gelato started by Mama Anita an Israeli woman of Moroccan heritage. A couple of years ago an Australian entrepreneur decided to open up a store in Sydney - apart from the handful of stores in Israel, the Australian outpost is the only international branch. Open since December 2013 it is an attractively merchandised store with its heart tattoo logo. There's plenty of room to eat in inside or outside and there are a couple of hot desserts and coffee but the main focus is gelato and frozen yogurt.
The focus here is not on individual flavours, rather their strength is in their flavour combinations. While single flavours like pistachio are fine, it's the over the top rich combinations that make customers swoon. An example is the Cookieman, their bestselling flavour by far. It's made up of chocolate, hazelnuts, biscuit and meringue. One would assume that it is a rich proposition but it's a judicious combination of chocolatey rich and crunchy. And my favourite bit is when I watch a staff member pour some more liquid chocolate over it so that every scoop gets some of the delicious topping.
All of the gelato is churned on the premises and they make 250 litres a day. There are some daily specials, picked from a list of recipes by Anita. The Ferrero Rocher is another favourite of mine, the smooth top blanketed by a thick layer of feather patterned Nutella. Its dark intensity is like the gelato version of a tall, dark and handsome stranger - irresistible.
The fruit gelatos are all fat free and made without any added sugar or fructose and 70% fruit. Any sweetness is from the actual fruit itself which is rather marvellous and slightly miraculous since they are indeed quite sweet. The best seller is the watermelon and mint which has just been churned. It is a combination of the freshest of summer. Another favourite (and yes I can say that I actually tried every single flavour that they had in the store) is Grapefruit Campari, a refreshing divine combination. Piña Colada too is pure tropical summer holiday.
There is also a range of sugar free gelatos made with a sweetener. They're not bad and we try the three flavours and there isn't any aftertaste after eating them.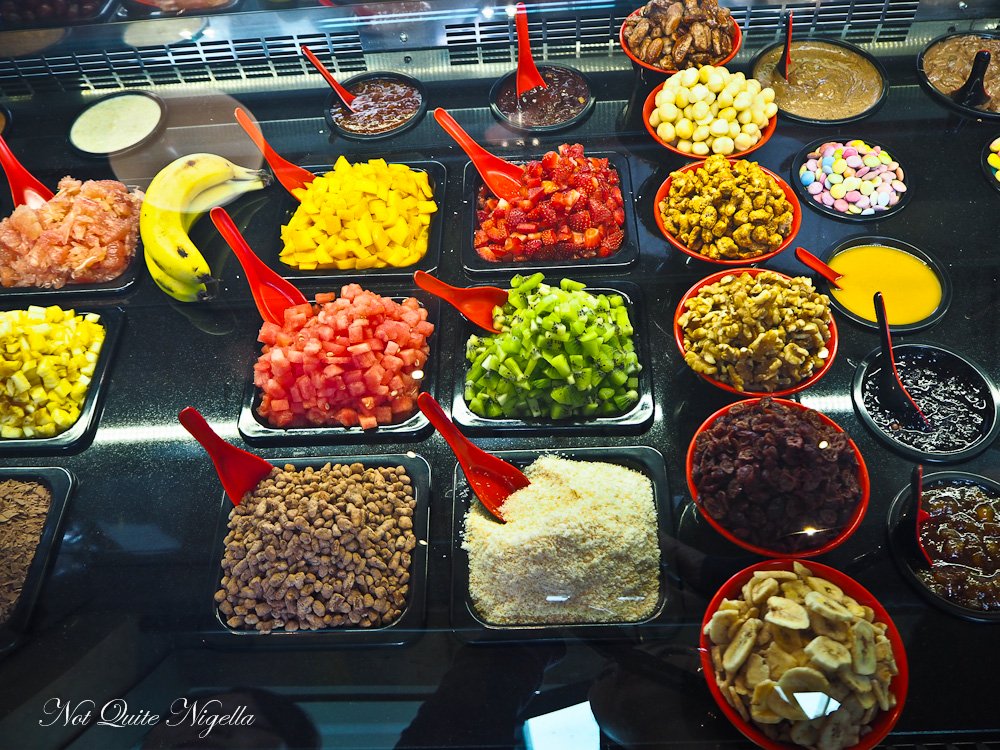 The last display is the frozen yogurt one. There is one flavour of frozen yogurt - plain, and it's a nice perfectly tart and sweet yogurt. But the clincher is the unlimited toppings. There's a range of 54 toppings from fresh fruit, house made jams and toppings, lollies and quality toppings. And you can have as many as you like and then get topping refills. Yes topping refills. "That's what we mean by unlimited," the man scooping my topping on says. I'm challenged to make a couple and my first is for Mr NQN. It's mango jam, fresh mango, meringue and white chocolate flakes.
The other one is for me. I've decided that unlike the fruity version, this is all going to be an ode to chocolate and nuts. I start with the bottom of Oreo praline that tastes like praline with chunks of Oreo. They add frozen yogurt, a warm, liquid Nutella and almond mix, caramelised pecans, toffee almonds, chocolate coated puffs and bits of Tim Tam. And somewhere under there is the pale white of frozen yogurt!
So tell me Dear Reader, would you go for a bespoke froyo combination or classic gelato? Do you prefer creamy or fruit gelatos? Do you always go for the same flavour or do you try something new?
NQN sampled the gelato while writing a story for the Central Park magazine
Anita Gelato
RG15, Ground Floor, 28 Broadway, Chippendale NSW 2008
Phone:(02) 8097 8508
Open 7 days from 7am to late (11:30ish)