Kiama, just a 2 hours drive away from Sydney is a perfect place for a day trip from Sydney or for the first stop on your South Coast journey. From a picturesque brunch to an eatery helmed by a former head chef at Ottolenghi, it's also a great place to stop to eat!
It's our first overnight road trip since February this year and the outbreak of COVID-19 and we are bursting and excited to breathe in both fresh country air and new scenery. Armed with plenty of hand sanitiser to ensure that we don't spread anything, we are headed towards the South Coast and our first stop of Kiama.
The line of pine trees leads the way to the Diggies Kiama, located just near the Kiama Blowhole. The white decked cafe and restaurant is a popular place so you are best to have a booking before arriving.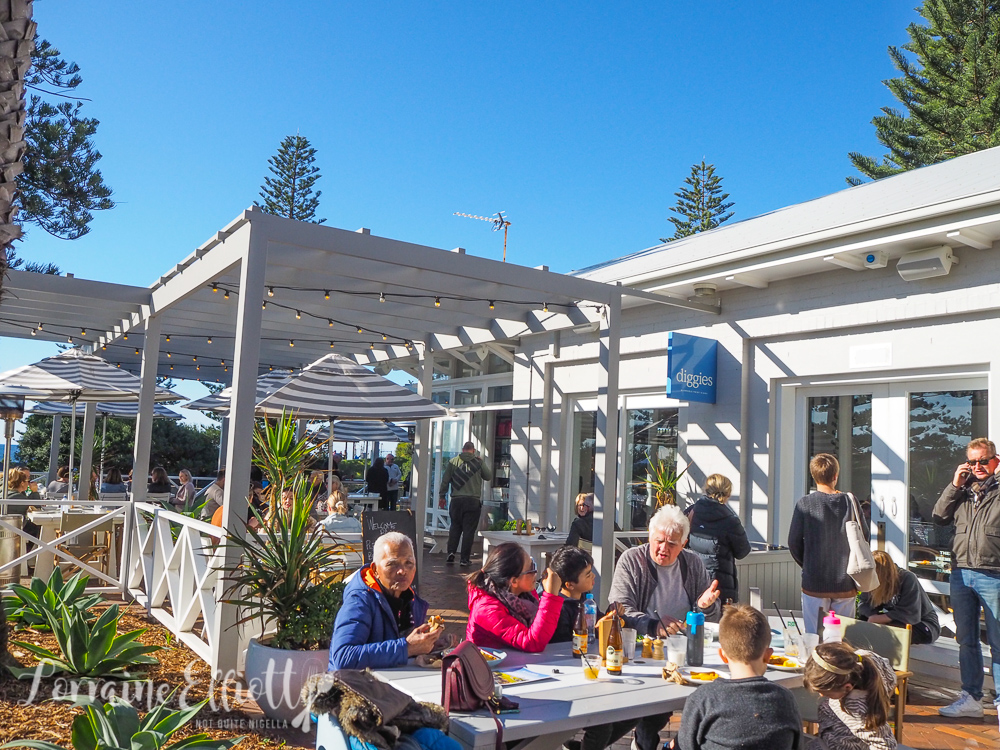 Inside it's stylish beach chic vibes with light and airy interiors and we take a seat and order. It's two fresh smoothies and a very good chai latte and cafe latte for us and then some brunch from their all day brunch menu.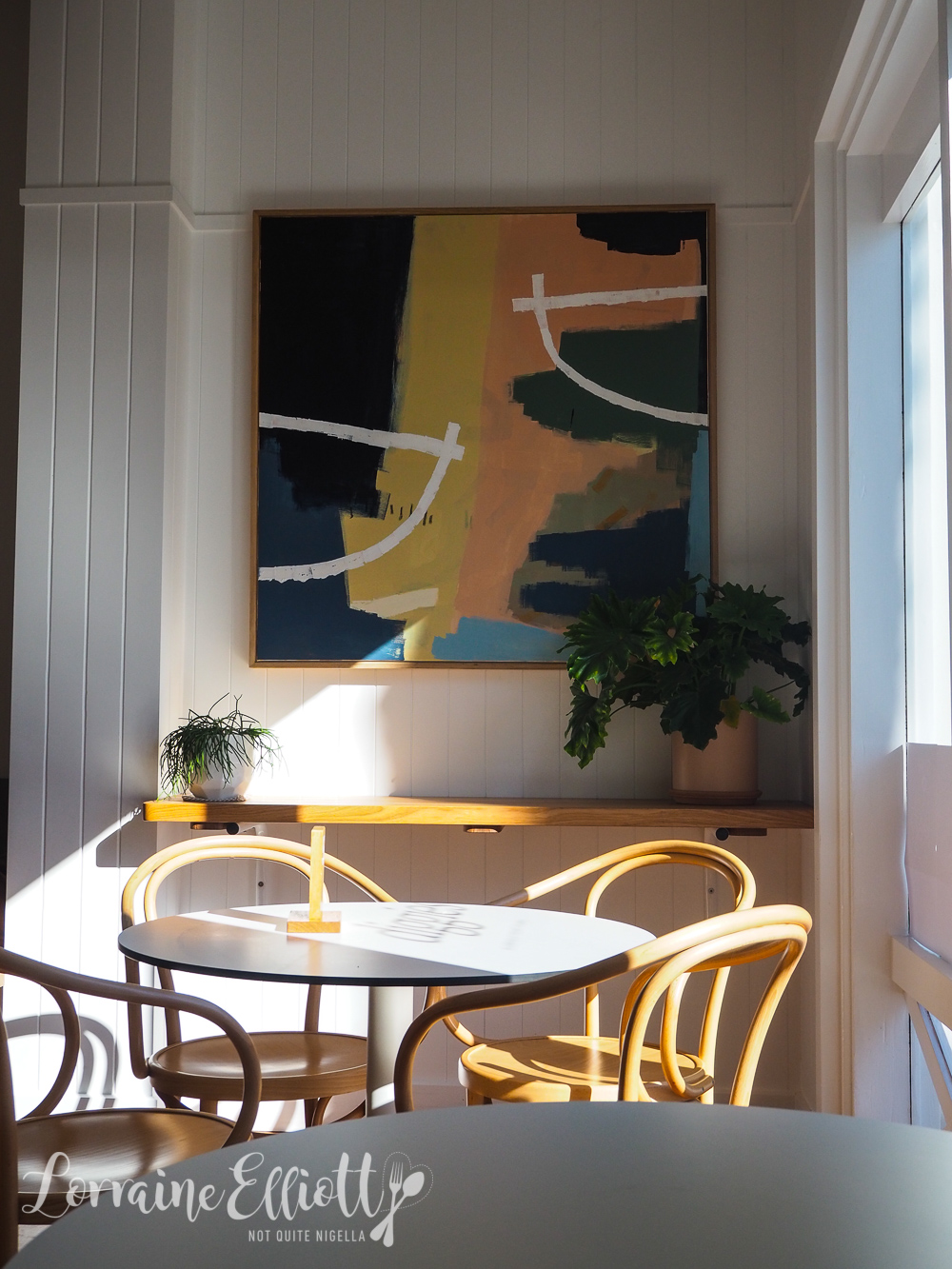 We order a Session 2.0 with strawberry, mango, banana, pineapple and a Superbad with açai, banana, almond milk, berries, kiwi, coconut. Both smoothies are great, not overly sweet but sweet enough and the session 2.0 is a particular favourite although the superbad is also good.
Salmon Croquettes $20 and Superbad Smoothie $9
The salmon croquettes come three to a serve and are filled with potato and hot salmon with folds of cold smoked salmon on top, two poached eggs, Meredith feta and hollandaise. It's a good sized portion as it is rich and filling.
Atlantic Salmon and Salad $24
I know, two salmon dishes but the heart wants what the heart wants (ok I really wanted the fish and chips but I'm trying to be healthy). It's a crispy skinned Atlantic salmon fillet on a bed of barley, grilled zucchini, broccolini and romesco sauce. I like the mix of fresh flavours and the texture from the salmon skin and the barley to the crunch from the broccolini.
On the main street of Kiama sits Otis Deli. Chef Emily Herbert opened Otis Deli on the 14th of March this year. "Just before everything got shut down," she says. Emily was the Head Chef at Ottolenghi Belgravia for 4 years and has returned to Australia.
Originally form Melbourne, Emily landed here in Kiama when her brother married a local Kiama woman and they were visiting from London. They were eating next door and saw this space sitting empty.
She bought it all the way from London, "It was 4 o' clock in the morning. I'd had a couple of Baileys and I saw it up for sale." This was mid December 2019 and she had to break it to her English partner that they had 2 weeks to get back to Australia to sign the lease. "He didn't have a choice. I did my time in the UK," she says. "He's discovered flip flops and tracksuit pants so he's loving life," she adds.
At the moment people stream in, a maximum of 10 people at a time and buy items to take away and take to the park or eat at the outside tables.
The food is influenced by her time at Ottolenghi. Bountiful platters of gleaming eggplant, whipped feta, smoked almonds and fried mint are strewn with jewel-like pomegranate seeds.
Cauliflower is dusted in Baharat with lime yogurt, roasted grapes, finger lime and hazelnuts. Broccolini is drizzled in lashings of miso tahini with sesame and puffed rice while a barberry, chickpea and rice salad are perfectly spiced and seasoned. We get some food to eat at our accommodation as it is a little secluded.
If you're lucky you'll be one of the lucky people that nab the cauliflower and potato cake topped with beetroot relish. Emily can't make enough of these to keep up with demand. Even when I am there around lunchtime I watch the display of these rapidly deplete.
Cauliflower Cake $11.50
Emily eases locals into the world of Middle Eastern food describing shakshuka as "baked eggs". Eggs and toast comes with Sujuk instead of pork breakfast sausage. As restrictions lift and more people can sit down the take away sandwiches will be replaced with a full breakfast menu including smoked scrambled tofu, tea infused yogurt, Aleppo chilli with Baghdad eggs and smashed avocado topped with za'atar and heirloom tomatoes.
And a tip: leave room for dessert. There's syrupy chocolate baklava, a dense and sweet Turkish delight, icing sugar dusted almond cookies, melomakarona honey biscuits and my favourite, a riff on a Cherry Ripe. Everything but the cookies are made in house and Emily is up at 4am every day baking away.
And for the name Otis? She wanted to name her first child Otis but her partner hates the name so she named her cafe Otis instead.
So tell me Dear Reader, have you been on an overnight trip yet? What are the restrictions where you are living now? Where do you want to go first?
NQN was a guest of Destination NSW but all opinions remain her own.
Diggies Kiama
1 Blowhole Point road, Kiama NSW 2533 Sunday to Thursday 8am–3pm
Friday & Saturday 8am–3pm, 5–9pm
diggies.com.au
Phone: 0436 353 370
Otis Deli
106 Terralong St, Kiama NSW 2533
Wednesday to Monday 8am–3:30pm
Tuesday closed