I think that if you asked every baker how they came to love baking, you'll get as many stories as there are people. For 30 year old Russian born Olga Rogacheva, her start to baking is a less quixotic and more a practical one. In Yaroslavl where she and her family are from, she recalls growing up with memories of her mother queuing for hours.
Olga says, "In the USSR after WWII and behind the Iron Curtain some products were really difficult to find. Especially some factory produced cakes and sweets. I remember how on special occasions my mom would have had to spend a night in a queue so she could get some. I remember how special it was to get a cake or a box of chocolate for my birthday." So it was only natural that they would turn to baking.
Olga's 89 year old grandmother Irina still bakes and along with Olga and her mother they would often do neigbourhoood bake offs. A bake off Russian-style is different from what you or I may know. It involves baking an item and giving it to a neighbour to eat on their own time. You were lauded when you were asked for the recipe. She explains, "Everyone in Russia has their own recipe but they wanted your tips and tricks" to get the best of the recipes.
It is these recipes that she uses in her Izba bakehouse on the South end of King Street in Newtown. Open for just over two months, there are savoury pies like kulebiaka, vatrushka and pirozski as well as freshly made blini and buckwheat porridge but the thing that catches people's eyes are the cakes. Olga arrived in Australia three years ago and married her Australian husband. She chose Newtown because of the open minded culture of its residents.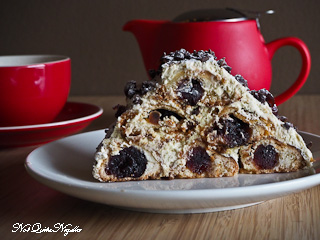 I start with cake (of course! ;)). The izba after which the small cafe and shop is named is straight out of a children's fantasy book. The Izba is a wooden hut from rural Russia with a signature cross log pattern as the structures are made of carefully jointed wood. Here is it a concoction of dense biscuit logs with sour cream and amanerena cherries and dusted with icing sugar. It's sweet but moreish and completely unlike other cakes that I have tried.
For those that prefer more moist, mousse-like cakes, the strawberry cake tastes of fresh strawberries with a joconde sponge layers with strawberry mousse and topped with white chocolate. It's wonderfully fresh and all of the cakes are made on the premises by the Russian and French pastry chefs. A generous sample of this cake is available for passersby to try on the day that I visited.
Kartoshka are a favourite childhood snack and Olga recalls pre theatre buffets where children would get a choice of eclair or kartoshka. It's a small flat topped cone with cocoa on the outside but when you cut into it, it is biscuit coloured as it is a mixture of cookie crumble and buttercream blended until smooth.
The Bird Milk is a layered rectangular slice with an airy custard mousse, sponge and a layer of chocolate on top. Named after a type of boxed chocolate Olga explains, "The name comes from a joke that the texture of this mousse is so light that it might have been made from a bird's milk. These chocolates were one of the most popular sweets in USSR, so some factory decided to make a cake of the same texture. It consequently became one of the favourite cakes of the Soviet people."
There are many versions of honey cake in Eastern Europe and Europe. I've made a Czech version here. Olga explains that Russian cakes are variations on their European counterparts. An example is the Russian Napoleon that is different from the French version. In France, Napoleons have a crisp pastry whereas with a Russian Napoleon the pastry is soft. With the honey cake there is also a slight difference in the Russian honey cake as the layers are almost like a biscuit. It is layered in nutty crumbs, sour cream and honey.
All Russian cakes are usually served with tea as they can be a little biscuit-ty or drier in texture and Olga describes the Russian Samnovar service where strong tea is brewed and can keep for 2-3 days. Drinkers add fresh hot water to dilute the tea.
But it's not entirely cakes here and I try the salmon pie, something that Olga warns me about and some people find it strong tasting because of the buckwheat. It's served warm with a golden puff pastry outer and is filled with salmon, spinach, cottage cheese, boiled egg and buckwheat. It's warming and sustaining.
But because the laws of the universe would be upset if we didn't end on a sweet (okay that's really just me) I have one last sweet that is on offer. The buckwheat blini is filled with cottage cheese and sultanas and served with a house made berry jam and sour cream. The blinis are soft and silky textured and the cottage cheese and sultana filling lightly sweetened without being overly so. You can control the sweetness with the jam or the sour cream. Blinis are served either sweet or savoury and have become so embedded in Russian culture that the word 'Blin' in Russian is used as a milder version of the F-word!
"We Russians perceive life through food," Olga says.
So tell me Dear Reader, have you ever tried Russian cakes? In your opinion, which country makes your favourite sweets? And which cake appealed to you the most?
Izba
579 King St, Newtown NSW 2042
Phone:(02) 9557 9437
Open 7 days from 10am-9pm
http://www.izba.com.au/